Jan
4
Palm Beach appears to have filled up nicely in preparation for "the Season." There are some good size yachts on the ends of the docks but the average size seems a tad smaller. Worth Avenue in Palm Beach looks relatively busy but one can not tell how much people are buying at this point–merchants every year say afterward, "it was the worst season ever" –probably to help ward off upward increases in rent from the property managers.
I have noticed, however, a lot of billboards in the SE USA, Baton Rouge, La., Montgomery, AL, and West Palm Beach, FL with watch ads from local jewelers for high end watches–Rolex, Ulysses Nardin, etc. Wonder if smaller splurge items to retain status in market downturns become popular? Buy a watch and feel better, a materialistic comfort purchase. Something you can keep over a lifetime and not lose (unless you are unlucky).
Jan
3
To be part of a king's court,
coining wealth and privilege,
both traded and hoarded,
so religiously among a few of
apparently common ilk,
only to find that their ruler,
a financial deity with no clothes,
was also without sovereign.
Poor people without such knowing,
working or without,
middle-class alike,
who struggle each and every day
for essentials in common life
remain for not…
Not retirement savings,
not winter homes and country club dues,
not chaired philanthropic, tax-generated endeavors,
not even college savings for a son or daughter.
To include others spawned of that common ilk,
perhaps religiously or not,
bootstrapped in mind and
percolating in heart,
we do set upon one's quest…
The published rebuke by the religious leader,
who said "shame" upon the fallen crown.
Will his enshrined plutocracy pay for
mercy and forgiveness or
is shame a balance sheet rectification,
parsing subsidiary liabilities of gains once gotten,
now spent in lost hands of
the moneychangers?
From and to those…
Country club members,
luxuriated in finery and staff,
who dined upon the meats
of their steadfast, monthly returns,
served religiously,
whereupon now they find that
they feasted upon themselves.
Are they not to pay for
such banqueting,
financed by member broker-dealers,
as if not knowing of washroom etiquette,
their selections in OPM?
The hedge fund managers and their keepers,
all incestuously conspired to
marry among daughters of one
to the sons of countries, a many.
Must they not be divorced as
a contemporary feudalism,
ashened from their own churn and
burning, if you will,
the nouveau-riche?
The US Senator
defending both ways and means for
no one but
a herd,
the animal farm –
as "no" we may say, not an industry –
by his office,
a republic for those pillars:
Nongovernance,
Noncompliance,
Nonrecognition;
alas, now to be tax deductible,
so stolen from the countries allured,
for the sake of one city, one state,
a fleeced electorate.
Is he and his gang,
campaign financing schemers
so ensconced,
not of an order
to be tried and hanged?
Government minions
all the same,
thee attorney general,
thee commission governor
with juris doctorates,
accounting certifications
that scribe opinions and reports
for crown et al,
as if in the employ of
his majesty's court.
Are they to be beheaded or gutted,
publishers of proclamations and
bidding for their king,
themselves?
The sons,
so red-light legit,
whose market-marking slights of hand
prospered by the right of the father's left gains,
a tally rectified during a single confession.
Are they to be stripped for remaining children,
instead of being men,
while before their father's throne?
Portend as well those,
who bailout in realignment,
to avoid self-confessed fallout,
now continue after dusk
to hide in the night of
those perpetuating lies.
Thus who aspires
"empathizing" for the "lost"
of what was not gained,
merely speculated with
a strict collector
quantifying what only was
self-elusive acts of treason,
which from Napoleonic adventures,
we know to be merely
a matter of dates?
No, good sir,
your query is misplaced,
as was their pockets.
Trust is the coin of the realm,
not consistent returns –
ill-gotten or otherwise.
Jan
3
For those who surf and trade, riding a big wave generates the same kind of adrenaline as that of a trader who enters a large position in a volatile market. It makes me remember last October. I decided to spend the month only day trading, as the volatility was increasing.
I found something interesting: every time I entered a futures position, my heartbeat increased strongly. I could feel it in my veins! (One particular time –I swear I will never do it again! — I was trading so leveraged that I really felt like I had adrenaline pumping all over my body, and I felt I could break a window's glass just by pointing my fingers at it with focused mind…)
As I have a background in Physical Therapy I understood that too much adrenaline for a sitting body wasn't quite good. So I decide to see a cardiologist.
He immediately asked for an exam which consisted in a portable electrocardiograph device I should use for 24 hours. Ok. No problem. I should point in a notebook whether I was in a moment of tension, stress, whatever.
So I went to trading in the Monday of October 6th.
My "normal" heartbeat was 68, 70, 80 per minute. When I entered a trade, it immediately rose to 130! (Trading can really accelerate your heart.) This repeated every time I entered a position while in the exam. The doctor prescribed more exercise (any exercise would be good) as I gained some pounds after pursuing trading as a full time commitment. (If someone could lose weight thinking I would be as slim as Gandhi).
One of my all time disillusion was to perceive that I really fear big waves and I am truly a hot-dog surfer. So I would never, ever, ride a big wave.
At trading I am still paddling at waves way over my head. Sometimes.
Steve Ellison writes:
I just finished Blink by Malcolm Gladwell, a book about instantaneous judgments. One chapter of this book analyzes policemen who shot dangerous suspects. One policeman confronted a man who was holding a gun to the head of the policeman's partner. The gunman muttered an expletive and began to turn his gun toward the intruding policeman. For this policeman, time seemed to slow down. He felt his finger squeeze the trigger of his gun and saw the bullet hit the gunman. He fired three more shots and watched them all hit before the gunman fell. The next thing he knew, he was standing over the gunman, but had no recollection of having walked. He had not heard the shots his partner had fired.At a heart rate of 115-140 beats per minute, Mr. Gladwell writes, the brain intensely focuses on the perceived threat and shuts out extraneous information. However, if under more extreme stress the heart goes beyond 140 beats per minute, the brain narrows its focus so much that it misses important details and makes errors in judgment. Many police departments are making it a policy not to engage in high-speed chases because the chases put such extreme stresses on officers that their judgments are impaired. Three of the worst urban riots in the U.S. in the last 30 years resulted directly from the actions of police officers after high-speed chases, including the Rodney King case.In the rest of the book, Mr. Gladwell writes about some astonishing examples of "rapid cognition". A marriage counselor has a record of predicting, with over 90% accuracy, whether a couple will still be married in 15 years by watching them talk for 15 minutes. Several art experts instantly judged a Greek sculpture bought by the Getty Museum as a fake, while the Getty spent 14 months investigating the sculpture and concluded wrongly that it was genuine.
There is a chapter about Paul Van Riper , a retired U.S. Marine general who reminds me of Jack Aubrey. He is a fighting general who does not share the conceit of some military thinkers that the fog of war can be lifted by better communications and more data. In his view, data collection and analysis are fine before the battle, but worse than useless while fighting.Playing the part of a rogue Middle East leader, General Van Riper inflicted heavy losses on the American team in a large 2002 war game, partly by using low-tech communication methods (e.g., couriers on motorcycles) that were impervious to the American side's strategy of knocking out or intercepting electronic communications. He gave his unit commanders authority to make any decisions they wanted to in combat situations. At those moments, he wanted the commanders focusing "down" (on their units) rather than "up" (on their superiors). Mr. Gladwell notes that the thinking styles of military officers and commodity floor traders are strikingly similar.
Jan
2
What has happened to us? Why this plaintive (and almost universal) hope for "new" leadership? Press for an explanation from almost anyone who shares this hope and you'll discover he wants something from the government… a job, a tax break, an artificially low loan rate, or an ongoing handout. I don't believe America's problem is leadership… our problem is "followership." This country grew rapidly and successfully because Americans have traditionally been lousy followers. We crossed the Alleghenies, the Mississippi, the Plains, and the Rockies, not at the behest of Washington, but more times than not, because of its constitutionally mandated indifference to economic setbacks, income disparities, and low wages. Hard times meant it was time to acquire a new trade, start a new business, move to a new territory, or plant a different crop. For the most part, Americans weren't specialists but jacks of all trades — the times demanded it and those who refused to recognize it, were destined to spend their lives just scraping by working for others.
The American of late 20th and early 21st centuries is (generally speaking) content with working for others. Through an incredible series of remarkable developments (thanks almost entirely to the remnant who maintained the pioneer spirit) those of us born in this very narrow slice of time receive (or received) very generous wages…enough so that we are content in our niches. Our contentment has been reinforced by an ever-expanding series of programs which shelter us (to varying degrees) from true, honest-to-God grinding poverty.
However, there now exists a real threat, if the intelligentsia of the 6 o'clock news is to be believed (and, for once, they may be on to something) of a major economic downturn. But instead of carefully surveying the situation, weighing the probabilities, and adjusting our saving and spending accordingly, we cry out to Washington: "Save us…give us the leadership we need!"
Well, folks, this isn't Exodus and no one, including Obama, is going to perform Moses-like feats. It's time to look within ourselves, discover our own leadership abilities and guide our families as best as possible. There are plenty of promises coming from the many politicians out there but, as we are discovering with remarkable clarity, every promise has a very, very steep price tag. Also becoming equally clear is that all those comforting shelter programs are not only very expensive, but work only when a limited number of families (or pensioners, or savers, or banks) are affected.
In a general slowdown, we shall discover the emptiness of the promises. Like it or not, the present economic downturn, regardless of its severity or duration, is going to introduce a strange but age-old concept to many of the unsuspecting: self-reliance. It's time to lead, not follow.
P.S.: And pay little attention to the world's view of us. As Nock pointed out as far back as 1937, most of our "allies" merely want us to come in, clean up the mess, and get out as quickly and quietly as possible.
Mark Goulston comments:
I agree heartily with you. It's a big challenge to see if American can show some and take personal responsibility. We have become a country of blamers, excuse makers and self-pitiers and it's amazing that we've gotten away with it as long as we have.
Jan
2
Why are not more people empathizing with those who lost their nest eggs and retirement plans to the Madoff scheme and instead placing the harm on charities and fate?
Charles Pennington observes:
It is an interesting story, but the $50B apparently lost is less than 1% of the $5-10 Trillion lost in worldwide equity markets over the past year. People lost $100B on GOOG alone, and one can name scores of other stocks that dropped more than $50B in market cap. Furthermore a large but unknowable fraction of Madoff investors suspected that their gains came from front-running. They will never admit that now.
Jan
2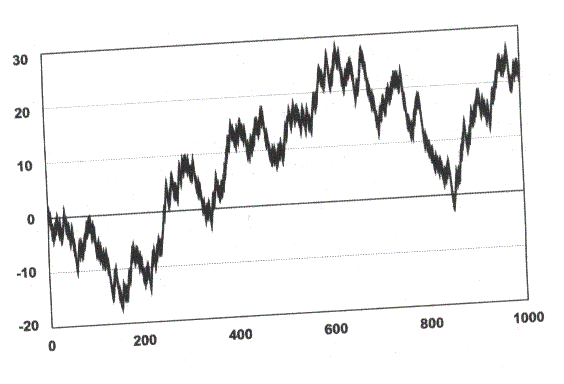 TA patterns could have an influence on markets, whether or not they actually work. For example they could provide a kind of 'mirage effect', all of which helps us chase our tails and generate friction (and no doubt much numerical stuff does the same).
Are scientific studies on TA patterns the final word? I don't know, but I very much doubt it. Some TA practitioners who have made very good calls (like the ancient Brian Marber) say it's an art rather than a science.
GM Davies is the author of Play 1 e4 e5: A Complete Repertoire for Black, Everyman, 2005
Jan
2
"What do dancing honeybees and stock markets have in common? At first glance, not much. But both are complicated dynamic systems that are extremely difficult to model — until now. An MIT graduate student [Emily Fox] has developed a methodology for automatically constructing computer models that can accurately describe the behavior of such complex systems with very little background information.
"The methodology, which aims to come up with the simplest model that explains the data, accurately concluded that the honeybees have three dances. Biologists have long known that honeybees use the dances to communicate distance and direction of potential food sources or nest sites." Fox also tested the model on data from the Brazilian stock market, using the same algorithm she used for the dancing bees. Given information on the Brazilian market's daily returns over a four-year period, the model inferred the number of modes of market volatility and the probability that the market would shift to a different state of volatility."
Jan
1
A study suggests some fiddler crabs are counters.
Market application: In some past trading years, I've noticed my yearly return was close to, or tended to track the S&P, (not last year, thank G-d) although I invested / traded diverse instruments, and so arrived at the similar return by a completely different route. Could my reptilian / crustacean brain have been keeping track?
Jan
1
1. They say a good symphony ends on the same motif that it starts on in many respects. Would you hypothesize that the market will do the same with respect to its beginning and end?
2. Aside from the admonition of the British Navy that politics and religion not be discussed at dinner, and that no one speak before the captain, and that articles of war are to be read every Sunday, and that no one argue with an officer publicly (a capital offense), and that all invitations from the captain be accepted, what are the major customs of the British Navy that made them the source of so much peace and prosperity and victory for 200 years, in a field where, like ours, just one plank separates you from life or death, and the only certainty is that you always have to be on your guard, with two lookouts always on duty?
3. What are the requirements for a market move to replicate and exponentiate? After a very quiet five up days in a row, what does the market have in store for us, especially considering the unchanged day in Japan, and the fantastic 1 1/2 % moves in 10 minutes at the early stealth close in the Europeans?
Paolo Pezzutti comments:
The following are customs and traditions of the Royal Navy that I find significant in this regard:
- Until 1825 some pay was held back as a guarantee against desertion
- Capt. Cook was determined to avoid deaths from scurvy. His success was an important step in the creation of the British Empire. Other diseases were avoided through keeping the ship, the crew and their clothes clean.
- Organization. Each man's role on board was efficiently defined.
- Discipline was important. Punishment also reinforced organization. Men were punished if they failed to do their duty and put the ship in danger.
- Training made the difference. British ships handled sails and fired guns more quickly than others.
- Navigational skills. They were by far superior.
- Promotion to Commander and then Captain was through merit or bravery. Incentives are key to success of an organization.
- The best officers through patronage could pick their followers. This would create cohesive, ambitious teams willing to pursue victories and prizes.
I would add also:
- Wardroom drinking (which must be social and not solitary), and the toast of the day
- Men remove their caps entering a mess
- The rule about not to call anyone a liar in the wardroom
- Using the ship's bell to mark the passage of time
- Seniors board last and leave first.
My view is that you do not build a Navy like that only with money. You need to have an organization which attracts brilliant minds, able to understand the strategic context, conceive and implement successful visions, capable of commanding men. On the other hand, you need people who can develop the best operational concepts, understand the operational requirements, design ships and weapons better than others, an industry base able to support adequately the fleet. You need to have good sailors and fighters to achieve the command of the sea and it is not only a matter of money. They need to be professionally skilled, motivated and share common values and objectives.
Nigel Davies adds:
There's also a question of motivation. Britain, being an island, would be able to defend itself by commanding the waves. And being good at seafaring was also essential from a trade point of view. You can still see the influence of these times in today's UK with our preference for preserved foods such as marmalade and port.
GM Davies is the author of Play 1 e4 e5: A Complete Repertoire for Black, Everyman, 2005
Jan
1
What is the benefit from dramatic falls in valuation such as we have seen this year? Market prices embody the judgements of millions of minds. How could so many be so wrong, either before the crash or after? Maybe the $50 billion in fraud-induced value coupled with the distorting effect of millions of dollars in falsified returns each month can account for a small slice of the distortion. Asset bubbles stoked by monetary authorities and securities mischief can account a bigger slice of the overvaluation.
But maybe there is a separate but larger "purpose" in the crash. Art Laffer and Steve Moore have a new book The End of Prosperity where they argue that steady economic growth and vast increases in prosperity followed the tax cuts enacted in 1983. Economic and financial chaos opened the door for significant deregulation and tax cuts.
But as the economy prospered, state and federal governments have steadily ratcheted up taxes and regulations. Businesses and investors have developed strategies to adjust to this growing tax and regulatory burden, trying various financial innovations, like replacing working capital with revolving debt, outsourcing, and leveraging investments.
A huge financial crises lets Atlas shrug off the great burden of state taxes. Heavily regulated and taxed General Motors now received all of its past corporate taxes back in the form of a bailout. And the firm won't be paying taxes anytime soon. Neither will the millions of investors and firms who have lost so much in the crash.
Across the country newspaper are reporting that state governments are in "crisis" due to falling tax revenue. This though is a good thing. When corporations suffer downturns and have cut expenses by 20 or 30%, they try to cut the least productive parts of their operations. The result is that many firms grow leaner and more competitive, and assets spun off go are often revived under new management. Government regulators and bureaucrats let go are of two-fold benefit to the economy. They are no longer tasked with eating taxes and burdening private commerce. And when employed by private firms they are trained and motivated to actually create value.
Politicians, bureaucrats, agencies and government contractors live off of private sector taxes and fees. As the economy expands, so do these parasites and predators. Panda bears similarly expand during good times. A Giant Panda consumes 20-30 pounds of bamboo a day. From the Giant Panda's perspective, the purpose of a bamboo forest is food. Over the years, the growing Panda population becomes a burden for bamboo forests.
Bamboo forests have developed an interesting response to parasites and predators. Each species of bamboo forest has its own internal clock, and across its entire habitat, all trees flower and die at the same time. For some forests the die-off are from 60-100 years apart. This mass die off causes a significant die-off of species that live off bamboo. Lots of fat Giant Pandas are left with little to munch on, and their populations decline dramatically. The new forest grows healthy and strong and many years pass before parasite populations catch up.
So maybe bamboo stocks and corporate stocks die off for the same reason: to rid themselves, at least for a decade or two, of predators and parasites. (A more extensive version of this will appear in an upcoming issue of The Freeman.)
« go back
—
Archives
Resources & Links
Search