We're talking about watch sales around here. Rolex apparently sells 650 million in watches each year. Susan says that wearing a watch these days is like jewelry for men, and that it's useless since everyone has a smart phone. We're thinking about Apple's watches. They'll have to compete with all the other watches. Supposedly they forecast it to use up 1/2 of all the gold production in the world. I wonder when Apple will stumble and launch a product that doesn't set the world on fire. Samsung wearable watches apparently didn't do that great. What do you think, and how will it affect the price of Apple. We just bought some on the news that they had to pay 600 million out of 150 billion in cash on a patent suit, which will probably be reduced to 10 or 30 million.
Stefan Martinek writes:
I agree with the view that watches = jewelry, but then it is more about IWC Portuguese watches in platinum having an unassuming steel look and simple elegant design. Apple is not a competition here. Apple watch will need a phone for core applications + daily charging. Some people probably like to carry two devices when one is enough. Some people probably disagree with Diogenes "who wanted to be free of all earthly attachments — on seeing a boy drinking with his hands from a stream he threw away his drinking bowl, his last remaining possession".
Pitt T. Maner III writes:
Given the popularity of the "Quantified Self" and Fitbit, why not a watch that monitors all your physiological parameters (via implanted sensors) and provides feedback on the optimal things to do next.
An early example might look something like this: "a new digital wellness and telemedicine platform which helps patients live a healthier lifestyle and connects healthcare providers to patients using telemedicine and wearable mobile technologies, today announced that its platform will be fully integrated with Apple Watch products. Or this: "Apple Watch wearers with diabetes will be able to use an app to monitor their glucose levels."
Carder Dimitroff writes:
I believe the iWatch will be an ongoing success. Like they've done with the iPhone, Apple will convert the old watch into amazing and useful technologies. As such, the iWatch will likely become less of a watch and more of something else.
In my family, we seldom call each other. It's either an email, text or FaceTime. Phone calls are the last option. Our iPhones are not used much for phoning home.
Like the iPhone, each iWatch upgrade will pack in more technologies on less real estate. We will likely learn new tricks, become mindful of health issues and live a better life.
You can sign me,
Dick Tracy
anonymous writes:
My son asked me why he has to go to school? "Why can't all this learning simply be uploaded into my brain?", he asks.
anonymous writes:
The question becomes:
1. Will it ever have a cam?
2. Will it ever be independent of an iPhone?
3. What body sensors can be built into it?
4. Perhaps it will be the base for iHome?
Just some questions.
"Irving Kahn, Investor, Who Profitted in '29 Crash, Dies at 109":
Mr. Kahn was a value investing icon who served as a teaching assistant for Ben Graham and worked on the classic tome Security Analysis and the original edition of The Intelligent Investor.

He was still working a few days a week at 109 years old at the firm he founded back in 1978.
Your biggest opponent in trading is yourself. Has anyone heard this statement? It seems incredibly naive to me. Not surprisingly, I just read something like it posted on twitter. When I put in an order and get 3 shares filled, it is clear to me that someone is gaming the order. They get the info and then I don't get a real fill. On the other hand when I develop a strategy that qualitatively seems to anticipate stop or momentum buying, my buying is part of the force that pushes price to that level–releasing potential energy, one of the most useful concepts in trading. Everything has an impact. To think it is all just a "mental game against yourself" suggests that the market is mechanistic process vs. a competitive process, which is entirely wrong.
anonymous writes:
This (not well documented) jab at mom and pop retail investors comes to mind: "Fidelity Reviewed Which Investors Did Best And What They Found Was Hilarious".
Ed Stewart writes:
It reminds me of something I read in a poker book about one of the top cash game players (I'm not a poker player). He would supposedly call out to people considering a game, saying, "hey, come on over, we are playing all of your best games, imagine what a little luck could bring" very friendly, etc. I could see in a similar situation someone calling out, "Hey, if you master the mental game against yourself, the rest of us will hand you our money, we are just bystanders".
anonymous writes:
I believe that there is nothing inherently wrong or detrimental to a successful trading process from some form of self-awareness.
The problem is that it is very rarely quantified. This list has/had a resource in this regard, the esteemed Dr. Steenbarger.
One has had occasion to work through both of his main texts in isolation & in a more institutional setting. Regardless of ones view about this stuff, I would encourage all to read and think about their market approaches in the context of both books. He is a serious guy and performed some intense experimental tests upon himself in real time.
It is reasonable to assume that such help would be more suited to fundamental discretionary traders, but a more in depth thought process may expand that.
One whole heartily agrees that throwaway lines are useless ( much more so when transmitted through what may prove to be one of the Four Horsemen of the Apocalypse- i.e TWTR.)
2078
Mattel showed up on one of my screens yesterday because it's stock price is at a 3+-sigma (long term) divergence versus competitor, Hasbro.
This is an interesting company for a variety of reasons. But a key question facing a contrarian buyer is whether the franchise value/moat built on key brands (e.g. Barbie, Fisher-Price, American Girl) is in secular decline. The company currently has no CEO and a key Disney licensing deal expires next year. They reported a truly dismal fourth quarter. All of this is in the stock price. The stock yields 6% which tells us that Mr Market believes it will be cut. They announced a new product with Google and the market yawned. Presumably the stock will pop on the appointment of a solid new CEO who will then take kitchen-sink writeoffs, cut the dividend, restructure, and start anew. But as always, timing is everything and the stock could be a lot higher (or lower) by the time all of this new news is digested.
Mattel is also facing macro/demographic headwinds (but presumably so is Hasbro which is doing quite well). Remember also that Jill Barad made a dismal acquisition of LeapFrog years ago and there were aborted takeover talks when they tried a ?hostile? acquisition of Hasbro. Mattel and Hasbro dominate this industry.
Is this a value trap or opportunity? And if MAT is a value trap, does that mean HAS is a short too? I'm not expressing any opinion except that there is no obvious reason why MAT should outperform the SPX over the next ____ days unless they announce a new CEO that Mr. Market loves. Would be interested in other insights and especially from Tim and the other "value" folks.
Here are the comparative valuations from Bloomberg:
Mattel:
P/E=16 (on distressed earnings)
Yield: 6.0%
P/S= 1.4
EV/T12Ebitda= 7.1
Ebit/Tot Int Exp= 8.2
Mkt cap= 8.6B
EV = 9.7B
Hasbro:
P/E=19.5
Yield=3%
P/S=1.9
EV/T12Ebitda=11.0
Ebit/Tot int exp=6.8
Mkt cap=7.8B
EV=8.8B
anonymous writes:
My daughter wanted a new doll, so we went to Toys-R-Us. The Barbies were on sale for $6. But she wanted the $30 Frozen doll. I offered her 5 barbies but she declined. The no-brand dolls were going for $2. Clearly, offering for a discount doesn't change demand much — and perhaps the same for the stock price.
She is a 3 year old educated consumer too — I asked her why, and she said the head turns and the eyes are hypnotic. She can't read the package, but she has already watched the commercials.
"How a Painting from 1925 Inspired Ford's Customer Focused Future":

In 2007, Mulally tells Fast Company, "I was looking for a compelling vision, a comprehensive statement to deliver that strategy." He found the company's mission for the foreseeable future in a 1925 advertisement in the Saturday Evening Post. It featured a painting commissioned by Ford's ad agency called "Visions of Tomorrow."
I strongly suggest readers of this Mulally puff piece take a look at the real financials and not be swayed by the Art Deco-esque graphics that are reminiscent of the covers of Ayn Rand's books.
Ford had gross profit in 2005 of 26 billion and EBITDA of $14B. Mulally was named President and CEO in Sept 2006. In 2006 gross profit dropped to 3.4 billion. But just a few months after he joined, in 2007 (before the recession), gross profit bounced back to 21 Billion. Most notable, except for one quarter in 2010 (which was a post recession bounced), he never achieved annual EBITDA greater than when he became CEO.
Mulally was a very good CEO. But anyone who knows anything about running a company with $170 Billion in revenues and 190,000+ employees knows that it takes more than a few months to turn around a company; that auto sales are cyclical; and that his major achievement was preventing Ford from following GM into government-controlled bankruptcy — primarily by shrinking the company — not by growing the company.
I am finding it harder to disagree with some of these young kids about their disillusionment. When they observe, as is the case of Target Corp., a CEO meet almost none of his multi-year goals, then be fired walking away with tens of millions of $$$ in compensation and $125MM in total wealth while 600 line workers are let go due to his failings, the game is badly fixed. And the young and less well off get the joke.
Back in 2011, I noted how quality corporate bond yields had disconnected from sovereign yields– and was undermining the shibboleth that the "risk free rate" is the sovereign rate.
Today, a related thing is happening that may well create an interesting challenge for both the fed and investors.
It's well known that sovereign yields have gone negative in the Eurozone. The second order effect of this is that corporate bonds of GE, Philip Morris, McDonalds, and other A+ corporates are moving towards negative nominal yields too. For example, short term GE paper in Switzerland (Swiss Franc denominated) is now yielding below zero. Yes — that's right. People are giving GE money with the understanding that they will get back less in the future.
This phenomenon has never been seen before in the annals of capitalism. It begs the question of "What is an investment?" Or perhaps even "what is capitalism?"
If GE can issue debt at a negative nominal yield, what does this mean for the valuation of their equity (which is denominated in US$)?
What does this mean for the Fed model?
There are so many questions here that are not addressed in economics text books. For example, how can equity drift be positive when nominal interest rate drift is negative?
Will the answer will ultimately be found in the currency markets? Is this the essence of a liquidity trap? A roach motel for capital?
anonymous writes:
Seems like it opens up an opportunity for currency storage. Although the highest denomination US currency is the $100 "benjamin", there exists a 1000 CHF note. I'll estimate that you can store about 200,000 notes in 1 cubic meter. With each note worth 1000 CHF, a 0.1% negative interest rate would earn GE 200,000 CHF per cubic meter of storage. For reference, Manhattan apartments rent for something like $1,000 per square meter. Each square meter in a pre-war building with high ceilings could get you about 3 cubic meters of storage. So GE could rent for $1,000 per square meter and earn 200,000 CHF in negative interest.
anonymous writes:
Again, from the cheap seats: It seems that we're seeing all sorts of strange things because players are looking for safety with some hope of capital/forex appreciation, so they accept negative yield. And since some of the CBs and other banks are pushing negative yields anyway, what's not to like? But is anybody looking at GE's swissie bonds and thinking that the situation represents some underlying economic reality unmediated by CB action? (That's not a rhetorical question, btw.)
When they actually implemented the €Mark, I was skeptical because I thought, "Either the Italians are going to have to become a lot more like the Germans, or the Germans are going to have to become a lot more like the Italians." Now we are seeing the crucial period of the experiment, when we find out whether they can get through this to the other side. I remain skeptical.
Peter Grieve writes:
There's the rub. There really is no such thing as Europe, just a recently cobbled-together collection of disparate nations with long histories as separate cultures (indeed, some of those nations are themselves rather recently cobbled together!).
In their quiet way (as grandpa Martin would say), bonds have Lobagolad up and down by 6 point since year end 2014.
Gary Phillips writes:
If one thing is to be gleaned from from last week, it was there were no real signs of systemic risk or true market stress; only the perception thereof. The dissemination of public information forced the movement of common knowledge. The media's voice became the context of the market and the market's negative sentiment made for the healthiest of market environments. The time to get really worried is when the market is priced to perfection and everyone is overly bullish. Therefore, true trading ability is not determined by how well someone can interpret an illusory chart; but by the ability to identify the message's ambiguity, and by the conviction to become a non-conforming player. This is what separates the successful trader from the herd.
Bill Rafter writes:
We've had a significant overweight in the bullish sentiment for quite a while now. The market has rallied against that along with the classic wall-of-worry. True trading ability is whichever tool you use that can generate superior relative returns, including charts with various inputs.
The Triumphal Trio Times 2015 is out. Writing an one line summary is always difficult, but anyway…
1 USD in 1900 in US market is worth 38K as of today, but if invested in tobacco stocks it's worth 6.2 mil and some change of 80K!
anonymous writes:
Roughly 80% of overestimate has been reduced. In the new data, the past is locked in. Inflation adjustments are to blame for people not realizing just how well off they are and are a constant source or "eat the rich" and "we're no better off" myth that has permeated through all corners of society. Real returns are much better, and explains much of the wealth shock, and real wages are much better too. I'll stop there before I go off on a huge rant.
29ef
1949 Born a common man in Schenectady, NY.
1972 Doctor of Veterinary Medicine from MSU.
1973 First of seven Paddleball National Singles Titles.
1972-8 Top touring racquetball professional … Canadian National Champion … First clinic tour of Central and South America.
1974 Bicycled San Diego to Detroit, and Canada to Mexico.
1974-7 Featured in Sports Illustrated 'He Found His Racquet' and other publications.
1978 Owner of Service Press, small publisher of It's a Racquet and The Kill & Rekill Gang in one day.
1975-85 Author of six books and over 100 magazine articles on sports and travel.
1985 Taught sociology class 'Hobo Life in America' at Lansing community College, MI … Psych Technician Certificate from LCC … Worked in psych wards and old folks homes … Lived three months with 'psychic' James Hydrick.
1985-98 Traveled 95 countries of the world under a backpack.
1998 Commodities advisor on a solo 13-country tour made CNN News, Barron's, Wall Street Journal.
1995-9 Hiked the lengths of Florida, Colorado, Vermont and Baja.
1999-2006 Sub school teacher and college tutor in Blythe, CA … Conduct Executive Hobo trips throughout America.
2000-06 Homestead and living as a desert recluse in the Sonora while working on the One-Ton Autobiography of Catman Keeley. 2007-09 Adventure guide in southwest USA and Baja.
2007 First California substitute teacher fired for stopping a playground war … Hit the rails, and foreign travel.
2008-12 Become an itinerant expatriate writing from select Shangri-las including Iquitos, Peru, San Felipe, Baja and Lake Toba, Sumatra.
2008 Three month bus tour of Central America … Caught up in an armed Mexican marijuana smuggling mule train through Copper Canyon. 2009 Buy a seasonal retirement home in the Peruvian Amazon … Continued adventure posts at Daily Speculations, International Man, and Swans Commentary.
2010 Write a biography Kill Richard of an FBI agent who fled murdering CIA agents to San Felipe, Baja … Publish Keeley's Kures while detained by a Sumatra immigration mixup.
2011 Tour Vietnam, Laos and Cambodia … Hobo ride-along with London Times reporter Joe Wobey from Sacramento toward Britt National Hobo Convention written up in 'Twilight on the Rails' … Freight with Central American immigrants from Guatemala through Mexico to USA … Publish Executive Hobo: Riding the American Dream.
2012 Read my obituary, articles, embassy report, memorial service and Art Shay's 'The Legend of Bo Keeley Grows' … Faceoff with bear in scratch contest in NM mountains … Complete a two-month walking and dirt bike reconnoiter of Baja for the Baja 1000 Hiking Trail … Wikipedia 'Steven Bo Keeley' is top rated.
2013 Gilbert Keeley, father dies, and scrap the Chocolate Mt. Gunnery Range for fare to attend his funeral … Fourth attempt through the Darien Gap is foiled by Colombian rebels … 'Last Sail of El Gato' near death sailing from Panama to Cartagena … Three months hoboing Peru rivers in banana boats … Launch the first bilingual tourist newspaper The Amazon Times of Iquitos … Publish five books from Miami including Charlie Brumfield: King of Racquetball, Women Racquetball Pioneers, Basic English One-Page, The Longest Walk, and The Longest Walk Companion… 'Elvis and the Memphis Racquetball Mafia' is syndicated … Founder and curator of Facebook US Racquetball Museum with 5000 friends.
2014 Hobo ride-along with Mother Jones journalist Tim Murphy from Los Angeles via Texas to Chicago and profiled in Jan.
2015 'The Amazing, Possibly True Adventures of Catman Keeley' … Worst case of anemia with 50% normal hemoglobin in the history of Iquitos … Seven months in Peru publishing Stories from Iquitos, Greatest Photos Around the World, Chess and Sport, and Racquetball's Best: Pros Speak from the Box … Asked to a hold rare set of CIA medals by a Miami agent who commits suicide… Inducted into the NPA Paddleball Hall of Fame … Decline induction for the 15th straight year into the USAR Racquetball Hall of Fame.
2015 Publish from Miami Elvis's Humor: Girls, Guns & Guitars, Bill Schultz: Ringmaster of Sport, Book of Bo: Gems of My Life … scuttle a 825 page, 40-year in the making Advanced Racquetball from amazon.com and the public for 'inappropriate conduct' and quoting Atlas Shrugged … Consultant for documentary 'James Hydrick: Fifteen Minute Messiah' … Read stories to Runes 'Dusting and Sweeping' audio series for the William Buchanan Spoken Word Project … Return to the life of a wandering hermit.
dear vicnied,
I wrote down the following years ago summarizing my first meeting with Stan Mason. It was the first thing I saw while visiting his invention factory, but think it's an appropriate response to your own ruthlessly honest self-assessment in response to one of your website's readers (included below). Your response smacks with the brutal honesty required to lead the field in an endeavor, and is possibly the most inspirational note I've read of yours. Deepest thanks for reminding me, again, of the almost savage forces one must both confront and unleash in order to move ahead at the highest levels.
Best wishes.
Your friend,
Ripmac
p.s. I wrote Keeley once, a quote from "Beethoven Lives Upstairs": "to be great, you must have the spirit of a gypsy and the discipline of a soldier." Which is true. But I always thought that, additionally, you must have the overwhelming confidence of a megalomaniac and the all-consuming self-doubt of an acute neurotic.
p.p.s it reminds me of the early days of racquetball and the two camps that evolved. First, the leach crew took the prizes, they were the rebels, the pioneers, winning through creating new strokes, shots, strategies. Next, the ektelon gang, essentially the middle of the road statisticians who took the best of the leach crew, threw out the chancy stuff, and played the odds all the way to ho-hum victory. Politics, of course, played a great role in the game's decline. So too, however, did it's developing lack of color and character. (Of course, a ball speed change that reduced the average rally from 12.3 shots long to 2.9, and, of course, the parallel reduction in power versus control, didn't help either.)
p.p.p.s with innovation, as you know, it is almost always second in line who reaps the rewards. First in line is usually busy nursing the wounds of discovery, failure, recovery….
The First Sign You See When Visiting Stan Mason's Invention Factory:

"It is not the critic who counts; not the man who points out how the strong man stumbles, or where the doer of deeds could have done them better. The credit belongs to the man who is actually in the arena, whose face is marred by dust and sweat and blood; who strives valiantly; who errs, and comes short again and again, because there is no effort without error and shortcoming; but who does actually strive to do the deeds; who knows the great enthusiasms, the great devotions; who spends himself in a worthy cause; who at the best knows in the end the triumph of high achievement, and who at the worst, if he fails, at least fails while daring greatly, so that his place shall never be with those cold and timid souls who know neither victory nor defeat."

Theodore Roosevelt, the Sorbonne, 1910
GERMAN, GREEK OFFICIALS SIGNAL COMMON GROUND ON AID DEAL GERMANY SAID NOT TO INSIST ALL PARTS OF CURRENT BAILOUT STAY GREECE SAID TO BE OPEN TO SURPLUS, PRIVATIZATION DEBATE
The key point here is not "check" to Merkel, or who blinks first in the short term. The key point is that the gap between the two sides is so large there is unlikely to be a mutually agreed medium term solution, meaning the next 1-3 months.
"An Instant of Nut-Fueled Rage Draws a Year in Korean Jail":
SEOUL, South Korea — A former Korean Air vice president who ordered a plane back to its gate in a fit of anger over how she had been served macadamia nuts was convicted Thursday of violating aviation safety law and sentenced to a year in prison.

The executive, Cho Hyun-ah, whose father is the airline's chairman, became an object of international ridicule after the Dec. 5 episode, in which she forced a Korean Air plane taxiing at Kennedy International Airport in New York to return to the gate so the chief steward could be removed. She was said to have been angry that a first-class flight attendant had served the nuts without first asking her, then in an unopened package rather than on a plate.
GREECE MUST APPLY FOR BAILOUT EXTENSION ON FEB 16 AT THE LATEST TO KEEP EURO ZONE FINANCIAL BACKING -EUROGROUP CHAIRMAN DIJSSELBLOEM
The question is much simpler; do they intend to try yet again to promise that they can repay debts that they cannot possibly repay or do they tell all the creditors — internal and external — that there will have to be an insolvency proceeding. The hotels and taxis and restaurants and tavernas can still take Euros in payment; and the French, German and Greek banks will all be happy to do the credit card processing for them. The Eurozone financial backing — like the Dawes Plan — only works as long as all the money lent is returned immediately to the foreign creditors; the Greeks, like the Germans before them, have begun to wonder what they lose by simply defaulting. There is one great difference, though; the German pension plans had already been blown up by the hyperinflation. No one in Germany in the 1920s was still receiving a check from the government that was worth anything. I don't know (or care enough to learn) how important the constituency of the receivers of transfer is to the newly-elected government. They may think that a Young Plan is better than default for right now; and, for them, it will be. For the creditors it makes no difference; they will end up with much the same result the Germans got at Lausanne in 1932 (unless, of course, the ECB wants to ask NATO to be the debt collector and have its nearest member send troops to enforce an attachment).
Charles Pennington writes:
The Greece situation could be analogous to Argentina, which defaulted at around year-end 2001.
I don't have a source for the US dollar performance of Argentinian stocks, except there is Telecom Argentina, TEO.
TEO was at $6.52 on 12/31/2001. It got as low as $0.60 mid-year 2002, for a ~90% drop. But it was at $10.96 on 12/31/2004, giving you a 68% gain over 3 years.
Remarkable!
If you want to make that trade, you'd turn off your Bloomberg for a few years so you don't get stopped out!
anonymous writes:
Another comparable:
Russia defaulted on August 17, 1998.
If you had bought $100 of the open-end Russia mutual fund ticker LETRX, here are some future values of your $100 (with all distributions re-invested):
8/17/1998 $100
10/5/1998 $56 (the low)
8/17/1999 $120
8/17/2000 $235
8/17/2001 $210
So in that case there was only a 44% maximum drawdown, and after 3 years you made 110%. (S&P total return was around 20% over the same window.)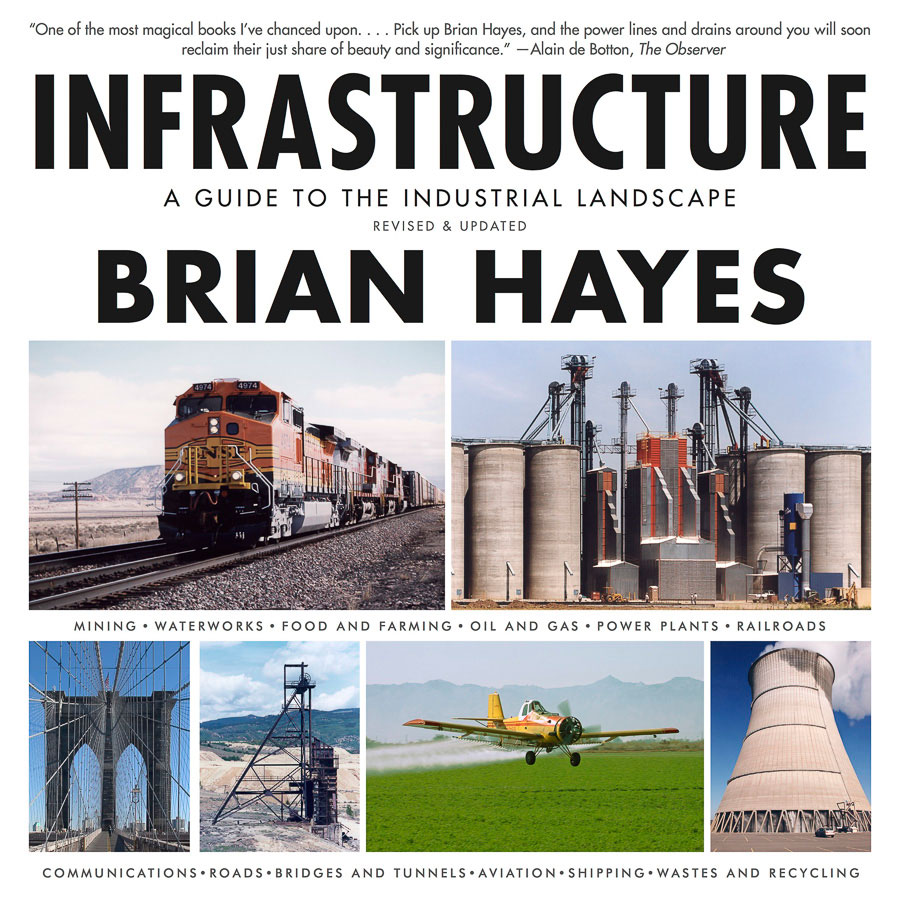 For those of you interested in the infrastructure that keeps all of these modern balls juggling in the air, I would highly recommend checking out Brian Hayes' Infrastructure: A Guide to the Industrial Landscape.

It is basically a How Stuff Works for the technological infrastructure that supports modern society. It's a great look at the works of the industrial Ozymandias, and what it takes to keep it all in motion.
Topics include Mining, Power Grid, Tunnels, Waterworks, Communications, Aviation, Food and Farming, Roads, Shipping, Oil and Gas, Railroads, Wastes, Power Plants, Bridges, and Recycling.
It's a beautiful, oversized, soft cover with tons of color photos and info. I love it!
From Amazon:
Replete with the author's striking photographs, the revised and expanded edition of Infrastructure is a unique and spectacular guide to all the major "ecosystems" of our modern industrial world. In exploring railroad tracks, antenna towers, highway overpasses, power lines, coal mines, nuclear power plants, grain elevators, oil refineries, steel mills, and more, Brian Hayes reveals how our familiar and often-overlooked industrial environment can be as dazzling as nature. With a new chapter reflecting on recent natural and technological disasters—from Hurricane Katrina to the meltdown of the Fukushima Daiichi reactors— Infrastructure is a compelling and clear guide for those who want to explore and understand this mysterious world we've made for ourselves.
41a3
The Brian Williams story seems to be a manufactured one, or might as well be, to supplant the significant with the trivial. Who cares if he exaggerated his bravery or made up an "eye witness" account of a dead body floating by during the Katrina sh*tstorm.
The sad fact might be that most people don't realize he is just an actor playing a part - an entertainer like the ones my kids just met at Disney Word. The fact that so much of the "critical" info we supposedly receive on matters of grave significance is outed as fraudulent after the fact, that we are routinely given bogus narratives on matters of national security, then it is never addressed with accountability assigned, has a way of fading to the background. Instead we worry about if a dead body floated by Brian's hotel room or if he personally dodged a heat seeking missile.
Stefan Jovanovich writes:
Ed misses the point about the show Mr. Williams is putting on. His act is to be a truth teller — to be factually accurate. The decline in the profitability of newspapers has come from their failure to do what had been their act — to be the town criers of the facts of current gossip, not an extension class in proper opinion. The problem for Mr. Williams has been for a while that it is a bad show; the problem for the Times, both NY and LA, is that neither Gay Talese or Jody Jacobs or anyone remotely like them works there any more.

"Caterpillar appears as a snake for camouflage"
It's not a snake, I swear…
Treasury Secretary Lew's comments yesterday:
'While the recovery in the US economy has helped to drive global growth, the rest of the world cannot depend on the U.S. to be the sole engine of growth….'
I am reminded of one of Mr. Lew's predecessors, a certain Mr. Baker– whose mischevious words on a chat show one Sunday morning, in that instance chastising the Germans and Japanese for not trying hard enough and threatening (kind of) to let the Dollar go (whatever that means) in 1987 led to a somewhat statistically noticeable day in the Stock Market on Monday.
I know, I know, one thing has nothing to do with the other. I'm just saying….
1. The January barometer has become a Judas goat for the weak to be slaughtered having failed big when down the last 3 times, in 2009, 2010, and 2014 with average subsequent rises in double digits each time (after holding in 2008) but failing in 2005 and 2003.

2. The stock markets swoon in last few hours on Friday, Jan 30 was 10th worst in last 15 years.
3. Some constructal numbers of the week: gold below 1300, SPU below 2000, and wheat below 5.00, and vix above 20.
4. The best book on science I have read is Michael Munowitz Principles of Chemistry. Some other great books I am reading is Paco Underhill Why We Buy (does for buying what we should do for the market in terms of scientific analysis), Russ Roberts How Adam Smith Can Change Your Life (applies the theory of moral sentiments to how to live happily in current days), Paul Moskowitz and Jon Wertheim Scorecasting (applies sabermetrics and counting to our favorite sports shibboleths), Michael Begon, Townsend, and Harper Ecology 4th edition (the best selling standard ecology book these days) and William Esterly The Tyranny of Experts (how planning leads to poverty compared to the invisible hand), Chris Lewit The Secrets of Spanish Tennis (gives some great footwork drills the Spanish use to rise to top), Lamar Underhood The Duck Hunter's Book (the most beautiful writing about fauna I have ever read and reread that makes you long for the beauty and poetry of bygone pastimes) Uri Gneezy and John List The Why Axis (uses pseudo experiments in real life and contrived anthropogical settings to attempt to prove liberal shibboleths like why genetics and incentives don't matter), David Hand The Improbability Principle (why miracles are likely by chance). That's enough.
5. The service rate paid by the world's most sanctimonious billionaire has risen from 2.5% to 9.5% on quarterly ebit this last reported quarter.
6. The ratio of stocks to bonds is at a 1 year low.
7. Gold is playing footsie with 1300 and SPU with 2000
8. Crude broke a string of 15 consecutive weekly declines with a 7.5% rise this week finally showing that futures moves to telescope reductions in supply the way Heyne elegantly shows they do.
9. The pythagorean theory of baseball runs scored for and against is a statistical due to random numbers, completely consistent with chance and has nothing to do with any recurring tendencies or baseball tendencies.
10. When my kids and relations start calling me worrying about how far the stock market is likely to fall, it's bullish. Conversely when they all start apps, it's time to wonder whether that goose has been plucked.
anonymous writes:
As to point 1.
I posit that all 'indicators', techniques and strategies in the public domain are worse than useless as presented. Within this I include everything preprogrammed into trading software like Bloomberg or Tradestation, the 'January effect', every indicator written about in Futures magazine etc… There are a few public strategies that some firms have made money from but the volatility is enormous and no note is made of survivor bias of others who used the strategy. There are then the preprogrammed techniques available that can be very useful but only as part of a bigger trading process. These last are probably less pernicious than claptrap like the RSI.
It belittles us all to discuss these things.
Consider it this way– everything that makes its way into a magazine or gets programmed into trading software is detritus from the core of truly predictive strategies.
If there is anything to be gained from this it is that you have to do your own homework.
Larry Williams writes:
With all due respect you are way off base on this issue; you mean to say OBV is useless, that seasonals have no value that volatility breakouts are worthless, that Bollinger bands are junk and select price patterns have no value? COT is just a joke, that watching spreads and premiums is the same as an Ouija board? Delivery intentions tell us nothing and advancing stocks, volume and Open Interest reflect nothing?
There are lots of great tools in public domain, just as there are good saws and hammers but it takes a good carpenter to make them work.
Anatoly Veltman writes:
Paragraph 1 falls apart on many levels: so what that "it" failed in 2009 and 2010 at price levels triple and double the 2015 level? So what that "it" failed in 2014 - then via principle of alternating years, "it" better work in 2015! But most of all: in day and age of still ZIRP manipulation, what historical market stats? The 2009-2010 were onset of QE, and 2015 is sunset!
Ed Stewart writes:
Taking into account changing cycles, I tend to disagree. I think there is quite a bit of stuff in the public domain that is very worthwhile.
For starters, a careful reading of Victor's book revealed many more specific ideas than it seemed on a casual reading, which I'm sure many/most here know. I have actually made more than decent money with a few ideas (gasp!) I found in the first market wizards book. Larry's book is a bit of a brain dump (which I always like, no offense there), but once again I found some good ideas in it.
I made (for me, not relative to a big fund manager) very significant profits in 2012-2013 using concepts that I first learned about (If I recall) on Falkenstien's blog, and for a time I tried to get a fund started to trade that market. My thought is that sometimes the market is rich for a particular approach do to a counterparty paying a massive premium, consequently sometimes these things go on even when everyone doubts them (which is why they might keep working).
I think the key to public domain stuff is that if one gets the concept behind a good rule-set there might be 1000 other rules related, waiting to be discovered that might be more attuned to the current cycle of market behavior.
Another is in combining ideas. For example in my way of seeing things there are environments were "naive" strategies are very effective - it is a matter of if u can catagolize that environment and then if there is some persistence to it in the next period (My finding is that there often is), though never perfect.
One last thing I learned is (perhaps contradicting the above) Don't ever write anything and assume that no one will reverse engineer and map out every qualitative thing you write. I had a trading blog that admittedly was mostly goofy stuff i wrote to draw free traffic from google, but also some pretty good core ideas I have made good hay with. Then one week I got emails from two different guys (one a big algo firm, the other an execution algo guy at MS) basically saying, "hey, I mapped out these ideas ideas, they really work - thanks!". The next week I took the blog down. So my conclusion is while some good stuff is in the public domain, don't put anything of value in the public domain yourself, even in vague terms not intended to attract a sophisticated audience.
Stefan Martinek writes:
From whatever I tested, +90% does not hold or does not improve the base case. Few areas are fine despite being in public domain. They can be further developed. It also helps to start PC at least 250-350 times per year, and make tests before forming opinions. There are so many people with beliefs but when you ask them "show me the codes", there is nothing to show. Sometimes an argument goes that you can take anything and make it working, making the dog fly; I agree but I do not think it is a good use of time.
2ec8
In Italy most of the reforms much applauded as usual by Merkel are just privatizations that the government Renzi will have to do.
What is the best way to rob a nation of its jewelery? Answer: Indebt with money…printed (which costs nothing) and when the nation will be cooked to perfection and will no longer be able to pay back the interest, claim payment in assets.
I thought that this practice was limited to Latin America, the hunting grounds of the IMF, (see Argentine rejection and consequent restructuring) but after Cyprus and Greece quickly realized the wind was blowing in EU, in the sky were a lot of vulture's license plates named IMF.
Now it is the turn of Greece, after having sold the islands as well, on its last legs, it seems that "Greece is awake."
Note the atrocities operated by major European nations against Greece are at the limits of decency (euphemism)…
The last example: it seems that the government was forced, due to the continued payment of maturing debt + interest, to privatize ROSCO, the company of Greek rail services. Who was presented to detect it? Siemens (Germany) and Alstom (France) + a Greek society (contour), 3 companies to carve a greek piece of PIIGS. And this is just one of countless stories happened to the detriment of Greece, supported by the Greek political parties that have just lost the election (rightly, and have sold the nation). Possible? Draghi continues to talk about the transfer of sovereignty… but to me it seems to be giving more.
Our ancestors who died in the war to protect the nation would turn in their graves to see what is happening.
Europe now only a feast for vultures. And finished with Greece they will continue with others… those (politicians) who are preparing the sale of national assets under the name of privatization,
Please join us at the Junto on Thursday, Feb. 5, 2015.
Time: 7:30 p.m. - 10:00 p.m.
Free admission, no RSVP required.
Location: 20 West 44th St., ground floor, New York City
Ben Powell, Director of the Free Market Institute at Texas Tech Univ., will be speaking about his book, Out of Poverty: Sweatshops in the Global Economy
From a review on Amazon by Greg Rehmke:
Ben Powell's Out of Poverty examines today's textile factories in the developing world and their role as a pathway out of poverty. Migrants from rural villages only gradually acquire skills valuable in modern factories. But as poor people learn how to work with textile and other light industry machinery, their earning power and wages rise. Critics of sweatshops wish there was a better, faster way, wish wages and working conditions could be better faster.Ben Powell is a critic of sweatshop critics, and he examines the many claimed shortcuts to prosperity that wishful thinkers say should be adopted (and mandated if not adopted voluntarily). These alleged shortcuts turn out to cause long delays. Ideally, the unskilled of the developing world could migrate to better-paying jobs. And ideally machinery and infrastructure could more quickly "migrate" to developing countries. Sweatshops are a compromise in today's imperfect world that lacks the freedom of movement and investment taken for granted in the decades before World War I.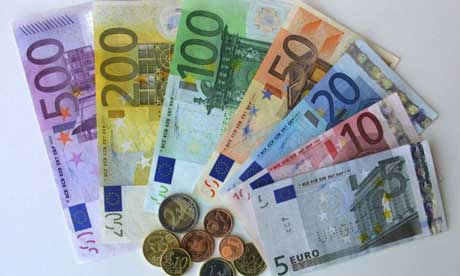 Well, everything is going to hell. Russia is still a problem, Greece seems to be turning into a trojan horse, the European QE, if confirmed by the data, will be fuel to the fire otherwise wasted money. The real QE for Europe would be fiscal union, it is not clear which masochism perverse wants to continue to kick the can despite all that is happening. They are destroying, structurally and industrially, European nations.
I think the Euro should yield against the $ next 2/3 months if will follow positive data, so I expect what happened from 15gen (hammer on European indices). Otherwise the $ will continue to parity, EUR$ 0.80/0.75 worst case. I think that pears are ripe in the US, so maybe sell the tops and put into treasury waiting for the second part of the year when better occasions are a possibility. Oil will rise in second part of 2015 (if not before).
I think Macro decision are faster than fact, but there is nothing worse than to inject money in an economy unable to recover because it was managed by opportunistic nations (politician/bureaucrats) not willing to cooperate.
Structurally, the QE will not have any improvement. It makes no sense to do austerity while the EU industrial system collapses and then six years later, they realized the error, try to revive the fortunes of the economy printing. The system to indebt nations and then manage them better, so loved by the IMF, seems to have become ingrained in Europe. My grandmother used to say, it was better when it was worse, and we were unaware of that, but she was right.
The CME and the CFTC are doing a great job at destroying the market ecology by exterminating the 'spoofers' out of the futures markets. This clever species helps maintain the equilibrium of order flow by gaming liquidity asymmetries and thus keeping the population of naive momentum front-running strategies in check. It reminds me of the extinction and later reintroduction of the wolves in Yellowstone.
Ed Stewart writes:
I can't see how spoofers are bad for anyone but the momentum front runners, as you suggest. There must be a "god given" right to jump in front of slower moving participants that we are not aware of. I'd love to know how the spoofing practice developed. My guess is it started as a counter-strategy to neutralize front-running before it became a source of profit?
Vinh Tu writes:
And "they" destroyed limit orders when they busted the trades during the flash crash. I guess front-running is the only virtuous and god-favoured strategy?
Hernan Avella writes:
Vinh, I think the case with the limit orders is simply adaptation forced by the hft boys techniques. They have raised everybody's game. What do ppl gain by advertising their intention in the order book?. What it's remarkable, is how long it took for other participants to start randomizing, splitting and using hidden orders in a more widespread fashion.
But to your point, yes, speed is expensive and 'they' try to recover those costs.
anonymous writes:
Famous energy trader John Arnold says:
"Front-running is profitable against traditional orders entered by humans. But with spoofers in the mix, the picture looks quite different: When the front-running HFT algorithm jumps ahead of a spoof order, the front-runner gets fooled and loses money. The HFT's front-running algorithm can't easily distinguish between legitimate orders and spoofs. Suddenly the front-runner faces real market risk and makes the rational choice to do less front-running. In short, spoofing poses the risk of making front-running unprofitable. Because spoofing is only profitable if front-running exists, allowing both would ensure that neither is widespread."
The basic ideas are very similar to Hernan's market ecology post.
31cc
Here are my results. Stay safe everyone!
It's during bizzards moreso than other storms that people suffer severe injuries. Orthopedic surgeons are usually quite busy after historic storms. Whether this one will meet the forecast remains to be seen.
When I was on call at Shock-Trauma during the 1983 blizzard, we a sustained of blizzard condition—whiteout and wind. Some fellow in Frederick County (I was in Baltimore City) decided it would be a great time to take his snowmobile out for a romp through the storm. He missed seeing the tree that his snowmobile took on and lost—and he suffered multiple system injuries—lacerated liver (it was half off the vena cava, and the surgeons were amazed he survived the helicopter trip), broken pelvis, broken femur, collapsed lung, brain hemorrhage, skull fracture, broken cheek and eye socket, 4 or 5 broken ribs, a broken knee cap, a broken wrist, a bunch of broken toes. and bilateral dislocated shoulders, not to mention extensive bruising. he received something like 25 or 30 units of blood. It was pretty bad. He walked out of the hospital 6 weeks later.
Blizzards are dangerous. They're not just big storms.
Something today reminded me of a mentor (English teacher, older guy retired a few years later) that I had in high school. One of the key things he told me was, "Never get serious with a girl whose mother you would not want to have relations with, if given the chance". I think more than a few times that thought flashed before my eyes and it saved me from serious error, partly because it was memorable. I'm trying to think of any similar rules of thumb that might help us to avoid those trades or strategies that can severely set back profits, create anguish, and otherwise make things worse than they should be. Any ideas?
Leo Jia writes:
Hi Ed,
"Never get serious with a girl whose mother you would not want to have relations with, if given the chance"– I thought that was only my words!
There can be many similar things for trading. Here are some for critique.
1. If you don't like someone's way of life, don't trade like him.
2. If you don't like the dominant players of a market, don't trade that market.
3. If you don't like the rule makers of a market, don't trade that market.
4. (I learned this one from Scott Brooks) If there is already a professional at the table, go somewhere else.
5. If you don't like a country's tax code, don't trade in that country.
6. If a market hasn't shown a lot of opportunities in the past, don't trade that market.
I always thought dogs were angels too, and trained hard many years in veterinary school to heal them.
However, certain dogs in certain countries, depending on the people that influence them, in one month turn from angels to snarling demons. I learned a lot in the past seven months fighting about eight dog packs of 5-10 animals each by being surrounded by them all snapping within four feet – front, back, and either side.
The best thing to do is to back into a corner. Otherwise the fastest alpha will sprint around and try to hamstring you by biting in the rear. It's impossible to watch 360 degrees, so if one is encircled without any plan or mental rehearsal, blood is sure to flow. Yours.
It's exactly the same technique I watched on a National Geographic film of packs of 6-10 wolves each taking down caribou, deer, elk or even bison in Alaska. Unless the prey can outrun the predators (not me any more), or back into a corner so there is no real side or rear attack, or grab a weapon, then one is at the mercy of the canines.
This never happened to me, though I was bitten biweekly by the Peru Amazon street dogs in various haunts where I walk. The two primary fighting techniques were to pick out the alpha (usually the biggest male), and charge it ignoring the attempted nips from the rest. Once you kick the alpha in the teeth and he whines, the rest retreat. In the common case of the fastest dog running around end to get behind you, I always turn and immediately chase it trying to kick it. You need to get to it fast because as you turn to face it the rest of the pack rushes your heels. That dog is the fastest, usually the bravest, and once it zips off the rest will follow its lead away from your body.
Once I got these strategies down, I actually looked forward to the afternoon or night workouts of fighting off the packs after a long stint at the 'office', and it was restful before going to bed.
Sad to say for a veterinarian, I resorted to psychological warfare to turn the tide to keep from going psychologically rabid myself. I knew the dog alpha of each of the eight packs in a blink at a block's distance; it was usually the biggest male, but nearly as often the stupidest which is to say most fearless, like pit bulls and bulldogs. My psych warfare was to stalk them during their sleep, especially during a night rainstorm, and kick them directly in the cranium. If you kick in the eye, ear, nose or teeth it can cause permanent damage, but I only wanted to establish myself as their dominant. My foot made hard contact about twenty times over the months with the various sleeping alphas, as hard as football punts, but their heads are so hard that it was like kicking a 8" diameter rock. I alternated feet over the weeks waiting for the soreness to go away. I have no toenails left on either of my big toes from this.
Then the psychological part comes into play – a hard head kicked sleeping dog awakes instantly and instinctively turns and bites at the foot. There's a split second to kick a second time with the same, or better, the opposite foot, and about one second after your first kick the animal registers pain, the eyes dull, and it withers off yelping in pain with a tucked tail. Now is the time to follow it through the rain for blocks, not letting it lie down, rest or sleep for about thirty minutes. It's easier than you think because every alpha returns to the same spot after a few minutes, so I just lay in wait, as they have done with me, and keep them awake and moving. It's a combination of pain and sleep deprivation, and after a few nights of this, without fail, the alpha will no longer lead the pack in attack. Instead, when it sees me coming, it lowers the head in a cowering gesture and sulks off, followed by the rest.
That's the time to be on the alert for attacks from street people, who live like them, and empathize in bands. I know this from hundreds of encounters with the same packs in the past few months in the Amazon where the dogs have turned nasty with a sudden rise in consciousness of the people who now treat the dogs like second, instead of equal, citizens.
These are the techniques to beat fallen canine angels. And they worked on people too.
Pitt T. Maner III suggests:

These high frequency deterrents called zappers work fairly well and could be easily shipped to Peru. At least it would make an interesting study.
Marion Dreyfus writes:
When I rented a house on a hilltop at End of The World, Zimbabwe, baboons made increasingly aggressive encroachments toward me and the house. I remember saying to the park ranger, who came and shot the baboons dead: "Once they are no longer afraid of people, they will rip your face off. We must kill them to keep that from happening."
Andy writes:
A recent study on Montana and Wyoming data indicates that killing wolves leads to increased depredation of farm livestock.
One theory proposed is that shooting the alpha breaks the discipline of the pack and leads to more independent wolf breeding pairs. These rogue lone attackers are more likely to predate livestock than an alpha led pack.
The researchers did not find a drop in the depredation until >25% of them were destroyed, which corresponds to their population's rate of increase.
The idea for a rancher is to avoid killing the alpha unless he can and will take out more than 25% of the population of the wolves.

3235
Thank you for passing along the Constructal Law of Design paper by Adrian Bejan.
Bejan's basic premise is that everything in nature is a flow. There are the obvious flows of things like water (rivers, blood) or air (lungs, air distributions systems), etc. In addition, he discusses flows of stress, for example, in the arrangement of the limbs on a tree, or the flow of animate mass, e.g., when a herd of animals runs or school of fish swims. His premise is that living systems are continuously changing and adapting their configuration to maximize the "currents that flow through" them. Even the building of the Egyptian pyramids, he argues, represents the flow of stones from a broad area to a single point (the pyramid). Here "living" systems (both animate and inanimate, such as rivers or pyramids being built) are constantly evolving and changing their configuration. When a system stops reconfiguring its flows, it dies: a dried-out river bead, dead animal, or completed pyramid receives no further maintenance, i.e., there is no more reconfiguration when something is dead.
Here is a Q & A on the concept of Constructal Design by a Forbes reporter and Bejan that has things described in less technical terms than his paper.
In terms of applying these concepts to trading, it seems to me that the obvious entity that flows is money.
One concern that I have, however, in adapting Bejan's ideas to a trading model is that, in the flows that he is describing, there is always a driving force from high to low: gravity pulls water down a landscape, a pressure differential drives air in and out of the lungs, a disturbance or threat forces animals to run in the opposite direction. As a result, all of the flows that he is describing are one-way, or unidirectional. This central to his entire theory, as the opposite behavior is prohibited from the Second Law of Thermodynamics: heat does not move from cold objects to hot on its own, rivers do not flow uphill, air does not come out of the lungs when the diaphragm expands to reduce the pressure in the lungs to draw air in, dropping the broken pieces of a coffee cup on the floor will never result in re-assembled cup, etc.
Thus it would seem that a critical element in adapting Bejan's ideas for trading will revolve around describing a driving force for the flow of money. This is really your expertise far more than mine, but let me start the dialog by suggesting that the driving force for money is the perceived potential for money growth (PPMG). 'Perceived Potential' here implies that there is an opportunity to make a profit from an investment, but that the outcome is not necessarily guaranteed (think of Enron and Bernie Madoff). Reconfiguration, also a key tenant to Bejan's ideas, happens with the flow of money from one instrument to the next. If we now draw the analog of a river basin, and that high PPMG is analogous to a low point in the flow of water over a landscape, then it can be seen that money will flow from regions of low potential (elevated areas, mountainsides) to regions of high potential (low areas, valleys). The lower the elevation, the more rapidly money will flow into it.
What complicates the analysis is that PPMG is a dynamic quantity. A company can be very profitable at one point in time (Kodak, General Motors, Blackberry), and thus have considerable growth potential, but over time, its growth potential can change. This is analogous to the river basin landscape changing constantly in elevation, and having the flow adjust accordingly. This does happen in nature as well, of course, both slowly (Colorado River/Grand Canyon) or quickly (earthquake/volcano). Such a time-varying landscape would be important to include in a trading model.
I think that the above would be a bare minimum to implement the ideas that Bejan is putting forth. I did do a quick search to see if people were using these ideas for trading (in particular) or finance/economics, but I did not find much. This is not a surprise: Bejan's ideas are new and different and thus will take some time to permeate to other areas. This, in itself, is an opportunity to seize the advantage. The risk, is, of course, that the ideas may not have significant utility in trading to upset the state-of-the-art now in place, and thus will not pay off after time spent trying to integrate them. This is the risk of adopting any new technology/idea, I suppose.
Anyway, there you have it: my rather disjointed ideas on the matter. I would be interested to see if Bejan's ideas could prove to be of utility for trading.

Jon Longtin, Ph.D., P.E. Professor Department of Mechanical Engineering 159 Light Engineering Bldg. State University of New York at Stony Brook Stony Brook, NY 11794-2300
In a paper recently published in the journal Interface, researchers from the Massachusetts Institute of Technology, the Draper Laboratory, and the disease-forecasting company Ascel Bio say they've found a way to predict overreaction to outbreaks.
Lumber is worth a close study and possible long position here…
QEe (QE euro) seems to be moving forward. So why did gold, which has had some strength over the past month, not budge at the news the way currencies did?
anonymous writes:
The theory I am working on in my head and was hoping to have time to write about tonight is as follows:
QE depends upon a central bank "cartel" all agreeing to do it in unison and or in staggered phases. The cartel allows them to get away with this absurd policy without immediately wrecking the currency as compared to other currencies they don't seem to be devaluing.
Switzerland broke the cartel.
This means that the future of QE is in fact in jeopardy and will be more limited than otherwise.
anonymous writes:
Isn't that the path off all cartels of > 1 players (Debeers),
Look at OPEC post 1974.
Like the prisoner's dilemma, the "cartel participant," game would call for a certain, upside price where the first member jumps ship, with a phony justification for their greed trumping the purpose of the cartel.
anonymous replies:
Yes of course. Only in this case instead of restricting the supply, the deal was to expand the supply.
In the old days when Kuwait broke from the cartel and cheated it brought oil down more than just by the amount of Kuwait's extra production because once one member of the cartel cheats everyone else is going to.
It's the same thing here. Once SNB broke, others will be tempted to as well.
This isn't talked about in the press because of the insane and incorrect notion that your currency going up is somehow a bad thing, so the mainstream all think that the Swiss are somehow hurting themselves.
Alston Mabry writes:
But the alt version is that they weren't playing along because their EUR purchases were putting upward pressure on EUR, counter to ECB's strategy.
anonymous replies:
What ECB, US, and Japan would have wanted is for the SNB to devalue along with them. SNB wasn't going to do that.
Now, all of QE depends on the big lie that you are not really printing money and not really devaluing the currency.
Any time someone says "you're printing money" the response is met with "you just don't understand" followed by a description of the complicated process of QE and how it's not really printing money.
But the fallback position for the QE'ers is "look, there's no inflation (no consumer inflation.. it's in assets) and "the currency isn't being devalued".
The SNB's peg kept the ECB being able to claim they weren't destroying the currency. The SNB undoing of the peg reveals that the emperor has no clothes and they are, in fact, going to destroy the currency.
Alston Mabry responds:
It may be true that claims were made about the EUR on the basis of the CHF cross. But I find compelling the narrative that Mario called up Thomas Jordan and said "look, unless you're willing to print tens of B of extra SFrs a month, you're not gonna be able to keep up." And Jordan, knowing that technically the SNB could do it but politically internally couldn't, said "you're right" and they dropped the cap.
20cd
Cold and flu season seems to be taking an unusually severe toll in California this year. Though it's still early in flu season, there are state-wide shortages of cough syrup, and state health officials are beginning to wonder what the consequences may be for the public's health.
While the notion of flu season is likely already incorporated into many of the models that we usually discuss, and while for the day-to-day modeling it might not much matter, I wonder if any of the other models of price movements have incorporated any indices of health status such as might be represented by flu cases? At some point, those case levels may impact us economically, leading to some increased gravitational pull bringing prices "closer to the earth."
Even if people who are infected go to work, their productivity will be less than usual. Or is the impact sufficiently muted as to be inconsequential?
Good morning. I've been wondering what the calendar means at the top
of the page… I'm sure there's a post I missed. Can you point me in
the right direction. Thanks.
Reply:
The numbers in each box are the daily changes in S&P futures and Tbond futures
The color coding is as follows:
Green: Bonds up and Stocks up
Red: Bonds down and Stocks down
Blue: Bonds up and Stocks down
Yellow: Bonds down and Stocks up
My recollection of the marketing pitches for retail focused FX platforms was that they had some parallels to the bucket shops described by LeFevre, particularly one of them who advertised that one of your account features could be "no margin calls." If a position went against you by a particular threshold, the broker would automatically close it out, so you would have no "surprises."
anonymous writes:
FXCM stock (a listed US company) is indicated down 75% this morning. They issued a statement that the CHF move "generated negative equity balances owed to FXCM of approximately $225 million."
As of 9/30/14, their stated equity book value was $262.7 million (source: Bloomberg) — so if their book value is real — then this particular problem can be contained.
Interactive Brokers stock is indicated down 10% this morning. They have made no public statements so far. But as we've seen time and again, broker-dealers rely on customer confidence and should a large number of customers start withdrawing collateral, this could spiral. Hence silence isn't golden.
Ed Stewart writes:
A few things about IBKR.
First, is is a much more highly capitalized than financial statements at first suggest, as only 15% of the company trades on the exchange, the rest is owned by managers and (mostly, if i recall 75%) by CEO Peterffy. As of the last quarterly report, excess regulatory capital stood at 3.25B. S&P credit rating A- Stable, zero long term debt.
Anyone who has traded there is aware that relative to other brokers they are very conservative on margining issues, etc. Also, they don't have the business model of bucketing all of the trades on their FX platform like most retail platforms do. The IB FX ecn mostly allows IB customers to trade with other IB customers and other banks, though they are also a market maker there. In other words it is a much, much stronger business than the crappy retail FX companies.
The other issue that is hitting the company recently (hurt their results last quarter and almost certainly this quarter) Is that they keep their equity in a basket of 16 currencies that they call the GLOBAL, so they are getting hit by the strong dollar.
I could be wrong I think a currency peg blowing up is the kind of thing their risk department and peterffy would identify as a risk and substantially mitigate, especially if they had retail traders trading in masse against the peg the way the other forex platforms had. This is based on my reading most of Peterffy's writing and conference calls over the last few years, I could be dead wrong.
If there is a bad quarter out of this but the damage is not too bad I think it might end up a solid buying opportunity. It was my largest stock holding in tax deferred accounts till yesterday when I dumped most of it.
Garrett Baldwin adds:
Global Brokers NZ has failed and Alpari U.K. is insolvent.
anonymous writes:
What am I missing? Why should a retail broker go under because a currency moved? Were they trading against their customers as opposed to just executing orders?
Anatoly Veltman writes:
If they don't call for margin, they end up owning position. How could they do anything with a position thru the entire initial bidless 20% gap? They obviously did rush to liquidate on the small bounce; and that's how the new low was made (look up intraday chart)

Here's a very interesting scholarly paper from some wheat counters ~83 years ago. It's a very good read, and appropriate for the time, but government interactions in the grain markets, wars, and international trade have rendered much of this obsolete. Still, it's a good picture of the level of scholarship that was applied to the wheat markets 83 years ago. Much has changed from then to now, but one thing never changes. The best and brightest of any generation will always drill down, and try to find a way to beat a single market.
1. The Swiss franc is up about 17% this morning. This is unprecedented in recent history. That is a BLACK SWAN. A BLACK SWAN is an event that you have not read to be predicted on Zero Hedge or anywhere else. This cannot happen without reverberations — and could be destabilizing — and volatility inducing in unexpected places.
2. This could be the ultimate no-confidence vote in the Euro currency.
3. It makes Bitcoin's move of 23% yesterday look quaint.
anonymous writes:
The most obvious conclusions to draw:
1) Further downward pressure on the Euro currency
2) Further downward pressure on global yield curves
3) Further loss of confidence in central banks
More derivative thoughts to consider:
a. Impact of forced liquidation of short CHF trades and potential subsequent reduction in risk and positions b. Impact on CHF funding trades in places like Hungary and Poland c. Impact on Swiss economy given where the currency and rates settle d. Impact on SNB flows e. Impact on ECB meeting next week in terms of QE
I notice that the Dow is down already and I note that gas is 1.86 this morning overnight from 1.92 here in Southern Ohio. Many empty rentals around my area. Many people, due to oil production in my area, have been been priced out of renting. I have several empty units but have found over the years people don't move over the holidays nor the cold winter months unless evicted or just moving into the area.
A complete background check will sort through any of those issues.
Gary Rogan writes:
There is enormous destruction going on of all kinds of daring, innovative oil drillers, the best of the best, which will produce damage that may last many years, as well as many traditional oil, infrastructure, transportation, etc, etc, companies but all people care about is the price of gas. Isn't that selfish?
Pitt T. Maner III writes:
It will be interesting to see the impacts to natural gas supplies as the number of drill rigs in operation decreases.
"In fact, the current natural gas rig count remains 80% below its all-time high of 1,606 reached in late summer 2008. In the year-ago period, there were 372 active natural gas rigs."
This paper gives an idea of the relationship between drilling new wells and production.
Dear Dailyspec,
Do you think there is a need and market for alleviating the pain when being different hurts?
On any given day we have many people on the site that feel differently and are proud and pumped up about it with all the wonderful possibilities it offers. On a good day, feeling different means feeling free and unconstrained and the world is your oyster and playground.
I know however that there is a dark side to feeling different and on a bad day it can get really dark. On such a day you can go from feeling on top of the world to wondering if you know anything about anything especially after an, "I can't believe I just did it again. How can such a smart guy as me do such a f-in stupid thing AGAIN!"
Having spoken to a number of site members over the years and I know that this is not an uncommon feeling, it's just not part of the spoken culture here.
One of the top things I like about the site is that it is a group of people who appear to give a damn and are making a difference on so many levels. I'm thinking that our giving a damn should extend to caring about each other especially during those bad times when some people go "radio silent" and hear from them for a while (and it wasn't to go and kick butt out in the world).
Here's my question: How prevalent are the dark thoughts of feeling different when you're in the negative end of it, how dark do you think they get and if so, what do you think the need and market is for alleviating some of those thoughts and feelings? I don't know about you, but if and when I were to hear about a member of our site blowing their brains out, it would get to me (especially me being a former shrink and specialist in suicide) and I would think that I, and we, missed something important.
The site is a special group and I'm honored to be a member.
Wishing you all the best,
Mark
2519
I first met Ed sometime in 1997 or 1998. I was in graduate school and trying to earn a few bucks by working as a data cleaner and spreadsheet builder at a hedge fund not far from the university. I and the rest of the staff worked in cubicles in the middle of a big trading room, while the important people had glass enclosed offices around the perimeter. One of these people, a well dressed, tall and large gentleman soon introduced himself as Ed Dunne. In the following few days he would often stop by and chat about what was going on in markets all over the world. Most often I could see him in the office of the head of the firm, the billionaire Mr. Why, talking and gesturing while Mr. Why nodded politely from time to time. I never talked to Mr. Why, but I felt I had a indirect link to him via my conversations with Ed. And he knew or spoke with so many other important people in the investment world.
Ed was to me was the quintessential expert on international financial markets. He would explain how hedge funds and re-insurance companies work together, how oil can be stored in idle ships for later delivery, what factors affect the prices of grains, and a hundred other things. All things that I was very curious to learn about. To become as savvy and as wealthy as Ed seemed within easy reach if I could have a few more discussions with him. One time he invited me to attend one of his meetings at Princeton University with several economics and statistics professors (though I did not see Ben Bernanke there), and afterwards to a sumptuous lunch in a nearby restaurant. That was just one example of his generosity.
Later on Ed claimed that he introduced me to Victor and got me the dream job that I now have. I think it was more complicated than that and that there were several people involved but I don't remember the details. But certainly Ed played a role and I am grateful to him for that.
Media advice is of little worth, except for a fade perhaps. After all, the primary purpose of the typical financial reporter is to make his/her quota in inches. Quantity over quality. The purpose of the financial media is to sell ads, make money, and hook you like a fly fisherman casting a fly at a trout. The TV financial media has been taken over by guest experts(touts). I avoid reading or listening to them like the plague as I prefer to make my decisions looking through my own lens, not the lens of others(who are observers, not players), second hand.
This broken down old grain trader looks at the financial media with a very flinty eye, much like one looks at the guys at the track who sell tout sheets when you walk past the turnstyle. Make your own decisions, keep your own counsel, and play your own hand. If you need advice, there are private subscription services, for a high price, that might, sometimes be worth listening to, but unless they have skin in the game avoid them like the plague.
Craig Mee writes:
Everyone is now a salesman trying to justify themselves…listener beware. Funny how the country boys seem to do less talking and more listening and see things more clearly. I suppose that happens when you're not selling your soul on every deal as a means to pay the rent.
For a number of years I've been counting the number of private jets at the airport. A surprising number of the world's wealthiest people have homes here and fly here in their jets. Movie stars also like to vacation there. The theory is that the captains of industry or flexions as Chair likes to call them have the inside track on the prospects for the coming year, so a lot of jets is a bullish sign. In recent past years there have been so many jets, over 70 that they have had to turn them away and park them in Maui. This year I only counted 35. Though there were much fewer, they were the larger G4's and 16 plus seater, many brand new and shiny. Not many of the little Lear's where the poor multimillionaires have to bend over to get in cramped little cabins. The billionaires travel back and forth at will and can sleep and dine comfortably with bedrooms and baths in the jets. So the private jet indicator might indicate lowering expectations, except for the multi billionaires. Unfortunately I have not kept track or quantified this but my recency heuristics tell me there may be some correlation.
The CME and the CFTC are doing a great job at destroying the market ecology by exterminating the 'spoofers' out of the futures markets. This clever species helps maintain the equilibrium of order flow by gaming liquidity asymmetries and thus keeping the population of naive momentum front-running strategies in check. It reminds me of the extinction and later reintroduction of the wolves in Yellowstone.
Ed Stewart writes:
I can't see how spoofers are bad for anyone but the momentum front runners, as you suggest. There must be a "god given" right to jump in front of slower moving participants that we are not aware of. I'd love to know how the spoofing practice developed. My guess is it started as a counter-strategy to neutralize front-running before it became a source of profit?
anonymous writes:
And "they" destroyed limit orders when they busted the trades during the flash crash. I guess front-running is the only virtuous and god-favoured strategy?
356f
Shake Shack has an upcoming IPO. Revenues are now about $150 million and have been growing about 60% / per year. Profit was about $20 million. They're talking about a proposed IPO valuation of $1 billion, or 50 times earnings. I'll buy some if I can get it at that valuation.
The reasoning: it's another Chipotle! Just to check for headroom, Chipotle's market cap is $21 billion.
"We believe Shake Shack has become a compelling lifestyle brand. We helped pioneer the creation of a new fine casual category in restaurants. Fine Casual couples the ease, value and convenience of fast casual concepts with the high standards of excellence in thoughtful ingredient sourcing, preparation, hospitality and quality grounded in fine dining."
Darien Taylor: "I'd like to produce a line of high quality antiques at a low price."
Bud Fox: "Sounds great. I'll take you public."
Rocky's financial analysis shall follow in due course. In the meantime, he recommends that one noodle at the IPO and subsequent stock performance of NDLS.
anonymous writes:
First of all, it's fairly likely that this will jump on the IPO day if the overall market stays roughly similar to the current conditions. Why? Because restaurant IPOs have been jumping no matter what, including NDLS and given its NYC roots, a lot of people who buy stocks will find it comfortably familiar. So if you want to flip it, your odds are pretty good. Will it also go up for some time? Probably, since they all have, but hard to tell based on how quickly the new buyers will figure out the financials.
What struck me about this thing yesterday was it's curious road to IPO-dom. It was started by a diversified restaurant operator with multiple brands but curiously only this part is going public. Why? Who knows, but most likely because you can build the restaurants cheaply as they are self-described "shacks", and the other ones are more substantial in nature. Now imagine yourself as a large, slow-growing company that wants to make a billion dollars. You start building "shacks" after your first one is genuinely successful, so you have a GUARANTEED way substantially growing sales every year if you just grow the number of "shacks" every year. Obviously as all students of binary progressions know this can't go on forever, but it certainly can until the IPO (except in this case just lately they kinda let their guard down). So you've got a 50% growth story and now it's worth a billion bucks or so they say. Voila, it's magic!
The profits: for the first 9 months of their respective years, they went down from $4.4 million to $3.5 million. You equity should you chose to invest went down from $37 million to $36 million as your sales grew by 40%, not quite the 50% as in the prior years so nicely pointed out in the bar chart. Oh yes, and the same-store growth has slowed down to next-to-nothing from pretty damn good in years past. So go ahead, buy this 5 million in profit for a billion for the long haul because your manhood depends on it and because burgers are what America is all about.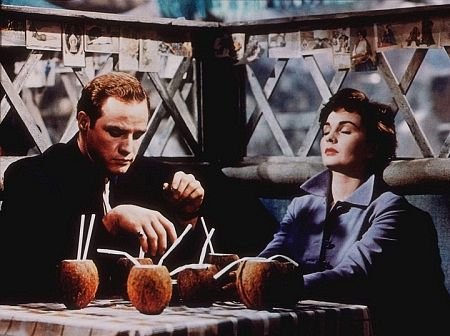 The film version of Guys & Dolls is often repeated during the holiday period. It contains some sage advice on gambling, handicapping and, if you so desire, how to run a floating craps game without getting caught. It features a thirty-year-old Marlon Brando at the height of his acting powers as big time gambler Sky Masterson. Brando was born in Omaha, Nebraska and so the financial advice should be reliable.
Here are some apposite quotes:
I know it's Valentine, the morning works look fine
You know, the jockey's brother's a friend of mine
And just a minute, boys I got the feedbox noise
It says the great-grandfather was Equipoise
I tell you Paul Revere, now this is no bum steer
It's from a handicapper that's real sincere
I'm pickin' Valentine cos on the mornin' line
The guy has got him figured at five to nine
So make it Epitaph, he wins it by a half
According to this here in the Telegraph
—
Nathan: Not Sky. He doesn't lend money. He bets money! So why don't I bet with him? Why don't I bet a thousand with him on something?
Nicely: You would bet with Sky Masterson?
Nathan: I am not scared. I am perfectly willing to take the risk, providing I can figure out a bet on which there is no chance of losing.
—
Nathan: Offhand, would you say that Mindy sells more cheesecake or more strudel?
Sky: Going strictly by my personal preference, I'd say more cheesecake than strudel.
Nathan: For how much?
Sky: What?
Nathan: For how much?
Sky: Why, Nathan! I never knew you to lay money on the line. You always take your bite off the top.
—
Sky: Nathan, let me tell you a story. On the day I left home to make my way in the world, my daddy took me to one side. "Son," my daddy says to me, "I am sorry I am not able to bankroll you to a large start, but not having the necessary lettuce to get you rolling, instead, I'm going to stake you to some very valuable advice. One of these days, a guy is going to show you a brand-new deck of cards on which the seal is not yet broken. Then this guy is going to offer to bet you that he can make the jack of spades jump out of this brand-new deck of cards and squirt cider in your ear. But, son, you do not accept this bet because, as sure as you stand there, you're going to wind up with an ear full of cider. Now, Nathan, I do not suggest that you have been clocking Mindy's cheesecake.
—
Sky: But if I wish to take a doll, the supply is more than Woolworths has got beads.
Nathan: Not high-class dolls.
Sky: There's only one class: interchangeable.
Nathan: A doll is a doll?
Sky: All dolls, any doll. You name her.
Nathan: Any doll? Will you bet on that? Will you bet $1,00 bucks that if I name a doll, you can take the same doll to Havana with you tomorrow?
Sky: You've got yourself a bet.
Nathan: I name her.
Sky: Her?
Nathan: Sergeant Sarah Brown [head of the Christian mission].
Sky: Daddy! I got cider in my ear.
—

Arvide: What are you unhappy about, son?
Sky: Gambling.
Sarah: Apparently you're a successful gambler.
Sky: Is it wrong to gamble, or only to lose? I'll come back for help when I'm broke.
Sarah: Don't misunderstand. It's just so unusual for a successful sinner to be unhappy about sin.
Sky: Besides, my unhappiness came up very suddenly. Maybe it'll go away again.
Arvide: We can keep you unhappy, son. Give us a chance. You don't look like a gambler at heart. What made you take it up?
Sky: Evil companions. Evil companions who are always offering me sucker bets.
Sarah: Just what is a sucker bet?
Sky: A bet that is reserved for suckers. For a gambler to get sucked in on such a bet is most humiliating. But to lose it means that you are marked for a very long time as a chump. You must go all out to win it.
Sarah: Is that so terrible, to be marked as a chump?
Sky: Among my people, being a chump is like losing your citizenship. A chump is an outsider, a yokel who will buy anything with varnish on it.
Sarah: Like a solid gold watch for a dollar?
Sky: This is a real chump.
—
Sky: Only one thing has been in as many hotel rooms as I have - the Gideon Bible. Never tangle with me on the Good Book. I must have read it a dozen times.
Sarah: If all that was no help to you…
Sky: Who says it wasn't? In one of my blackest moments I came up with a three-horse parlay: Shadrach, Meshach and Abednego.
—
Big Julie: And since I've been cleaned out of cash, I announce that I will now play on credit.
Nathan: Big Jule, you cannot imagine how exhausted they are. Especially on a non-cash basis. Me, personally, I'm fresh as a daisy.
Big Julie: Then I'll play with you.
Nathan: But I am not a player. I am merely the operator.
Big Julie: You been raking down out of every pot. You must have quite a bundle.
Nathan: Being I assume the risk, is it not fair I should assume some dough?
Big Julie: Detroit, I'm gonna roll ya, willy or nilly. If I lose… I'll give you my marker.
Nathan: And if I lose?
Gangster: You will give him cash.
Nathan: Let me hear from Big Jule.
Big Julie: You'll give me cash.
Nathan: I heard.
Big Julie: Here's my marker. Put up your dough. Anything wrong?
Nathan: "IOU one thousand. Signed X." How can you write "one thousand" but not your signature?
Big Julie: I was good in arithmetic but I stunk in English.
Nathan: Here. This'll put you through Harvard. Big Julie: I'm rollin' the whole thousand. And to change my luck, I'm going to use my own dice.
Nathan: Your own dice?
Big Julie: I had 'em made especially in Chicago.
Nathan: I do not wish to seem petty, but may I have a look at those dice? But these dice ain't got no spots on 'em. They're blank.
Big Julie: I had the spots removed for luck. But I remember where the spots formerly were.
Nathan: You are going to roll blank dice and remember where the spots were?
Big Julie: Detroit… do you doubt my memory?
Nathan: Big Julie, I have great trust in you.
—
A lady wouldn't flirt with strangers
She'd have a heart, she'd have a soul
A lady wouldn't make little snake eyes at me
When I've bet my life on this roll
So let's keep the party polite
Never get out of my sight
Stick with me, baby, I'm the fella you came in with
Be a lady Luck, be a lady, Luck, be a lady Tonight
Jeff Watson writes:
Those are such great quotes. Runyon once said that all life is 6:5 against. You can make a hundred billion dollars like the Walton family has done, but Runyon's 6:5 grind ensures you will ultimately lose.
337b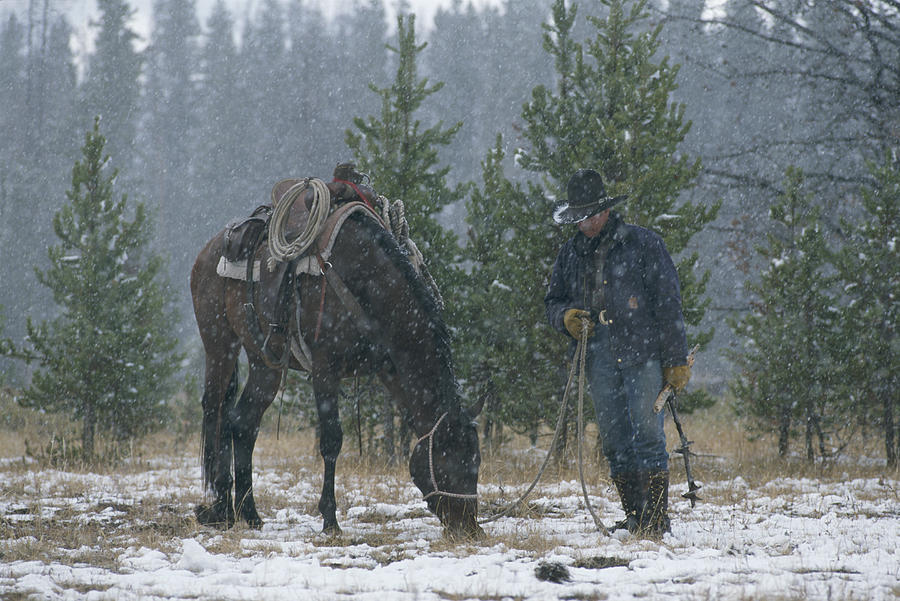 This is one of my favorite stories. I hope you enjoy it, and I wish you a Merry Christmas. — Victor Niederhoffer
High on the mountainside by the little line cabin in the crisp clean dusk of evening Stubby Pringle swings into saddle. He has shape of bear in the dimness, bundled thick against cold. Double stocks crowd scarred boots. Leather chaps with hair out cover patched corduroy pants. Fleece-lined jacket with wear of winters on it bulges body and heavy gloves blunt fingers. Two gay red bandannas folded together fatten throat under chin. Battered hat is pulled down to sit on ears and in side pocket of jacket are rabbit-skin earmuffs he can put to use if he needs them.
Stubby Pringle swings up into saddle. He looks out and down over worlds of snow and ice and tree and rock. He spreads arms wide and they embrace whole ranges of hills. He stretches tall and hat brushes stars in sky. He is Stubby Pringle, cowhand of the Triple X, and this is his night to howl. He is Stubby Pringle, son of the wild jackass, and he is heading for the Christmas dance at the schoolhouse in the valley.
[For the entire text of the story, please follow this link].
I know I have lot of biases about trading– that day trading is a losing proposition, that I get sucked into the bear camp… Early on my bias was to think the markets were totally rigged and also fully predictable.
It all leads me to the notion that our biases are what prevent us from prospering to our peak potentials.
Anyone else have thoughts about this?
Jeff Watson writes:
I see biases from many of my friends that are permabears who make Abelson look like a bull. They just don't understand that as long as the conditions that allow stocks to carry themselves don't change, the stock market shouldn't suffer greatly. I would assume that the permabears are losing money but according to most of them they are making money. The Chair indicated that on Tuesday, to put words in his mouth, the market told us that seppuku was an option, then the stocks rallied and are 4% higher than Tuesday. It's amazing what can happen in 3 days. My bias is that being bearish in a bull market is just as fruitless as rowing the Bay of Fundy when the tide is coming in. Never fight the tides, the headwinds, the hidden powerful forces that control things.
Paolo Pezzutti writes:
The bias is not in understanding the market's rhythm and extensions. The bias is fighting one's fear in order to balance risk and reward. The bias is the ability to trade bigger sizes when the opportunity is there and keep the trade open much longer to get a full profit. As one tends to scalp markets for small wins…. the bias is recognizing that you cannot win if you are not ready to lose.
Hernan Avella writes:
The biases people have mentioned the most are: daytrading/scalping and not letting winners ride. I have two observations:
1. The real bias of daytrading/scalping is overestimating one's ability to compete in the most difficult arena of trading. It's is the most difficult because is the most profitable if you are a winner, the shorter your timeframe the more deterministic your process is, hence it attracts the most capable people in the world.
2. 'Not letting winners ride' - People have a bias to remember what they missed. They don't remember the 900 point draw-down they saved by puking when they did. After watching the market go from 665 to 2075, most peoples definitions of biases are towards holding their buys. After the market went from 1586 to 665, most peoples definitions of biases were about flexibility and cutting losers.
In sum we are biased about our biases.
Gary Rogan writes:
"the shorter your time frame, the more deterministic your process is"
Came across a quote yesterday with a different perspective. Investor Ralph Wagoner once explained how markets work, recalled by Bill Bernstein:
"He likens the market to an excitable dog on a very long leash in New York City, darting randomly in every direction. The dog's owner is walking from Columbus Circle, through Central Park, to the Metropolitan Museum. At any one moment, there is no predicting which way the pooch will lurch. But in the long run, you know he's heading northeast at an average speed of three miles per hour. What is astonishing is that almost all of the market players, big and small, seem to have their eye on the dog, and not the owner."
Stefan Martinek writes:
Maybe our biases can be traced back to our good/bad memorable trades (long vs. short price, long vs. short tail, futures vs. stocks, slow vs. fast, systematic vs. discretionary, science vs. some market religion, etc.). Non-trading related education can create massive distortions about what is good and bad as well.
Henry Saad writes:

Overspecialization in the tape. Watching every single tick has been detrimental to my personal trading. Removing myself ever so slightly improved my results. Been watching the dog on the leash for so long haven't even noticed the owner.
"Ralph Baer: the man you never heard of who changed technology forever":
Having fled Nazi Germany with his family in 1938 and been recruited into the US Army in 1943, Baer used his training as a technician for the benefit of military intelligence. As a 23-year-old, he returned from Europe at the dawn of the television age and - when only a few thousand TV sets existed in the US - began a career as a TV engineer.

At the time of this death, Baer had amassed about 150 patents for products including talking books, greeting cards and door mats. He had created famous board games such as SIMON for Milton Bradley, and Laser Command.

Baer said in a US TV interview in 2013 that inventing was what kept him going into old age. "All of my friends have died. What am I going to do? I need a challenge," he said. "I'm basically an artist. I'm no different than a painter who sits there and loves what he does."

"His desire and his genius was always 'What's the next thing?'" his son Mark Baer told The Los Angeles Times.

Baer was working on an electronic doll two weeks before his death, his son said.
I would like to draw your attention to this post from MoslerEconomics (the web site of Warren Mosler), this guy seems to know what he is talking about:
Crude pricing
The Saudis are the 'supplier of last resort'/swing producer. Every day the world buys all the crude the other producers sell to the highest bidder and then go to the Saudis for the last 9-10 million barrels that are getting consumed. They either pay the Saudis price or shut the lights off, rendering the Saudis price setter/swing producer.
Specifically, the Saudis don't sell at spot price in the market place, but instead simply post prices for their customers/refiners and let them buy all they want at those prices.
And most recently the prices they have posted have been fixed spreads from various benchmarks, like Brent.
Saudi spread pricing works like this: Assume, for purposes of illustration, Saudi crude would sell at a discount of $1 vs Brent (due to higher refining costs etc.) if they let 'the market' decide the spread by selling a specific quantity at 'market prices'/to the highest bidder. Instead, however, they announce they will sell at a $2 discount to Brent and let the refiners buy all they want.
So what happens? The answer first- this sets a downward price spiral in motion. Refiners see the lower price available from the Saudis and lower the price they are willing to pay everyone else. And everyone else is a 'price taker' selling to the highest bidder, which is now $1 lower than 'indifference levels'. When the other suppliers sell $1 lower than before the Saudi price cut/larger discount of $1, the Brent price drops by $1. Saudi crude is then available for $1 less than before, as the $2 discount remains in place. Etc. etc. with no end until either:
1) The Saudis change the discount/raise their price
2) Physical demand goes up beyond the Saudis capacity to increase production
And setting the spread north of 'neutral' causes prices to rise, etc.
Bottom line is the Saudis set price, and have engineered the latest decline. There was no shift in net global supply/demand as evidenced by Saudi output remaining relatively stable throughout.
33d7
I didn't catch this in 2009–Luby's 3 stages of psychological development of traders:
1. search for the Holy Grail (the quick big win)
2. managing wins and losses, trying to stay in the game
3. maturity
We had a brief thread on favorite podcasts, in which I mentioned EconTalk as a favorite — Russ Roberts sets the bar pretty high. And I also mentioned Barry Ritholz's Masters In Business podcast on Bloomberg. Here are a few more, varied in subject matter, all available on iTunes:
For some great intellectual fun (and if you're a Yank, to get a stretch trying understand the UK cultural references), I recommend The Infinite Monkey Cage very highly.
For an interesting take on general news, On The Media is however far left you consider National Kommunist Radio to be, as well as being a good listen.
If you like to actually cook, America's Test Kitchen has an excellent podcast.
If you enjoy understanding current legal issues, the Bloomberg Law podcast is very listenable and informative.
For amateur or aspiring-pro photogs, the Improve Photography podcast is excellent.
For stories, I have enjoyed the New Yorker Fiction podcast (which has no separate page other than the NYer podcast page, but is distinct in iTunes).

The Planet Money podcast surprises me often with interesting short pieces with a surprisingly (if you think NKR is too left) free-market slant.
Just recently, I've started listening to the TED Radio Hour podcast and have been enjoying it quite a bit. Sometimes it seems like TED talks can become overly-smart people enamored of their own ideas which simply don't have much punch out in the real world; but often it lives up to the hype.
Philosophy Bites covers lots of interesting topics, the most recent being probability.
I get a lot out of Consuelo Mack's WealthTrack and never miss the podcast.
For general human-interest stories, This American Life is the standard by which other shows are measured. The spinoff, Serial, is also good. And RadioLab is sometimes a little precious but does a good job in the end.
Clive Burlin comments:
BIG thanks for all these links. They all seem worthy of a listen. By the way, between the dogs, photography, markets, the lists, podcasts, ûTůb, etc, etc, when do you find time to sleep? : ) I for one have always admired your breadth of interest and knowledge. Thanks for being so generous in your sharing.
Will the increasing popularity of securities-based lending create the next opportunity for "strong hands"? Lots of "potential energy" if certain pain points are breached, I would think.
On a related note, I've read that the super high short-term rates encouraged people to invest short-term in the early 80s, when with hindsight they should have been invested long term and locked in those 10% rates. Are super low short rates (opposite condition of early 80s) creating a mirror distortion reflected in things like securities-based lending - causing the public to lean the wrong way at the wrong time?
"The rise of rich man's subprime"
Monkeys trained to use a fiat currency make the same mistakes as humans: they are loss-averse.
There are few ways how traders manage loss-aversion: (a) Deleveraging. In other words, everyone has a breaking point and can operate below this "gambling" threshold; (b) Diversification. By spreading a total exposure over wider group of instruments our anchor to individual outcomes is weakened [focusing illusion]; (c) Operational controls to enforce trade exits in case that all the other things fail [Paul Willman's research of traders in the City of London].
But how to design a trading strategy which is built to directly profit from loss-aversion of others?
Leo Jia comments:
If this means one decides to totally abandon the nature of loss-aversion, then one can go do against all he recognizes as loss-aversion behaviors. This brings a question about its true benefit. If on the other hand, one only wants to take advantage of others' loss-aversion behaviors but maintain his own loss-aversion nature, then what he can do perhaps is limited.
The question is what really counts as loss-aversion.
If what we mean by loss-aversion is losing 1% of assets, then clearly it makes great sense to abandon it. But as one is willing to lose no more than 50% of assets, is he still considered loss-averse? If yes, then how much benefit would he gain by relinquishing this 50% limit?
So if God enforced us a loss limit within which we humans operate, perhaps he gave us a limit that is too small. Is it truly limitless in His mind? Perhaps there is also a limit with Him which just happens to be somewhat larger than ours. This latter may seem reasonable.
anonymous comments:
For those who believe loss aversion is an evolved behavior, it makes sense in the world of extreme scarcity: if you are on the edge of starvation and have a little bit of food, losing all the food could be significantly more detrimental than doubling it is beneficial. This does have some parallels in today's world, as for an average person near retirement age losing all of their savings is significantly more detrimental than doubling them is beneficial.
In terms of the markets, taking advantage of this asymmetry would be something like this, I imagine: let's say the average market participant hates to have their holdings go down by 1% (or any other number) twice as much as they would like them to go up by the same percentage. Let's also say that on the average everybody's holdings have an equal probability to go up and down. If you can figure out how to bet a small enough amount of your capital not to go bust multiple times in such a way as to counteract that tendency than on the average you'll make good winnings. The big question is of course how to bet against this tendency. Should you always bet when others are fearful against their fear regardless of any other evaluations of the situation?
Ed Stewart writes:
"But how to design a trading strategy which is built to directly profit from loss-aversion of others?"
I think you can open up the concept far more broadly. I see it as the fundamental concept for a near unlimited number of strategies — an idea close to the core of the trading game, regardless of the market.
I told a spec-lister I met with a few weeks ago that the concept (described differently) is 80% of my short-term trading focus — meaning if I don't see it at work I don't trust the idea much at all — to such an extent I've mostly given up on other things. It is very similar to the Bacon cycle idea, but on a specific duration or circumstance (which itself is subject to the larger bacon-cycle effect). Loss-aversion creates urgency, price-insensitivity, and enough order flow to at times scare market makers — all things which open the door to speculative profits.
Consider:
-Times of day that loss aversion is most impactful or loss averse traders are prone to being active
-Price movements that signify loss aversion - quantitative definition
-Events that will trigger loss aversion
-If you know the basic "plays" or trades used by speculators on different time horizons, u look to anticipate who is about to be squeezed. If u define the setup condition (basic play) and a trigger event (of loss aversion) and combine them, you can find interesting ideas both on a discretionary and systematic basis that are highly counter-intuitive to most traders.

21b7
Hi Vic!
I gave a shout out to Junto in a recent podcast I did! It's called "economic rockstars" and I'm entirely unqualified to be on a rock called that, but I did the interview anyway : )
Another golden age myth bites the dust, or, in this case, drowns. The notion that the days of the Roman Republic before the Empire were a period of virtuous yeomanry has been an historical fiction beloved by everyone from Thomas Jefferson to Patrick Buchanan. It just doesn't seem to fit the facts of who had the money and land in the good old days.
"Massive Water Basin Unearthed in Rome"
Pitt T. Maner III comments:
Here is another bit of fiction, but maybe not so far off with respect to the ravages of time– the modern world and subway systems unearthing ancient ruins. Amazing how much is left to be found.
There's been lots going on in the baseball world, and I thought I'd start with (surprise!) the Orioles. The Joe Piscopo report would be something like this: "Cruz—gone. Markakis—gone. Miller—who knows. Davis—more drugs? who knows. Justin Upton—meh. Jimenez—oh, please.Orioles in 2015—not a chance so far. Yanks—always." I think Piscopo would have blown, just like the sportwriters who insisted the Os would troll for 4th place in the AL east in 2014, and would be lucky to even see 3rd place for part of the season. Then again, Baltimore's never gotten much respect from the sports journalism club. I still remember the predictions that the Big Red Machine would dominate the 1970 World Series—until Orange Crush took the machine apart. Check that, Brooks Robinson took the machine apart, while it seemed at times like the rest of the team came along for the ride and gave him great support. That series was Brooks Robinson vs the Big Red Machine. Go ask Sparky Anderson. (And if you succeed in doing so, please let me know how; there lots of money to be made there.)
The Os didn't do much last winter to shore things up for the 2014 season, other than sign Jimenez (which rivals the Glenn Davis-Curt Shilling and Frank Robinson-Milt Pappas as the worst off-season actions in baseball history). This year, well, it kinda depends on three player who didn't play last year who the Birds need to get solid seasons from to deal with some of the free agent departures. For instance Nelly Cruz signed with the Mariners. Ouch. He was a major piece of the success the Os enjoyed in 2014. Maybe it was money, maybe something else. It sure wasn't Buck; he loved playing under Buck (and that's a common refrain, not unlike players talking about Davey Johnson as a manager). Still, a big loss, particularly for a team that scored half its runs on Big Daddy Long Ball.
Then there's Nick Markakis going to Atlanta. Not such a big loss. He had been a solid player for the Os Great arm in right field. Just spot-on. Not much of a hitter anymore though. So while he may be missed (and maybe not depending on who the Os have to replace him), it's not nearly the loss that Cruz was. Signing Cruz in 2014 was a masterstroke for the Os.
So, one big loss, one so-so loss (good player, hopefully replaced in kind or better). And then there's Andy Miller, the wild card, and it's unclear what clubhouse he will inhabit come the spring. But one needs to remember that during 2014, the Os did not have Matt Weiters or Manny Machado for much of 2014 (Weiters was the whole season) and Chris Davis was out for long segments of it. If Davis gets his groove back (and learns not to swing at every first pitch so he doesn't strike out so much), the Os should be able to compensate for Cruz's departure. Weiters too. And Steve Pearce, with another solid season, would help to fill the hole.
Machado's offensive production and defense were hard not to miss in 2014. He's the first third baseman in Os history since 1977 (when Brooks retired) to be spoken of as harkening back to that era when the hot corner in Memorial Stadium (where the Os played back then) was manned by one cool cucumber. Weiters's offense was missed, but on defense, Caleb Joseph displayed defense talent not unlike that of Rick Dempsey. So at least one half of the battery is solid. It's the other part (until you get to the closer) where the Os need to do a lot of work. A lot. Having to wait through the first two months of the season for your pitching to warm up means you're digging an awfully big hole, and violated that first rule. Badly.
So that's some of where things stand with the Birds at the moment. I'll try and update soon. And provide something about some of the other teams (though Scott, I can't possibly know the Cards nearly as well as you do).
As Walt Whitman put it, baseball: America's game. And no, baseball hasn't been bery, bery good to me, but it's been fun.
Best of all, only 75 days until Orioles pitchers and catchers report (revised reporting schedule).
Play ball!
2354
Happy Thanksgiving to all our readers. Here is our 2006 article about Thanksgiving, economics and freedom.
We thought this obituary was worth republishing, Ed.
Waving farewell - A surfing tribute to Doc Paskowitz
By Renee Ghert-Zand November 19, 2014, 1:42 am
Some 200 Israeli surfers paddled out together in to the Mediterranean to honor the memory of the late Jewish surfing legend Dorian "Doc" Paskowitz.

Paskowitz, who died on November 10 in California at the age of 93, is believed to have introduced the sport of surfing to Israel in 1956 when he visited the country for a year, bringing a bunch of long boards decorated with the Star of David with him.

On Tel Aviv's Frishman Beach, Paskowitz found a kindred spirit in Shamai "Topsi" Kanzapolski, a lifeguard who was willing to take on the challenge of growing the sport in Israel.

It was on that same beach that the large group of Israeli surfers gathered on November 14 to pay their final respects to Paskowitz. Summoned by a Facebook event invitation posted by Orian Kancepolsky, Topsi's son and founder of the Topsea Surfing Center, they arrived with their boards ready to ride the waves.

They paddled out on masse and formed a large circle formation in the water. Once in position, they splashed and threw flowers on to the sea's surface.

"We enjoyed the Aloha spirit in his memory," said Kancepolsky, referencing the "Aloha Doc" nickname by which Paskowitz, who spent part of his life in Hawaii, had been known.

According to Kancepolsky, not everyone who came out to honor Paskowitz had met him.

"Some just knew his story and wanted to be part of it," he said.

Kancepolsky, on the other hand, had gotten to know Paskowitz and his large family (he and his wife Juliette had nine children) well when they stayed at the Kancepolsky home on their visits to Israel.

"It was amazing when he came here a few years ago to bring surfboards to Gaza. Here he was, this very old man with no money and who could hardly walk," said Kancepolsky.

"I really liked his spirit. He believed that everything is possible, that nothing is impossible. He lived in the moment and had confidence that all would fall in to place at the right time," he said.

Based on the turnout at Frishman Beach, it appears the Jewish surfing legend will be greatly missed by the Israeli surfing community.

"He was really a unique person. You don't see a lot of people like him," said Kancepolsky
On Friday the world's greatest mathematician, Alexander Grothendieck, died, in Saint-Girons, Ariege.
More in Le Monde and the NYT, but I liked this quotation from Recoltes et Semailles:
New tasks forever call him to new scaffoldings, driven as he is by a need that he is perhaps alone to fully respond to. He belongs out in the open. He is the companion of the winds and isn't afraid of being entirely alone in his task, for months or even years or, if it should be necessary, his whole life, if no-one arrives to relieve him of his burden. He, like the rest of the world, hasn't more than two hands — yet two hands which, at every moment, know what they're doing, which do not shrink from the most arduous tasks, nor despise the most delicate, and are never resistant to learning to perform the innumerable list of things they may be called upon to do. Two hands, it isn't much, considering how the world is infinite. Yet, all the same, two hands, they are a lot…
McLarty's lecture is the best philosophical (rather than mathematical) take I know of on Grothendieck's work on the Weil conjectures. In summary, with his topos-theoretic approach he built a space tailor made to his problem, from the simplest of bits–and then let the space itself do the work.
Richard Owen writes:
One presumes he has reincarnated as an interior designer? It's a shame he went off his loop a touch in the last decades. Or maybe he achieved a type of sanity we're not smart enough to understand:
The windows and blinds are all closed in most of the rooms of this mansion, no doubt from fear of being engulfed by winds blowing from no-one knows where. And, when the beautiful new furnishings, one after another with no regard for their provenance, begin to encumber and crowd out the space of their rooms even to the extent of pouring into the corridors, not one of these heirs wish to consider the possibility that their cozy, comforting universe may be cracking at the seams. Rather than facing the matter squarely, each in his own way tries to find some way of accommodating himself, one squeezing himself in between a Louis XV chest of drawers and a rattan rocking chair, another between a moldy grotesque statue and an Egyptian sarcophagus, yet another who, driven to desperation climbs, as best he can, a huge heterogeneous collapsing pile of chairs and benches!
Makes me think of: "One of my old supervisors told me that Wilhelm Reich went through three developmental phases as a theorist. In the first, he was not crazy and was not very creative, in the second he was a little bit crazy and very creative, and in the third, he was very crazy and not very creative."
2271
Playing it My Way is the newly released Sachin Tendulkar's (a.k.a God of Cricket, next to Sir Don) autobiography, and I glanced and then read it as fast as I could.
For comparison's sake, it is more like a "Reminiscences of a Stock Operator" type book, where the modern reader, knows everything that the author wants to say. I'm seriously and eagerly waiting for the autobiography of Rahul Dravid, with everyone out there I bet, and if and when it comes, it could be an "edspec" type (I am serious, and no sycophancy here to either chair or Rahul Dravid who lives on the next road to me for the past 25 years).
Though I enjoyed the book, it is just a mere autobiography and doesn't really offer any tips on how to play the game. I think autobiographies need to be written by offering few minute technical tips to the future generation.
On the last two announcements, whatever they were, the market did a big whipsaw which could be defined by big motion up, then down and vice verse in a short time equivalent to the range of the day around the central starting point. It didn't seem to matter what the announcement said. Crude has had some similar moves but were not related to the announcements mentioned above. The timing on crude was different also.
It might be analogous to the seismograph motion on an earthquake when the tectonic plates slip, or a heart attack type event on the heart scope.
I note that gold miners bullish percent is at zero. Maybe some bankruptcies are forthcoming–IAG? Just recently Dr Greenspan opined that gold was a good investment…then the Fed announcement and the slaughtering of gold shares commenced. Hm.
Pitt T. Maner III writes:
All In Sustaining Costs (AISC) become important. IAG sold a niobium mine so maybe they will be able to weather a year or so with this cash. Perhaps the mining companies with cash, relatively low debt and available credit will be able to buy others and their better prospects on the cheap.
"IAMGOLD Probability of Bankruptcy":
This will be added to Iamgold's assets to allow the company to boast of $800 million in liquid assets, with an additional $500 million of unused credit facilities to give the company a total of $1.2 billion in available short-term cash.
An area for more research?
Ten straight days with a 141 settlement handle. Ten day Vic (cumulative changes) at less than 2 points. How is Draghi going to upset this quiet?
Editor's Note: The Vic (first defined on this website in 2002) is a measure of volatility that uses absolute point changes rather than standard deviation. For example the "10 day S&P Vic" is found by adding together the absolute daily point changes in S&P for the last 10 trading days.
anonymous writes:
It is important to understand what the currency markets are for and how they are used in the modern context.
Arguably the whole game is about keeping the stock markets (or more generally the 'risk' markets) going higher.
The USA started the game late in 2008 with QE. After a time the Europeans took over. Now increasingly the Japanese will supply the liquidity.
The Euro currency lower story is fading into the background in terms of 'rate of change'.
For the avoidance of doubt, the only two countries that are serious about lowering their currencies are Japan and Switzerland (Switzerland is a case study in defeating the markets - read about their actions in 2011).
The current QE in Japan is huge– make no mistake — an order of magnitude greater than the USA's actions.
The Europeans, at heart, are stable/ strong currency types and do not have the stomach to get genuinely serious about weakening the currency.
A multi-billionaire of my acquaintance in discussing Japan, put it to me this way– it is not often that a country pre-announces it's own bankruptcy.
Inflation is an interesting phenomena in this era, it is hard to create but when it arrives, it destroys. It is pathetic that policy makers believe that they can keep such a thing in control when it gets going.
There exist genuine reasons for low probability scenarios to play out in coming months.
2ab6
The dollar is strengthening. I remember when I was young in the 50s and 60s and the dollar was worth 350 yen, and 7 Francs. Bank accounts paid 5%. The world was a great deal. I wonder if that world will return.
David Lillienfeld writes:
That was the world in which Jews and blacks couldn't own homes in some neighborhoods and could be refused service at will by any business. It was a world in which someone could be denied a job because of his/her sexual orientation, ditto for renting an apartment/buying a house. It was an era in which when women worked, they were expected to earn a fraction of what their male counterparts did, particularly if they were married since they weren't (it was assumed) the primary source of income for the family. It was a world in which a physician might not inform a patient of a diagnosis of cancer or pressure a patient to participate in a research study after the patient had declined to do so—in some instances, declined repeatedly. It was a world in which a black man with syphilis in a government study would be denied treatment in the interest of learning about the disease's natural history, though without the man having given any consent to be so studied. Ditto for Guatemala men and women, who were infected with syphilis by the US government with the same aim of learning about the natural history of syphilis. That world included an American government which didn't hesitate to listen in phone calls as it pleased and spied on persons as it pleased.
I could go on. There were lots of aspects of that world that were good economically, it's true, but there were lots of downsides, too. Maybe the level of discrimination is the same as back then—just less visible, but I'd like to think that we've matured as a society, as a country, such that there's been a reduction, ideally a significant reduction.
Is today better? Worse? I don't know that I can given an answer other than to note that it's a different world. Would I like our economy to be such that we had the dollar at 350 yen and 7 francs. You bet. But as for the rest of that world, I'm not so sure.
Jeff Watson writes:
But we live in a world where the poorest of the poor can own a smartphone and have the access to information greater than the library at Alexandria, in fact they have all the information of the world available to them. I'm very optimistic for the human race. Our poor are better off than Louis XVI in almost every way.
anonymous writes:
The central conceit of many well intentioned people is that the poor are dumb and can't find their way around anything. We think the poor need help, and they need our money transferred via politicians to be made whole. As the Chair drums the cadence in our heads, it's "the idea that has the world in it's grip." That conceit needs to go away as it is just wrong. The war on poverty has cost enough to give every poor person a couple hundred grand, but the money has gone to programs, not the recipients. Not all poor are dumb at all, they are victims of circumstance. However, the war on poverty will continue, as will the war on drugs, terrorism etc as there's really big money in it for the insiders.
Nice comment from Nick Walenda after this weekend's walk in Chicago:
"I believe what I do is a calculated risk"
To which I would add just like the insurance companies that wrote a $20,000,000 policy on his life for this event.
I need to be more calculating.
Stumbled on this amazing video this morning: "amazing resonance experiment". Being able to visualize the patterns associated with sound is a great way to think about the markets from a different perspective.
"Running out Red Tape is a Growing Industry":
What industry sector employs more Australians than construction, education or manufacturing, and three times as many as mining? What function costs private industry and government a combined $250 billion a year? Few would have guessed compliance – the red tape industry. And it's booming."However, a frightening report released this week by Deloitte Access Economics fingers the real red tape culprits – the private sector business community whose compliance costs leave the government looking like rank amateurs when it comes to creating and paying for what, in many cases, are unnecessary and unproductive self-imposed rules.The total private sector workforce grew by 10.4 per cent over that same five-year period; its compliance workers grew by 17.4 per cent.Ironically, the group that represents our very large companies, the Business Council of Australia, has been a flag-waver for the government's attempts to tackle red tape. The embarrassing reality is that it should be focusing on its own backyard.
Ed Stewart writes:
The missing factor is that "private" compliance rules are motivated by government mandate. They are required in order to avoid fines, bad pr, or lawuits. For example in the USA we have EEOC and OSHA, which both create enormous private bureaucracies and consulting practices. The "private" workplace rules are most often attempts to fulfill the requirements of these mandates.
Consider the headache a company must go through to fire an employee, particularly if they are "of color". It is a long drawn out process of documenting "evidence" that is fraught with risk if done wrong. Then you have the seminars on avoiding offending others, how not to think with the little head and accidentally cost the company 10m, the lengthy questionnaires with many imbedded "tricks" to weed out those not "with the program". It all works to create an environment that actively stifles common sense and rewards bureaucracy-enforced sensitivity.
Mandated dead-weight employees who can't be fired have a compounding effect of non-productive complexity. Everyone is a "stake-holder" and all ideas must be treated equally - or else. This leads to three hour meetings with no defined objective, the purpose of which is to provide ample room for people with no task related to the corporations primary purpose to feel important.
In my opinion we would see allot less "offshoring" of jobs if large US corporations were allowed to operate, hire, and fire efficiently.
2b41
George Mason University economics professor Bryan Caplan will speak at the Junto next Thursday on his forthcoming book "The Case Against Education".
Junto will take place Thursday, November 6th at 20 West 44th street at 7:30 pm-10:00 pm.
All are welcome.
One notes that Lloyds bank is 25% owned by the English as is Royal Bank of Scotland. And one wonders if government owned companies in general including AIG and GM and so many of the US banks, perform better than counterparts considering they have unlimited funding, they have the government put not to go bankrupt, and presumably would be the source of flexionic emoluments. One believes its worth a study.
Mr. Isomorphisms writes:
It was seen in 2008 that banks need not be state-owned to benefit from the government put.
Victor Niederhoffer writes:
It would be seen that whatever anti says would be very sententious as he manages 1.5 trillion or so in Norwegian. His book is a good compendium of research by others. We can't figure out here if he says that bond futures have a drift or not because of liquidity preference. But its impossible to dispute the Dimson stuff that stocks return about 6 percentage per year higher than bonds. That can add up over 100 years.
Richard Owen writes:
Did someone at the Norges Bank fund publish a Dimson-type book (favouring bonds)? The Norweigian surplus seems to be invested in a fairly Dimsonian manner.
anonymous writes:
While it may appear that they have an unfair advantage, one must consider that Government subsidy cannot outpace the real economy forever without a collapse of the Government or the subsidized. It does not matter if the subsidy is direct or indirect off the backs of profitable real producers by changing the channels of money flow from real producers to the TBTF banks. Otherwise government TBTF banks would own everything. As the flexions get this status by already being big enough to crush the economy by their collapse. One wonders how many years such unfair advantage can continue.
While I would agree a study on those with NEW quasi government guarantees are in order.
I would argue that in the Dimson long run one must consider the following end scenarios:
1. Banks become so regulated that they are like utilities. That is they cannot fail, but they are only allowed to grew based on the "demand" for money. like Utilities grow with the demand for them.
2. Banks truly do rule the government, and they growth continues unabated and out paces the economy until there is revolution.
3. The Government tires of extortion and decides to break them up or kicks in their going out of business plan by charging them with crimes the banks deserved or railroaded.
I would not bet on the bread and circus acts for the TBTF banks to continue forever, as this is a bet against the USA.
Mumford & Desolneux's book Pattern Theory: The Stochastic Analysis of Real-World Signals (Applying Mathematics) is the most promising work in foundations of statistical modelling I think I've ever read. The main idea is that whatever you're trying to model is some infinite-dimensional parameter space. The shape of the neighbourhoods and distances between them then gives structure to the randomness.
(My go-to example of infinite-dimensional space is handwriting: those who have tried to classify it, for example Douglas Hofstadter and Donald Knuth, have not been able to generate all possible ways to write eg "lowercase a" with any number of knobs. This is consistent with surfaces having a greater cardinality than reals. Demo of handwriting variation in a finite basis.
This is the rare book that doesn't get overwhelmed by the grandiosity of its own mathematical techniques. Lie theory and wavelets are just foundations, not the "Reverse Kolmogorov Smirnov Filter" of Nuclear Phynance.
P.S (Colour and music are also infinite-dimensional, in theory, as waveforms at least. Humans cannot resolve infinitesimal frequencies by eye or ear, of course. And ħ probably means that space can't resolve infinitesimal frequencies either. But theoretical waveforms are simpler; as long as a super high pitch was super soft, or conversely a very low pitch was very loud, the energy could be finite and constant.)
Here are some more great articles on loud low pitches:
"Strange but true: black holes sing"
"Have You Heard About B-Flat?"
There are some very interesting points in this article about deception.
"Snake in the grass: Animals and viruses practise deception, fast and slow, in ways that help us understand human predators and scammers"
For example: "By constantly exposing individuals to harmless and weakened versions of deception, we might be able to build up the social antibodies necessary for individuals to recognise predatory deception when they encounter it."
I just read Alletzhauser's House of Nomura (1990, out of print) after an old Japan hand recommended it to me. Highly recommend for anyone who wants to understand the history of Japanese business/markets from the Meiji through Showa eras from the perspective of an outsider turned insider. My summary/review/editorializing of the pre-WW2 era (skip to Four Big Bets section for the more market relevant tidbits).
Since the book released in 1990, the author portrays Nomura as omnipotent and triumphant (it was Japan's most profitable corporation in 1987) in a reverential tone that would seem absurd today. Of course with the benefit of hindsight, we know that Nomura was both partly lucky and partly a beneficiary of circumstances not just in the 1980's bubble but also at its very founding.
Perhaps more interesting is the glimpse into the business world of Meiji, Taisho, and Showa before WWII. What's clear is that Japan had Prussian institutions but an Anglo approach to corporate governance. State capitalism produced large conglomerated oligarchies (zaibatsus) that were run for the interest of shareholders. Behavior typically thought of today as "Anglo-styled capitalism": hostile takeovers, confrontation, shareholder preeminence, creative destruction, cutthroat competition, mobility etc. was a feature of Japanese corporate life. A few elite families dominated pre-WW2 and financial disparities wholly reflected this reality.
After the War, this entirely shifted to an egalitarian culture with corporations operated for the benefit of managers and labor rather than shareholders. Nomura was slightly exceptional for its more entrepreneurial spirit and aggressive culture, but not to the extent most corporations were before the War. The mandarin class gained even more power in this new system so political connections mattered even more after the War.
Mercantile Osaka
In the late Tokugawa (1603 – 1868) and early Meiji (1868 – 1912) eras, Osaka was the center of commerce in Japan whereas Edo (Tokyo), the seat of political power, was the much resented "kanemushi" (money-eating bug). Osaka was host to the world's first futures exchange, Dojima, which traded rice. Money exchanging became the most important, far dwarfing the stock exchange, as Osaka ran on a silver standard and Tokyo on the gold standard. The author points out that Osakans still greet each other with the phrase mokari makka, which loosely translates to "how's business" (though my Osaka friends inform me that this phrase is quite antiquated and fallen into disuse).
Money Changers
In this environment Nomura Tokushichi I (1850 - ?), the illegitimate son of a samurai and a domestic worker, inherited a prosperous money changing shop from his adoptive father. The Japanese, then as even today, regarded money changing as an occupation with low social status , the lowest rung of a class one notch above the untouchables (hierarchy: nobles > samurai > farmers > artisans > merchants > outcasts). However, by the end of the Tokugawa Era, many impoverished noble families had resorted to mercantile activities while the wealthy merchant class exerted tremendous power over the indebted nobles. Tokushichi I became comfortably wealthy and played the part of J.S. Morgan (1813-1890) to his more adventurous son J.P. Morgan (1837-1913)…though with much lower social standing and dominance.
Meiji Restoration
With a new national bimetallic currency and the abolition of feudalism, the Meiji Restoration gradually made money changing obsolete. The Meiji government legalized individual private land ownership and privatized large state-owned businesses. Adopting the centralized Prussian economic model, Japan largely relied on direct finance via banks to allocate capital. However, the formation of companies still required equity issuance, which gave birth to a burgeoning but largely backwater equity market. In Osaka, the stock exchange in Kitahama (in close proximity to the Dojima rice exchange) was open for two short periods a month. The massive bull market of the Meiji era led to the formation of 155 stock exchanges by 1897 of which the Osaka Securities Exchange was one of the largest.
Tokushichi II
Tokushichi I bestowed to Tokushichi II (1878-1945) the benefit of a modest fortune and excellent timing. Like the so-called American robber barons (mostly born in the 1830s), Tokushichi's lifespan happened to align perfectly with crucial events of the Meiji and Taisho eras in relation to equity investing. Unlike his conservative father, the young Nomura Tokushichi II was an inveterate gambler and spendthrift. Tokushichi II's father had to bail him out twice: first when as an apprentice Tokushichi II stole from his employer to speculate in the stock market (and lost) and second when he had a social obligation to indemnify a client who had lost money on his recommendation.
Four Big Bets
Bet 1: Having witnessed the bullish effect of the First Sino-Japanese War (1894-1895) on the stock market, Tokushichi II convinced his father to let him plow half of the family's net worth into a massive expansion of the stock brokerage operation once the Russo-Japanese War broke in 1904. As the stock market rallied as predicted, the gamble paid off and Nomura fully transitioned from a money changer to a stock brokerage.
Bet 2: In 1905, Tokushichi II bet big again when negative rumors circled his brother-in-law's textile business. After investigating the business and finding that the order books were full with wartime orders for uniforms, Tokushichi II accumulated shares at ¥20. Tokushichi II cornered the market, forced a short squeeze, and sent the price to ¥100. The paper profit (¥20,000, then the wages in the lifetime of an average Osakan) equaled the entire original capital invested a year ago to expand the brokerage. After this coup, Tokushichi hired a journalist and moles in trading companies to gather order flow and shipping volume information.
Bet 3: Tokushichi II's bullish bets paid off massively in the 1906 bubble. Seeing a parallel between the Russo-Japanese War and the Sino-Japanese War (which preceded a large bear market), Tokushichi II waited for other major dealers to become net sellers before selling most of his stocks. The determined risk-taker, Tokushichi II went short, but the market kept rising. By January 1907, Tokushichi II, teetering on bankruptcy, sought and received an emergency loan to cover margin calls from a leading Osaka bank by bribing the local branch manager with a senior position at Nomura. The market turned in mid-January 1907 and lost 88% of its value by the end of the year (though the author doesn't make a clear connection to the Panic of 1907, which likely bailed out Tokushichi II). At 28, Nomura Tokushichi II was worth ¥5 million and became a celebrity in the financial community.
Bet 4: With the arrival of WWI, the Bank of England raised the discount rate from 3 to 10%, which precipitated a financial crisis in Japan. Japanese banks called in loans to speculators and brokerages, which in turn sent the equity market into a nosedive and bankrupted a large swath of the financial service sector. Nomura survived this episode in part because at that time it was mostly in the business of earning commissions rather than trading for the house.
Though by now most Japanese speculators understood that war was profitable for the listed corporations, most didn't think that a European war would mean anything for Japan. Tokushichi II speculated that WWI would be bullish for Japanese exporters based on the reports of shortages in Europe. His younger brother, studying in England, sent wireless reports that beat the Japanese newspapers and contained far more objective and accurate information. He also had access to intelligence in the Mitsui House trading empire, which gave Tokushichi II an edge over other speculators. While local Japanese papers gave the impression that the War would end in the winter of 1916, better information directly from his brother in Britain persuaded Tokushichi II to buy the dip that accompanied expectations of peace. The bet paid off as the war dragged on, which augmented Nomura Tokushichi II's already considerable fortune and cemented Nomura's standing as the top/surviving broker in Osaka.
Jesse Livermore
Tokushichi II's story bears remarkable similarity to Jesse Livermore's (subject of Reminiscences of a Stock Operator, 1923). Tokushichi II (1878-1945) was born a year after Livermore and died naturally five years after the latter's suicide. Both had a natural attraction to bucket shops in their youth, possessed high tolerance for risk that resulted in multiple failures, learned early that the stock market was prone to manipulations, and profited from their understanding of war's influence on economic cycles. Both made and almost lost their early fortunes in the Panic of 1907 and made their second fortune during WWI.
Perhaps the key difference between the two men was that Tokushichi II became a big fish in a small pond as a first mover in a nascent market while Livermore was always a minnow relative to the whales who had created their fortunes decades earlier. Tokushichi II used his early winnings to buy social status (eventually elevated to House of Peers in 1928 and repeatedly asked to become Minister of Finance in the 1930's) and ingratiate himself with the business and political elites. He built a network that produced valuable inside and early information. Conversely, Livermore seemed to hurt himself when trading on his "inside information" since he was never truly a member of the business elite himself. While Nomura Tokushichi II earned his fortune from imputing information and later rent seeking, Livermore had to rely more on his technical trading skills.
Nomura Zaibatsu
Once Nomura Tokushichi II exhausted the easy opportunities from stock speculation, he parlayed his fortune into the more stable business of brokering, which became the basis of a fledging pre-WWII zaibatsu with more socially respectable business interests: primarily a bank and a rubber plantation in Borneo. This required him to concentrate more on political protection and opportunism.
The Nomura group never truly achieved the same status accorded to the great zaibatsu merchant houses of Mitsui, Mitsubishi, Sumitomo, or Yasuda. Within Japan, Nomura never earned the same cache or respectability that leading investment houses enjoyed in the US. This may be in part because of its roots in the rough and tumble world of retail brokering (rather than genteel corporate brokering), the strong cultural distaste for seemingly parasitic businesses that deal with secondary markets, and the subordinated role of equities and bonds to bank lending.
anonymous writes:
I have not read Alletzhauser's book so this comment is based solely on what I have learned in my investigations into the WW I gold standard in Japan. The company that made Nomura Tokushichi II's fortune was Koriyama Kenshi Boseki Co.,Ltd. which still exists in a different corporate incarnation.
NT II was a friend of the company's owner, Yutaro Yasuhiro, who showed him the actual books. The company had been rumored to be bankrupt; but, because of the effects of WW I in Europe, there was an effective embargo on textile exports to East Asia, and the company's order book was as full as it had ever been. NT II bought.

2667
There is kind of a nice but terrifying symmetry in the chart looking at the last two days, with a big red line in the middle.
In candlestick theory when the open and close are the same, it shows some sort of balance between buyers and sellers forming a doji pattern. These kind of things are testable. Also supposed to evidence change in direction when it occurs after a decline or rise.
I imagine in the old days in feudal Japan they would paint their charts for the rice warehouse receipts with a brush and ink while sitting in the tatami mat room in a kimono warmed by a charcoal brazier.
Jeff Watson writes:
This is a good accompaniment to Sogi-San's mention of rice: Dojima Rice Exchange.
Jim Sogi replies:
The Seventeenth Century Japanese rice traders relied on horse riders and runners to get the news of the crops and the buying and selling. To beat the time delay one enterprising trader rigged a series of flags on hilltops to relay the info to him in town so he would have the info he needed to place his orders ahead of the other traders. Definitely our kind of guy!
Jeff Watson writes:
The Japanese taught old man Rothschild a thing or two 50 years before his coup in London. Hail to thee who can get and act on information quicker than the opposition.
Etali writes:
When living in Hong Kong, I learned of the story of an early British banker anxiously awaiting on Victoria Peak for signs of arriving ships from London. Apparently , the banker and shipping crews had worked out a flag signalling system. Certain flags signalled that the business news from Europe was good. Upon seeing the "good" flag, the banker rushed to the exchange to get his buy orders in before the ship from London docked. Other flags indicated the news was bad and of course, the baker dumped shares before anyone else had the news. This particular banker went on to found one of the beginnings of a highly successful British merchant bank.
Balzac: "Behind every great fortune, there is a crime!"
Good morning Mr. Niederhoffer,
In your bestseller, The Education of a Speculator, you wrote:
I need to know what is happening in the markets…I hooked up a music synthesizer to the computer, linked it to the interface between the computer and quote screen, and generated a program that would give a musical summary of the markets. I used piano tones for stocks, strings for interest rates, the cello for short-term rates, and the violin for the 30-year bond. The Japanese yen was registered with the high flute, corresponding to the favorite instrument in Japan, the shakuhachi. The English horn, the French horn, and the Alpenhorn stood in for the other currencies.
A lot has changed since then, particularly in terms of software tools becoming available to achieve this. In that spirit, the "music" in this video has been created by turning market data (prices, returns, volatility, and other time series) into MIDI-format (via our software tool) which subsequently was imported into what is called a Digitial Audio Workstation (DAW). The latter allows users to assign instruments (from a single guitar to a whole orchestra) to those data-sets and turn them into sound.
I created this video as part of my PhD research. The fact that it does, indeed, sound like music with a certain rhythm and timbre (rather than random audio-signals) is exactly what distinguishes my approach from earlier attempts at sonification of market data. In the final step, the resulting "composition" is linked to software which allows the creation of visuals that dynamically respond to the sounds (e.g. the small coloured spectra you see appearing against a backdrop of coloured fog).
The video captures a specific period in finance history. Usually I then ask watchers how they would allocate percentage wise a hypothetical portfolio across stocks, bonds, and cash based purely on this video (i.e. "Don't analyse the video but focus on how it makes you feel; what did it convey?").
What's the purpose of all this? Please allow me to share another quote, this time from Jack Schwager's The New Market Wizards:
"Every market has a rhythm, and our job . . . is to get in sync with that rhythm . . . There's no sense of self at all. There's just an awareness of what will happen. The trick is to differentiate between what you want to happen and what you know will happen. The intuition knows what will happen."
Although some investors/traders have a natural ability to intuitively get a sense for market rhythms, others may need a little help. The investment research method I'm developing is aimed at that: offering a structured, disciplined approach (including advanced software) to train investors' intuitive abilities to sense the market mood in general and its rhythms (i.e. swings) in particular. Massive amounts of data can be efficiently transformed this way to benefit from the whole spectrum of the human-computer bandwidth. Perhaps you're familiar with the behavioural finance concept of System 1 and System 2 of the human mind (e.g. Kahneman, 2011)? Audiovisuals are particularly suited to appeal to System 1 abilities.
Why is this important? Because I believe we have gone way too far in quantifying markets, inspired by the flawed premise of the "market as machine". As a result, what we casually refer to as "the market's mind" has become imbalanced (at multiple levels). Apart from the obvious suspects like HFT, VAR, and flash crashes, monetary policy is also misinformed by this bias. Moreover, we try to understand market sentiment and moods purely analytically (e.g. put/call ratio, bulls/bears spread, etc.) while increasingly repressing our emotions by outsourcing decision-making to algorithms. By distorting the delicate process of discovery it is no wonder we're facing secular stagnation, for example.
Admittedly, this is just my opinion, but should you be interested in the background to all of this I would be happy to send you a short introduction (derived from my thesis + draft paper).
Happy to discuss and clarify.
Warm wishes,
Patrick
Chris Cooper writes:
Here is some cool sonification of measurement data from the LHC in search of the Higgs boson.
And a good article about it: "Unlocking Big Data: Lessons Learned From the God Particle".
Jim Sogi writes:
I like the phrase in the article "ski the stock market" using virtual reality goggles. There are few good VR rigs coming out soon. One for the Samsung Note 4. In Dataclysm, Rudder plotted some big data on a scatter plot to get a handle, and in the case of language usage to determine ethnicity, focused on the rare outliers. It was the things people both said a lot and didn't say at all that allowed identification. Black people never say "my blue eyes" and asian women say "single parent family". Only white people say "my blue eyes" and "snowmobiling".
402e
Google has always given me the creeps. They have an awful amount of information and power and its growing. They are not the only ones.
In the Dataclysm, by Christian Rudder, who owns Okcupid an electronic dating service, he discusses the issues involved in big data. We all give up information in every transaction, when we go on Facebook, do a Google search, buy with a credit card, redeem a coupon. We get value in return, but the big data can be mined in creative ways to find out some very personal information. Facebook data can be used to determine if one is homosexual with an 80% accuracy. Target can determine if a customer is pregnant. Target doesn't want the customer to know that they know she is pregnant, so they put in lawnmower coupons together with the cribs and diapers so the customer will think she is getting the same booklet as the neighbor. Not. Big brother is watching.
In Okcupid data, they can tell a persons race by the language they use. Curiously men view women as being half above average in looks, and half below average, a bell curve. However, when women view men, they only think one in six men is above average in looks! My wife says, well that's obvious…women look at other things in men, not just looks. I guess that's how the ugly old guy gets the megababe.
On the dating site, people filter all the women or men by multiple criteria, however in experiments, they found that people were more satisfied by the experience in a blind date, (without pictures) even when one party was below average and the other above average in looks. Take away: people do not want really what they say and think they want.
Funny factoids aside, there are some big issues in privacy, use of the data. NSA has access to even more data, and recruits top math students to decipher it. What do they do with this info? They are not under the motto, "Do good".
We are basically at the beginning of history. Data is just starting to be collected. Kids now have their whole lives frozen and preserved forever in digital form. That drunken polaroid does not disappear when cleaning out the attic.
The book is annotated with explanations. I'd be interested to hear from the statisticians how this big data is mined. The word counts and graphs a la Tufte (who Rudder mentions) helps to tease out info.
So it's Friday afternoon about 3:30 and I'm wrapping up the day when I get a call from my stepmom Patti.
Apparently, my cousin Veleda who lives in KC has a friend that was coming to St. Louis to see Pearl Jam in concert that evening, but his fiancee' had injured her back and was unable to make the journey.
So he had a couple of tickets that he didn't want to see go to waste.
So I called Veleda and she gave me her friend Justin's phone number and 10 minutes later the tickets had been changed into my name for pick up at the "will-call" window at Scottrade Center in downtown St. Louis.
So, now thanks to the courtesy of Justin (Thank you, Justin), I am in possession of two tickets to Pearl Jam. So now I have to decide who to take.
My wife was sitting with me when all this happened, so the first offer has to go to her. Gwen declined……she is not a real fan of heavier rock….but she did suggest that I take my son, Hunter who is fan of classic rock. Hunter (aka "Boosh") had already seen the Def Leppard/KISS concert earlier that summer and loved it. So Gwen thought he should go.
I called Boosh who was out for a walk in our neighborhood and he was in!
Unfortunately, Boosh really didn't know very many Pearl Jam songs, and there really wasn't time to get him up to speed, so I had him YouTube a couple of songs……..Jeremy, Even Flow, Yellow Ledbetter (incidentally, YL is my favorite PJ song)…….which got him pretty psyched.
We left early since I wasn't sure where the will-call window was. Since we got there early, we found a good parking space just across the street from the Scottrade Center and walked right in. We found the will-call window and got our tickets.
So now, we had to wait to even get into the venue. We waited almost an hour before the gates even opened. But it was an interesting hour.
We people watched.
We saw an odd array of people ranging from middle aged professionals like myself down teenage burnouts dressed in goth gear to emo's, to families with their children.
I was able to sneak a few pictures of the some of the more "interesting" people/groups in attendance.
There was the obese women in a wheel chair sporting a mullet.
There was a guy dressed in green military gear that looked just like Fidel Castro including the beard.
There was the professional guy who looked like he came right from work wearing coat and tie.
There was the mother and son with each with multiple piercings (ears, mouth, tongue, nose, cheeks, eye brows) and their bodies were adorned with tattoos.
However, everyone was very respectful and courteous.
It was not at all like it was in the old days. No one was looking for a fight, no one was yelling or getting obnoxious or getting upset when someone jostled them.
A VERY large heavily tattooed man accidentally elbowed me pretty hard when the line started moving. When he turned to see who had he had bumped, he had a look of concern on his face and words of apology and kindness flowed forth. When I smiled at him and said, "Meh, accidents happen", he smiled back and patted me on the shoulder.
When we finally got to our seats, the Scotttrade Center was largely empty. Far more empty seats than full ones. It was now ~ 6:30 and the concert was scheduled to start at 7:30.
So Boosh and I waited patiently. As people started filling in the seats, we made conversation with the people the around us. Of course, most of the conversation revolved around music and concerts.
Although most of the people around us were in the 30's and 40's (a few in their 20's and a few kids), I was probably the oldest in our immediate area (although there were people nearby that were clearly older than I…..I think I even saw some people that may have been in their 70's). I was asked a lot of questions and told stories of concerts "back in the day".
I told the story about how I had 3rd row center seats for Led Zeppelin back in the 70's and how on the day of the concert my report card came and my parents saw that I got an "F" in math (my one and only F of my entire school career) and grounded me from the concert.
People around us were partying and having a good time.
But there were things that were conspicuously absent.
For one, there were no beach balls bouncing around the concert hall.
Secondly, the room was not filled with the "haze of sweet smelling smoke" that I remember from the old days.
Also absent was the guy next to me saying " 'ere" (I spelled that phoenetically……some of you will clearly understand what that means) as he passed something to me.
We did catch the occasional whiff of marijuana, but only a little bit.
Also, the biggest difference was the Jumbotrons. They were showing the Cardinals first playoff game on the big screens.
Of course, between 7:30 and 8 pm, the Cardinals were not doing to well as the Dodgers dominated them.
Then, at about 8 pm, the concert hall was full and (as we were told by the band), the band was ready to come out and start playing…….but there was a problem…….
At about 8 pm, the Cardinals started a rally. They were down 6 -2 when the 7th inning started…….and were up to 10 - 6 after the inning was over.
The crowd was going crazy watching the Cardinals on the Jumbotron…..and Pearl Jam was just standing by waiting for the inning to end, knowing that they couldn't go out on stage while the Cardinals were staging this major comeback. So they waited and waited and waited. The inning lasted almost 1/2 hour.
When the inning was over ~ 8:25 Pearl Jam came out and started the show.
The first thing I'd like to point out is that, although I am a PJ fan, I did not know as much about their music as the people sitting around me did.
They played 3 songs before I even heard one that I knew. Now, don't get me wrong, the songs I didn't know were still fantastic and I enjoyed them very much.
They hit on almost all of their standby classics. Even Flow, Daughter, Better Man, etc.
The band absolutely rocked the house for 90 minutes and then left the stage. I figured the concert was over except for the encores. I was wrong. They were just taking a short bathroom break (as guess even famous musicians are subjects to the foibles of age and need more bathroom breaks than they did when they were younger).
When the band came back out, it was just the lead singer Eddie Vedder (one heck of showman, BTW) who came out with his acoustic guitar and began the second half of the show.
He played a few songs, including the old John Lennon song, "Imagine". It was very very good!
When the band joined him, they played a few acoustic numbers and then got back to the business of damaging my already diminished hearing capacity with more their hard rock numbers.
They played for another hour and ended the show with a bang.
Then came the encores…….a full 30 minutes of encores.
Of course, they saved a few of their classics for encores. The best song of the night was "Alive". They rocked the house with that one.
And then finally, for the last encore, with the house lights fully up and the entire concert hall fully lighted, they played "Teenage Wasteland" by the Who. Here is my iPhone recording of the final song.
A few other notes about the concert:
The band was incredibly gracious. They took time to read off emails and stories of fans that were going through hard times and dedicated songs to them.
The read off a list of birthdays being celebrated and even pointed out a few people in the audience who were either celebrating something or had just gotten out of the hospital to be at the concert.
One lady held up a sign that said "My 100th Pearl Jam Concert" that made it on the Jumbotron. A few songs later, the Vedder said that he was told that someone in the audience was seeing their 100th PJ concert and wanted to know where she was.
Once she was located, he took about 60 seconds and personally thanked her for her support of the band. Vedder had a bottle of something that he was drinking on stage (wine maybe) and said that he wanted to give this her as a personal gift from him and the band for her support of them……but the women was really far away from the stage.
So Vedder asked the audience to pass the bottle to her. He handed it someone and later we got to see that bottle had made it's way to her.
The band made a point at several times during the show to express thanks to their fans for their loyal support.
And they demonstrated their gratitude by putting on one heck of a show. I can't imagine how redundant it gets playing the same songs over and over again each night. But the band clearly took a lot of pride in their show and overall performance.
At no time did I feel like they were just going thru the motions. Vedder did the job you would expect from a lead singer and showman. Mike McCready did everything and more that you would expect from a talented lead guitarist and the rhythm section didn't miss a beat.
There were only two negatives that I could see. One was expected, and the other was a bit of a surprise.
First, the expected: When a band has a playlist as long as Pearl Jam has, there are going to be a few popular songs omitted.
They didn't play "Black" which really surprised me as that is one of their most popular songs and they didn't play Yellow Ledbetter.
As we were leaving the Scottrade Center the one recurring theme I heard from concert goers was the absence of the song Yellow Ledbetter. Apparently, I'm not the only one that loves that song.
The unexpected negative was the lighting. I've been a bunch of concerts in my life, but this one had a twist to it.
I recall that the lighting used to be "on the performers", but at the concert last night lighting was "behind the performers".
What this resulted in was the audience being blinded for much of the show. I would say for about 50% - 75% of the show I couldn't really see the stage or the performers. All I could see was blinding lights in my eyes. It was like driving down the highway with all oncoming traffic having their high beams on.
I spent most of the night watching one of the two jumbotrons off the side of the stage just to see what was happening.
Although I'm not sure why they did it that way, I have a feeling it was to discourage people from taking pictures and videos of the show…..but I could be wrong about that.
Regardless, it was a great concert from great showmen. I highly recommend to everyone that if you have a chance to see Pearl Jam in concert you should take it!
Boosh and I had a great time!
And thanks again to Justin Trent for gift of the tickets!
206b —
keep looking »
Archives
Resources & Links
Search