We are all familiar with how filmmakers show that they are one with the idea that has the world in its grip by showing a TV or radio snap of a Nixon or Regan saying something which out of context shows they don't care for the poor or unions. That's how they show they are fellow travelers and deserve good reviews. Be alert for the new tendency to have the radio showing immigrants in a positive light wrongfully being accused of being bad. A Bigger Splash, a movie about 4 worthless characters with no sex appeal (Swinton is the homely rock singer, and Dakota Johnson the 17 year old that sleeps with her fathers) that also shows the Italian police as incompetent.
At first I was thinking the bonds at a big low not that much above low for year, down 3 points yesterday looks foolish. What difference does it make if the Fed now has a 30% probability of raising rates in June rather than April. And if they were going to increase rates, it should be bullish for long term bonds because they're doing something to reduce inflation. But then when you think of it, the Fed believes in idea that has world in grip. As Tyler points out, the Brooklyn chair, is a "reformer" without the agrarian. And the cattle trader is helped by an economy that seems good. (That's why the bls will beat up anyone who says they're unemployed). Okay, so no way can the agrarians increase the rates after July because that would be right before the election and they'd be afraid the market would go down which would be bad for the cattle trader. So if they're going to increase rates it has to be in June. So this is the last chance they have to increase rates. And any strength in the economy or bullishness in the stock market will be to their strong point.
John Floyd writes:
There was so little price 2 weeks ago relative to data and comments and the zero bound of pricing. On the back end I would consider the Japanese curve as a guiding light for the US and many others. Further considering China is more likely to follow a similar path to Japan over the past 30 years, at least for the next 5 or so in China, should support the back end lower thesis. Despite the historical clashes there is much in common between the two.
Let us pay this great (Max Brand) who wrote 1.5 million words a year including Dr. Kildare some well deserved respect. It would have been nice to be a fly on the wall when L'Amour and Brand met, albeit one doubts that Kildare or anyone else could have stayed on the mat with L'Amour. Still, the stock characters that these two had, and their treatment of women, their certain anti capitalist mentality allows Schaeffer to leave them in the dust in my opinion, albeit L'Amour was just as much a naturalist as Schaeffer. I introduced Jim Lorie to Schaeffer when they both lived in Santa Fe, and Jim loved Monte Walsh. Everyone in Santa Fe knew each other, and Jim was told that a close relative had serious malevolent thoughts for him in mind.
Larry Williams writes:
While reading "Way of the Lawless" by Max Brand, who's right up there with Louis L'Amour in my mind, I found this wonderful comment:
"A great general going into battle has two plans; one for victory and one for defeat. The plan for victory allows him to optimize his success while the plan for failure prevents losing turning into a catastrophe"
There are 500,000 species of molluscs, about 1/5 of all known species. Their main parts are the foot, the radula, and the shell. All the species seem to have developed every combination of usage for the 3 parts, with for example the cones shooting out their radula to kill their prey, and the argonaut shedding its shell. What can we learn from them?
Anatoly Veltman writes:
I wonder if the daily/weekly chart of Crude qualifies: what a beautiful Lobagola from $50 down to 26 and back!
We had heated discussion below $27, and we heard all the reasons the market was on its way to its bottom "somewhere between $27 and $0"… only the market pulled its defensive mechanism the very next day!
I dreamed my father was reading a book about King Arthur to me.
He was sitting a few feet away from me as he did every night.
The book told the story of King Arthur's last battle with Mordred.
A few days later we walked a block down Russell Gardens and he started crying saying, "I don't know what will happen to Roy".
I was too foolish to know that he was telling me he had Lymphoma.
My father loved books almost as much as he loved his family and teaching.
He always had five or six books under his arm from the local library.
Our House had more books per square inch than any other.
He was a policeman in the Ninth Precinct, the publishing district.
The publishers would hire policeman to throw the books in the East River.
To save them the charge, Artie would take them to our 1500 sq ft house.
Many a time Artie would be coming home from work carrying 5 books.
If he saw a bad perp doing a crime he would use one hand to disable him.
He wrote 4 books and he cried when he finished the last one, "The Police Family".
Everyone loved Artie. On his last evening alive, he marked exam books.
He gave them all A's.
I started collecting books in the spirit of Artie.
My collection was once featured next to Getty's and Rockefeller's.
A dealer told me, "people don't read books any more. Collect Audubon."
He was right. The Audubon books have gone from 10,000 to a million. [news story]
All other non-illustrated books have stayed the same in 40 years.
A first edition of The Wealth of Nations cost me 80,000 in 1970. It's the same price today.
I collected all the old books about the stock market.
In the 19th century they told the story of frauds and cons. Just like the ones that they have today.
Some of the books are rare like "50 Years on Wall Street".
When Wiley wanted to republish it, they borrowed my copy to save money.
On my library book shelf Clews sits next to "My Adventures With Your Money".
The rarest stock market book I got hold of is "Jesse Livermore's Secret System".
He wrote it in one last hope that he had to make back the fortune he had lost.
There were only 50 copies that he signed.
I gave my copy to Laurel and she needed money. She offered it for high 5 figures. And a mysterious trend following buyer from Greenwich who Brett used to work for plucked it up.
Shortly after writing the book Livermore committed suicide in the rest room of the Sherry Netherlands.
I never pass that hotel on the east side of Central Park without crossing the street to stay away from the memories.
It is interesting to note that within day and between days crude and bonds have a tremendous negative correlation. Indeed one can look at one and almost invariably come up with a great guess as to what the other one is doing. And yet…. both crude and bonds yesterday reached 5 month highs. How to reconcile??? Gilbert and Sullivan: "Things Are Seldom What They Seem".
anonymous writes:
We may have to consider Ms. Watanabe's trio of oil, the nikkei and something that pays a little interest as well.
The earnings beats/misses game is one of the greatest cons out there. It is a total distraction from the underlying economic trends or performance - a company can be in terminal decline but have 10 "beats" in a row which generates positive "momentum" - each one generating enough optimism for the better informed to liquidate into, including an opportune share issuance by the failing company itself.
Victor Niederhoffer writes:
One is sure that a broker would espouse such a strategy. How about writing a box. That way 4 commissions and no way to win.
anonymous writes:
It is imperative to the con that a study is done on markets with monstrous bid/ask spreads and a few contracts traded per day. Similar to the "small cap" effect where the companies that juice the return in many cases started the period with a sub $20M market cap and 2k of daily liquidity.
If markets were to continue in the same direction during relevant periods, then it would not be necessary for the public and short term second handers to churn and vig and rake would not be as great. The market moves might be interpreted as selfish moves to enable rake to be maximized.
When I wrote the first advertisement for the almanatarian whose son graces our list in 1968 we sent out a nice direct mail piece "damn my broker". The almatarian hornswaggled me as I was a very poor business man, and I got the revenues above cost, but he kept all the customers and repeats. We got a little negatives from recipients. They didn't like the profanity. But it pulled pretty well. I am thinking today it will be a day "I kissed my broker". Only the broker will win. It will be a collar. It's a variant of the floor saying "I kissed my sister". Only the clearing firm made money today.
Discussion of retrospective best and worst days leads one to speculate as to what the value of using trimmed means versus actual means for forecasting is.
When a market moves from the red to the black on employment as it did Friday, it's very bullish. How can this result be generalized. Like on other days, other markets, other times?
Someone should make a study of what the returns to stocks were by quarter and year when the basis between current price and expected price 1 year later is at various levels. This is somewhat similar to looking at returns versus the earnings price less interest rate. To normalize things, I would suggest a normalized dividend yields of 1/3 of the earnings price ratio, although this could vary. When the normalized dividend yield was above the 10 year rate, one would assume that the futures were below the current level as they are today taking account of the formula future one year price = current price x 1 + div yield - interest rate a query. How could stocks give a 40,000 fold return per century if they went down too much when futures below the current level?, ie. a forecast that stock prices would decline. Much missing from these thoughts but it seems salient.
A broker in 1880 on floor said "seal". Others misheard him. Thought he said "sell". One person started selling, and others followed. A terrible panic occurred. Icahn said "apple". One person started selling. A rout ensued. Yes, the market moves every day for ephemeral reasons. It makes a regularity man "humble". Can you think of other stupid reasons for a market move? Late Thursday declines?
Alston Mabry writes:
I think it's less ephemeral if you model it this way: (1) Many players were looking for en excuse to sell; (2) Icahn provides the excuse for selling AAPL; (3) falling AAPL provides the excuse for selling, say, INTC, which (4) provides the excuse for selling…and so on.
Jeff Watson writes:
This reminds me of a drought back in the 80s where grains were moving much higher for weeks. It was an overcast day and someone noticed a few raindrops on the window, 10 minutes before the close. An astute local started selling and telling the pit to look at the window, "It's raining outside." Everyone started selling and the bean and corn markets went from bid limit up to offered limit down. Those few drops were the only rain that day and afterward, the markets resumed their summer weather drought pattern.
Gary Phillips writes:
Back in the same day, I would often "break" brokers I stood next to (in the bond pit), so that they could use the bathroom.
On one occasion I was covering someone's business when an order was arbed into the absent broker's clerk. "Gary, buy me 200!" he barked. I looked over to Charlie D, hand-signaling 200, and took his offer. "You're filled– bought 200 at even!", I relayed back to the clerk.
It was then that the clerk frantically grabbed my arm and informed me he went backwards on the order, and that it should have been a sale and not a buy.
Before I even had a chance to react, the market violently sold off 45 tics. I was now long 200 bonds, 45 tics higher, and also owed the customer a sale for 200 bonds, 45 tics higher.
At the time nobody knew what had happened, but it turned out that there was a rumor that George Bush (Sr.) had been shot. I felt the color drain from my face, and my financial life flash before my eyes.
Not surprisingly, the market bounced back and completely retraced its move lower when the rumor proved false, allowing me to get off the 400 bonds I needed to sell.
Yet, I often wonder if there would have been a different resolution if the donkey had been in office instead of the elephant. A fitting lobogola indeed!
anonymous writes:
One wonders if Icahn is talking the Trump book at this point given their mutual admiration and Trump's early desire for him as Tres Sec which Carl has repeatedly negated.
2360
One admires the typical high tech earnings report. Made 15 cents excluding certain items. Those items include salaries. With salaries loss of 20 cents. Twitter an example today. Something rotten in the way sale growth of 30% versus estimate 35% is cause for the 15% decline rather than they can't earn money.
Ed Stewart writes:

If you think that is bad you should read the "value" stock releases. Every quarter it is "but for" earnings and the analysts play along with the BS to the extent that the fake numbers are the ones that are the default in factset.
It's a wrestling match today with bonds up a half from 7 down days and a 2 month low, and crude at a 4 month high, up another 2%. It is interesting to note that somehow the Fed believes that moves in oil are ephemeral and have no effect on inflation.
anonymous writes:
Here is a paper presented by Vineer Bhansali at JOIM : "Beyond the Quant Model" [36 page pdf]
I got a lot out of it even when I couldn't follow the physics examples.
Alex Castaldo replies:

I see that in late December 2015 Vineer Bhansali left Pimco to start his own firm LongTail Alpha:
LongTail Alpha is named after its strategy that "sustained portfolio performance comes from expecting the unexpected, and positioning portfolios to earn yield while maintaining convexity," according to a statement he issued. Bhansali said he is initially funding the firm himself. He earned a Ph.D. in theoretical physics from Harvard University in 1992 after receiving bachelor's and master's degrees in physics at the California Institute of Technology. He […] worked at Pimco for 16 years.
It would seem he is a convex combination of The Professor, The Upside Down Man and the Derivatives Expert.
The talk is billed as a light talk rather than a technical one. He discusses lessons learned from hobbies and other fun activities and summarizes them in 10 points:
1. Focus on Structure (and on the one idea that supports the structure)
2. Let the data speak (and be Bayesian when you listen to it)
3. Use proper coordinates and units
4. Know the types of errors (and correct for them)
5. Simplify
6. Look for scaling rules (and anticipate the possibility of sharp/sudden transitions)
7. Simulate freely (especially if you suspect path dependence) and use Gedanken (thought) experiments
8. Identify tradeoffs (and deal with imbalance by owning free or cheap options)
9. Don't fight momentum (look for it and ride it)
10. Pay heed to the environment (and be flexible in adjusting to it)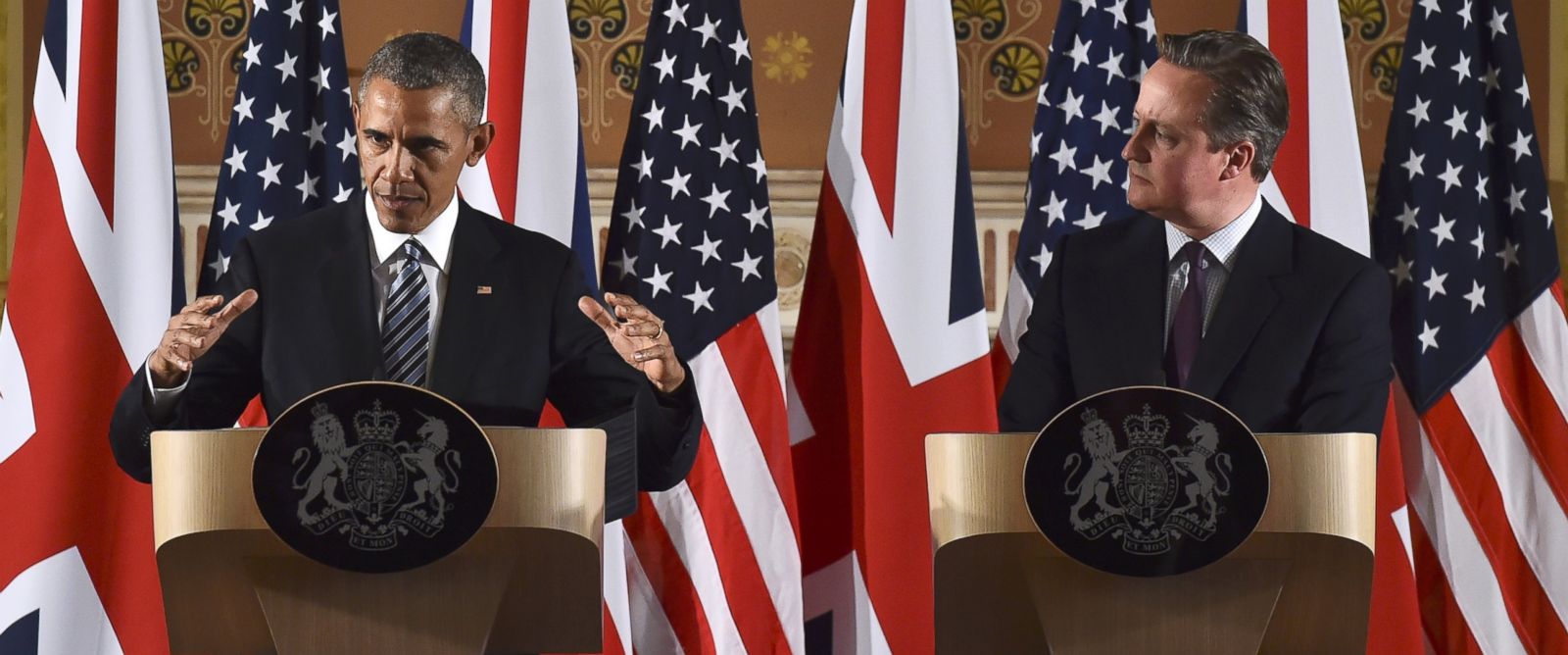 Guaranteed to happen in quest for egalitarian world state.

"Obama: UK Will Not Be Able to Strike Trade Deal With US Soon After Brexit" :
April 22 (Press Association) — Britain would not be able to strike a free trade deal with the US "any time soon" if it leaves the EU, as Washington's focus would be on reaching agreement with the European Union, Barack Obama has said.
The President was speaking after Downing Street talks with Prime Minister David Cameron during a two-day visit which he has used to speak out in favour of continued UK membership of the 28-nation bloc after the June 23 referendum.
At a joint press conference in the Foreign Office, Mr Cameron insisted that the special relationship between the UK and US was not "constrained" by Britain's EU membership. EU membership gave Britain "a powerful tool" to stand up for the values it shares with the US, said Mr Cameron, adding:
"Now, I think, is a time to stay true to those values, and to stick together with our friends and allies in Europe and around the world."
Mr Obama said the UK would be "in the back of the queue" for a trade deal if it left the EU, because the US would focus on the bigger bloc.
John Floyd writes:
Amazingly the supercilious EU has done wonders for the likes of Italy where one might consider that despite bailouts, low rates, low euro, low oil prices and many other beneficial headwinds:
- Italy is too big for the ECB to save with the 3rd largest government bond market and public sector debt that exceeds US $2 trillion.
- Italian GDP is down 6% point to point since the pre 2008 peak while the US economy is up 10% over the same period.
- Italian NPL's are around 17% compared to the European average of 6%
- Anti-European sentiment is rising and support for Renzi's government has halved over the past 2 years
- Public debt to GDP has gone from 105% in 2008 to 130% in 2015
There will soon be a new dish on the menu next to Grexit and Brexit. The chefs are now adding Itexit with a red or white sauce.
I am often asked which is the best business book besides Monte Walsh and Atlas Shrugged.
I would recommend True Grit by Charles Portis.
The heroine is good with accounting, mortgages, bargaining, and investing.
It is true to time and place, and has many L'Amouresque and Schaefferian educational facts about the West as it was in the late 19th century.
Apparently the Coen brothers' production of it is the best film of it.
And the book and movie are the favorites of some of the most astute authors like Roald Dahl.
It can be read with pleasure by all from 10 to 80.
What would you say is the physical analogy to the situation which often arises in markets where one market repels the other. Oil often repels bonds and bonds often repels stocks. It is sort of like the forces that make a motor to me? What's a better analogy? Here's a good discussion of like charges repelling.
When Wiswell got into a complicated situation, he'd always say, "I'm in over my head, I better simplify". That seems like a good strategy. The risk has increased and the expectation has not increased, so the utility of the position has decreased. Yet when a comparable situation in the market occurs, i.e. when the outlook becomes more uncertain– for example, before an upcoming announcement or when a regularity changes from good to mixed, the tendency of myself and my traders is to either stay with the whole position or close it out entirely– never to reduce by half as Wiswell would do in his game.
The question arises–why does this bias occur? And is it a characteristic of all traders or is there something in my background and those that follow me that makes us fish or cut bait? One will ask Dr. Brett for guidance as well as soliciting guidance from fellow specs.
Russ Sears writes:
It would seem that the Chair's question is related to the Cassandra Portfolio mentioned earlier. If the trade makes its forecasted return quicker than forecasted then "flattens" or starts to drop, it makes sense to sell the whole and look for a new edge. If however its return is "flat" at first, it makes sense to stick to the original forecast.
Where we don't have the magical 21 day forecast… If we have an edge that we believe in I try to go with my coaching mantra "have a good plan. Believe in the plan. Stick too the plan."
There is always someone touting the latest greatest new training method, diet, etc etc. Many good runner's jump to the latest fad to the next. But the great ones stick to their logically built training plans until they shows signs of overtraining.
Perhaps a related question is what are the signs a trader is "in over his head".
Who are the claquers for the market, and are they paid by the theatre owners the way they were in Paris during the 19th century, and how can we profit from it.
anonymous writes:
Trading newsletters and chat rooms seem to be the craze on twitter.
Surely a great revenue stream for the owners who won't admit trading is not just chart patterns.
They must pay for retweets and likes touting their calls on the market to attract fresh business.
I believe fresh participants like this are needed.
Enoch Powell wrote a nice piece about the absurdity of price controls in the British empire. A restaurant was fined because its recipe for bernaise sauce did not take account of the cost of ingredients when it raised its price for a steak with sauce. Nothing as foolish has appeared since then except for the living wills regulation for banks. They only provided for the first 7 days of cash flow after bankruptcy but didn't forecast for the eighth and subsequent days. The absurdity of this political query to show that the collective was on its toes with companies with 250 billion net worthy, would make Enoch Powell fulminate from above.
News item five big banks' living wills rejected by u.s. banking agencies
For an eternity Harvard has paid its fund managers 100 times as much as the average professor. The overseers seem too foolish to understand that when you have funds already raised, the performance fee should be 1/20 of what it is. The managers are able to fool the professors by saying that if you went outside, the cost would be much higher, and we only get paid much if we beat the bogey. The regression fallacy seems unknown to the professors, i.e. that some will beat it by luck, and they will absorb the bad and pay for the good, and the whole fund raising apparatus which is Harvard's main asset does not take a cut from the manager's pay.
I hypothesize that the prevalence and visibility of homeless and poverty and related downtrodden stricken people is an intentional manifestation of the collectivists attempt to keep us all small–i.e the idea that has the world in its grip. It makes us think purpose of life is to take care of the unworthy. The underlying cause of this might not be conscious activity by evil collectivists but could be an invisible evil hand at work. I'd be interested in your views on this hypothesis.
Stefan Jovanovich writes:
The "news" has only two sources:
1. press releases from the government and businesses and non-profit agencies and celebrities and academics who are announcing to the world what they are (or claim to be) doing
2. journalists' own "investigations"
There are no incentives for either group to minimize the "visibility" of poverty, any more than there were any incentives for missionary groups to tell the congregations back home that "actually the heathen seem quite content to remain unconverted".
The government gets its money because of "problems". Businesses want always to seem "charitable". Non-profit agencies are in the business of "charity" and "problems"; and, as Jason Reitman's wonderful script puts it, every celebrity needs a "cause". No explanation is needed for the academics.
Here is something for those who have not yet heard of Nick Naylor.
A good book on deception is Cheats and Deceits by Martin Stevens. Also the wikipedia entries on deception and also the books listed in Cheats and Deceit. Everything in our field is colored and infused with deception.
Pitt T. Maner III writes:
Here is short article by the author of Cheats and Deceit with a few pictures that may be of interest. Finding lunch or the avoidance of becoming lunch are key concerns.
"The struggle to survive and reproduce is intense for all organisms, and we should not be surprised that cheats are everywhere. What's remarkable is the extent to which animals and plants exploit one another and the level of sophistication involved. Nature is a brutal place, so it's a good idea to cheat and deceive if you want to be successful."
"Nature's Cheats: How Animals and Plants Trick and Deceive"
"Exercising the right of occasional suppression and slight modification it is truly absurd to see how plastic a limited number of observations become, in the hands of men with preconceived ideas".
-Francis Galton, 1864
The numbers on Payroll Taxes are quite bullish. However if the Jobs Report shows similar, the stock market response could be negative, anticipating hawkish Fed moves.
The big difference in the data is that the BLS Jobs Report indicates jobs without any discrimination as to actual earnings. That is, a $10 per hour job counts as much as a $1000 per hour job. Payroll taxes intrinsically reflect the quality of the job.
Victor Niederhoffer writes:
And yet Erica Groshen is still Commissioner of Labor Statistics and she's a very good friend of the Chair and they frequently speak together at testimonials and I believe coauthored an article on inequality together. However, unlike Erica, I have not been able to find evidence that the Chair sent her kids to Camp Kinder the way Erica did.
Bill Rafter writes:

Today's comments by the Fed Chair give us an interesting observational platform.
If the Jobs Report on Friday is bearish on the economy, then it would appear that the Fed Chair was informed and stepped in before the release to keep the party going. (Whether such response is good is debatable.) Note that the survey period for this month ended on Saturday March 12th, so there has been plenty of time to inform someone who has a need to know.
However if the Payroll Taxes are correct and the jobs numbers are bullish on the economy, then the Fed Chair must be either poorly informed or illogical. Neither is comforting. In such a case one might question the need for such a Fed.
2692
The Seven Pillars of Statistical Wisdom by Steve Stigler provides an illuminating and entertaining foundation for statistical activity. The seven pillars are Aggregation, Information, Likelihood, Intercomparison, Regression, [Experiment] Design, and Residuals. Every page of the book contains something fascinating and instructive.
It is at once an adventure story, a history lesson, a textbook on the foundations of statistics, and a tour de force with ingenious extensions of the works of the great in each field in Stigler's own inimitable hand — a persona that reminds one of Stigler's heroes, Galton himself.
The level of the book is such that the layman and the expert will both gain from it. I found every page insightful and it uplifts one to be part of a field with so many ingenious founders, and to know that there are such pillars that hold the edifice up.
I recommend the book highly. It is a masterpiece classic that will live forever.
It is interesting to consider the standard deviation of the daily change each day of the week from the preceding close to the day 2007-present. While we're at it a daily algbrc change also.
day of week stand deviation av algbrc change
Monday 16 -0.4
tue 17 1.2
wed 16.5 0.0
thur 17 1.0
fri 15 -0.3
The changes listed — Monday is the change from Friday close to m on close. Etc.
As Mr. Vince knows better than anyone, the variance of a sum is equal to the sum of the variances. I believe the market ecosystem works its magic each day of the week to do its damage and make the public lose more than they have any right to lose every day of the week without regard to levels or rest.
Ralph Vince replies: 
Which, by extension, we would expect the one-trading-day-variance from Friday to Mon to be the tamest of the five, consistent with your results, but not proof that weekends don't matter.
If you could trade on Sat or Sunday it would be expected to get out of line compared to what we see from Friday come Monday, yes?
Victor Niederhoffer comments: 
The NYSE and many of the Asians I believe used to trade on Saturdays, and the changes on Sat were very small relative to the other days. I believe it's because there is not as much damage that the collectivists do over the weekend.
Ralph Vince comments: 
When NYSE was open on Saturday, wasn't that only half-day sessions? Us millennials know nothing of those bygone days.
Victor Niederhoffer writes: 
In the good old days, trading continued well into the evening at the fifth avenue hotel and the curb.
Anatoly Veltman writes:
Just got back from Seafire grill and I see this about the good ol' days. Among other things, in my 1980's better days, gold was only offered during Shabbat by HK dealers, and only a couple of hours. One memorable curb occurred after the Friday Oct.13th, 1989 Comex close. Late that Friday, following the UAL deal collapse, stock futures closed basically limit down. Gold futures that were closing full 1.45h earlier, didn't discount any of that. I stared down a dozen screens, so I was anticipating SP technical troubles way ahead of the field. I kept soaking up gold offers all day - yet the darn contract barely edged up. My partner on the floor, who among others had no concept of what might have been transpiring with the stock market, kept a better tally: "we're about 1,000 lots over the initial margin requirement!"
So going into COMEX closing sequence, I tell him: "We have no choice. Announce the offer of 1,000 lots, but please - no locals. Just keep yelling out "1,000 or nothing!" Don't hit any partials.
No one took'em… An hour after COMEX close a good bank friend calls: "I heard you had some. Any market?" I give him .5% above Comex settle, he says buy'em, I say "1 bar mate", he says "appreciate". Half hour later he says "Aron is looking, help me out" (that's Goldman). I give him 1% above settle, he says buy'em, I say 1 bar mate, he says "Wise. Appreciate"…And then HK quotes 1% higher and .5% wide - and no trade till Sunday…So Sunday night Sydney opens to a 1% higher bid, which I hit for my remaining 920 extra lots - and they're thanking me! My broker calls Monday morning: "Any wire coming in?" I say you'll hate me, but no wire; here is my 1,000 offsetting EFP shorts, I'm no longer your problem, made a quick million in the closed market, sorry mate, HOW ARE YOU DOING! He says "appreciate your concern; lots of accounts really fxxxup" I say sorry, not a freaking soul wanted them during COMEX, I be damned. He says don't do it too often, and you owe me dinner… Guess what: I never got to buy him that dinner. Despite SP opening limit-down Monday, COMEX traded back down around Fri settle. My 920-lot Sunday opening sale was apparently passed around in Asia and thru Europe like a hot potato, with no one caring about the stock market again, like on Friday. I be damned… 
2933
It is useful to consider whether there is a formula like I = E/R for markets with appropriate random elements. Would a resistor for the stock market voltage be bonds or euro? Does the speed with which a market moves a given magnitude have a differential effect on the future?
Stef Estebiza writes:
Check this out: "Charging and Discharging a Capacitor"
They know this stuff because right now they are experiencing a flow of money from China/asiatic markets and Macao. They are discharging the capacitor in China to upload that to Macao.
The product of Resistance R and Capacitance C is called the Time Constant τ= tau, the time constant which characterizes the rate of charging and discharging of a Capacitor. But if you use a fixed resistance and change the supply voltage (variable) you can change the time of charge of a capacitor anyway.
So, from 2009 the capacitor S&P 500 was loaded in ascending exasperated way, despite the high resistance (endless but constant). The monetary mass, (the applied voltage) was very high, steadily increasing, just to force the charge of the capacitor, despite strong resistance. The money supply, which, thanks to the tapering they said NOW to be reduced…so, if you reduce the voltage, the capacitor will start to discharge…it has a current when it has a potential difference, currently, the condenser is charged, it is in full charge, and equals the voltage applied to load it (monetary mass).
So, in real life you can't go over the capacitor features, if you rise the voltage to force a further charge on the capacitor, you risk to destroy it. But…it looks like someone (some kids well informed) short-circuit the capacitor for brief moments. (short-circuiting the poles of the capacitor).
If the resistance across the capacitor's pole is zero (short circuit) the current tends to infinity, as well as the transformation of value from the nominal value (on the markets) in cash. So, yes, like Macao teaches, the important thing, if you remove the tension, you open the circuit so that there is no discharge of the condenser. In reality the capacitor has its own internal resistance that sooner or later download the condenser…SO YES, EUR$ can go to 1.15 and over… (the higher the better to buy then$) (I was waiting) for 1.20/22.
"Does the speed with which a market moves a given magnitude have a differential effect on the future? "( Yes, we are managing a phenomenon of discharge or runoff ).
All that is to help Emerging (see the yuan) Europe and USA (strong $)…Alchemy of Finance if they can manage the crisis and then do the quantitative easing for the masses, everything can get going again, otherwise, they have not understood anything about the current situation.
The beautiful symmetry of the market's fall and decline with exactly the same thing causing the fall and rise in the same amounts, the yuan and oil down and up… but to him that's scientific, there's nothing that's terrific.
A study of what happens when the sold old bulls see unchanged after a big decline in the small and the big is suitably appropriate.
I have been thinking about the imminent times when SPU closes above 2000 and then to 2018 unchanged on year. Many sold out bulls will come in. There's no emotion more urgent and forceful than sold out bull. You just have to get in and not let the big rally you missed go up there without you. So the public buys when it goes to highs above key levels and sell when it goes below key levels. Thus they sell low, and buy low. With intraday swings often hitting 3% on a day, this is very damaging.
But what is the reason that sold out bulls are so anxious to get back in and resent so much the marker rising without them. We'll have to ask Brett about it. But I have a theory. It's a sperm wars theory. The bulls are like the man who's going out with a hot girl and wants to have kids. The worst thing for him is to have another man get her pregnant. So his ejaculations have killer sperms in them that prevent other men's sperm from fertilizing the egg. The same emotion. It's bad enough to miss it yourself but to see someone else get the goods is worst of all.
Steve Ellison writes:
The market played me like a fiddle in January, and I lost more money than I had a right to. I had a terrible fear of missing the rebound, but at the wrong time in retrospect. I had this fear as the market's (and my) losses mounted on the way down to the initial low of 1804 on January 20. At some point, my position size (which I have now concluded was too large) forced me to exit in order to ensure survival. After the S&P 500 touched 1804 on January 20, it closed 50 points higher the same day. From that point, I felt like I was missing the rebound, but I was more afraid of the downside risk of revisiting that 1804 point. And even on the way up, the S&P 500 would abruptly drop by 20 or 30 points with some regularity, just to reinforce the fear of the downside.
Brett Steenbarger comments:
Hi Vic,
I like the sperm war theory. One thing I've consistently noticed on trading floors is that the mood is downbeat but not despondent when the great majority of portfolio managers are losing. When many are losing, however, and a few are making significant money, there is absolute despair. Similarly, when losing money, traders are downbeat. If missing a move that keeps going without them, they are tearing their hair out. Many have said to me that they'd rather lose money on a trade than not participate in a market move. And when a trader gets stopped out of a long position after a pullback, he inevitably roots for the market to go much lower (and vindicate his decision).
The best traders distinguish between market movement and market opportunity. The worst traders treat all (random) movement as opportunity and excoriate themselves for missing "opportunity".
Victor Niederhoffer replies:
Thanks for you sagacious observation. And of course there must be some regularities that issue from this phenomenon.
Brett Steenbarger responds:
Indeed! I recently encouraged a PM to calculate his P&L if he had bought the markets at the points at which he had stopped out. Sure enough, the stops brought negative alpha; his profitability would have been meaningfully increased had he not sold at the lows. Similarly, I encouraged a PM to calculate the P&L only for the portions of his positions he had added once his initial position had become profitable. Those added positions also brought negative alpha. The market can be a cruel mistress indeed!
2032
A good article on regulatory capture is here.
Carder Dimitroff writes:
Some observations.
First, regulatory capture is frequently discovered at the state level. State regulators may have built-in conflict of interests that can benefit the regulated. In some cases, state regulators approved questionable investments that appear to harm constituents.
Second, regulatory capture is not a digital issue. It's an analog that is represented by degrees of capture that change over time.
With regard to the second observation, consider fee-for-service agencies such as the Federal Aviation Administration (FAA), the Food and Drug Administration (FDA), the Nuclear Regulatory Commission (NRC) and others. Today, many might say these agencies appear to be free from capture. In fact, they are captured at a macro level. Without customers to pay regulatory fees, their agencies will shrink or they may go out of business. As such, regulatory decisions are often framed in terms of what "the industry" will tolerate.
Keep in mind that "the industry" represents a portfolio of regulated interests. Industry and regulators may allow a few of the regulated may experience difficult regulatory interactions as long as the overall portfolio is unharmed. This is why we see industry associations carefully take on regulators. This is also why we also see revolving doors between regulators and associations.
The art of regulating requires an understanding of timing, incrementalism and return on investment. Regulators can increase regulation incrementally and over time as long as the industry can tolerate (or profit) from changes. In some cases, courts step in and force regulators to speed up the process (Mass v. EPA - https://en.wikipedia.org/wiki/Massachusetts_v._Environmental_Protection_Agency).
A fascinating scenario is when industry interacts with two or more regulators at the same time. In the Mass v. EPA case where the US Supreme Court required EPA to act, industry went to state regulators and asked for rate increases.
Guess who won in that deal? The regulated and the regulators!
It is interesting to note that the SPU has rallied some 150 big points during the last month from its February 08 close of 1850. It's happened 8 times (with no overlap) since 1996. 10 days later the market was higher 5 times with an expectation around zero. For 20 days later it wasn't that good with 4 of them up, but a highly negative expectation. Strangely, it was neutral for bonds also.
Strangely, since 1996 there have been 25 times non-overlapping that SPU down 150 points over last month but only 8 times up 150 big points over last month. Slight upwards drift of 1/2 point a week during that period.
The market is down about 60 SPU points from end of year level 2035 , pretty close to unchanged. I thought I mite look to see if when it's close like this at various points in the year and it hasn't been up on the year, there might be some constructal gravitational pull to unchanged. But I found that in early months only 2008, 2009, and 2011 were within a few %, and 2009 and 2011 were very good subsequent year, and 2008 was a very bad subsequent year so nothing regular appeared. I'd be interested in any more definitive analyses of gravitational attraction or lack thereof strike you. With the differential between rate of return on capital and interest rates, my idea is that gravity of unchanged will soon emerge as did the 10% decline fake bear market emerge.
Peter Humbert replies:
Here are some stats and histograms about what happens with the following condition:
S&P YTD is down but relatively small, but over last 30 days was down <9%.
This has been a rather bullish event! Anecdotally, lots of doom/'bear market rally' narrative folks in crosshairs?
          t+1        t+10         t+2        t+20         t+3        t+30  
count  134.000000  134.000000  134.000000  134.000000  134.000000  134.000000
mean     0.175707    0.854411    0.188060    1.598434    0.312602    2.760814
std      0.979701    2.343549    1.300881    3.234254    1.636851    3.240970
min     -1.436308   -3.545963   -2.039090   -4.239931   -2.367307   -3.145101
25%     -0.480246   -0.942465   -0.714501   -0.814316   -1.077247    0.605604
50%      0.153723    1.411869    0.384118    2.781918    0.524295    3.243502
75%      0.932062    2.768957    1.122745    4.450586    1.648371    5.176882
max      1.729257    3.637647    1.990115    5.190608    2.539770    7.254999
The edge in part related to the vig would be reduced to 0 if there were just 1 or 2 trades a day in markets. Which time would be best for a non-flexion, non-top-feeder, i.e., the public, to trade if they wished to maximize their wealth?
Andrew Goodwin replies:
Mutual funds have had one price per day in most cases. It has proven difficult to keep various sharpies out of securities markets whether these markets price continuously or just once per day. The names and tactics change.
Ralph Vince comments:
You're referring to the most illiquid of times - which correspond to violent selloffs, not so much sleepy, pastoral markets. The most recent in memory was the open of 8/24/15.
What happens after red days with both bonds and stocks down? From 1/1/2015 to date:
Apparently the 5 people they survey in the consumer sentiment survey don't own stocks or commodities as 90% of them are still optimistic. Amazing it's only down 2% from last month and shows how worthless the number is.
Many of us are familiar with the brilliant chapter in Bacon's Secrets of Professional Turf Betting about the changing cycles in a summer meeting in NY. The horses coming from the hot climates aren't accustomed to the NY tracks at first so they lose, then as they get accustomed they win, then they got tired and they lose. 3 cycles at least in one meeting.
I wonder if there are similar cycles in the earnings announcements. Invariably 75% of the companies beat their estimates. At first the banks, and big companies with very rigorous accounting like google and Microsoft report. Next the drug companies and industrials report. Finally a morass of companies that can't get their quarterlies together in 30 days take the stage. For each there is a different % of beats, and a different reaction for the individual company and the market itself. Also to be mentioned are the companies that are late in reporting. They are usually fighting with their auditors and bad results can be expected. Also, the days the market itself opens way down or up on reports like Apple, Google or Amazon as if these companies were the whole market and the market itself wasn't going to do its thing regardless and reverse the absurd reaction where it goes down or up 7 points on a single earnings. The whole subject is endlessly fascinating and is worthy of a Baconian study.
One wonders if the structure of end games in chess and checkers might be useful for aids to proper money management. The pawn chain and the triangle are very good in both games as is having the move. This would correspond to putting on your positions in stages, and constantly forcing your opponent back respectively. Too advanced a position would expose your pieces in both games to attack. The isolated pawn would correspond to a single limit order left way away from the market. The holes in your position where you could get stopped out. Fisher always said he liked to be able to grab all his pieces, not keep them disparate. This might correspond to trading only a single market. Nigel recommended Pandolfini's Weapons of Chess as a guide to proper pawn play, and Kmoch's book Pawn Power I got for Aubrey but it was too complicated for both of us to understand. The end games in chess are very similar to most checker games. I hasten to add that I am a very poor chess player, but I am trying to learn so I can help Aubrey.
anonymous writes:
It can be proven both theoretically and using empirical data that it is sub-optimal to only trade a single market. Or put another way, diversification is the only free lunch.
Are you challenging this conventional wisdom?
2418
The book Advanced Raquetball by Steve Keeley (the hobo) is the best book on racket sports that I have ever read (and I've read them all) and I recommend it highly to all players of squash, racketball, and tennis.
One wonders if with all the people who hate business, the collectivists and world staters who assemble at Davos each year, whether there is a tendency for the market to be bearish during their retreat. Certainly it inspires the palindrome to be bearish as he has so many followers there than can exponentiate his already put on position.
Six Charts That Show Stock Indexes Teetering at Key Support. Six major indexes are testing key support levels amid the current market selloff. Whether these hold or break will be a significant factor in determining if the global decline extends. - Bloomberg terminal
One sees a headline on bloom saying that 6 major indexes are now testing support and whether they hold or not will determine the likely course. I don't know what the indicators are but one doesn't know how support can be measure and also whether a break is bullish or bearish. All my studies and the quantifications show that the more the big drop the greater the positive expectation. One indicator is stock to bonds at 11. 78. As far as I can see a multi year low (a well meaning assistant has made it impossible for me to go back for more than a year with alacrity). Which is better, the upside down man's toilet paper view or the 40,000 fold a century view with a view to where it's starting from with a 7% spot from where it was a month ago.
There is much talk of bearish forecasts and bearish things. I don't buy it. I just believe it's an even better time to garner that 40,000 fold a century return. Quantifying it, the greater it's down over the last relevant 4 day, the more bullish it is. And guess what, almost most bullish of all is down 10% from a hi. I note Israel was relatively strong only down 0.2 % on Monday there as well.
Gary Rogan writes:
I don't claim any consistent ability to predict the next few months. I didn't think the late September to early November snap-back in the stock markets would happen. One can still have an opinion. Victor is pretty much optimistic no matter what. For sure in terms of not unduly exiting one's long-term positions on some hunch that's valuable because of the drift. I was actually quite optimistic in March of '09 after a huge fall, but (possibly mistakenly) only for high-quality consumer non-durable stocks. Until about a year and a half ago I had no particular opinion as it was something in between, and then turned pessimistic. Of course the longer the market stays down and especially goes down the larger the expected returns at that point will be. As I'm mostly in the market as always and only have slightly larger reserves than average to deploy if and when good cheap stocks shows, my only downside is that they never do. If so, so be it. The real question is the effect of low interest rates on how expensive stocks can or "should" get vs. historical stock ratios with respect to their various internal parameters and the tendency of the latter not to grow to the sky. As there is a lack of precedent for how the Fed has behaved in the last almost decade and how all of this will play out at the end of secular interest rate declines and happy days in commodities, there could be a difference of opinions.
During the French Revolution, especially 1891-1897, the comedie francaise was restricted to performing shows that had no good things about royalty, and showed the peasants and bourgeoisie doing heroic things to slaughter the nobility.
There was censorship and often imprisonment for the whole cast if they showed the lower classes in a bad light. This is according to Durant's "The Age of Napoleon" who documents many examples of this.
It's very much like the current kind of shows we are attuned to now, where the only ones that can manage to hope to score favorable reviews is if they show business in a very bad light and are otherwise consistent with the idea that has the world in its grip.
2520
This link was sent by hobo without comment.
Andrew Goodwin writes:
They make nest hammocks out of leaves and vines at the top of trees to sleep in the wild at night. They have some thatching skills from binding these into bedding. Not surprising that it would climb to the top of the cage to make the hammock. It would have to speak like Charlton Heston to get a rise out of me.
Gibbons Burke comments:
I find it interesting he or she can tie an overhand knot—I wonder if that technology was taught by a human or another creature or whether he discovered it on his own?
Also note that the animal is a scientist: After tying up the hammock he undertakes an experiment to falsify the hypothesis that the knots will hold his weight and sleep-repositions for an extended period by subjecting the hammock, once tied, to surges of force greater than that exerted by its own resting mass, and a series of rapid transitions of position and configuration. He takes pains during his experiment to keep at least "one hand for the ship" in case the hypothesis is successfully falsified and the hammock fails.
The first configuration fails (not catastrophically, but it is determined to be unsuitable). The nearer knot is untied, repositioned, and carefully retied, with some additional complications added to the simple overhand knot using tassels from the cloth. Then, once the new configuration is secure, a new round of experiment begins, and seemly succeeds in failing to falsify the hypothesis.
A nice technical statistical study of the inverted bathtub distribution for life expectancy data increasing hazard rate up to say 5 years, then decreasing is contained in this article. It would be interesting to fit the yearly % changes to such inverted bathtub type exponential distributions.
The cursory look shows an inverted bathtub type of distribution with the 5 changes in one year within 3% showing strong increases in each case the next year averaging 15%.
It is interesting to consider the moves in the S&P after down years. I find 14 years out of the last 60 that were down with an average rise the next year of 9% as follows:
year of decline move next year
1957 35
1960 23
1962 20
1966 22
1969 0
1970 -10

1973 -30

1975 25

1977 1
1981 15
1990 25
2000 -20

2001 -14

2002 20

2008 20

average +8%
I like to do all % calculations in head so some errors will creep in.
233c
"Knicks Spoil Their Own Comeback With an Implosion in the 4th Quarter"
Two things. The score was just like the S&P on Friday. A big decline at opening. A catch up to even at noon. Then down 20 points in the last quarter. And fish seems like he has more excuses than D'Antoni. No wonder the players are losing confidence in him but most all, what kind of idiots allow their teammates to go out at 5 am to brothels on the days of matches. Most athletes know they can't play well unless totally rested and relaxed and full of their romantic ardor before a match. Imagine what Ted Williams and any baseball manager would say about these antics.
An interesting question occurs when you draw two random z's from a normal distribution. What is the distribution of the difference between the two numbers? I don't believe it's the distribution of the difference between z1-z2 derived from difference between means. It's a question that comes up when you look at say a regularity or lack thereof as of 3 am, say z1, and then find another regularity at say 8 am, say z2.
Mr. Downing was a great help to Value Line and this firm, and had the ability to answer such queries in 5 to 10 seconds. And he was careful not to allow the false observations of Wang from Value Line to completely invalidate the results. He had a fairly good tennis game also. I believe Mr. Doc will answer this query within 5 minutes.
The query would seem to relate to the average absolute difference between the two numbers. The average absolute z for the first z is 0.8. The average absolute difference between the first z and the second z by simulation turns out to be 1.1 with a standard deviation of 0.85. 95% of the absolute differences will be less than 2.8 and 5% of the differences will be greater than 0.1 the algebraic differences between the two are in accord with doc's original formula of 0 mean and standard deviation of 1.4. Thus, when looking at the difference between two z's from two independent patterns, one needs a big difference of 2.8 for it to have a 5% chance of occurring by random. Thanks to doc for running the simulation.
Vic, some time ago you made a comment about the market's drift and the analogy with Bacon's cycles, in that the entrepreneurs require a 10% return over the long-term and the public as a whole must always lose the vig. Intuitively it makes sense, and it's hard to argue with Dimson et al's data too, but my thinking breaks down when I try to define the parametres in the market model. At the racetrack we know who collects the vig and how, but what's the equivalent in the market? The crowd selling to the point of 10% in expectation? But then how do you capture it if you held, since the new entry point is lower? Could you shed some light on this, or it was just an off-hand comment and I should stop wrecking my brain?
Victor Niederhoffer replies:
Thanks for your thoughtful comment. The return on capital is 15% for most companies and that compares to a 2% 10 year rate. That's enough to give a 10% return especially since companies grow profits by 5% a year. Dimson always questions whether the future can be comparable to the past because of dividend yields low. I don't buy that. Compounding the difference between 15% and 2% is enough. The companies are smart. They know how to get handouts from the government. As for the vig, there is no vig is you buy and hold. I like to buy spiders whenever there is disaster in the air, and that often gives me the vig.
I put up a post on twitter about the 7 things you should do to play squash until 100. 7 glasses of water a day (by the way I've found that the alkaline water filters seem to give a better taster to NYC water, and they say they're much healthier), 7 workouts a week, 7 sex or thoughts of same a week, 7 fruits or veg a day, 7 hours of sleep.
I wonder what are the 7 things a a trader should do to prosper. I would start with 1. Don't over trade. 2. Keep the vig done. 3. Don't close out profitable positions during the day. 4. Don't reverse near the end of a week. 5. Only trade active markets. 6. Go along with the central banks. 7. Never short stocks, and possibly bonds.
Craig Mee adds:

8. Take some initial risk off, once in the money, so at worst it's a flat result. 9. Always allow for a portion of your position to be there for maximum gain. 10. Add further positions where possible.
261a
Warren Buffett's Berkshire Hathaway is on track for its worst year since 2008. Buffett can't find cheap stocks to buy. The last time that Berkshire had a down year and underperformed the S&P 500 was all the way back in 1999.
Gary Rogan writes:
I also can't find cheap stocks to buy. I don't think this is a sustainable situation and is likely to be resolved either by a crash or years of under-performing stock market. On the other hand, if Trump is likely to win Trump is likely to win, who knows whether his anti-fee trade rhetoric will outweigh his anti-regulation rhetoric in terms of impact on stocks.
Victor Niederhoffer writes:
One must balance the return on capital of companies versus the 10 or 30 year interest rate.our guests are good at compounding. And this adjusted for growth must go back to the cheapness of the p/e one thinks.
One is a terrible chess player. I can't seem to see all the tactics the way I do in checkers where in thousands of games I have never fallen into a trap, whose traps are at least as complicated and difficult to unravel as chess. However, occasionally I try to play a game online so I can help the 9 year old son in his games. When I do, I always find it takes me about 15 minutes to gain a base of operations for the trading. You see, the clicks are so similar. You move it up, and your opponent moves it down, and you both try for the same square et al. I believe this is the real similarity between chess and markets. The opponent is the same, and he's always trying to take the center from you and forcing you to the side et al.
Jeff Watson writes:
In any free market transaction you need to have a handle on the inside of the mind of the opponent, just like you need to know the motives of the counter party to any trade of size you have on.
anonymous writes:
In chess and trading during these conflicted times one must:
focus on the process
keep their fears and anxieties in check
not worry about unseen threats they can't control
understand the nuances of conflict
center their decisions somewhere between "instinct and reason"
not defy the lessons of history
A game of chess is pure. It is a free market with a level playing field and a product of spontaneous action, not human design. Unfortunately, one cannot say the same in reference to the markets.
Nigel Davies writes:
It's simply a question of practice. My son Sam was far from being a 'natural' with chess tactics but after doing 70,000+ chess puzzles he's not at all bad. There's a nice example here starting 24.Nf7+.
The real beauty is that of systematic practice turning into mastery. Here he dispatches a stronger and highly experienced opponent with very good strategy and controlled tactics at the end, not bad for a boy who was bottom of all his classes a few years ago.
To master something it's important to break down the required skill into component parts (for chess you have tactics, strategy, endgames, openings and psychology) and work on each of these. Then the component parts need to be brought together via competition. Simple but it requires time, discipline and staying power.
Shall we say that most of the victims of the Long Island 20 billion Ponzi thought they were getting the edge by front running the third market operation just one floor below so they didn't ask many questions. What a great marketing thing that was–you could just smile and put your arm around the mark and nod toward the stairway to the floor one below. Or if you were playing paddle ball at the Catskills you could just as the father did, you could just point to the bottom board. (Thanks to Kutcher's tumbler Larry Strickler for verifying the courts and extent of bagels and nova on which he played). Same marketing gizmo with the "upside down man"'s former firm. All that is required is to point to two chairs.
One often played Arthur Ashe in the eastern Championships 15 and under at Forest Hills. After a tough match in the sweltering August sun, I would head to the bar for a mix of ginger ale and orange juice. As I recall it cost 1.75 in 1956 and this was way beyond one's ability to buy more than 1 which was completely insufficient to allay one's thirst. I believe they called it a California [or perhaps a California Punch].
To soothe the woes today from missed opportunities, while waiting for a strong close I went to the fridge and took out a bruce costi gingerale made with real ginger, tasting almost as good as the Vernons from Detroit that Irving Redel, the hobo, the little woman and I often had after a racketball lesson. I added some squeezed orange to the ginger ale and thought back to the Eastern Championships, the hot sun and Arthur Ashe for the first time in 62 years. A beautiful memory, and highly recommended.
Some anecdotes concerning the Vanderbilt family inspired by a visit to some of their homes on the Hudson.
Cornelius couldn't read or write but was able to hold his own in court with complicated monopoly cases and hired Daniel Webster to defend him. A pastor came to him for money and he gave him instead a one way ticket to the West Indies.
He sold all his steam boat interests at the age of 67 and moved entirely into railroads.
He had a secret partnership with Uncle Drew and was able to buy up all the Erie and Harlem stocks at the lows and squeeze all the shorts.
He liked to sit the Woodhull girls on his knees and swing them as he talked about his railroad interests.
He knew all the tides and obstacles of the Staten Island to Manhattan route when he was 11.
He borrowed $100 from his mother to go into the ferry business and paid her back 1000 the next year.
He believed in spiritualism and mediums especially when the mediums were 21 year old beauties he could see without the wife.
He married a woman 45 years younger than him like the Palindrome when over 75 he left 85% of his money to his son William H and a length court battle ensued with Billy settling for about 1% of his fortune.
The Gambling Son Chris killed himself the day after he received his settlement apparently having lost it in gambling.
Billy had 200 million the equivalent of 150 billion today but noted that he hadn't been in the office on a Thursday and deducted 0.40 cents from the janitors bill for lunch from the 0.40 a day he paid him.
Billy signed and audited every check that the NyCentral paid, and regularly inspected all cars and track.
The books The Vanderbilts, The First Tycoon, and Fortune's Children are all worth reading for more information about these great business men.
What a fantastic awakening from hibernation to the cost of all weak players. Hats off to an amazing and stirring way of creating vig, slippage, and paying for the markets infrastructure.
Jeff Watson writes:

Have you ever noticed that a headline event that everyone and their brother are arguing (like a rate hike), the $2.00 bettors end up taking both sides, usually they're bearish. Market media is pumping the entire thing. When the event happens, or doesn't, the mistress moves the market both ways and deftly cleans out the entire herd of juveniles, plus she takes out all the people who bought quinellas and trifectas.
As an aside, here's a glossary of track words and phrases with good meanings. One could find market parallels in almost every word or phrase, just like Bacon. This site is sublime.
Stock market last week like a dance. Same place for 1 week, then up to new high, then next day to new low. I can see my father doing a Russian dance to it. He danced every day at the private beach (cost $10). And always a circle around him. They called him the dancing cop.
A good thing to consider are cure rate survival models. A good accessible discussion is on wikipedia. After a certain time, a market becomes cured of its tendency to relapse or shall we say reverse.
What kind of moving average of the last x days is the best predictor of current and future happiness, and how does this relate to markets?
Anatoly Veltman writes:
The widespread misuse of MAs concept is what gives it bad name. 90% of testers and users look at crossovers, and the remaining 10% look at break of MA from above or below. All wrong
The only proven way to apply MAs from trend-follower stand point is to look at nothing else but SLOPE. (Trading Days) Is 14-day MA sloping upward? If so, then is 30-day sloping upward? If so, then is 50-day sloping upward? If so: then Shorting is forbidden! Mirror test may save you from disastrous bottom-picking.
Bill Rafter writes:
I beg to differ. There is no way the "average of the last x days is best predictor…" It by definition is at least a coincident indicator and more likely a lagging indicator. BTW the same can be said of the SLOPE of the last x days.
However, you can construct a leading indicator by comparison (difference or ratio) of the coincident to lagging indicators. For this newly created leading indicator, there tends to be a lot of false signals, due to random market action. To guard against that you need to have very smooth coincident and lagging inputs. Making them smooth also makes them more lagged, but that will not hurt you as you are not going to look at them outside of a difference or ratio, which will be quite forward-looking.
The real problem is that investors want to identify a static x. In doing so they are insisting that the market be modeled by x periods. Well, the market doesn't always feel like cooperating. At times the market may be properly modeled by x periods, and at other times by x+N, in which N can assume a wide range of positive and negative values. The solution is to first identify the exact period over which the market should be modeled for the coincident valuation. And then go on from there. Rinse, repeat.
Russ Sears writes:
This would be a good question to ask the trading expert psychologist Dr. Brett.
It seems that with the same brain imagery he uses is being used in the study of the science of happiness.
While I am no expert I have read Rick Hanson, PhD book "Hardwiring Happiness"/ It has been awhile since I enjoyed this book, my summary of it is "focus on the life/good in the present. Placing things in context to how it has brought you to this moment, then enjoy the moment is enjoying life."
Presence seems to be the buzz-word in studies of contentment and psychology of success. Being aware of all your inputs, your feelings and recognizing them as part of life, then celebrate living. Presence gives you the fulfillment in your life needed to be loyal and disciplined enough for what is working well in your life. Thanksgiving is a day built on this idea, But presence also gives you the courage to turn things around, admit things are not as you want, and gives you Hope for the future. Happiness is more about living your life, being in control, then it is circumstances. Some of my happiest times have been after running hard for over 2 hours exhausted after 26.2 miles, cold and totally and dangerously spent but knowing I gave it my all.
So I would suggest that MA, trend following, momentum, acceleration, nor death spirals nor reversion to the mean, value investing should not ever be the "key to Rebecca", rather judge them in the context of everything else. Some days "the trend your friend" other days "the sun will come out tomorrow".
Brett Steenbarger writes:
It's a really interesting area of recent research. It turns out that happiness is only one component of overall well-being. What brings us positive feelings is not necessarily what leads to the greatest life satisfaction, fulfillment, and meaning. I suspect the market strategies that maximize short-term positive emotion have negative expected return, as in the case of those who jump aboard trends to reduce the fear of missing a market move.
Ralph Vince writes:
Too many times in life I've found myself in darkened parking lots with a small gang of characters who intend me harm, and saw how the pieces would play out enough in advance enough to get out of it, or at least to realize there was only one, very unpalatable way out of it.
Shields up.
Too many times in life, I've had an angel whisper in my ear with only a few hours or seconds to spare to keep from being robbed blind by people I made the mistake of trusting.
Too many times in life I've paced in some anonymous hotel room, wondering "How the hell am I going to do this once the day comes?"
Too many margin calls have had to be met.
Far more times than I would care to, I've found myself confronted with the proposition of having to throw boxcars to survive, and I find myself, yet again, with that very proposition in a life and death context.
Only someone who really loves the rush of the markets, could enjoy wanting a given market to move in a specific direction. I've come to the conclusion it's far better for me to set up to profit from whatever direction things move in on a given day. Those that dont move in a manner so as to profit from this day, will tomorrow, or the next day, or the day after that… I need to just show up on time with my shoes on, collect on that which comes in today, sow the seeds today for taking profits on something at some future date. It's not difficult, and a lot more satisfying.
There's enough episodes in life we need boxcars to show up, and yeah, "Baby needs a new pair o'shoes."
Victor Niederhoffer writes:
I like all these untested ideas about moving averages but my query was of a more general nature. What kind of moving average, perhaps its top onion skin an exponential average, is the best predictor of human happiness. I.e. if you are happy yesterday and unhappy the day before, are you happier or sadder. I mean vis a vis the pursuit of happiness, not markets, although the two are related I think.
Alexander Good writes:
My answer would be a medium term moving average works best - about 6 months. We're naturally geared to notice acceleration not speed. After accelerating happiness, it's virtually certain to decelerate which we would have a heightened awareness of. Thus a 5 day moving average would have too much embedded acceleration and deceleration to yield a good outcome.
I would also say 6 months is a good number because there's a fear of 'topping out'. I.e. if you're at the peak happiness of the past 5 years you might get afraid of a larger mean reverting move. 6 months is short term enough not to be victim to noticeable accel/decel, but not too long to be subject to such existential thoughts that lead to unhappiness. 2 quarters is also a good timeframe for evaluation of back to back 3 month periods which seems like a relevant timeframe to most people professionally.
My meta question would be: does measuring one's happiness with a moving average make one more or less happy?
Theo Brossard writes:
I would pose that happiness would exhibit similar behavior with market volatility. Short-term clustering (which makes exponential average a good choice, if you are happy today chances are you will be happy tomorrow) and longer-term mean reversion (there must be some thresholds defined by values and time–you can't be very happy or unhappy for prolonged periods of time).
Jim Sogi writes:
A good way to study this is to rate and record your happiness each day. Also record your acts: exercise, diet, work, family, vacation, tv, meditation, etc. Over time you can correlate the things you do that make you happy. You could correlate day to day swings as Chair queries in a univariate time series.
2aa3
The biggest takeaway for me this week has been "it hurts to follow the news". Everything was so dark in Europe over the weekend. The consensus was that this was worse for Europe than 9/11 was for us. Everyone knows the terrible decline of 7% that followed 9/11. This time exactly the opposite.
A shibboleth on Wall Street and life is that we underestimate change. I've heard it a million times in popular and academic papers. Zarnowitz adduced it in his study of forecasts 50 years ago also. I felt a fast study might be of interest. Do the big changes following big announcements in the early periods tend to continue or reverse. I tested it for 100 of the biggest changes. As usual the popular view is totally off. There is a big tendency for the big rises to be followed by big declines to an inordinate extent and the same reversal tendency for big declines. The study would have to be expanded to be of merit but it's a much better way of quantifying the effect than the subjective studies festering about.
UPDATE: I found 600 article (items) with the tag "underestimating change stock" on google and many of them are very interesting including an article on underestimating earnings announcement price movements and buying straddles to profit, also analysts not taking account of price changes before earnings announcements in making their predictions. But I didn't come across any that examined a large sample with a definite and non-overlappng data set like mine. My study shows that if you take all the important announcements, and look at the change in the first 10 minutes that are big, there is a significant tendency to reversal. I also looked at all the big 10 minute changes around 830 without regard to the announcement and found the same effect. I can say that at least at the microscopic level, with moves of about 0.2% expected, there is a substantial tendency to overestimate the impact of announcements.
Adam Grimes writes:
Thank you for that study and the perspective. It makes a lot of sense, and makes me ask a few related questions:
Something I've been wondering about is the claim that markets switch regimes faster now and that markets basically don't trend as well as they used to.
Two thoughts: 1) it's used as justification for the "death" of simple directional strategies… there does seem to be some evidence that we don't have the long trends of the 1980's that gave CTA-style trend following legendary returns for a while, but question 2): why do we assume this is linear? The people who discuss this would have us believe that we look back to the past and see markets that trend and have now fallen into a chaos (perhaps that's overly dramatic) where markets essentially no longer trend. Isn't it also possible this is cyclical, and that we could see more decades of those long, relatively "easy" trends in the future? The assumption is always that it has been driven by electronic trading, more competition, etc… but I wonder. (Always hard to truly understand the drivers… I guess understanding the effect would be enough.)
Not sure how to look at this idea in an objective way. Does this raise any thoughts?
Adam Grimes CIO, Waverly Advisors, LLC
My book: The Art and Science of Technical Analysis
Shane James writes:
Hi Vic,
I concur with this.
Of note in many of the macro markets is that there is quite an imbalance in the price formation process.
In other words, within the idea of 'conditional heteroskedaticity' or 'volatility clustering' the relatively large moves do tend to occur contemporaneously and the relatively smaller moves also do the same,
The 'imbalance' I refer to above is that- overwhelmingly- the clustering of small moves proves the point more so than the clustering of large moves.
In terms of sign the smaller moves have more persistence than large.
Rocky Humbert writes:
The money quote in the Forbes article that you cite is, "Find the trend, but don't sweat the details or the timing because you'll always be wrong." There are 4 sub-statements in this sentence. Which of the 4 are you challenging? And bear in mind that your answer must be consistent with your faith in the "Triumph of the Optimists".
In describing a Hitler oration Shirer in Berlin Diary: "in the sound of the magic words of Hitler, they were merged completely in the German herd." Rosenbaum in his introduction to Rise and Fall of the Third Reich: "was it a unique one-time phenomenon or do humans possess ever present receptivity to the appeal of primal herd like hatred". Galton in his Inquiries into Human Faculties likens the human tendency to gregariousness to the oxen he tried to train to lead without success. We see evidence of this herd like gregariousness all the time in markets, and the only problem is to ascertain the end of its irrationality so as to profit from it.
Anonymous writes:
A CEO told me over the weekend that now that his business is "hot" he has been told the Japanese company that kicked the tires and decided not to buy much lower might now buy at 1.5X to 2X the current price as popularity has created the needed validation for the purchase. Wonder if that matches your observations.
Victor Niederhoffer writes:

Sounds like the gregarious imitative Japanese persona. Do you agree?
Larry Williams writes:
I agree, but disagree. The buying is not based on any unique Japanese Persona, rather most all people buy high and most all people are afraid to buy when prices are falling. Human nature. High prices prove it. Only real speculators look past today for proof.
anonymous writes:
Larry and Vic,
The anecdote and your responses illustrate both of your biases, which are not necessarily any better or worse than the Japanese buyer's bias.
Example 1:
If the company is an early-stage drug company with billions of potential long-term profits, but dependent on Stage 2/3 clinical trial results, it may be demonstrated mathematically that buying the company after it achieves positive results (and after the price has increased 2x) is a better risk-adjusted return for an acquirer who doesn't like portfolio volatility.
Example 2:
If the company is entering a new space and is a first-mover, there are numerous examples where buying the company after it has critical mass is a better bet than speculating on a long shot. Goldman Sachs is a primary example of a company that rarely enters a market early.
I heard a truism on the radio last week: "People love to go shopping when things are on sale. The only exception is the stock market where lower prices scare the buyer." This is both a true and false statement. If a sweater gets marked down 20%, it's the same sweater. However, if an individual stock price goes down 20%, it may OR may not have the same earnings potential prior to the price change. There is a difference between "price" and "value". Great investors understand this difference and even they sometimes get it wrong.
So, while I am not defending the Japanese fellow, generalizations without numbers on the table are no better than snide racial epithets.
2071
Very good letters from N.C Wyeth in the book The Wyeths by Betsy James Wyeth, (Andy's wife). A beautiful passage by the author: "If I could just say to him "I'm sorry". Perhaps this was my motivation while I worked on the manuscript gathering everything together. I knew him for six years, but I never understood him until now. Forgive my foolish heart".
A Beethovian passage from NC Wyeth: "However practical we might want to be, however, we must make elemental nature our basis of inspiration. Without this as a starting point, our aims and actions must needs be extremely limited. I think of a hundred things a day that I would love to realize on canvas. [he carefully leaves out his amorous thoughts.] The process of mind after grasping the purely elemental motif, quickly reduces it in rapid success to a practical scheme".
There are beautiful letters about instructing Andy in the technical and creative powers of painting, starting with drawing cubes and cones that should be read by everyone. The railroad accident that claimed the life of NC and his 2 yr old son at 60 is put into perspective in a very different and reasonable way here relating to distraction from looking at a field of corn here rather than the intentional crash elicited in the major bio of NC. Very worthwhile and hats off to the author, a model for all good wives and daughters in law.
The malachologist John Dupont has left a withering monument in his seashell museum of natural history with 3 or 4 visitors, but a list of 20 founding Dupont donors.
One can see the signs of madness in the displays enumerating the 5 classes of mollusks.
I found the exhibit of volutes particularly interesting as it similar but much smaller to my own collection, but I did not harm any of the squash players I have coached.
With all the market soaring again and panic out of the air for a time, it's good to gain equilibrium by turning to the endless store of 10,000 Wiswell proverbs he created for checkers, life, and markets at our weekly meetings over a 20 year period.
Here are some of my favorites from volume 5.
The Speed Artist
One thing you can be sure of, the faster you move, the sooner you'll lose.
Double Time Player
The real secret of patience is to continue thinking while it's your opponents move "tomorrow never comes"
If you want to become a good player, there is one thing that you must learn to do: you need to analyze the games before, during, and after the playing. Don't put it off till tomorrow.
A Cardinal Rule
A move once made can never be unmade.
Strength
The player with a strong double corner is double hard to corner.
Your Daily Prayer
Before every game say the following: "I can defend myself from my opponent but who will defend me from myself".
The Trading Game
Every exchange makes a fundamental difference in the character of your game. Therefore every trade should be made with great care regarding the new formation.
The Shadow
Some of your best moves were moves you never made and they saved you from many defeats. What you don't do is as important as what you do.
Jumping to Conclusions
If you jump to conclusions you can lose at checkers, chess, or commodities.
Stop Look and Learn
The player who hesitates is often saved Friend or Foe.
Having the opposition in chess is comparable to having the move in checkers (or having the swings in your favor in markets, or having one extreme after another make you money). Both can be very friendly and at times very unfriendly. Trust and verify.
Treasure Hunt
All the right moves are there on the board, waiting to be made. Your job is to find them.
anonymous writes:
I've found with regard to waiting that when a market moves out of bounds of regular activity, wait until you are no longer eager to make the trade and then buy. The first impulse is too early many times. If one is early one lets the forces of capitulation out of their error too easily. The waterfall can last longer than one thinks. Eagerness is a killer.
Steve Ellison writes:
I am guilty of such "one-way thinking" because I have difficulty finding situations in which the forward expectation for the S&P 500 is actually negative. I won't say that I have never found such a situation, but they are hard to come by.
One corollary of Shirer's account: the danger of giving up our sense of selfhood for the illusory unity of a frenzied mass movement of devolving from human to herd for some homicidal abstraction. It is a problem that we can never be reminded of enough.
From Ron Rosenbaum's forward to The Rise and Fall of the Third Reich. One would point out that often great historical works have much insight to markets.
I would posit that the Asian markets, and the emerging markets in particular have had a predictive and leading impact on the US stock market. They went down hard before our crash, and now are going up strong before the Dow and SPU close the year at all time highs. However, I ask a general question. Is there one market, anywhere in the world an any time in the 24 hour cycle that has a predictive and profitable impact on another, and if so how long will it be before the cycles change?
John Floyd writes:
On a slightly more qualitative avenue I would consider the prevalence over the past decade plus to say the least of "bad economics leading to bad politics leading to bad economics loop"
The recent Portugal elections and ECB statements today are an upwelling of fertile information to consider in terms of Europe in the immediate future.
The extension could go to Asia as well where the capital outflow and reserve losses from China share some parallels with that of Russia in 1998.

I would ask an important question. In the marketplace when are the best times to wait?
Jim Sogi writes:
Rocky said mean reverters make a little money a lot of the time, like 99% of the time, but on 1% lose big. Its those big big 100 plus point days or weeks that can cause great harm. Those day you wished you waited to the end of the day, until the next day to buy. Those days you wished you stayed in bed. Is there a way to avoid the ax, the falling knife, the big vol trend down weeks? Is there a warning, a canary to tell you, wait? When 99% of the time it's the opposite?
Our friend Seattle Phil used to say, its all about leverage and max expected draw down. Chair says it's about broker margin games. They're all right of course.
On the days when it's 40 plus down, it seems a bit easier, because you know it can't go much further, normally. The other days that are difficult are the low vol creep upwards week after week.
anonymous1 writes:
The Skew Index provider thinks there is an answer in measuring the market implied probability of an extreme tail event in the stock market. It carries the assumption that the market can evaluate the risk in its assignments of implied volatility up or down.
If it can, then you scale risk exposure levels to match the skew risk measurements. High skew means cut back exposure.
That said, I'd rather know the margin call levels available only to the brokers as a composite readig on all their customers. That can work better than skew for capturing the cleanup prints at the end of the day when increasing margins knock out the risk takers.
CBOE SKEW Index Introduction to CBOE SKEW Index ("SKEW") The crash of October 1987 sensitized investors to the potential for stock market crashes and forever changed their view of S&P 500® returns. Investors now realize that S&P 500 tail risk - the risk of outlier returns two or more standard deviations below the mean - is significantly greater than under a lognormal distribution. The CBOE SKEW Index ("SKEW") is an index derived from the price of S&P 500 tail risk. Similar to VIX®, the price of S&P 500 tail risk is calculated from the prices of S&P 500 out-of-the-money options. SKEW typically ranges from 100 to 150. A SKEW value of 100 means that the perceived distribution of S&P 500 log-returns is normal, and the probability of outlier returns is therefore negligible. As SKEW rises above 100, the left tail of the S&P 500 distribution acquires more weight, and the probabilities of outlier returns become more significant. One can estimate these probabilities from the value of SKEW. Since an increase in perceived tail risk increases the relative demand for low strike puts, increases in SKEW also correspond to an overall steepening of the curve of implied volatilities, familiar to option traders as the "skew".
anonymous2 writes:
Back in 1994, during that memorable Fed tightening cycle, every time the Fed tightened, the market priced in a greater probability of more and faster tightening. Chairman Greenspan referred to the Eurodollar futures market as "A blind man looking into the mirror."
Similarly, I do not think looking at Skew index will help you systematically avoid risk and make money for similar reasons — namely, it is self-referential. At the risk of articulating an Epistemology, any market price that is set by market participants cannot correctly discount the probabilities of something that isn't correctly discounted. I know that sounds like a typo, but it isn't. It's the nature of arbitrage-free pricing.
To say that "high skew means cut back exposure" is way too simplistic and it is what gives rise to the high skew in the first place. It's similar to market participants who adjust exposure based solely on VaR — they take more risk when things "look" safe and reduce risk when things "look" dangerous — with the blessing of academics and statisticians and other wonks. In contrast, many successful investors do the exact opposite: they reduce exposure when things look safe and increase exposure when things look dangerous.
There are many paths to heaven.
Almost no one reading this post has invested a period of protracted 0% CPI or deflation in the USA. I'd suggest that one consider this possibility and its implications — as it is very easy to miss the forest from the trees. The Skew is the trees.

Larry Williams says:
On a different note, seasonality might offer a reason to wait.
Bill Rafter writes:
If you compare SKEW and VIX you can get some good signals that predict the equities market. But those signals are not necessarily better than signals from other indicators. This coeval of signals is simply evidence that when a market is ready to go [fill in your choice, here], its intention to do so is writ wide across the landscape.
If you compare ratios or differences between SKEW and VIX you find that relative to VIX, SKEW is a pussycat. So essentially the comparisons are merely using SKEW as a benchmark with VIX doing the wild dancing. N.B. the series have different orders of magnitude, which means if you want to take their differences you should cumulatively normalize them.
We have always been suspicious of sausage and indices, as one frequently never knows exactly how they are put together. Those newbies studying VIX would benefit from a good understanding of its construction. Dave Aronson (we believe) had similar concerns, prompting his creation of a less theoretical measure of volatility ("True VIX"). The same can be done for SKEW by taking not prices, but ratios of volume and open interest of equity calls and puts and index calls and puts. We have done that and found profitable results, but again not enough to forsake our current algos. However, we have researched the data with the goal of improving equities trading. Someone with the resources to pursue a full blown options program (e.g. a large investment bank) probably would find further study of additional value.
This is our experience to date. We haven't checked everything as doing so is, to say the least, mildly distracting.
Ed Stewart writes:
Anxiety and waiting sucks. How much of winning is just being willing to wear the opponent down, exhaust them. Play the long game to when when no one else sees it. In markets but also business. It seems easy, but if you play that "long" game, everyone else thinks you are an idiot for along time, asking why, up to the moment you win. Then they get it, see you won, but don't see how. They say, "it was luck". That is why it's difficult. One needs to value results over accolades.
2540
Out of 17 headlines, all 17 bearish and negative, with bonds and stocks way up.
Gary Phillips writes:
Paul Lynde in "Bye Bye Birdie" comes to mind. Mr. Eisenstadt must read those headlines in wondrous amazement and think to himself…"Kids".

There is a nice passage in Jack Schaefer's Old Ramon, who by the way is one of my 3 favorite American writers of the 20th century, that talks about the stupidity of sheep. He says "the individual sheep is stupid, but the herd is very smart. They always know the right way to go, the right thing to do (especially when guided by the dog and shepherd).
The stock market reminds me of that every time there is an earnings report of a major company. It originally does something stupid, as if the company reporting like Intel, Netflix, or Goldman $achs were the only company. But then after a proper time, it does the right thing.
Andrew Goodwin writes:
The Chair's points on reversals after single company earnings and upon the law of the ever changing cycles make great sense in light of the discovery of the hacking of the earnings release sources and the subsequent sale of the information to traders.
One phenomenon that likely would revert would be the predictive property of price moves in minutes prior to announcements of earnings. If the regulators can shutout the hackers from the news wires that hold the earnings reports for a release time after preparation of the news then a much smaller batch of insiders could use them.
One thinks that the true insiders would have to act earlier than in the brief intervals before releases that allow the hack info buyers to take less time risk in acting close to the news event.

Kareem Abdul-Jabbar has a nice knowledge of Sherlockiana in this novel about the young Mycroft in boxing, rowing, boating, and caring for his companion of color in the caribbean with a femme fatale waiting in the background. Except for the contrived heroism and prejudice of the person of color, and the contrived observations of Mycroft on character and cryptography, the book can be recommended. I don't believe we have fully considered the insights of Sherlock and Mycroft, as they relate to markets, and I'd be interested in your thoughts. Perhaps the least insights are those emanating from the spiritualism of Conan Doyle.
Adam Grimes writes:
Interesting topic and idea. I recently re-read A Study in Scarlet and there were a number of spots that jumped out as having pretty direct relevance to markets. I'm sure I'll misquote, but (roughly):
"They say genius is an infinite capacity for taking pain. It's not a good definition, but it does apply to detective work…"
Also "the world is full of obvious things which nobody, by any chance, ever observes"
It will be interesting to think about this topic in more depth, but the connections to market "detective work" seem to run strong.
Gary Rogan adds:
"The dog that didn't bark" has got to be one of the most important concepts in understanding how things really work.
Can this be explained in words so that a reader like me can understand it? The question arises: how to explain this to a normal person not a statistician?
"The 'Hot Hand' Debate Gets Flipped on Its Head: A new paper shows how a simple coin toss may prove that basketball players really can get hot"
Prof. Stigler ?
Steve Stigler writes in:
Here's one take.

It comes from averaging relative frequencies over different numbers of trials.
Here are the possibilities for n=4 and the relative frequency of H following directly after H:
HHHH 3/3=1
HHHT 2/3=.67
HHTH 1/2=.5
HTHH 1/2=.5
THHH 2/2=1
HHTT 1/2=.5
HTHT 0/2=0
THHT 1/2=.5
HTTH 0/1=0
THTH 0/1=0
TTHH 1/1=1
HTTT 0/1=0
THTT 0/1=0
TTHT 0/1=0
TTTH 0/0 undefined
TTTT 0/0 undefined

Total rel freq = 5.67; average over the 14 cases that give data = 5.67/14= .40
Even though the number of successes is 12 out of 24 cases of looking at a
result after a H.

Victor Niederhoffer adds:
But isn't there a conditional probability explanation for this from normal statistics of bayesian or just conditional nature. Seems like a simple math team problem.
204f —
keep looking »
Archives
Resources & Links
Search