Cicadas leave the depths below to mate on prime numbers every 13 or 17 years so as not to be eaten by predators with normal life cycles of 1 or 2 or 3 years. One wonders whether other living things in nature have such prime cycles. The market has prime cycles. It likes to do overnight what a person that has to sleep can not take advantage of. If it's down big one night, and you cant sell a position, then it knows you can't stay up the next day or two, so it will go up to let others but not you get out of the position the next day. The idea can be generalized one thinks.
Scott Brooks writes:
Another thing to consider is the confluence of cycles leading great highs or great lows.
The year was 1998 (give or take a year or two) in MO. We saw the normal group of Cicadas make their appearance as always in the summer. But that year, we saw something that we only see once or twice a century. We saw all the groups of Cicadas make their appearance at once.
I remember the normal soothing sound that I fell asleep to at night as a child become a constant irritating and often uncomfortable non-stop drone of Cicadas looking for love.
My backyard was often a fog of Cicadas flying through the air. The carcasses littered the ground and the trees. It became almost impossible to even walk a short distance outside with several Cicadas landing on you. Of course, they were harmless, but that didn't matter. It was a little freaky to know that you were surrounded by millions upon millions of Cicadas many of whom just wanted a place and decided to make you that place.
Although I didn't try it, I'm sure that if I were to have stood perfectly still out in the yard for any length of time, I would have had dozens, if not hundreds of Cicadas covering my body.
I had never seen anything like it in my life before. It was as though the world had become a horror movie with Cicadas starring as the monster that ate the Midwest.
I have lived through Cicadas' highs and lows. I believe I prefer the normal years, when their population is steady and stable and they lull you to sleep at night with melodic song.
Pitt T. Maner III adds:
You have to wonder what the collateral, human irritation effects will be this time with the billions emerging from Brood II. More crime? More accidents? People who are even more sleep deprived than normal? An increase in the sale of ear plugs? Might be interesting to look back for things possibly associated/correlated with the 17-year cicada cycle (1996, 1979, 1962, … etc.)
"US Braces for Billions of Cicadas" :
"The insects, though harmless, are considered a nuisance both for their size and sheer numbers, not to mention the noise pollution that has been measured at up to 94 decibels, loud enough to drown out the sound of overhead planes according to the Associated Press."
(but they do have a couple of positive effects):
"Additional effects linked to the cicada mating swarms include higher yield for fruit trees, beneficial tree pruning, as well as an increase in bird populations."
Oh, and by the way:
From the Dept. of Stork/Baby statistics.
Who knew there is a "cicada market theory"? If only some of the critters could make it into the city!:
1) "The Wall Street Cicada Index"
"The large insects — which emerge every 17 years — turn out to be great news for the market. During years when the critters appeared — going back to 1928 — stocks posted an average annual gain of nearly 21%, roughly double their historical average. That's a far better track record than most active mutual fund managers enjoy, the majority of whom tend to lag the market average over time." and 'Standard & Poor's market-data guru Howard Silverblatt agrees. When MarketWatch called to sound him out this morning, it turned out he'd already thought to check out the cicada market theory and had been pleasantly surprised by the results. Of course, that doesn't mean he's rushing to buy. Just like when we gaze at the stars or tea leaves, it's easy to read too much into stock market returns, he warns. "You can prove anything you want," he says. "Start with your answer, and I have the data to prove it."'
2) But the "flash crash" of May 1962 would have occurred during a cicada emergence too.
The talented, entertaining and volatile Knicks put on quite a display the other night in winning their first playoff series in 13 years by taking Game 6 against the aging Boston Celtics. With less than 10 minutes to go in the final quarter and leading by 26 points the Knicks however managed to throw the outcome in question by rapidly giving up 20 consecutive points. Even the rants, raves and exhortations of the garishly orange-clad, sideline, Knickerbocker cheerleader, Spike Lee, seemed to no avail as shot after shot was missed and turnovers came in quick succession. I just happened to tune into the 3rd and 4th quarters and have never seen an NBA game ending quite like it.
The NBA record for the largest 4th quarter comeback is mentioned here:
"It's harder still to overcome a 29-point deficit with just 8:43 remaining in the game, as the Milwaukee Bucks did on Nov. 25, 1977 against the Atlanta Hawks."
One would think coaches, if they're not already doing so, would resort to instant statistical displays (such as those by Synergy Sports on large hand-held tablets in order to show players during timeouts where things are going wrong, but maybe this would be too much information for the already stressed athletes.
As the Chair mentioned earlier, too many isolations by Carmelo Anthony from 3-pt range is not always the best way to run an offense. I enjoyed this article about it: "One Reason Carmelo Anthony's Knicks Are Shooting Worse–Isolations".
More Phys.org stuff, but this is pretty interesting. They are reconsidering the elastic rebound model of earthquakes. They call it "Plastic" deformation:
"Their work has not only defined the size of the area's average rupture, but also has shown that widely used earthquake modeling may not account for when the crust sometimes deforms permanently, rather than snapping back to its original position."
and
"The Cornell researchers have concluded that up to 10 percent of the surface of South America that overlies the subduction zone, which is responsible for the great earthquakes and runs along the western coast of the continent through much of Chile, has actually deformed permanently due to earthquakes. If that's the case in other places too, elastic rebound theory-based earthquake modeling might be too simple, Allmendinger said."
Here is the abstract for the paper with accompanying figures.
And here is a good picture.
The Chair asked how can one trade the news.
"Big Data Gets Bigger: Now Google Trends Can Predict The Market":
Yesterday three economists, (Tobias Preis of Warwick Business School in the U.K., Helen Susannah Moat of University College London, and H. Eugene Stanley of Boston University) published an eye-opening paper that said Google Trends data was useful in predicting daily price moves in the Dow Jones industrial average, which consists of 30 stocks. Their research result:
An uptick in Google searches on finance terms reliably predicted a fall in stock prices.

"Debt" was the most reliable term for predicting market ups and downs, the researchers found. By going long when "debt" searches dropped and shorting the market when "debt" searches rose, the researchers were able to increase their hypothetical portfolio by 326 percent. (In comparison, a constant buy-and-hold strategy yielded just a 16 percent return.)
This was a 180-degree turnaround from earlier research, by Prof. Preiss published back in 2010.

Back in 2010, he used Google Trends data and found the opposite conclusion:

"The Google data *could not predict the weekly fluctuations in stock prices*. However, the team found a strong correlation between Internet searches for a company's name and its trade volume, the total number of times the stock changed hands over a given week. So, for example, if lots of people were searching for computer manufacturer IBM one week, there would be a lot of trading of IBM stock the following week. But the Google data couldn't predict its price, which is determined by the ratio of shares that are bought and sold."

What happened? Are people revealing more of their investment intentions in their searches?
The clue may be in looking at changes in the nature of what's reported on Google Trends. In a nutshell, the data is getting bigger, by getting finer, and faster.
Also, this is an interesting graph with current downtick in search and uptick in stocks.
Pitt T. Maner III writes:
More research via Nature which references possibly useful search term analysis:
1) "Quantifying Trading Behavior in Financial Markets Using Google Trends":
'Crises in financial markets affect humans worldwide. Detailed market data on trading decisions reflect some of the complex human behavior that has led to these crises. We suggest that massive new data sources resulting from human interaction with the Internet may offer a new perspective on the behavior of market participants in periods of large market movements. By analyzing changes in Google query volumes for search terms related to finance, we find patterns that may be interpreted as "early warning signs" of stock market moves. Our results illustrate the potential that combining extensive behavioral data sets offers for a better understanding of collective human behavior.'
And a graph using a "Google Trends" Strategy claims to show this:

'Profit and loss for an investment strategy based on the volume of the search term debt, the best performing keyword in our analysis, with Δt = 3 weeks, plotted as a function of time (blue line). This is compared to the "buy and hold" strategy (red line) and the standard deviation of 10,000 simulations using a purely random investment strategy (dashed lines). The Google Trends strategy using the search volume of the term debt would have yielded a profit of 326%.'
2) A reference to Goodhart's Law:
'Furthermore, economists acknowledge that any transparently profitable strategy for playing the markets will quickly lead to a change in trader behaviour that cancels it out — a principle called Goodhart's law, after the British economist Charles Goodhart. "Social systems have the complication that the system may directly react to predictions being made about its behaviour," agrees Susannah Moat, a computational social scientist at University College London and a co-author on the study.'
In reading Scorecasting, well reviewed and recommended by the chair, I came across a point that hits home when looking for statistical causal relationships. When x variable appears to be related to y variable, it is very possible that an undiscovered variable z has a much larger effect, perhaps on both variables. There are examples of this in the book, mostly thoroughly explained in the home field advantage. This is empirically shown to be true across, time, cultures and sports, running at an advantage of 55% to 70% in favor of the home team. Controlling for other things, crowd size does correlate very highly with the home team advantage. But changes is crowd size are shown to have no effect on players performance. Rather crowd size influences officials, but it is secondary affect. The primary affect is officials themselves who have a in bias (most likely unknown to themselves prior to this book) to favor home teams regardless of the fans. Crowd size amplifies or dims this already existing bias. Had the authors not researched deeper this point would have been lost.
Pitt T. Maner III writes:
It is interesting that there are sites that keep statistics on the refs now too.
The held ball call near the end of the Louisville-Wichita St. Final 4 game by Karl Hess appeared particularly bad but you wonder what the factors and influences are that might have led to it. The game finish would have been much more enjoyable if the Shockers had had at least one last attempt at a 3-pointer to tie the game.
Was it the nearby presence of the Louisville coach Rick Pitino? An ego issue where the ref felt the need to decide the contest? Crowd influence? TV audience thoughts? Subconscious need to end the game and prevent possibility of overtime (desire to get off the court,)? Something a player said (need to payback for perceived questioning of previous call)? A whistle blown by mistake in a hurry with no means to take back (I never make a bad call in an important contest). Lots of possibilities.
Russ Sears writes:
When watching a game, I have often thought that the bias in the ref could be spotted by whether or not they avenge a bad or close call on one side by giving the next close call to the opposing team. After a moment of reflection, the ref probably realizes he blew the whistle too soon or did not blow the whistle when he should have. However, it appears to me that the avenged even handed blown calls are often one sided. Yet when watching a game, my own biases would prevent me from "counting" this fair.
Perhaps the broadcasters in a national game could be counted on, but it appears to me they have a vested interest to give the losing team something to complain about. If I recall correctly, the tie-up was initially called a great defensive play by Louisville, but then changed to blown call.
"Noisy Cicadas Come Back to Life After Years Underground":
(CBS News) If you live on the East Coast, fair warning, you're about to be invaded, but it's not the zombie apocalypse. It's actually an invasion by billions of creatures coming back to life after being buried since the 1990s.

In one of nature's great mysteries, the Brood II cicadas are expected to appear en masse along the East Coast this spring, which is a ritual nearly two decades in the making. The bugs will make their presence known with a buzzing racket that's been compared to the sound of a New York subway train.

"Brood II is a periodic cicada that hatches out every 17 years," said Craig Gibbs, an entomologist at the Wildlife Conservation Society's Queens Zoo. "The specific thing about these 17-year cicadas is they are going to be a very dark colored body. They have really bright red eyes, and they also have bright red wing veins."
For the New Yorkers interested in Cicada Tracking there is an event tonight at
Brooklyn Brewery (it seems to be sold out but other events are shown and Staten Island Museum has several events
planned.
Also, music inspired by Cicadas.
Chris Tucker writes:
One wonders if there will be a coincidental increase in the population of Cicada Killers– a frighteningly large (although non agressive) wasp that burrows into the ground, captures Cicadas and lays its eggs in them.
I found a couple of (modern and historical) examples of adaptations made by the wealthy in response to increased taxes, rules and regulations. In a confiscatory environment keeping a low or unknowable profile and building below the "water table" appears de rigueur.
1) The Window Tax was introduced under William III in 1696. At the time, windows were a luxury, and it was likely the number of windows in a property would be in proportion to the size of the property and thus to the wealth of the owner. It was this seen as a progressive tax and a prototype to income tax, introduced 146 years later by William Pitt the Younger. Nevertheless, the tax was unpopular, and avoidable if windows were bricked up, as many were (and one can still see many examples of windows that were bricked up for this reason in London today). Indeed, the term 'Daylight Robbery' is thought to have its provenance in this era. The Window Tax lasted 156 years until 1851.
2)
That's just what the plutocrats are doing: digging down. Maggie Smith, of the London Basement company, which carries out basement renovations, dates the craze to the early to mid-1990s, when she noticed increasing numbers of people wanting to renovate their musty old basements. "It started quite small, with people doing 30 to 40 square meters, generally under the front of a standard Victorian London house," she says. "Then they began digging out under parts of gardens, then entire gardens, installing light wells and glass bridges to bring in natural light." Soon they built underground recreation centers, golf-simulation rooms, squash courts, bowling alleys, hair salons, ballrooms, and car elevators to the underground garages for their vintage Bentleys. The more adventurous installed climbing walls and indoor waterfalls.
3) The Wiki for "plutocracy" makes a comparison between the City of London and Lake Buena Vista, FL.
Rocky Humbert adds:
Here's another example of real estate tax arbitrage: Central Amsterdam ages back to over 700 years, but most of the buildings seen today were built in Amsterdam's "Golden age", about 250-500 years ago. The "Golden age" was the period when most of what is now known as central Amsterdam was built. Some people think it is Amsterdam's best architectural achievement. Probably the most prominent building built within this time period is the canal house. These line all the canals in the centre of Amsterdam. Every canal house was built to be unique from any other, though built with the same shape, each one was personalized with an ornamental piece, such as the gables and plaques. Another method was to put very decorative carvings on the "neck" of a house. This is called "necking".
During the time period in which these houses were built, your house taxes depended on the frontage. Meaning your taxes were determined by the width of your house. Therefore the sneaky Dutch built their houses deep and narrow to avoid severe taxing. For this same reason the staircases are very narrow and low, making it impossible to take furniture up and down them. To solve this problem hooks were put at the top of every house to winch goods up and pass them through the windows on the needed floor.
I noticed that Mr. Faber is an avid surfer and that just today he is launching his pay for premium research service.
Surfers seem to be well represented amongst the successful businessmen here in Florida.
Might an increase though in customer demand for financial advice and the frequency of email promoting such have market implications?
For the Floridians or visitors to Florida. I highly recommend The Florida Museum of Natural History (FMNH) in Gainesville, located on the west side of the University of Florida campus (UF not FSU!). It is very educational for kids and adults alike. It's somewhat centrally located for those living in Florida.
They are now featuring the giant snake Titanoboa from 60 million year old coal deposits in Colombia. A nice thing about the museum is that there is an art museum next door too. And to top it off a large theatre is a stone's throw away also. There is usually adequate parking and the location is easy to access coming off I-95.
Full disclosure!: Many years ago as a geology student I helped the FMNH with the task putting numbers on and cataloging some of the Norman Weisbord collection of fossils from Cabo Blanco and Playa Blanca, Venezuela–a very unusual assemblage of large marine shells and other marine fauna (representative of how big species can get under the right conditions). Dr. Weisbord was an important paleontologist and petroleum geologist who helped with oil exploration efforts in Venezuela. Weisbord was quite a collector.
The FMNH director was my paleontology professor at UF.
This book, The Six Sources of Collapse by Charles Hadlock, looks like a very interesting book that is related to recent discussions by specs.
Beginning with one of the most remarkable ecological collapses of recent time, that of the passenger pigeon, Hadlock goes on to survey collapse processes across the entire spectrum of the natural and man-made world. He takes us through extreme weather events, technological disasters, evolutionary processes, crashing markets and companies, the chaotic nature of Earth's orbit, revolutionary political change, the spread and elimination of disease, and many other fascinating cases.

His key thesis is that one or more of six fundamental dynamics consistently show up across this wide range. These "six sources of collapse" can all be best described and investigated using fundamental mathematical concepts. They include low probability events, group dynamics, evolutionary games, instability, nonlinearity, and network effects, all of which are explained in readily understandable terms.

Almost the entirety of the book can be understood by readers with a minimal mathematical background, but even professional mathematicians are likely to get rich insights from the range of examples. The author tells his story with a warmly personal tone and weaves in many of his own experiences, whether from his consulting career of racing around the world trying to head off industrial disasters to his story of watching collapse after collapse in the evolution of an ecosystem on his New Hampshire farm."
You can find several pages from Dr. Hadlock's book on googlebooks here.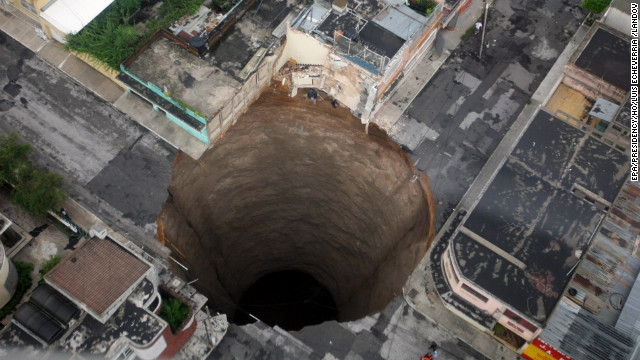 1. A sad story.
'Officials at the Seffner home where a sinkhole swallowed a man late Thursday call it a "chasm" and say it will continue to grow.
At a news conference this evening, Hillsborough County sheriff's Deputy Douglas Duvall, the first emergency responder on the scene, said he didn't know what to expect when he entered the house. Inside, he found the entire bedroom floor had collapsed, and Jeremy Bush was in a hole 10 feet deep, trying to climb out. Duvall managed to pull Bush out.
Jeremy Bush jumped into the hole trying to rescue his brother Jeffrey Bush, who was in bed when the sinkhole opened up beneath him.
Engineer Larry Madrid called the situation "unprecedented" and that the edges of the hole are very steep and very unstable, which means it is likely to continue to expand.'
2. The Florida Geological Survey website on sinkholes.
3. The Winter Park Sinkhole swallowed a Porsche dealership in 1981.
4. "You can almost predict sinkholes will occur when it's dry and lots of pumping occurs or when water levels are low and we get a big rain, or when there's a need to pump large quantities of groundwater over a short period of time," Ann Tihansky, a scientist with the U.S. Geological Survey, told The Times. "They are definitely tied to specific conditions or events."
5. Tihansky's paper on sinkholes in west-central Florida (good overview of the problem).
"Hugo Chavez's Legacy"
Chávez's sustained electoral success is remarkable because he managed to achieve it despite a dismal economic and social performance. Since 1999, the year he took over the presidency, Venezuela has had the lowest average GDP per capita growth rate and the highest inflation of any Latin American country except Haiti. It has also seen a fivefold increase in assassinations to arguably the highest murder rate in the world. In spite of having the largest oil reserves in the planet, he managed to reduce Venezuela's share of OPEC oil output from 4.8% to around 3%. He also managed to stimulate the largest out-migration of Venezuelans in memory.
David Lillienfeld writes:
Your operating assumption is that the election was an honest one. I don't think one can assume that.
Pitt T. Maner III comments:
I think the writer of the article, Ricardo Hausmann, an economics professor at Harvard (Director of the Center for International Development there and also a former Venezuelan Minister of Planning) makes it fairly clear that Chavez held on to power dishonestly using a mixture of 4 techniques. The techniques have a certain familiar sound and have been used by others in the region. A touch of Machiavelli. With cronyism on a massive scale using enormous petroleum revenues and additional borrowing.
One wonders how successful the post-Chavez transition will be and what impacts it will have on oil and regional affairs.
At any rate, Hausmann writes in the article of Chavez's methods:
"First, undermine checks and balances. You can use it to eliminate any separation between party and state, so as to make government social programs a privilege of the loyal, not a right of all deserving citizens. Create a very large civilian army of political activists that are handsomely compensated by the state for their party work. Limit individual rights, expand controls on everything, including prices and access to foreign currency, and give yourself the power to nationalize any business you choose. That way, people will not want to get on your bad side. "Judicialize" politics by using the courts to put your enemies in jail or threaten them with prosecution. Make it really costly for people to oppose you. Let your collaborators steal generously, and make sure that they know you know about it. That way, they will never dare to betray you.
Second, dominate the airwaves. Limit the airing of critical views with carrots, such as government spending on ads, or by threats of fines, jail or expropriation. Act on these threats with some regularity to refresh people's memory. Leave some room to your adversaries but make sure you achieve a 30-to-1 balance of airtime. That way you can create your own narrative and prevent them from creating theirs.
Third, in choosing your narrative, be creative. Don't be limited by truth, reality or common sense. If your country does not have an external enemy, invent one. Whenever you fail, blame a conspiracy. Given your control of the airwaves, by the time people find out there is no truth to your old lies, you will have created 20 new ones.
Fourth, dehumanize your adversaries. Don't debate them or grant them any form of moral recognition. Never extend the phrase "my fellow citizens" to include those that don't vote for you. Borrow a page from the 1930s and adopt a worldview in which institutional formalities only lead to gridlock, to the benefit of the enemy. Ask for complete delegation of power from the "people" to their "dear leader" so that he can crush the enemy. Dispense with other complicated formalities. "
Irving Kahn is the oldest trader on Wall Street.
Here is a picture of Irving Kahn included in special free section of Nature on aging.
Mr. Kahn is now 107.
Correction:
World's oldest Value Investor. Duly noted (hat tip to Mr. Melvin) that Irving Kahn is a former Ben Graham assistant and likes to buy and hold for long time– and not really a "trader" per se.
From the WSJ:

Discipline has been a key for Mr. Kahn. He still works five days a week, slacking off only on the occasional Friday. He reads voraciously, including at least two newspapers every day and numerous magazines and books, especially about science. His abiding goal, he told me, is "to know much more about the stock I'm buying than the man who's selling does." What has enabled him to live so long? "No secret," he said. "Just nature's way." He added, speaking of unwholesome lifestyles: "Millions of people die every year of something they could cure themselves: lack of wisdom and lack of ability to control their impulses."
Here is a link to his current portfolio (he includes a land-based driller).
Leo Jia adds:
Wondering if the strategy of buy-and-hold can make one live longer than the strategies of short-term trading. It may seem to have some merit in the sense that a buy-and-hold'er has a very long-term prospect, and the long-term mind in-turn affect his body in ways of body-mind interaction.
This is a nice piece of writing revisited, from an Alabama grad by way of NJ. A touch of the butterfly effect with the deleterious effects of reduced patronage suggested here. My Way or the highway–gangster-style resonations:
Sinatra with a cold is Picasso without paint, Ferrari without fuel — only worse. For the common cold robs Sinatra of that uninsurable jewel, his voice, cutting into the core of his confidence, and it affects not only his own psyche but also seems to cause a kind of psychosomatic nasal drip within dozens of people who work for him, drink with him, love him, depend on him for their own welfare and stability. A Sinatra with a cold can, in a small way, send vibrations through the entertainment industry and beyond as surely as a President of the United States, suddenly sick, can shake the national economy.
Read more: Frank Sinatra Has a Cold - Gay Talese - Best Profile of Sinatra - Esquire
It's time for another article roundup from me. This time around I found a couple of interesting articles related to universality.
1. "Spacing out: Plotting the distance between individuals"
"That internal calculation of impending impact kicks in and helps carve a comfortable space every time a starling swoops in to negotiate a spot on a wire and every time you pull up behind another car at a stop light."
2. "In Mysterious Pattern, Math and Nature Converge"
'In 1999, while sitting at a bus stop in Cuernavaca, Mexico, a Czech physicist named Petr Šeba noticed young men handing slips of paper to the bus drivers in exchange for cash. It wasn't organized crime, he learned, but another shadow trade: Each driver paid a "spy" to record when the bus ahead of his had departed the stop. If it had left recently, he would slow down, letting passengers accumulate at the next stop. If it had departed long ago, he sped up to keep other buses from passing him. This system maximized profits for the drivers. And it gave Šeba an idea.
"We felt here some kind of similarity with quantum chaotic systems," explained Šeba's co-author, Milan Krbálek, in an email.
As a geologist whose first job was returning library books to shelves and who later had stints as a bag boy in an uncle's grocery store, I would be the last to underappreciate the efforts of the stacking professions. The following quote, however, is quite amusing on many levels:
"The next time somebody goes in - those smart people who say there's something wrong with this - they go into their supermarket, ask themselves this simple question, when they can't find the food they want on the shelves, who is more important - them, the geologist, or the person who stacked the shelves?"
But egads, what would the "snobbish"and "useless" job seeker do without the beneficence of the government secretary? After all making men small and needy is hard work.
Can one say the odds are stacked against you in finding suitable employment in the UK?
Heaven knows, the unimaginable waste of geological talent out in the North Sea that could be put to productive stacking is absolutely appalling!
"Russians Wade Into the Snow to Seek Treasure From the Sky"
"Villagers here have plastic bags, matchboxes and jars filled with dozens of stones. One even tore a hole in the coat one woman was wearing outside Friday morning.

But this is Russia, so the excitement became tinged with anxiety on Monday as unknown cars appeared, cruising the streets and bearing men who refused to answer questions but offered stacks of rubles worth hundreds, then thousands, of dollars for the fragments. Strangely, no authorities were anywhere in sight. "
Today was a rather interesting day for astronomers… with a bit of Russian deja vu and dinosaur demise added in for good measure. Here is my round up of multiple links for you all. Click on the numbers for the links.
The Near Miss "Asteroid 2012 DA14 is about 150 feet (45 meters) in diameter. It is expected to fly about 17,200 miles (27,000 kilometers) above Earth's surface at the time of closest approach, which is about 11:25 a.m. PST (2:25 p.m. EST) on Feb. 15. This distance is well away from Earth and the swarm of low Earth-orbiting satellites, including the International Space Station, but it is inside the belt of satellites in geostationary orbit (about 22,200 miles, or 35,800 kilometers, above Earth's surface.) The flyby of 2012 DA14 is the closest-ever predicted approach to Earth for an object this large."
"A meteorite shot across the sky in central Russia early on Friday and sent fireballs crashing to Earth, smashing windows, setting off car alarms and injuring 150 people.
Residents heard what sounded like an explosion, saw a bright light and then felt a shockwave as they went to work in Chelyabinsk, according to a Reuters correspondent in the industrial city 1,500 km (950 miles) east of Moscow."
"Some of the numerous videos that quickly emerged of the incident highlighted a distinctly Russian phenomenon: the dashboard cam. As Business Insider recently pointed out, they are commonplace in Russia partly because of the dangerous driving conditions that lead to so many accidents, and with an unreliable police force such cameras can provide valuable evidence following a crash."

4.
Tunguska 1908
"The year is 1908, and it's just after seven in the morning. A man is sitting on the front porch of a trading post at Vanavara in Siberia. Little does he know, in a few moments, he will be hurled from his chair and the heat will be so intense he will feel as though his shirt is on fire.

That's how the Tunguska event felt 40 miles from ground zero."
Past extinction event
A) "UC Berkeley researchers have discovered new evidence linking an asteroid impact to the extinction of the dinosaurs.
UC Berkeley Professor Paul Renne and a team of researchers, using isotope analysis, have found that both an asteroid impact and the extinction of the dinosaurs took place nearly synchronously 66 million years ago."
B) Abstract for Renne's work
"Mass extinctions manifest in Earth's geologic record were turning points in biotic evolution. We present 40Ar/39Ar data that establish synchrony between the Cretaceous-Paleogene boundary and associated mass extinctions with the Chicxulub bolid
Street Smarts is a new book out by the South Alabama bowtie man. There is an interesting video discussion here on being humbled by the market.
1. "Jim Rogers on When He Lost Everything"
2. A bit about his new book follows: Street Smarts by Jim Rogers
and an excerpt:
'Today, I wish I knew how to instill this characteristic in my children. I wish I could call my father or mother and say, "What pill did you give us?" Call it discipline, call it diligence, call it work ethic—­we all have it, my brothers and I. I do not know where it comes from. I wish I could find the gene. I am certainly not alone in recognizing the value of persistence—we all know smart people who are not successful; we all know talented people who are not successful. Persistence is what makes the difference.'
Have any of you been following this bone of contention for the anthropologists.
'In a lengthy and angry rebuttal on Saturday, Diamond confirmed his finding that "tribal warfare tends to be chronic, because there are not strong central governments that can enforce peace". He accused Survival of falling into the thinking that views tribal people either as "primitive brutish barbarians" or as "noble savages, peaceful paragons of virtue living in harmony with their environment, and admirable compared to us, who are the real brutes".
He added: "An occupational hazard facing authors like me, who try to steer a middle course between these two extremes, is the likelihood of being criticised from either direction."'
(Link from Marginalrevolution.com)
Stefan Jovanovich replies:

Only Professor Diamond could see himself as "steering a middle course". When a snarky questioner at one of his UCLA appearances suggested that tribal warfare was chronic precisely because no individual member of the tribe had any property that was truly private, his first reaction was bewilderment. His second was less than polite academic rage when the questioner noted that Jean Jaures' sad comment that the poor had been so patriotic at the beginning of World War I because "their country was the only thing they owned". Central governments only exist because of war; that unfortunate fact is why the founders of this country were so adamant about having ours be strongly limited in scope and scale.
I read an interesting article recently about Darwin and his pigeons:
Pigeon breeding, Darwin argued, was an analogy for what happened in the wild. Nature played the part of the fancier, selecting which individuals would be able to reproduce. Natural selection might work more slowly than human breeders, but it had far more time to produce the diversity of life around us.
Here is a whole website devoted to Darwin's pigeons.
Mockingbirds interested Darwin too and look to have caught his attention before finches.
They were particularly popular in my Alabama Great-grandmother's generation for other reasons.
There's a new book out (free for review by academics/professors) by a Marine Corps Captain that may be of interest (combining aspects of Thorp and Buffett). The book is called Quantitative Value: A Practitioner's Guide to Automating Intelligent Investment and Eliminating Behavioral Errors.

The author, Dr. Wesley Gray, Ph.D. (Univ. of Chicago), also has been discussing topics related to those recently mentioned on the Dailyspec.
1) We propose a model that is designed to identify bull-market and bear-market regimes. We examine correlation between stocks and bonds as a signal. Our hypothesis is that negative correlation between long bonds and stocks represents a bear-market regime, and a positive, or non-existent correlation, reflects a bull market regime.
2) We study whether the presence of short-term investors is related to a speculative component in stock prices using a new measure of holding duration. First, we characterize institutional investors' holding durations since 1985 and find that holding durations have been stable and, if anything, slightly lengthened over time. Second, we document that the presence of short-term investors is strongly related to temporary price distortions, consistent with a speculative stock component in stock prices as modeled in Bolton, Scheinkman, and Xiong (2006). As short-term investors move into (out of) stocks, their prices tend to go up (down) relative to fundamentals. As the presence of short-term investors is strongly mean-reverting, this creates a predictable pattern in stock returns. We document such predictability using both valuation proxies and asset pricing tests.
3) This is Gray's take on the similarities between investing/portfolio management and kite surfing!:
A laundry list of similarities for your review:
* Learning how to kite surf, first requires that you learn how to fly a kite (duh).
* Investment realm: you need to know accounting, basic finance, and how to use a calculator before investing.
* After learning how to fly the kite, you need to drown a few times.
* Investment realm: start investing with small amounts and take your lumps early. I'd rather invest with someone who's suffered a 50% drawdown than someone who has always made money.
* Never go full throttle on your kite–and NEVER panic when you crash and burn–or otherwise you'll really be fu$í.
* Investment realm: stay away from leverage and "hanging at the margin's edge"; when the market is blowing up, don't panic…just release the throttle, swallow your pride, and drift to a soft landing.
* Flying downwind is easy, fun, and builds confidence, but you also need to learn how to fly upwind, which is hard and frustrating, but it may save your life.
* Investment realm: Going with the flow of a bull market is easy and not really skill, but may give an investor the mirage of skill. The real skill comes in learning how.
In thinking in terms of EKG, A-FIB, stock market charts, etc. the following medical study (from Duke University, abstract) was found and indicated the need to be prepared and relatively calm during rollercoaster market events. Perhaps there is a flaw in the conclusions drawn or the data and statistics used— but it is an interesting attempt at any rate (with winter time evidently being more stressful on heart to begin with):
"We sought to examine the relation between the United States economic decrease in 2008 and cardiovascular events as measured by local acute myocardial infarction (AMI) rates. Mental stress and traumatic events have been shown to be associated with increased risk of MI in patients with ischemic heart disease. This was an observational study of data from the Duke Databank for Cardiovascular Disease and includes patients undergoing angiography for evaluation of ischemic heart disease from January 2006 to July 2009. Patients with AMI occurring within 3 days before catheterization were used to calculate AMI rates. Stock market values were examined to determine the period of severe economic decrease, and time trends in AMI rates were examined over the same period. Time series models were used to assess the relation between United States stock market National Association of Securities Dealers Automated Quotation (NASDAQ) and rates of AMI. Of 11,590 patients included in the study cohort, 2,465 patients had an AMI during this period. Time series analysis showed a significant increase in AMI rates during a period of stock market decrease from October 2008 to April 2009 (p = 0.003), which remained statistically significant when adjusted for seasons (p = 0.02). In conclusion, unadjusted and adjusted analyses of patients in the Duke Databank for Cardiovascular Disease indicated a significant correlation between a period of stock market decrease and increased AMI rates in our local cohort. © 2010 Elsevier Inc. All rights reserved. "
There was a time when all big hedge fund managers were bearish. And at the close of a month, they sold in mass, with that ululation that only communality and unlimited funds can match. Where have they gone? Not until the last bear has given up, to say the opposite of what the world's worst forecaster Alan Abelson would say, can we expect those glorious days to come again. One must take sustenance until then with Churchill's guidance: "Twenty to 25. (route 95). Those are the years. Don't be content with things as they are. Don't take no for an answer. Never submit to failure. Do not be fobbed off with mere personal success or acceptance. You will make all kinds of mistakes (the next day especially). But as long as you are generous (to those who need) and true, you cannot hurt the world or even seriously distress her. She was made to be wooed and won by youth. She has lived and thrived only by repeated subjugations". (the drift has subjugated them?).
Jeff Watson writes:
And that's a perfect segue to the idea that has the world in it's grip.
Pitt T. Maner III writes:
A sentence from a recent column by a surprisingly ebullient forecaster:
"But there's the buoyant stock market, which we've typically found to be in good times and bad a better investment guide than the run-of-the-Street strategist or portfolio pro, and regret not having paid it more heed back in the dark, wintry days of 2009, when it began its long slog back from the depths of the Great Recession."
—Alan Abelson, Saturday, January 26, 2013
There is a new short movie (22 minutes) about the "Father of Modern Epidemiology", Dr. John Snow.
Steven Johnson wrote a book about Snow entitled The Ghost Map and it has a very interesting website.
I remember as a kid hearing about the Miasma Theory and the influence it had on the locations of early towns and cities in Alabama. The First State Capitol, Cahawba, had the reputation of having a "bad atmosphere" and was soon moved to higher elevations. Now it is a true "ghost town".
When the system doesn't work pass the buck…ball. (If everyone did their fair share and passed out assists the world would be such a better place and I might have a job at the end of the season).
To be tested at 3:30 today. (Dang, Kobe not taking many shots— let's play a zone)
'D'Antoni said the Lakers will try to implement a similar game plan. If that means Bryant will assist more than he scores once again, it shouldn't be viewed as a sacrifice if the Lakers come out on top. "It's a privilege to play the game and it's a privilege to win and to me, you do everything possible to win," D'Antoni said. "Whether that's a sacrifice, I don't know. That's like saying, 'OK, you really play hard tonight,' and that's a sacrifice for the team by playing hard."'
Meanwhile a leading NBA statistician does not see playoffs in the future for LA:
It's once again time to unveil the Hollinger Playoff Odds. The idea is to predict what a team's odds are of making the playoffs, winning the division, making the Finals, etc., by simulating all the remaining games in the NBA season. We have a computer at ESPN headquarters in Bristol, Conn., that automatically plays out the rest of the season every night — not once, but 5,000 times. And we can see from those 5,000 trials how many times a certain outcome resulted, then assign a probability from it. For example, if the Blazers make the playoffs in 2,500 of our trials, we say their odds of making the playoffs are 2,500 divided by 5,000, or 50 percent.
2) Current Odds are 100% for the Knicks and 25% for the Lakers. http://sports.espn.go.com/nba/hollinger/playoffodds
The way the HFT folks hit stocks with multiple trades in milliseconds reminds me of "slug testing" which is a way for a hydrogeologist to measure the permeability or hydraulic conductivity of an aquifer.
Interesting look at an algo test (link #1 below) of Apple before the recent sell-off. I wonder if this increased activity and testing on individual stocks has any predictive value. The artificial creation of "nano-lobagolos"—the "virtual" elephant herds being much faster these days.
From yesterday, early morning, January 23rd:
1) "The High Frequency Trading Algos are getting an early start today in Apple. With only 1 exchange quoting (NY-ARCA), HFT manages to cancel/replace 32,574 orders and execute just 10 trades. Sometimes, the manipulation is so obvious that it makes you wonder what is going on with the regulator.
2) The fellow that posts about HFT and who is the CEO of Nanex, Eric Hunsader, is speaking at Harvard on February 21st from 10AM to 12PM. Might be interesting for those in the area.
About the event:
Eric Scott Hunsader is the founder and CEO of Nanex LLC. Hunsader created NxCore, a real-time streaming data feed offering unparalleled analysis of the stock markets. Often the first to report on unusual activity in the markets, Hunsader is frequently interviewed and is considered a "must follow" by professionals in the field. His research advocating against trading abuses has appeared in the Wall Street Journal, The New York Times, Financial Times, Bloomberg, CNBC, Barrons, Reuters, USA Today, The Atlantic, Risk Magazine, Zero Hedge, and Forbes. Eric has spoken at 10 Downing Street, the University of Chicago, the University of Illinois, and MIT. No stranger to the spotlight, Eric has also made appearances on Sweden's Cold Facts, Japan's NHK, RT News, and in the films Ghost Exchange and Money and Speed.
The fact that we are here today to debate raising America's debt limit is a sign of leadership failure. It is a sign that the US Government cannot pay its own bills. It is a sign that we now depend on ongoing financial assistance from foreign countries to finance our Government's reckless fiscal policies. Increasing America 's debt weakens us domestically and internationally. Leadership means that, 'the buck stops here.' Instead, Washington is shifting the burden of bad choices today onto the backs of our children and grandchildren. America has a debt problem and a failure of leadership. Americans deserve better.
~ Senator Barack H. Obama, March 2006
Gary Rogan comments:
Here's a picture from today to go with that quote. Not the first one of its type either, these creatures know BS and where to find it.
Pitt T. Maner III writes:
Howard Hughes had a unique way of handling this problem:
"Kistler also relates touching tales that depict Hughes's shrewdness and an underlying humanity. For the fly-catching incident, Kistler had brought a frozen fly from home in order to pretend he had "captured" it so as to placate Hughes. Hughes chuckled and looked at the fly. Then he said, "That's a nice fly. But next time, let's make it a REAL one, OK?" Another time, Hughes was at Lockheed in Atlanta. He took one of their planes up to do some touch-and-go practice landings in it. A man on the ground was watching the show and then said, "That must be Howard Hughes up there. No one else can handle a plane so beautifully." The man turned out to be Lockheed's chief test pilot. Hughes of course had once been a world-class pioneer aviator in the 30s."
Can also be viewed here.

If cheapskating is going to increase, we might consider whether individual stocks that cater to cheap skates might have inordinate returns. This is the kind of things that my kids might make money with in terms of the category of stock, rather than its financial characteristics. Perhaps. On another front, I believe it is important to be especially cheap after having a good year. I think of Rimm every day with grave loathsomeness.
Art Cooper writes:
It's been a market theme for quite some time to buy stocks like Family Dollar Stores, Dollar General, etc. instead of retail stocks which cater to the middle class. The high-end retail market is a different market, as it responds to different forces.
Jeff Watson writes:
I'm always accused of being a cheap person and try to not be penny wise and pound foolish. I never pay retail for anything and try to buy only stuff that will hold value. Herb Cohen is a person I look up to. He might look a little seedy, but he makes great sense and teaches sound methods of bargaining. His first $19.95 book I ever bought was probably the best investment I ever made, saving at least a million bucks, by bargaining with some of his techniques over a 30 year period. That's a hell of a return and his techniques work…
Pitt T. Maner III writes:
Cheapskating is likely to be an increasingly popular topic as hidden inflation and taxes go up. Perhaps there is an opportunity for a "Global Skinflint"!
"Jeff Yeager, dubbed "The Ultimate Cheapskate" by Matt Lauer on NBC's Today show, is a very cheap guy. He re-cants, as opposed to decants, the wine he proudly serves his dinner guests, funneling cheap box wine into premium-label bottles. He believes you should never spend more than USD 1 per pound on food items. And to save time and energy costs, he soft-boils his morning eggs along with the dirty dishes in the dishwasher."
And then there is the TLC show :

"Be aware of what you're using. Victoria Hunt, who retired from her accounting career at 48 has been tracking her expenses and her income on a spreadsheet since 1989. "Every minute of every day has something to do with how I can make a better decisions financially," she points out."
Rocky Humbert writes:
Mr. Yeager is either wasting money on his super-heated dishwasher or he's stretching the truth about his eggs. Dishwashers (generally) do not heat the water about 140 degrees. See this article on naturalhandyman. To get the egg white solid, it requires about 180 degrees. Even my Miele doesn't get the water to 180 degrees! This does not compute! (That is, he's making his money selling books. Not cooking eggs.) I would suggest that he should instead put his Pop Tarts and morning sausage on his car engine's manifold. By the time he gets to work, he'll have a well-cooked breakfast. (And he can similarly roast hot dogs on his drive home.)
Dr. Johnson writes:
Ballyhoo? Like any good Spec, one must test, and test I did, the claim that an egg can be cooked in a dishwasher during a normal wash/dry cycle.
Equipment- Miele G5775.
Note: Perhaps not the ideal brand for testing a cheapskate's assertion.
Eggs= Phil's Fresh Farms Free Range Large 42F wrapped in plastic film.
Max Water Temperature Wash5F Max Air Temperature Dry= 185F
Time to complete cycles= 54 min wash & rinse, Dry 22 min.
Results: Egg removed immediately at end of the cycles= Yolk 134F thick and slightly flowing, settles to 1/4 height, white 151F at shell boundary with firm consistency.
Egg removed after 10 Min.= Yolk 141F thick and settles to 1/2 height, white 141F at shell boundary with firm consistency.
Conclusion: Not Ballyhoo! One important consideration for those cheapskates who want to try this method is that egg shells are semipermeable, therefore unless the taste of detergent combined with a menagerie of old food waste is to your liking, sealing the egg in plastic wrap is advisable (also which at +140 F will transmit unwanted substances).
David Hillman writes:
Yes, let us commend Dr. Johnson both on his testing and on his using Phil's Farm Fresh Free Range eggs, the chicken egg of preference at Casa DGH…..cage-free, no chemicals, natural whole grain feed, laid in nests, and certified humane!
That said, even though my Bosch heats water to 160F and air dries at what seems to be 1200K if one opens the door during the 'sanitize' cycle and is met by a blast of superheated air, this whole business of cooking eggs in a dishwasher seems a bit impractical.
One, it seems like using a sledgehammer to place a pushpin in a cork board. Two, while the dishwasher here is run every 2-3 days, typically in the evening, eggs are a daily breakfast staple. What to do on 'accumulation' days? Three, counting time to heat water or a pan, it takes about 10 minutes to fry, poach, baste, scramble or soft boil eggs on the range. Why wait 76 minutes? Four, dishwasher cooking uses a heck of a lot of water and electricity v. range top cooking, multitasking notwithstanding.
For those who feel the need to multitask in the kitchen, there are what seem to be more practical alternatives to cooking one's breakfast eggs in the dishwasher, though at $90, this might not be thought of as 'cheapskating' …..
Pitt T. Maner III adds: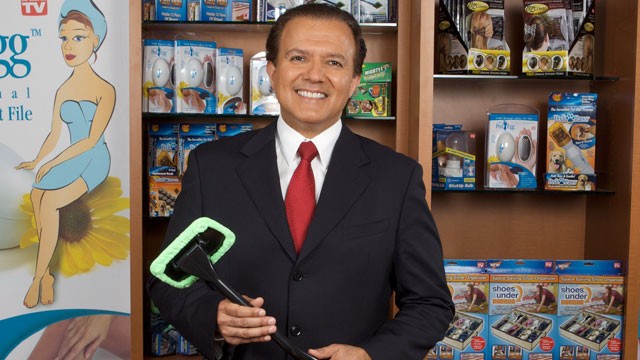 A few older links, but possibly of interest to those seeking to find ways to ride the money-saving trend and as a possible example of a company that finds quickly (identifying trends) and uses new inventions from private inventors. Khubani the CEO started with ad in National Enquirer.:
1) From 2010: 'A.J. Khubani, the man behind many "As Seen on TV" gadgets such as the PedEgg foot scraper, is making cheapskate gimmicks a priority at his company Telebrands, one of the nation's top direct-response TV marketing companies.
More than half of Telebrands' gadgets, sold online and at 90,000 stores, are now focused on helping shoppers be cheap. Khubani, who has been traveling around the country to meet inventors, is speeding up the number of new products he's launching to every 30 days from every 60 days. "The mood of the country has changed," said Khubani. "We've had tremendous opportunity with this recession."'
Since 2007, Telebrands' revenue has doubled to several hundred million dollars, he said.

Read more.
2) The current lineup of brands.
3) From 2012: "For the first time in our company's 29 year history, TeleBrands had 15 products ranked in a single year including our most recent hits like, Slice-O-Matic, Plaque Blast, Slim Away, OrGreenic and Bake Pops," said TeleBrands' CEO/Founder, AJ Khubani. "Each year, we continue to solidify our spot as the largest and most successful marketer of DRTV products aimed at solving everyday problems and reaching mass audiences at affordable prices. In 2011 alone, we rolled-out 12 products — the most in a single year in our company's history."
4) On Khubani from 2011:
"The son of Indian immigrants, Khubani started out at 23, spending a few thousand dollars on an ad inNational Enquirer — a move that led to his first big hit. Since then, he's sold hundreds of millions of "As Seen on TV" products, including AmberVision sunglasses, the PedEgg and Doggy Steps. He has bolstered the careers of ubiquitous TV pitchmen, including the late Billy Mays, who enthusiastically hawked products now found on the shelves of more than 100,000 retailers. Today, Khubani is the leader in the $20 billion direct consumer marketing industry, turning out more "low-tech" products than ever before."
5) Not all have been appreciative of Khubani's methods:
"But will anyone care about dust mites? Khubani wasn't achieving much traction among his Telebrands staff with his bed-spray idea, when along came a proposal for an anti-dust-mite pillow, from a colleague Khubani mysteriously describes only as "a business associate." It's hardly a new concept—there are several such pillows already marketed to allergy sufferers and asthmatics. But so far, nobody has had the brilliance to incite a national panic around flesh-eating creatures that feast on human remains—and lurk in the pillow of every man, woman, and child. "The hum you sometimes hear at night?" Khubani asks eerily. "That's the sound of 2 million dust mites eating your dead skin." Or perhaps it's the sound of one man in Fairfield, New Jersey, homing in on your next anxiety. "
Victor Niederhoffer adds:
Of course the main virtue about cheapskating is that it prepares you for such activities in your business. As the oil magnate said, "I am not smart enough to act one way in my personal life and another in my business. My margin is 8%, and if I gave away 8% on everything my 200,000 employees would be out of a job. So I make them pay for their telephone calls." Regrettably, the oil magnate was victimized by old man's disease (the same disease as the sage), and he was locked up in England for 20 years, with his retinue preventing him from going back to us for fear that he might change his will, and he was soporifisized by many nubile girls and other attractive women he would meet at museums.
Funny. More important even then the fine posts with examples and tests of cheapskating is the query I have received from many of the younger hearted on the list. "Where are those museums that the oil magnate frequented?".
Gary Rogan suggests:
I suspect the Getty museum is a good place to start.
Stefan Jovanovich writes:
I hope Gary means the original one in Malibu, the villa whose design Getty himself supervised but never saw. The monstrosity built on top of the landfill by the 405 is absolutely the worst place in LA for the amusements Getty had in mind. If he were alive today and living in SoCal, he would be going to OCMA to appraise the latest generation of lovelies.
Jim Sogi adds:

Eggs can be cooked sous vide at 144 -155 for 20 plus minutes for a wonderfully cooked smooth soft boiled egg with a consistent texture throughout.
Food grade hydrogen peroxide diluted to a 3% solution is an excellent way to sanitize kitchen and utensils and not toxic like chlorine.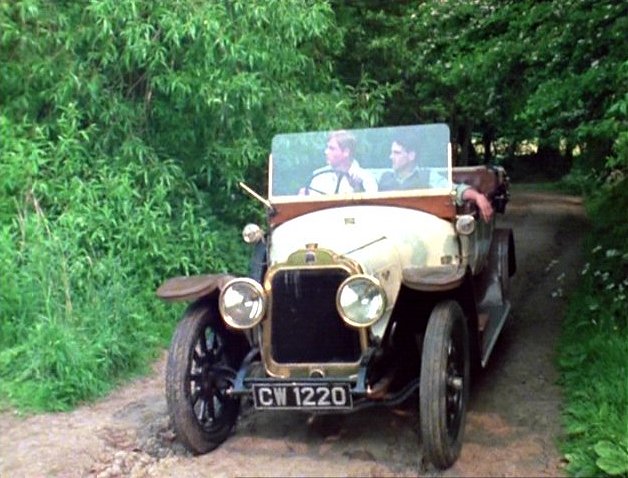 Returning from a visit to Georgia and Alabama I had the opportunity yesterday to drive from Montgomery, Alabama to West Palm Beach, Florida by way of Dothan, AL, Thomasville, Ga., Valdosta, Ga., I-75 and the FL Turnpike.
A few observations caught my eye:
1. BBQ does very well in the South. Dobbs in Dothan is celebrating 100 yr. anniversary despite a wide range of reviews .
2. DEERE farming equipment was everywhere in Southwest Ga. Wide load sprayer trucks being transported on the road. Lots of new equipment in various sales yards. Perhaps they are gearing up for future season? Large Bales of cotton were seen wrapped in yellow plastic. Clumps of just harvested cotton everywhere along the roads and in the fields.
Overheard a trucker say that things a bit slow at start of the year though as he awaited new loads to haul.
3. Thomasville, Ga. downtown area is very vibrant and quite appealing. Lots of shops and nice restaurants for a "sleepy" southern town. My favorite artisan cheese company has a neat wine, cheese, and cured meats "pub"/restaurant there Many pretty Southern Belles noted. Liam's is quite popular.
4. Dollar General, Radioshack, Alfa Realty/Insurance, TJ Maxx, and many other regional retailers appear to survive and thrive in SE AL, SW Ga.
5. More hotels were seen along the route. Many in N Florida had full parking lots last night. There is a fair amount of military presence in the general area of SE AL and SW Ga–Fort Rucker in AL and Moody AFB (Valdosta) in Ga.
6. Pay phones are hard to find when you enter a cell phone "dead zone" and need to make a call. Almost extinct. Even Luddites need an iPhone.
7. CSX was inspecting the rail lines along the Bainbridge, Cairo, Thomasville, Ga. corridor. I remember several years ago when only abandoned rail cars were seen on those tracks.
8. Lots of advertising signs still empty along I-75 in South Ga (and advertising for new clients).
When capitalism spread along the trade routes toward the Indies…when radio opened an era of mass communication…when the Internet became part of the global economy…pirates were there. And although most people see pirates as solitary anarchists out to destroy capitalism, it turns out the opposite is true. They are the ones who forge the path.
In The Pirate Organization, Rodolphe Durand and Jean-Philippe Vergne argue that piracy drives capitalism's evolution and foreshadows the direction of the economy. First published in French to great critical acclaim and commercial success as "L'Organisation Pirate: Essai sur l'évolution du capitalisme," this book shows that piracy is not random. It's predictable, it cannot be separated from capitalism, and it likely will be the source of capitalism's continuing evolution.
A paper on the subject.
A softer, gentler anarchy is popular with a Connecticut semi-agrarian: "Professor Who Learns From Peasants".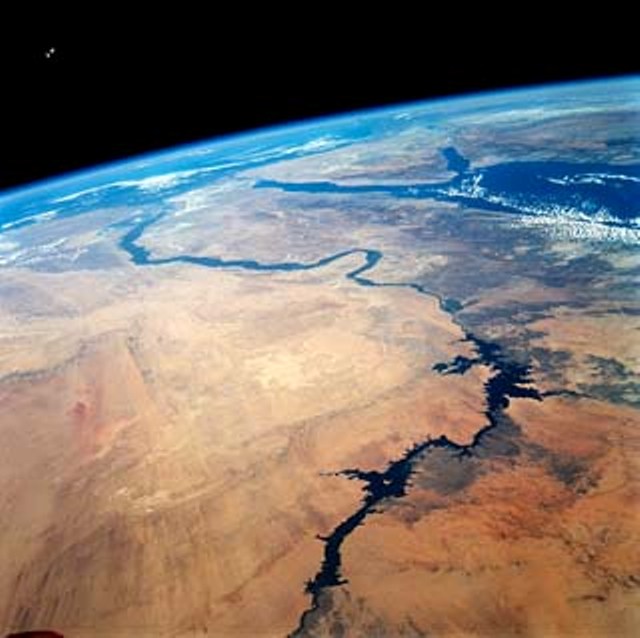 This is an interesting study and model of how subsurface processes (involving groundwater flow and erosion) influence topography and eventual river branching.
Understanding how river networks originate and evolve is key to understanding how landscapes have evolved in the past, and how they will evolve in the future," says Attal, who did not participate in the research. "What is fascinating about these two papers is that they provide a physical explanation for the geometry of river networks using some very simple concepts. Studies such as these will help better parameterize models and help make more accurate predictions of what may happen in the future.
"Ramifications of Stream Networks":
The geometric complexity of stream networks has been a source of fascination for centuries. However, a comprehensive understanding of ramification—the mechanism of branching by which such networks grow—remains elusive. Here we show that streams incised by groundwater seepage branch at a characteristic angle of 2π/5 = 72°. Our theory represents streams as a collection of paths growing and bifurcating in a diffusing field. Our observations of nearly 5,000 bifurcated streams growing in a 100 km2 groundwater field on the Florida Panhandle yield a mean bifurcation angle of 71.9° ± 0.8°. This good accord between theory and observation suggests that the network geometry is determined by the external flow field but not, as classical theories imply, by the flow within the streams themselves.
This is possibly a useful indicator of where development is occurring. The North Slope of Alaska, Pretoria-area South Africa, Nigeria and Gabon/Congo, Lanzhou-area China, and Puerto Rico really pop to name a few. Also there's an interesting line from around Caracas to Medellin Cali Bogota Colombia and then along west side of Andes to Quito and Cuenca, Ecuador.
Scientists unveiled today an unprecedented new look at our planet at night. A global composite image, constructed using cloud-free night images from a new NASA and National Oceanic and Atmospheric Administration (NOAA) satellite, shows the glow of natural and human-built phenomena across the planet in greater detail than ever before.
The economic impacts of disease and an aging population appear to be a big concern in China. Their problem is diabetes. The longer term, additional strain on the health care system and society may be more than the $28 billion per year, all things considered.
One would think that an "authoritarian" regime interested in keeping annual rate GDP >7 at all costs would institute bigger changes than bans on "Big Gulps".
China has almost four times as many people with diabetes than the U.S., where there are 23.7 million sufferers, according to the IDF. By 2030, 40 million more will have the condition in China, where diabetes causes 173.4 billion yuan ($28 billion) a year in medical costs, the diabetes group estimates."

China, unfortunately, has become the world's capital for diabetes," said Michael Rosenblatt, Merck's chief medical officer, in an Oct. 25 interview in Shanghai. "

The government is starting to pay more attention as this is the beginning of a huge problem, both health and economic."'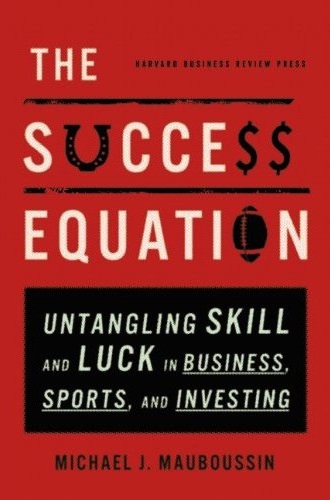 This new book The Success Equation looks interesting.
Here is a graphic from it from a Wired article that seems surprising (chess and basketball—really?!).
A brief description of it:
"In his provocative new book, Michael Mauboussin untangles the intricate strands of skill and luck, defines them, and provides useful frameworks for analyzing their relative contributions. He offers concrete suggestions for how to put these insights to work to your advantage in business and other dimensions of life. "
An Excerpt:
"Marion Tinsley won a lot, too, but it wasn't because he was lucky. Tinsley was known as the greatest player of checkers (also known as draughts) in the world. In 1948 he was crowned as the United States champion; shortly before his death in 1994, he tied Don Lafferty and a computer program named Chinook for first place. In the intervening forty-five years, Tinsley lost only seven individual games for a near-perfect record. In two of those games he was defeated by Chinook. Despite the fact that he didn't play for long periods of time (he was a professor of mathematics at Florida State and Florida A&M Universities), he reigned as world champion in three separate decades.2Tinsley's success resulted from years of deliberate practice. In his youth, Tinsley spent eight hours a day, five days a week, studying checkers, and he continued to study the game, though less intensely, throughout his life. He cultivated a prodigious memory that allowed him to recall the flow of games he had played decades earlier. Tinsley was fiercely competitive and claimed that he could beat all comers, man or machine, as long as his health didn't fail him."
It is great to see Antoni (no d), ruining the Lakers by trying to get them to play a running, 9 second game with spacing that makes their big and old men superfluous and liabilities. It's like the player who tries to catch one tick in the market now, against the high frequency people. The vig is about 80% and the adverse selection is another 15%. Antoni should work for the exchange or the track.
The amazing thing was to see his smug grimace of resignation as he was being buried for the Knicks with his aloof "what can you do" expression now transferred to the Lakers where he turned down a thanksgiving dinner with Howard and the boys so that he could perfect his run and gun 9 second free flowing offense. How wonderful to see him ruining the happiness of the west coast rather than the east when we had to watch his sardonicism.
Pitt T. Maner III writes:
Vic,
You should definitely enjoy watching the "Antoni and Anilo" reunion tomorrow night at 830 PM. $9.3 million salary for the "Rooster" in the Mile High City. "Gallinari is the only Nuggets' starter shooting less than 40% from the field for the season, the Denver Post reports. (about 14 hours ago)"
"Gallinari is hitting just 37.2% from the field, including a dismal 23.4% from beyond the arc, thus far in the 2012-13 season. Those numbers are well off his career averages but the 6'10" small forward is confident that he'll regain his touch, sooner rather than later. For the year Gallinari is still averaging 15.1 ppg, 6.0 rpg, 2.4 apg, 0.7 bpg, and 0.5 spg, while only turning the ball over an average of 1.4 times a game."
When they calculated the flock's heat loss, the authors discovered that their model huddle was very fair: every penguin lost approximately the same amount of body heat. But these model penguins were only programmed to maximize their own warmth, not to consider the warmth of other penguins or the group as a whole. This means that even if penguins are only looking out for themselves, the whole huddle stays warm, as the authors report in PLOS ONE.

"Math Shows Penguins Only Care About Themselves"
More on the "selfish herd" theory.
via Twitter Feed Zoobiquity
The case for doctors and vets to share even more information is being made. In Palm Beach it is not unheard of for favorite pets to have thousands of dollars spent on procedures (i.e. chemotherapy) to further extend their lives. One imagines that in some cases data useful to humans may be produced. Dr. Keely no doubt can provide further insights:
"Zoobiquity springs from a simple but revelatory fact: Animals and humans get the same diseases. Drawing on the latest in medical and veterinary science—as well as evolutionary and molecular biology—Zoobiquity explores how jaguar breast cancer, dolphin diabetes, flamingo heart attacks—and more—are transforming human medicine."
"Horowitz's central claim is that this failure to make connections between animal and human medicine is robbing us of vital insights that could improve health and even save lives. "Zoobiquity" is the cheesy neologism given to the approach that makes just that link.
Horowitz and Bowers give several striking examples of why this link is needed. For instance, the reluctance in 1999 of the US Centres for Disease Control and Prevention to listen to the counsel of a veterinarian led them to falsely conclude that a mysterious disease that had broken out in New York was St Louis encephalitis, when it was West Nile virus. The delay this caused almost certainly cost lives."
I read an interesting article about using algorithms to break the old codes of the secretive 18th century Oculists (early opthalmologists):
These societies were the incubators of democracy, modern science, and ecumenical religion. They elected their own leaders and drew up constitutions to govern their operations. It wasn't an accident that Voltaire, George Washington, and Ben Franklin were all active members. And just like today's networked radicals, much of their power was wrapped up in their ability to stay anonymous and keep their communications secret.
Swedish page for the Copiale Cipher :
The Copiale Cipher is a 105 pages manuscript containing all in all around 75,000 characters. Beautifully bound in green and gold brocade paper, written on high quality paper with two different watermarks, the manuscript can be dated back to 1760-1780. Apart from what is obviously an owner's mark ("Philipp 1866") and a note in the end of the last page ("Copiales 3"), the manuscript is completely encoded. The cipher employed consists of 90 different characters, comprising all from Roman and Greek letters, to diacritics and abstract symbols. Catchwords (preview fragments) of one to three or four characters are written at the bottom of left–hand pages. Transcription, transliteration and decipherment brought to light a German text obviously related to an 18th century secret society, namely the "oculist order". A parallel manuscript is located at the Niedersächsisches Landesarchiv, Staatsarchiv Wolfenbüttel.
Have you heard about "The Untold History of the US" on Showtime, directed by Oliver Stone. With a touch of Jantelagen.
'So, why take the time to watch this documentary and read the book? In Stone's words, "We're going to go in the junk heap of history like everyone else at the end of time, and they're going to talk about the US Empire the same way that they talk about the Ottoman Empire, the Austro-Hungarian Empire, the British Empire, the Roman Empire. Six of them bit the dust in the 20th century. What makes us think that we are exceptional to history?"'
Stefan Jovanovich comments:
Details, details.

The Ottomans, at their height, controlled everything in Europe east from Vienna to the Black Sea beyond the Crimea, the entire Arabian peninsula, the southern coast of the Mediterranean as far west as Algeria, and what are now Turkey, Syria, Iraq, Azebaijan and Georgia.
Mr. Stone and his pet historian may wish to think that this all fell apart at the end of World War I just as the Austro-Hungarian, Russian and German Empires did; but the truth is that the decline and fall of the Ottoman Empire occurred over two and a half centuries. If one wants to look for lessons from history, it is that strong countries should not prey on weak ones. The Russians, British, French, Germans, Austrians and Hungarians, Italians all brought themselves miseries beyond measure in their efforts to pick over the carcass of the Ottomans. Only Bismarck had the sense of want to leave the dubious rewards of the Middle East to others, and he lost his job and Germany its imperial future because the Kaiser decided it was more important to make friends with the Turks than with his own cousin in St. Petersburg.
I can't help but think of markets when I hear terms like "brood parasite"…
From Discover magazine:
"Fairy wrens teach secret passwords to their unborn chicks to tell them apart from cuckoo impostors":

In Australia, a pair of superb fairy-wrens return to their nest with food for their newborn chick. As they arrive, the chick makes its begging call. It's hard to see in the darkness of the domed nest, but the parents know that something isn't right. Whatever's in their nest, it's not their chick. It doesn't' know the secret password. They abandon it, flying off to start a new nest and a new family somewhere else.
It was a good call. The bird in their nest was a Horsfield's bronze-cuckoo. These birds are "brood parasites" – they lay their eggs in those of other birds, passing on their parenting duties to some unwitting surrogates. The bronze-cuckoo egg looks very much like a fairy-wren egg, although it tends to hatch earlier. The cuckoo chick then ejects its foster siblings from the nest, so it can monopolise its foster parents' attention.
But fairy-wrens have a way of telling their chicks apart from cuckoos. Diane Colombelli-Negrel from Flinders University in Australia has shown that mothers sing a special tune to their eggs before they've hatched. This "incubation call" contains a special note that acts like a familial password. The embryonic chicks learn it, and when they hatch, they incorporate it into their begging calls. Horsfield's bronze-cuckoos lay their eggs too late in the breeding cycle for their chicks to pick up the same notes. They can't learn the password in time, and their identities can be rumbled.
This is one of many incredible adaptations in the long-running battle between birds and their brood parasite. As these evolutionary arms races continue, the parasites typically become ever better mimics, and the hosts typically become ever more discerning parents.
"Mark Rothko Painting Crowns New York Art Sale":
A painting by abstract artist Mark Rothko has fetched $75.1 million (£47.2m) at an auction in New York.

"If you want to talk about the market being happy, healthy and well, here it is," said Sotheby's auctioneer Tobias Meyer, worldwide head of contemporary art.

"That's probably about as good as it gets." Further high prices are expected at a second Sotheby's contemporary and post-war art sale on Wednesday, with two Christie's sales focusing on the same period also taking place in New York this week.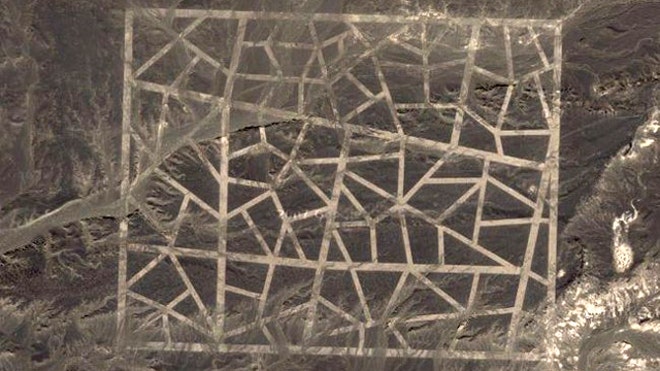 The proper interpretation and analysis of remotely sensed images requires a great deal of expertise—and sometimes imagination.
Often ground truthing (when possible) is needed to confirm object identifications.An example of the more speculative variety of "armchair" remote sensing follows:

"Google Earth Finds More Strange Patterns in Chinese Desert"
"Today, Amelia Carolina Sparavigna at the Politecnico di Torino in Italy reveals another mysterious pattern in a remote part of China, this time the Taklamakan desert in western China.
In the last few years, Sparavigna has pioneered a form of armchair archaeology using Google Earth and open source image processing software to hunt for interesting structures in remote regions of the planet. She regularly posts her results on the arXiv and we've discussed several of them on this blog, here for example."
What are the popular phrases used in our business. Things like "risk on" and "challenging" and "restructuring". It always amazes me how book value of a company can decrease while its operating earnings go up.
Gary Rogan writes:
"Risk-adjusted returns" and "risk tolerance", which seem highly presumptive.
Vince Fulco writes:
"A rising tide lifts all boats"
"the fed/bernanke put will protect you"
"Fools dance but the greater fool is the one on the sidelines watching them dance…"
"Esp. If they are earning ZIRP"
Pitt T. Maner III writes:
There are two phrases that seem to be in more frequent use lately:
1. "jumping the shark" which has an interesting origin from the "Happy Days" TV show in 1977:
'In its initial usage, it referred to the point in a television program's history when the program had outlived its freshness and viewers had begun to feel that the show's writers were out of new ideas, often after great effort was made to revive interest in the show by the writers, producers, or network.

The usage of "jump the shark" has subsequently broadened beyond television, indicating the moment in its evolution when a brand, design, or creative effort moves beyond the essential qualities that initially defined its success, beyond relevance or recovery.'
and
2. "thrown under the bus" which evidently was first used by sportswriters around the 1990's.

"It's unclear where the phrase came from, but there's no doubting it's having a heyday. There are bus-throw references in the late '90s, mostly in professional sports. (Players who don't get their contracts renewed are often said to get you know what under you know where.) The phrase turns up in politics in 1999, according to a database search, with its maiden voyage courtesy of a press secretary for a candidate for mayor of Philadelphia."

Perhaps in some ways the revived usage of these (and many other) turns of phrase are indicators of overall public sentiment.
Ed writes in:
fiscal cliff, confusing alpha with beta, risk management, proprietary formula, diversify, flight to quality, short japan, market bubble, gold bug, tin foil hat theory, perma-bear, bullish, bearish, front run the fed, market master, trading guru, market cycle, ETF portfolio, bond maven, high frequency trading, flash crash, smart money, front run, market anomaly, wave theory, cash is king, cash is trash, quantitative easing, QE, money printing, wealth effect, hard money, we are bankrupt, offshoring, the 1%, responsible for 5% of NYSE/CME/CBOE volume, carried interest, deep value, momentum trade
I have been wondering, is there any strategy for slots? I know there is a lot of strategy for blackjack and other casino games that is applicable to trading but I've never really read about/considered slots. My quick online searches returned nothing very scientific. I assume slots have a routine (low) payout ratio. I wonder how random the results are (the conspiracy theorist in me is highly skeptical, especially of video slots).
It seems the time to play would be after a string of losses as the payouts do need to come. Sort of like counting in blackjack, you could watch other players on machines, wait for them to lose a lot and potentially assume the odds were going up. It also seems (much like old horse racers) the best recipe would be to bet a consistent amount. Watching players I see bet sizes swinging all over and a lot of loss. Usually it is bet big, lose, reduce size, win, up size, lose, repeat until broke.
Bets could vary but only as a constant function of capital (I.e. 1 with 10 in capital, 2 with 20, etc). This would be subject to casino limits but would probably beat changing size due to martingale risk. I also figure different machines would have different odds. Best to play the machines with the highest odds. The scratch lotto for example publishes the odds of their games in ny, I imagine one could find similar publications with slot odds.
Next I wonder how stop losses could be tied in. Would it be best to use a set number of losses to move to the next machine. When playing with house money should you let it ride or use a rolling stop. Rolling stop sounds better. Also if you had a big win it stands to reason that machine was not going to be paying out big soon so you should cash in and move on.
This all may be virtually impossible too unless there were teams working in shifts (people have to sleep) but casinos don't.
Welcome any thoughts or ideas. I know slots aren't sexy like table games but the anonymity and lack of fellow players makes them fun at times (but it would be more fun to walk away up money).
Will Weaver writes:
If slots are random they don't have a 'quota' of payouts… and as in flipping a coin, every iteration holds the same probability. So there shouldn't be any advantage. But I know nothing about the machines other than they probably are not completely random, though closer than would generate an edge.
Sam Marx writes:
If they are electronic slots, I believe they use some sort of random number generator. So I've had the theory that if there was some way to determine the formula used, then they might be beaten.
Craig Mee writes:
Watching the payout numbers on a screen a long time ago when a technician was working on one– this was a poker slot– showed the payout to be approx 80% before double up, and after double up it went down to the low 60% if memory serves me correctly. When playing I took the strategy of banking all my small wins due to this, and doubled up on any large wins i.e 4 of a kind and the like. From there I would work a stop at flat after doubling the stake (if I won my doubles) and then a trailing 20% stop of total win one tripled my initial stake. It seems to let you have a plan, and walk away, rather than the guy next to you, tipping money into that feeder all night. If you must play, then having a plan of attack is the most important aspect, so you bank or your stop goes off …quickly…and you're out of there.
Jeff Watson writes:
There s one great slot strategy that hasn't been touched on. The best way to win at slots is to not play at all. Even the places that offer 98% payouts. What they are really saying is that for every $100 you feed through the machine, you will get 98 dollars back. The vig is too tough for me, or any other sensible person, for that matter. One has noticed that the really easiest games of chance usually have the highest vig. Things like wheel of fortune, chuck-a-luck, slots, and keno all have outrageous vig and should be played by no one. Save your money and go to a great show.
Pitt T. Maner III writes:
Along the lines of the slots thread, here is some info about roulette strategy:
1) Under normal conditions, according to the researchers, the anticipated return on a random roulette bet is -2.7 percent. By applying their calculations to a casino-grade roulette wheel and using a simple clicker device, the researchers were able to achieve an average return of 18 percent, well above what would be expected from a random bet.
2) "There have been several popular reports of various groups exploiting the deterministic nature of the game of roulette for profit. Moreover, through its history the inherent determinism in the game of roulette has attracted the attention of many luminaries of chaos theory. In this paper we provide a short review of that history and then set out to determine to what extent that determinism can really be exploited for profit."
Chris Cooper writes:

The most obvious and effective countermeasure is to disallow betting after the ball is released. The casinos allow betting after release because customers like it, but if they have any doubt it is a simple matter to change that practice.
Secondly, Thorp's original work (and mine) were based on finding wheels which were not quite level. After he hit a few casinos successfully, he found that the number of out-of-level wheels decreased. The paper cited in the original post details an approach for level wheels, but notes that more accurate timing is required.
Plus eV roulette did make it to book form, if not the front pages, by a group from Santa Cruz. More recently, a Hungarian was purportedly successful to the tune of over one million. My paper many years ago is lost to the ages, but in any case you can learn much more by reading the paper cited in Mr. Maner's post.
Italian Scientists Convicted of Manslaughter for failing to predict an earthquake:
"Six Italian scientists and an ex-government official have been sentenced to six years in prison over the 2009 deadly earthquake in L'Aquila. A regional court found them guilty of multiple manslaughter. Prosecutors said the defendants gave a falsely reassuring statement before the quake, while the defense maintained there was no way to predict major quakes."
and
"Among those convicted were some of Italy's most prominent and internationally respected seismologists and geological experts."
A diamond ETF appears to be in the works. Prices are down a bit at the moment. A "One Quadrillion dollar" Russian diamond story that went viral is reassessed by a specialist. A "diamond planet" makes the news. F. Scott Fitzgerald's story "The Diamond as Big as the Ritz" is mentioned.
FactorShares, the ETF issuer known for its suite of spread products, has filed plans with the Securities and Exchange Commission (SEC) to possibly introduce an ETF that tracks companies engaged in the exploration, production and sale of diamonds. The fund could debut as early as the fourth quarter.
Diamond prices are on the slide again, as macro economic gloom continues. The Rapaport Diamond Trade Index, which is derived from the average asking price for the top 25 best-quality one-carat diamonds and is seen a global benchmark, fell to $9,391 last week….
…However, the long-term trend looks positive. Worldwide demand for rough diamonds may climb more than 6pc between 2010 and 2020, according to consultants Bain & Co. This is higher that the expected growth in diamond supply.
Those in the diamond world were shocked. "Holy s—", is how Dustin Chalchinsky, a geological specialist for Eurostar Belgium, one of world's top loose gem companies, decribed his reaction. "This can't be real. This is almost science fiction.
Chalchinsky went on to write a comment on Reddit that explaining just how unlikely the asteroid scenario was. "It seems extraordinarily unlikely," Chalchinsky told Business Insider in a phone interview. "But extraordinarily unlikely things do happen.
Orbiting a star that is visible to the naked eye, astronomers have discovered a planet twice the size of our own made largely out of diamond.
The rocky planet, called '55 Cancri e', orbits a sun-like star in the constellation of Cancer and is moving so fast that a year there lasts a mere 18 hours.
5) From Wiki on Fitzgerald's story:
Washington immediately finds himself in a quandary; the value of diamonds multiplied by the sheer number available for him to mine would make him the richest man ever to live, but, based on the economic law of supply, the sheer number of diamonds, if ever discovered by outsiders, would drive their value to near zero, thus making him a pauper.
David Lillienfeld writes:
The problem with diamonds these days is that DeBeers no longer controls the market, so there's no basis for assuming any sort of price stability. The Russians can flood the market at will, and may choose to do so to raise money if oil prices decline. Whether there's more diamond to be found in Canada is any one's guess, so there is the possibility of additional supply hitting the market from up north, never mind that machine made diamonds are close to marketing, too. (Did you know that one can take the ashes from a cremated loved one and have them placed inside of a man made diamond?) And of course, there's the demand side of the equation–I don't see developing countries having the same demand for diamonds that they do for gold. So while Bain may want to think that diamonds will increase through 2020, I don't see any basis for that contention. It does make for some nice dreams, though.
Hallucinatory realism is the writing style ascribed to this year's Nobel Prize winner in literature, Mo Yan. One of Yan's novels, Red Sorghum, was made into a 1987 movie by Zhang Yimou. (Yimou as I recall used old Kodacolor film that made for beautiful colors in many of his films).
It is interesting that Faulkner had an influence on Yan's writing.
Novelist Mo Yan, whose popular, sprawling, bawdy tales bring to life rural China, won the Nobel Prize for literature Thursday, the first time the award has been given to a Chinese who is not a critic of the authoritarian government. Official media and many Chinese cheered his selection.
Read more
Mo Yan's works are predominantly social commentary, and he is strongly influenced by the social realism of Lu Xan and the magical realism of Gabriel García Márquez. In terms of traditional Chinese literature, he cites Journey to the West and Dream of the Red Chamber as formative influences.[3] A major theme in Mo Yan's works is the constancy of human greed and corruption, despite the influence of ideology.[1] Using dazzling, complex, and often graphically violent images, he sets many of his stories near his hometown, Northeast Gaomi Township in Shandong province. Mo Yan says he realized that he could make "his family, people I'm familiar with, the villagers…" his characters after reading William Faulkner's The Sound and the Fury.[3] Mo Yan strongly advocates that Chinese authors read foreign authors and world literature.[7]
From the New Yorker:
The People's Republic has sought a Nobel Prize in Literature so avidly and for so long that it became a national psychological fixation—China's "Nobel complex," as commentators and television shows often put it. (Julia Lovell wrote a good book about China's pursuit of the literature prize.)

Read more
"Matt Damon's Anti-Fracking Movie Financed by Oil Rich Arab Nation ":
A new film starring Matt Damon presents American oil and natural gas producers as money-grubbing villains purportedly poisoning rural American towns. It is therefore of particular note that it is financed in part by the royal family of the oil-rich United Arab Emirates.The creators of Promised Land have gone to absurd lengths to vilify oil and gas companies… Since recent events have demonstrated the relative environmental soundness of hydraulic fracturing – a technique for extracting oil and gas from shale formations – Promised Land's script has been altered to make doom-saying environmentalists the tools of oil companies attempting to discredit legitimate "fracking" concerns.
Pitt T. Maner III writes:
One of the major ceramic proppant companies just put in a 52-week low. The specialized fracking "sand" business might at some point be an interesting area for further research.
David Lilienfeld writes:
Yes, I was thinking of them and also the niche international business, in general, of designing, producing and expertly injecting fracking sands and proppants into formations. CRR had a pretty good run from July 2009 to July 2011. It's interesting that they have plants in Russia and China. But the swoon, as you say, may continue. The following idea appears to be making the internet rounds (one would think fracking will play a role in these future worldwide developments):
The relative fortunes of the United States, Russia, and China — and their ability to exert influence in the world — are tied in no small measure to global gas developments," Harvard University's Kennedy School of Government concluded in a report this summer.
Jack Tierney writes:
Several years back we had a thread related to a coal mine cave in that resulted in numerous deaths and extensive studies to determine the cause(s). A significant portion of the blame fell to "seismicity." The conclusion was that continued use of high explosive well below ground level had a significant enough impact on the earth's composition to create tremors - some serious enough to escalate into earthquakes.
At the time I as a big fan of coal and the study and subsequent developments didn't help my positions at all. Another energy sector I liked was involved in obtaining power through an Enhanced Geothermal System. This involve injecting cold water at very high pressure down to the "hot rocks" below. Though some ""shear" was expected, the reactions received exceeded expectations. Enough so that Switzerland abandoned the idea. Continued seismic events at on-going systems are watched closely and the equities of companies involved in the process (the poster child is Orman [ORA]) have done poorly.
With those developments in mind and ever aware of the not inconsiderable power of the environmentalists opposed to this method, I have re-established those coal positions. Any adverse event substantial enough to even hint at congressional hearings could put a real damper on these current darlings and their numerous fans. And coal would once again be the most abundant and readily available power source for this country's power needs.
I took a flyer similar to this way back in the '90s. Older market types will recall Bre-X and the scandal that surrounded the "seeding" of the gold samples which indicated a huge resource. If I remember the stock went over $100 and might have surpassed $200 (things get foggier as I get older). In any event, after the responsible geologist threw himself out of an aircraft in a successful suicide attempt, the stock was closed to trading.
However, the CEO of the company screamed bloody murder, claimed it was a rush to judgment, and that the results were legitimate and all was well. And the exchanges relented and trading resumed…with stock at 2 3/8 (yes, stocks did trade in fractions). I assumed as most did that the whole thing was, in fact, a hoax. But trading had been re-instated by the responsbile overseer and for a couple of hundred bucks per round lot, the potential upside was enormous - so I made the bet, and lost. But I'd do it again. Maybe I did.
Hello everyone,
Picking a good renter is akin to picking a good stock. You interview and evaluate, then hope for the best.
I use e-renter.com for background checks after an application is completed.
I NEVER rent to anyone without a full deposit being paid.
Also it helps to have the possible new renters go through the unit and then I slip out to inspect the interior of their vehicle. This is a tip off as to how they will keep my unit. Hopefully they are driving their own vehicle!
To me choosing a good stock has similarities to picking a good renter.
With either you may end up with a lemon.
Regards,
Alan
Pitt T. Maner writes in:
Here's an odd side effect of South Florida's foreclosure crisis: Some immense homes with pools and three-car garages in gated communities are being rented out to unlikely tenants — poor people paying with Section 8 aid. Among the properties are homes with up to 4,500 square feet of space in private communities with guardhouses and regal names such as "Monarch Lakes" and "Bellagio at Vizcaya."

Some of the owners are teetering on foreclosure and gambling they can earn enough money from the federal housing vouchers to stave off the banks. Others bought the properties cheap in foreclosure auctions and want the guaranteed rental income.

The Sun Sentinel examined federal housing subsidy data from housing authorities in Broward and Palm Beach counties and found 230 homes commanding rents of $2,000 or more, up to $3,375 a month, from Section 8 families. Typically, tenants pay about one-third of their income toward the rent and the government pays the rest.
Full article here: "Section 8 Gated Communities"
This is a funny article about the stress of fantasy football, and baseball, for that matter… and the agonies of mean reversion and slumping players.
"Fantasy Football is Stressful for Former Ameritrade Broker ":
"Ambrosius runs a luxury tier of what is now a $1.7 billion industry with more than 34 million players, according to the Fantasy Sports Trade Association.
The fantasy here is to make believe that you are the manager of a group of actual professional players you've selected from various teams. Their success becomes yours. When they score touchdowns in real games, you get credit in a fantasy world."
Inspired by the market if touched order and the trapdoor spider, I have been studying spiders with a view to the lessons they can teach. The following has been helpful to me. Spiders on Wikipedia. I find that the spider has many methods of capturing prey and avoiding predators. Some use speed, some use the web. Almost all the orders that are used in the market seem to have counterparts in the spider's arsenal. The limit order to me is the normal one we see when the prey gets caught in the web and can't get out.
The spider is particularly adept at signaling other predators like birds not to mess with it by attaching pieces to its web. Many use deception. They are often captured by wasps and other insects that pretend to be prey. They have a very clever path they follow to get to their prey without destroying it.
I am interested in what you might think we can learn from spiders.
Gary Rogan writes:
I have always found the web weaving spiders to be more fascinating. The ratio of the created object complexity to creator complexity for the web has got to be close
Pitt T. Maner III writes:
In the South we learn about the secretive, brown recluse spider and its reputation at an early age. Even though it does not use a web to catch prey it's a fascinating creature too. According to the second article below the spiders are developing generations more quickly this summer due to the extreme heat.
"In nature, brown recluse spiders live outdoors under rocks, logs, woodpiles and debris. The spider is also well adapted to living indoors with humans. They are resilient enough to withstand winters in unheated basements and stifling summer temperatures in attics, persisting many months without food or water. The brown recluse hunts at night seeking insect prey, either alive or dead. It does not employ a web to capture food — webs strung along walls, ceilings, outdoor vegetation, and in other exposed areas are nearly always associated with other types of spiders."
One man in Omaha has witnessed the infestation of brown recluse spiders first hand. Dylan Baumann has so far counted 40 brown recluse spiders within his home, "in the entryway, the bedroom, under the fridge." Despite living with such dangerous roommates, Baumann has yet to be bitten."They are called recluse for a reason – they can fall far back in the walls once you use poison and I'm told they can go for up to nine months without eating," Baumann said, adding he has called his landlord "about five times."

Jeff Watson writes:
In my part of the South and on my coast, we are constantly on guard for the Huntsman spider. They have a painful bite and are toxic but human hospitalization is rare… A recluse bite is much more damaging. Huntsman don't build a web, but catch prey using speed and ambush. The huntsman has legs resembling a crab, and is fast, extremely fast. Huntsmans also grow up to be bigger than the size of your hand, legs and body. They eat palmetto bugs, larger insects, small lizards, small frogs and toads. The mothers carry the children in an egg sack, which contain a few hundred babies. It is very disquieting to find one on the wall above your bed (and have it escape), which happens every once in awhile.
Ambergris is featured in a recent story about a young, English beachcomber, and in a new book entitled Floating Gold: A Natural (and Unnatural) History of Ambergris by Christopher Kemp.
Beachcombers along some of New Zealand's beaches are evidently quite protective of their collecting locations.
1) "Boy Finds Bonanza in Whale Vomit"
An 8-year-old boy in England could be up to $63,000 richer, thanks to a piece of solidified whale vomit he picked up on the beach. The chunk may look like a yellow-brownish rock, but it's actually a primo piece of ambergris, an expensive perfume ingredient that is, um, spewed out by whales.
2) Two quotes from Kemp :
"There is simply no stranger substance in the natural world. When it washes ashore, it is worth almost as much as gold. At various times, it has been worth double, and even triple, the value of gold. Even today, ambergris is found in farflung places like the Maldives, the Bahamas, and the Philippines, and then transported across the world, to be sold in Singapore, Dubai and the South of France."
"If you believe what you read in the media," he says, "you'd think ambergris is something that people just find by accident." The truth, he claims, is far more clandestine. "There's a whole underground network of full-time collectors and dealers trying to make their fortune in ambergris. They know the beaches and the precise weather conditions necessary for ambergris to wash up on the shore." And when whale-poop gold is on the line, he says, "it can get violent."
3) "How to Identify Ambergris"
Ambergris has an unusual odour which is difficult to explain to anyone who has never had the pleasure of its sensual aroma. Ambergris is often described as being musky and having a sweet earthy aroma unlike any other, or a mossy fragrance reminiscent of the damp forest floor. Depending on the quality of the ambergris there can be a great variation in the fragrance. Poor quality or fresh ambergris (which is black and sticky) is fairly offensive in fragrance. If you can imagine scented cow dung you will be on the right track. Many people expect ambergris to have a very strong or foul odour, but this is not the case. In general, lighter coloured pieces of ambergris have a subtle, pleasant smell. The base animal (manure) odour fades as the ambergris cures. However, the white and grey varieties, in particular, possess the subtle, sweet addictive aroma that beachcombing dreams are made of.
"US Agencies Help Afghanistan Exploit Mineral Wealth":
We have identified somewhere between 10 and 12 world-class copper, gold, iron ore and rare earth deposits that no one knew were there," Jack Medlin, regional specialist for the Asia-Pacific region in the USGS international programs office, told the audience. "In our 2007 publication, we gave an estimate of undiscovered mineral resources for the country, and … you can add up the tonnages of copper, lead, gold, iron, silver and so forth. … But this country has many more world-class mineral deposits than most countries in the world, if not more than any country," he said. That doesn't mean it will be easy to turn these resources into national income, Medlin told American Forces Press Service.
Some recent advances in technology:
"Avatars to Assist Passengers at New York City Airports" :
"They're the best kind of worker. Sarah, Libby and Marie don't take time off. They don't get sick. They always smile at the passengers.Just don't ask them any questions. They can't answer them. Because they're not humans — they're virtual Customer Care Representatives, or, as they're more commonly known, avatars."
And the 3D advertising is becoming quite eye-catching too. Check out this Star Trekish dematerialization.
And finally, who will need to fly cross country to meetings? Just send your avatar over the net at a fraction of the cost:
"Billionaires: Russian Mogul Wants to Upload Your Brains Into Immortality":
"Earlier this year, a Russian media mogul named Dmitry Itskov formally announced his intention to disembody our conscious minds and upload them to a hologram–an avatar–by 2045. In other words he outlined a plan to achieve immortality, removing the human mind from the physical constraints presented by the biological human body. He was serious. And now, in a letter to the members of the Forbes World's Billionaire's List, he's offering up that immortality to the world's 1,266 richest people."
And lastly, here is indeed a technological leap beyond Duane Hanson's "lifelike" figures.
Scientists find that success breeds success in sports:
"In the 1980s, psychologists showed that the hot hand idea in basketball was based on the misperception of random sequences. Now a statistical study of cricket scores suggests that it may have been premature to abandon the idea that success breeds success in sport"

"The 'hot hand' idea in sport is the belief that players who have had success in the past are more likely to be successful in the future. The most famous example is in basketball where many fans believe that a player is more likely to make a shot if he or she has successfully made the last 2 or 3 shots. In other words, the player has a 'hot hand'.

Back in the 1980s, three cognitive psychologists decided to take a closer look at this idea. Their studies showed that basketball fans indeed believed in the hot hand idea in shot sequences. They then examined the actual shot success rate of specific players to see if there was any truth in the idea.

The results were a surprise, at least for basketball fans. While some players are certainly better shooters than other players, the psychologists found no evidence of a hot hand phenomenon. The chances of success on the next shot are not correlated with the success of the last shot. In other words the hot hand idea is a fallacy.

The psychologists attributed the effect to a general misunderstanding of random sequences: long sequences of successful (and unsuccessful) shots naturally occur at random. They just look as if the player has a hot hand.

(A similar effect occurs in coin tossing experiments when people think a tail is more likely to occur after a long sequence of heads. This is known as the gambler's fallacy.)

In 1985, they published their results in a paper called "The Hot Hand in Basketball: On the Misperception of Random Sequences" and since then hot hand effect has been generally considered a fallacy.

But as a sports fan, it's hard to let go of the idea that success breeds success. Indeed, there has been huge debate since then over whether hot hand effects exist or not.

Today, researchers reveal that the hot hand effect is alive and well in the game of cricket.

The evidence comes from the work of Haroldo Ribeiro at the Universidade Estadual de Maringa in that well known cricket-loving country, Brazil, and a couple of pals.

These guys have examined the rate of scoring in three types of international cricket match played between 2002 and 2011. The three types are T20, which lasts for about 3 hours, one day games which last for about 8 hours and Test cricket, which lasts for five days.

The hot hand phenomenon is a type of memory effect since future performance is determined by events in the past. Because of this, there are well-established statistical techniques for revealing its presence.

Ribeiro and co duly put the data through its paces, examining not only the evolution of the scores over time but their variance too. They say they can clearly see long range memory effects at work. "This result shows that there is long-range memory in the score evolution… positive values are followed by positive values and negative values are followed by negative values much more frequently than by chance," they say.

So if a cricket team starts off scoring well it is more likely to score strongly later in its innings. Conversely, if a team starts badly, it is more likely to continue this poor run.

Interestingly, this effect is just as clear in Test cricket over 5 days as it is in T20 cricket over three hours. So the memory effect works over extremely long timescales, compared for example to basketball shooting sequences.

"The long-range persistent behavior in the score evolution not only indicates the existence of this phenomenon in cricket, but also suggests that this phenomenon can act over a very long temporal scale," say Ribeiro and co.

That's an interesting result. Cricket is a hugely psychological game in which confidence plays a major role. If confidence is contagious, it makes sense that early success can lead to success in the future.

Ribeiro and co say their methods can be applied to other sports as well so it should be possible to see the statistical fingerprint of a hot hand effect in other areas too.

The next question is whether this will effect sports strategy in future and in what way. Suggestions in the comments section below.
I recently watched 56 Up. It is a fascinating British documentary series I first saw at college over 30 years ago.
This is an interesting article about the series:
"The film is about the heroism in everyday life, which isn't the stuff of Hollywood movies but is the stuff everybody has to go through. And if there's one thing I do know, it's that everybody has a story."
The Wiki
Article of the Day: "Billionaire Democrat Jeff Greene Fears Revolt of the Poor"
The man who made his fortune hedging against the real estate market– and since 2009 accumulating mortgage-backed securities– still wants to represent the poor, improve their lot, convince his rich friends they should pay more taxes…
Pressler draws a picture of Greene, 57, worth an estimated $2.1 billion, as a man who lives in fear of a populist revolt, a plundering uprising of America's "poor people." As a member of the country's richest 1 
percent, Greene claims the nation's wealthiest people, people like 
himself, should pay more in taxes willingly– "buy a little democracy 
insurance"– because one day, "if you have 50,000 angry people coming 
across the river, you think you're safe?"
Pitt T. Maner III writes:
The revolutionary route into Palm Beach would be across the Southern Blvd. bridge which spans the intracoastal waterway (not exactly a river, but close enough). Fortunately for Mr. Greene, Donald Trump's Mar-a-Lago would be the first mansion encountered by the envisioned, angry hordes.
The only invasion activity seen at present are the wondrous sea turtles that are laying eggs in good numbers on the Atlantic Ocean beach side. The turtle hatchlings begin their life cycle in Florida and follow a general circle around the Azores to Florida and back. They are the endangered species and the "farmers" who are important to the ocean ecosystems.
"Recycled Cardboard Bicycles for $ 9?" :
They are made of recycled cardboard, can withstand water and humidity, cost nearly nothing – and might change the concept of green vehicle.

Izhar Gafni is a Kibbutz resident, who decided to prove to his fellow engineers that he could make a bicycle at nearly no cost. "They said it was impossible".
One wonders what other engineering and construction applications this folded, modified, recycled cardboard (or enhanced version of similar, ubiquitous materials ) might have.
1) From a forthcoming book on the use of algorithms which looks interesting.
"What started on Wall Street - a takeover at the hands of emotionless algorithms - has now spread to all corners of our lives. Music that sounds as if it could have been written by Bach was, in fact, composed by an algorithm. The best analysis at the CIA doesn't come from experienced agents, but from an algorithm. The best mind reader in the world isn't a psychiatrist or a psychologist, but a set of five million algorithms that knows what you're thinking and what you'll do in almost any situation. How did we get here?"
2) An article from Steiner on algorithms and creativity:

"Music X-Ray's algorithms use Fourier transforms—a method of separating a signal from the "noise" of complex data—to isolate a song's base melody, beat, tempo, rhythm, octave, pitch, chords, progression, sonic brilliance, and several other factors that catch a listener's ear. The software then builds three-dimensional models of the song based on these properties and compares it with hit songs of the past. Putting a just-analyzed song on the screen with No. 1 tracks of yore shows a kind of cloud structure filled in with dots representing songs. The hits tend to be grouped in clusters, which reveal similar underlying structures. Get close to the middle of one of those clusters and you may have a hit."
I recently read the wiki page about The Endowment Effect.
Basically, it says the one values his possession much more than others value it.
Thaler conducted the following experiment. He randomly gave some participants a mug, which sells for $6 in a store. He then asked the ones now owning the mug to give a minimum price below which they would not sell the mug, and asked the ones not having the mug to give a maximum price above which they would not buy the mug. It turns out that the owners valued it for $5.25, while the bidders valued it at $2.75. He concluded that the very fact that the persons owned the mug made them give it a higher value.
Very interesting research. But I wonder if the conclusion is as that simple.
First, I wonder what would happen if the owners were asked to buy another mug. How would they now value it? Since it is not a critical item to have and they already own one, it is reasonable to believe that they would bid an even lower price than the bids from those who didn't own it, isn't it?
Second, what about selling short is allowed in the experiment? If the people who didn't own the mug were asked to price it if they would sell it short. I bet their price would be even higher than what the owners offered, and very likely be higher than the $6 store price.
Any input on this, please?
Gary Rogan writes:
Leo, I'm not sure it's productive to attempt to extend these "effects", and there are many of them, beyond their original definition without doing actual experiments. This particular effect seems to be as simple as "defend what's yours harder than you would attempt to get the same thing from someone else", one of the ancient evolutionary developments. Primitive (as well as advanced) animals demonstrate the same effect when fighting for territory, that's why the challenger loses most of the times. Of course someone who has a relatively useless (from their original standpoint) mug to begin with doesn't want another one. Personally I find it more interesting to think about the practical value of the original effect. In the behaviorist books it's supposed to manifest itself by "holding on to losers too long". Every time I read this I always think about whether the logical conclusion is that a rational person should always sell "losers". Sometimes they bring up the tax loss effect, and that's fair but it doesn't get to the heart of the matter. Considering this question, and all the robotic trading that goes on, how would one take advantage of this effect?
Pitt T. Maner III writes:
The self-storage business might be an area where this effect is felt most strongly. There is a lot of rent money being paid (by baby boomers and those who have left houses) and property used to store old things instead of buying new.
Rocky Humbert writes:
This is a fascinating subject for exploration. Being only slightly tongue-in-cheek, I wonder what effect negative real interest rates have on the willingness of people to hold onto "junk" ? To the extent that "the cost of carry" (i.e. monthly rental fees) are small, hoarding is a rational behavior. Also, there was an article in the WSJ last week discussing the effects of "clutter" on marriages and home life. Lastly, there may be a "depression-era" and "aging demographic" effect occurring here. In the situations where I've (sadly) had to empty out elderly relative's apartments, I've discovered that depression-era people hoard useless things like return envelopes from bills, archaic car and doorkeys, memorabilia from bygone days, etc. I think that there are many interesting factors at work in this trend — and there is market-related utility in thinking about them.
Jim Sogi writes:
It's really hard getting rid of one's "junk". There is a weird attachment to the stuff. Its almost painful to throw stuff away. Then there's the issue of getting rid of the junk, and then needing that item the next day. Feng Shui has some good tips on clearing the clutter. There must be some sort of hardwired effect causing one to collect stuff. Look at the bag people pushing around carts of junk.
Craig Mee writes:
I'm with you, Jim, and in the tropics, clutter, dirt and smells brings mosquitoes, which is a very good reason to keep things clean.
On a side note. I've had a lot of trouble with mosquitoes, though I went to a friend open air villa the other evening , and when dusk hit, no mosquitoes ? I looked around and put it down to a) everything was white, walls , furniture, coverings, a well cared for garden, two ceiling fans, (some sea breeze) and importantly I thought …lights under the table we were sitting at. ie everything was clean , tidy, and white, with air.
Further, I read once, if you haven't worn clothes for a season, toss them. That's certainly worked for me.
No doubt those who make money in one particular stock , get attached, (you see it)…it clutters their mind, and they will drag any positive out of fundamentals, value, whatever to get back involved. Got to clear the clutter, or put it out of sight, to free the mind.

Rudolf Hauser writes:
In considering the impact of the pure psychological effect on value from ownership, one should not ignore the economic effect. The cost of the purchase is not just the purchase price of the item but the value of all the effort that went into finding the item in the first place and how difficult it might be to be able to buy it again. Then there is the risk of the replacement being defective or other problems in the acquisition thereof that might happen. One also has to consider the potential cost of needing an item and not being able to acquire its replacement in time to meet that need. As an example, I once wanted to buy a new ink eraser to replace the one that wore out. I then found that I had to run around to seemingly countless stores to find this inexpensive item –an effort countless times more expensive in opportunity cost than the price of the item itself. Needless to say, when I finally found the item, I purchased a whole box full to insure that I never would have to spend so much in search costs again for that item. Nor would I have sold those again except for much more than I paid for them.
As for the psychological impact, say one has purchased an object of great beauty at a price that subsequently appreciated considerably. The new higher price might be one at which one would not consider it prudent to buy given the overall state of one's financial resources even though it is an item one might wish one could buy. But already possessing it one has the excuse for buying it via not selling it because one already had done the deed in effect. When an item is not unique or rare and is easily replaced when a new one is needed, one would not suspect that same tendency to value the item in possession more than the same item not in possession. It would be interesting to see if this effect still persists in that case and how it compares to the former.
A stock would be of the latter type at least in small quantities. With larger quantities there is always the uncertainty as to how much such purchases might impact the price, which would the economic reason as opposed to a psychological reason. A psychological reason might be the emotional difficulty of making a decision that one is not anxious to repeat, ignoring the fact that with an investment an implicit decision has to be made every day as to whether to continue to hold or not. The difference is that to sell or purchase is an active decision whereas to hold can be a passive decision. In effect holding is also a way of putting off a decision.
This is a very interesting short film about risking life and limb to bring a delicious gooseneck barnacle to market:
In the northwest corner of Spain, in the coastal region of Galicia, fishermen boat into fjord-like inlets called rias and rappel from slick rocks to collect gooseneck barnacles in crashing surf. They hang down in pairs and watch each other's backs as they scrape and claw the crustaceans from slick six-foot sections of barnacle-tiled rocks battered by frigid waves.
And this is another interesting article about them
"Galicia's Hard to Come By Barnacles"

Structuring their lives around every subtlety of this unpredictable climate and treacherous coast, fishermen must wait for the proper tide (it should be as low as possible to expose the percebes) and ideal sea conditions (relative calm), and watch for signs of strong undercurrents or of brewing storms. Any conditions that are less than ideal keep them idle at port, sometimes for days at a time.
I bet they are wonderful with a local white wine.
They have a short piece here showing how they made the film and it shows the fish market with the price of the barnacles—love how the fisherman (at 1:05) points to eye to tell the cameraman to watch. Quite fascinating.
Interesting use of camera on small, remote control helicopter too.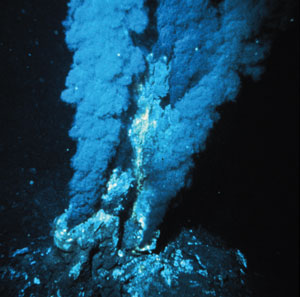 I recently read this interesting article: "Vast deposits of Gold and other Ores Lure Seabed Miners".
Quite a leap from the 70s when scooping up manganese nodules off the sea floor was to be the next big thing. As a side note there is a very good exhibit of a black smoker in the American Museum of Natural History in NYC:
These finds are fueling a gold rush as nations, companies and entrepreneurs race to stake claims to the sulfide-rich areas, which dot the volcanic springs of the frigid seabed. The prospectors — motivated by dwindling resources on land as well as record prices for gold and other metals — are busy hauling up samples and assessing deposits valued at trillions of dollars.
Based on the International Seabed Authority website, exploration activity is indeed picking up:
"If all these applications are approved, this will bring the number of active exploration contracts issued by the Authority to 17, compared to only 8 in 2010."
The Hanging Gardens of Babylon and Arcosanti come to mind:
"Singapores Supertrees Light Up the Night"
"The Supertrees, which vary in height between 80 and 160 feet, are made of four parts: reinforcement concrete core, trunk, planting panels of the living skin, and canopy. Just like non-mechanized forests, the large canopies operate as temperature moderators, absorbing and dispersing heat, as well as providing shelter to visitors walking below. This suite of technologies can help to achieve at least 30% savings in energy consumption, compared to conventional methods of cooling, according to the project's website. Special sky bridges connect a few of the trees, for those brave enough to walk above Earth at the height of the top of skyscrapers. "
This is a complicated ecological subject of a cyclical nature:
"This may be the largest epidemic we've experienced, but it's far from our first," says Sky Stephens, entomologist for the Colorado State Forest Service. "We had a lot of forests of uniform age, very limited forest-management activities, and we've spent a lot of time suppressing fire. All of this allowed a very large percentage of Colorado's pine forests to enter their most susceptible life phase at the same time. And then we had a significant period of drought."
Beetles thrive in drought years. Pines respond to beetle attacks by oozing resin, "pitching out" the invaders, but a lack of water weakens that defense process. Well-watered trees have been known to drive out thousands of beetles; a drought-plagued tree can succumb to a handful. If the beetles manage to set up house in the tree bark, they infect the tree with a blue-stain fungus that serves to nourish their young while strangling the tree's hydrology and eventually killing it.
……"The forests are going to look more like what they were when the European settlers came to Colorado," Mitton says. "That's not an awful thing. Once the aspen are doing well, the lodgepole will come back and shade them out — and there we go again."'

Are the beetles setting the stage for larger, more severe wildfires? And are fires bringing on beetle epidemics? Contrary to popular opinion, the answer to both questions seems to be "no."
The Lipstick Effect:
"Furthermore, we discovered that the lipstick effect and a woman's desire to attract a mate with resources are unrelated to her independent resource access. Women of both higher and lower socioeconomic status expressed an increased desire to buy luxury beauty products when primed with recession cues. This suggests that an uncertain economic climate leads women to heighten mate attraction effort irrespective of their own resource need.
Although consumer spending typically declines in economic recessions, some observers have noted that recessions appear to increase women's spending on beauty products—the so-called lipstick effect. Using both historical spending data and rigorous experiments, the authors examine how and why economic recessions influence women's consumer behavior. Findings revealed that recessionary cues—whether naturally occurring or experimentally primed—decreased desire for most products (e.g., electronics, household items). However, these cues consistently increased women's desire for products that increase attractiveness to mates—the first experimental demonstration of the lipstick effect. Additional studies show that this effect is driven by women's desire to attract mates with resources and depends on the perceived mate attraction function served by these products. In addition to showing how and why economic recessions influence women's desire for beauty products, this research provides novel insights into women's mating psychology, consumer behavior, and the relationship between the two
This is a study with possible implications for future growth. The coastal area around Senegal has an interesting combination of high productivity and lower depths to groundwater:
"Here we present the first quantitative continent-wide maps of aquifer storage and potential borehole yields in Africa based on an extensive review of available maps, publications and data. We estimate total groundwater storage in Africa to be 0.66 million km3 (0.36–1.75 million km3). Not all of this groundwater storage is available for abstraction, but the estimated volume is more than 100 times estimates of annual renewable freshwater resources on Africa. Groundwater resources are unevenly distributed: the largest groundwater volumes are found in the large sedimentary aquifers in the North African countries Libya, Algeria, Egypt and Sudan. "
And as noted in NY Times:

This water holds enormous potential to help people and nations move out of poverty, produce more food and better adapt to climate change. But it also could lead to tensions between neighboring countries.
A special issue of Science devoted to the human gut microbiota is out this month– an area of study attracting much attention.
One of the journal articles discusses how a Chinese scientist, who studies gut microbiota in rats and humans, changed his gut biota and greatly improved his health by eating "prebiotics", fermented Chinese yam, bitter melon, and a diet rich in whole grains.
The term "prebiotic" has a definition slightly different from the more commonly heard "probiotic". The definition of a prebiotic:
"A prebiotic is a selectively fermented ingredient that allows specific changes, both in the composition and/or activity in the gastrointestinal microflora that confers benefits upon host well-being and health". (prebiotics that may be more readily available in a US grocery store include raw chicory root, raw Jerusalem artichokes, raw dandelion greens, raw garlic and leeks, etc.)
The Gut Microbiota
1. Kristen Mueller,
2. Caroline Ash,
3. Elizabeth Pennisi,
4. Orla Smith
"We are on the threshold of making profound discoveries about the microorganisms with which we share our bodies, indeed whose cell count vastly outnumbers our own. In Science's 2005 special section Gut: The Inner Tube of Life, we saw hints of the important relationships we have with the microbial inhabitants of our guts. Since then, next-generation DNA sequencing and functional studies have begun to reveal how crucial these inhabitants are for our evolution, development, metabolism, immune defense, and susceptibility to a multiplicity of infectious and noncommunicable diseases.
Science and Science Translational Medicine have joined forces to resume the exploration of our inner tube and its microbiota. As Gordon points out (p. 1251), investigations into gut microbiota draw from many fields: ecology, genomics, metabolomics, immunology, and public health. A gathering of diverse minds and ideas will drive the development of new therapies for treating intractable infections, scourges of the developing world such as malnutrition (Sci. Transl. Med.4, 137ps12), and lifelong inflammatory diseases, such as Crohn's disease and colitis, as well as offering options for relieving the burden of metabolic diseases, including obesity and type II diabetes.
A new appreciation of the diversity and interactions among our microbiota has prompted Costello et al. (p. 1255) to turn to ecological theory to gain an understanding of the dynamics at work in gut communities. Functional studies have shown us that disruptions to the community caused by diet and medication can be detrimental to health. In a companion Review, Lemon et al. (Sci. Transl. Med.4, 137rv5) use ecology to gain insights into the disruptions caused by antibiotic therapy and remediation using probiotics. Nicholson et al. (p. 1262) explain explain how the gut microbiota is a major contributor to host metabolism through nutrient release, and how microbial metabolites boost fitness. Haiser and Turnbaugh (p. 1253) take up the theme of microbial metabolic activities and discuss their influence on drug metabolism. A related Review by Holmes et al. (Sci. Transl. Med.4, 137rv6) discusses the interplay between host and microbial metabolisms, which is providing new therapeutic opportunities for treating human disease.
From birth, the microbiota intimately shapes the development and function of the human immune system. Hooper et al. (p. 1268) review the mechanisms by which the immune system regulates the microbiota and vice versa to maintain intestinal homeostasis. And Blumberg and Powrie (Sci. Transl. Med.4, 137rv7) discuss how disruptions to this homeostasis can lead to severe diseases such as cancer and Crohn's disease. Some of these insights have come from dedicated programs in microbiome research, as discussed in a news article by Balter (p. 1246). A profile by Hvistendahl (p. 1248) highlights the efforts of Zhao Liping to fight the developing obesity epidemic in China with prebiotics.
These joint special sections in Science and Science Translational Medicine still provide only a distant view of our inner world. The next decade will see a revolution in understanding our microbial symbionts and how they can be manipulated for therapeutic benefits that will bring true inner world peace."
Here is a great article about the "Father of Plate Tectonics", Alfred Wegener, who 100 years ago began publishing his ideas about continental drift. His theories met stiff resistance from leading American geologists and paleontologists for decades and were not to gain acceptance until the 1960s.
'But Wegener was not timid about disciplinary boundaries, or much else. He was an Arctic explorer and a record-setting balloonist, and when his scientific mentor and future father-in-law advised him to be cautious in his theorizing, Wegener replied, "Why should we hesitate to toss the old views overboard?"'
From "When Continental Drift Was Considered Pseudo Science"
This is an interesting article on the genetic testing of horses–trying to find the next Kentucky Derby winner.
The latest trend among consultants to horse buyers and breeders is to rely on algorithms involving a "speed gene" and other markers, not just x-rays and endoscopes.
Ever changing cycles in public sentiment or just a catchy headline?
"French Sour on Nuclear Power"
The new book The Mark Inside: A Perfect Swindle, a Cunning Revenge, and a Small History of the Big Con by Amy Reading may be of interest:
"[Norfleet] got swindled partly because of his intelligence. He was a 54-year-old self-made man. He had gone from being an itinerant cowhand to owning his own cattle ranch, and the way that he grew successful was to do business with a handshake with other honest, straightforward men. And those were exactly the qualities that the swindlers, who encountered him in Dallas when he went there on a land deal, used to take him for everything that he was worth. … When he met Joe Furey, Furey represented himself as a broker on a stock exchange — someone with inside knowledge of this arcane financial world that was very different [than] the world of cattle. So, it's not so much that his moral radar was off as that he thought he was vaulting up into a new plateau of financial savvy. And they flattered his knowledge and his intelligence."
From an NPR article about it.
Reading's uses material from a 1924 book by Norfleet entitled Norfleet: The Actual Experiences of a Texas Rancher's 30,000-Mile Transcontinental Chase After Five Confidence Men.
"How Cooperation Can Slow Emergency Evacuations":
"In a fire, the obvious strategy is to leave the area by the nearest fire exit. Consequently, crowd behaviour specialists exercise a great deal of thought about how best to indicate fire exits, whether with a steady or flashing green light, for example.But what if the exits are not visible? What then is the best strategy for getting out? There are essentially two options–to make your own way to the exit, regardless of what others are doing; or to follow somebody else or a bigger group in the hope that you'll do better together than alone. "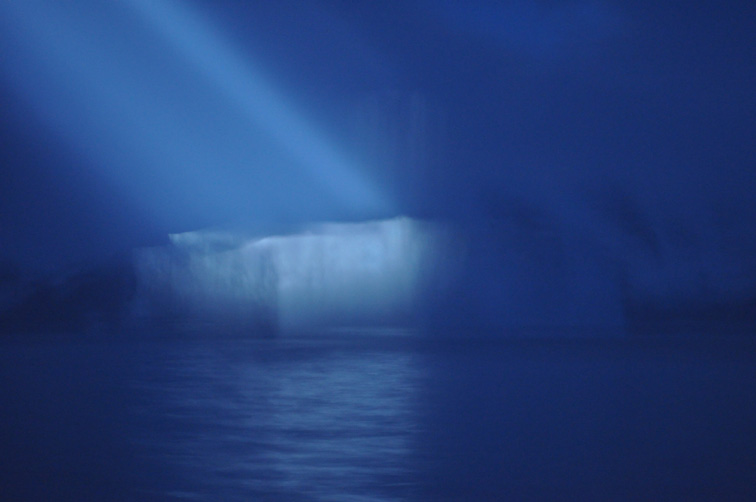 It would be interesting to know what the actual odds of hitting an iceberg were in the years noted below and how many ships had gone down due to hitting icebergs prior to Titanic. Head-on vs. side-tearing collisions:
"Collisions with icebergs were common," he says. "[There were] about 15 in 1884, 30 in 1885, 20 in 1890, 16 in 1897. For over 20 years [before the sinking of the Titanic], the editorials in many of the newspapers and shipping journals were highly critical of … the incessant demand for ever increasing speed with ships charging across the North Atlantic with undue care for safety in the hazards of fog and the hidden obstacles of derelicts and ice.
"In other words," Hill concluded, "the Titanic disaster was just waiting to happen … The most shocking thing about it was its inevitability. People knew it would happen sooner or later, but the industry did little about it.
From the Atlantic article "No, The Moon Did Not Sink the Titanic".
On why the iceberg was not seen in advance:
It's been reported that the iceberg warnings were ignored because the wireless operator was too busy sending out passenger messages via the Marconi wireless room.
But more important perhaps was the iceberg itself. What we have here is not the traditional snow-covered glacier but one that had become clear through continuous melting and refreezing, transforming it into a kind of dark mirror against the calm water and the clear night sky.
Read more here.
The likelihood Entergy will win the war against the State is low. The state can easily demonstrate they do not need the power and therefore it is not in the public's interest to issue the "certificate of public good."
This is a two-front war. New York is trying to shutter Entergy's Indian Point nuclear plant using similar tactics. The NYS is using new environmental laws to claim Entergy's plant is out of compliance and incapable of receiving a license extension:

Entergy Corp won another victory in its quest to keep the Vermont
Yankee nuclear power plant operating for another 20 years when a federal
judge again blocked the state from shutting the 40-year old reactor -
this time over a spent fuel issue.
Pitt T. Maner III writes:
Here is a photograph of the plant . Article states close to 1/3 of Vermont power for 40 yrs. generated by Yankee plant.
It's interesting to note that > 50% of the 104 US nuclear power plants are over 30 years old and many are bumping up on 40 year permit renewal.
Would natural gas or coal-fired plants replace Yankee?

—
keep looking »
Archives
Resources & Links
Search