"An algorithm that learns through rewards may show how our brain does too"
Zubin Al Genubi writes:
You can shape a child's behavior through positive reinforcement of successive approximations of the desired behavior. Attention is the greatest re-enforcer. Unwittingly parents shape bad behavior by paying attention to bad behavior. "Now Johnny, don't hit your sister, that is not nice" is reinforcing.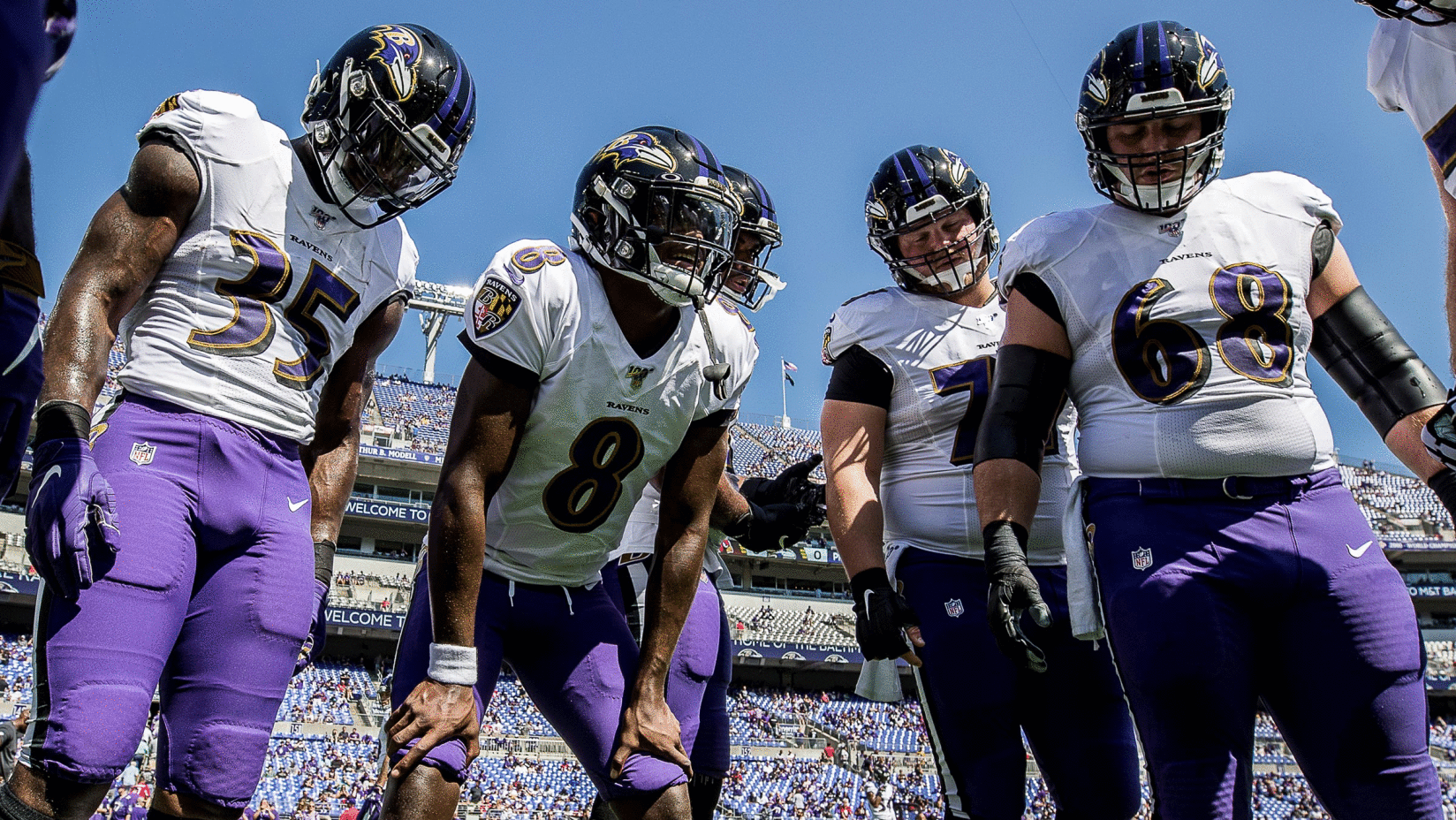 Sports statistics all show that you should go for it on fourth and short but going for it three times led to the Ravens loss. It provides a caution to those who follow market regularities religiously. There is a good thread on this at VicNiederhoffer@twitter.com.
Ralph Vince writes:
Football is peculiarly about making the wrong mathematical decisions. I'm not sure why it is, but I suspect the rapid turnover in coaches and the fact that there is an unavoidable second-guessing in the press and by fans, helps coerce these mistakes.
The most glaring example of this is the (lack of) 2 pt conversions. Mathematically, there are a host of times where this should be taken though you'll never see it. When was the last time a tea in the lead ever took one in the first half?
Russ Sears writes:
Besides second guessing by the press and the fans there's second guessing by their own teammates. The defensive team doesn't like the offense to take risk because they feel they could have stopped the other teams offense given the chance. It's like couples deferring to their partner's lack of risk tolerance.
Ralph Vince writes:
Team sports, by our definition, should ipso facto be more inherently risk-averse than individual sports.
Alston Mabry writes:
Just re the NFL, I was listening to a roundtable interview with players, and the question was, "What's harder to play, offense or defense?" And I was surprised when the unanimous verdict was defense. The explanation was that the offense knows what's going to happen, whereas the defense doesn't, which adds an extra level of stress and is one reason why you hear about the defense "getting tired" by the 4th quarter but you never hear that about the offense.
Ralph Vince writes:
In terms of expected yards per play, because players at the pro level are so good, it;s hard to argue against the fastest receivers getting out ahead of of coverage, and not throwing the ball short; the potential interference call makes the average yards per play considerably higher.
In football gambling, it is ALL about average yards per play.
Today the life expectancy, healthcare, nutrition, available resources, and standards of living in the world's poorest countries largely exceeds that of the world's wealthiest countries at the onset of the Industrial Revolution. On the morning of January 1, 1800 in Britain, life expectancy was 36.6 years and GDP was just $3,430 per capita. Today, life expectancy in Zambia, one of the world's poorest countries, exceeds 50 years, and GDP per capita is greater than $3,800.
One of the great history 'what ifs' is what Reconstruction would have been like if Lincoln hadn't been assassinated.
At the March '09 low, the S&P total market cap was about $5.3T (if I'm doing the math right).
Since then, according to Yardeni, the S&P has returned about >$4T to investors via buybacks and dividends.
Zubin al Genubi writes:
Bonds moving with equity rather than opposite.
"Top 10 Emerging Technologies Of 2019: World-changing technologies that are poised to rattle the status quo"
"…free trade is something of a historical aberration…"
Andrew McAfee on More from Less:
Andrew McAfee of MIT's Sloan School of Management talks about his book, More from Less, with EconTalk host Russ Roberts. McAfee argues that technology is helping developed nations use fewer resources in producing higher levels of economic output. The improvement is not just a reduction in energy per dollar of GDP but less energy in total as economic growth progresses. This "dematerialization" portends a future that was unimaginable to the economists and pundits of the past. McAfee discusses the potential for dealing with climate change in a dematerialized world, the non-material aspects of economic progress, and the political repercussions of the current distribution of economic progress.
Math Ethnic Studies Framework (20.08.2019)
Can you suggest resolutions to oppressive mathematical practices? How can we change mathematics from individualistic to collectivist thinking?
Russ Sears writes:
I shared responsibility of teaching Algebra 2 with a lady that let the kids do homework in groups of 3 Of course only 1/3 the kids in her class passed the final and 30% of her kids passed the state test. She got the smartest kids too. As she had an honors class which was about 30% of her students. One of her regular classes only had one student pass.
Tennis is so interesting. One player can be so good on one surface that the best players in the world can't even take him to five sets.
"Rafael Nadal Takes Another Step Towards Tennis History"
By winning the final grand-slam tournament of the season, Nadal brought himself within one title of Roger Federer's record for the most slams ever won by a male player. Barring a catastrophic injury along the lines of a ruptured Achilles tendon or torn ACL, Nadal seems more likely to surpass his great rival in that category. He's almost five years younger, and while Federer's longevity in tennis is approximate to Tom Brady's in football, Federer will likely retire before Nadal, meaning that Nadal will have more opportunities to collect grand-slam hardware. Just as important, Nadal is still the best clay-court player in the world by an almost unfathomable margin. He has won the past three French Opens without once being pushed to five sets. He will remain the prohibitive favorite at that tournament until another player proves a worthy adversary.
An interesting article with a hint (energy/nutrient flow) of the Dailyspec's recommended book, "The Way Life Works" (Hoagland and Dodson) is this: "Soil's Microbial Market SHows the Ruthless Side of Forests".
It should be noted, however, that interactions seen in a petri dish are not always representative of what happens in a living system– in fact, there are antibiotics that are being revisited because they are much more effective in the complexities of the human body than once thought based on petri dish performance.
The cooperative vs. " cutthroat" views of nature are being tested.
Some quotes follow:
"Toby Kiers, an evolutionary biologist at VU University Amsterdam, finds that the interactions among plants and their fungal symbiotes resemble a cutthroat marketplace in which the species negotiate their exchanges of nutrients ruthlessly."
And
"Based on observations of the free-market system, Kiers suspects that what has stabilized plant-fungal mutualisms for at least 470 million years is not that individual organisms are committed to the good of the community, but rather that, in most cases, both plants and fungi benefit more from trading with each other than from keeping resources to themselves."
Alston Mabry writes:
One thing I notice is people talking about competition and cooperation as if they are equal concepts on the same level biologically, rather than seeing cooperation as one strategy inside a framework of competition.
I happen to be working in this area the last few years, and I am sold on the insights from current learning science.
Very useful and practical.
This book is an excellent summary by some of the leading researchers:
"Make it Stick: The Science of Successful Learning"
Leo Jia writes:
Spaced repetition of concepts from both directions are the most efficient way to me for learning new things.
I wonder what more he offers with a full book.
"Actor Bryan Cranston Reveals His Creepy Encounter with Charles Manson"
"Propagation of Error: Approving Citations to Problematic Research":
Abstract

Many claims in a scientific article rest on research done by others. But when the claims are based on flawed research, scientific articles potentially spread misinformation. To shed light on how often scientists base their claims on problematic research, we exploit data on cases where problems with research are broadly publicized. Using data from over 3,000 retracted articles and over 74,000 citations to these articles, we find that at least 31.2% of the citations to retracted articles happen a year after they have been retracted. And that 91.4% of the post-retraction citations are approving—note no concern with the cited article. We augment the analysis with data from an article published in Nature Neuroscience highlighting a serious statistical error in articles published in prominent journals. Data suggest that problematic research was approvingly cited more frequently after the problem was publicized. Our results have implications for the design of scholarship discovery systems and scientific practice more generally.
"With 16 Months to go, Negative Partisanship Predicts the 2020 Presidential Election"
On whether the D side can find a candidate that will actually stimulate the turnout required:
The potential advantage they have is a long primary process, during which they hope a clearly strong candidate will emerge. And they will figure out what messages to focus on to get that turnout.
What 45 will do is try to time a great trade breakthrough with China so that it gives him max boost going into the election. That timing should be a tradeable opp.
The Best Books by Adventurers recommended by Alastair Humphreys
Alastair Humphreys is a British adventurer, author and blogger. He spent over 4 years cycling round the world, a journey of 46,000 miles through 60 countries and 5 continents. More recently Alastair has walked across southern India, rowed across the Atlantic Ocean, run six marathons through the Sahara desert, completed a crossing of Iceland, busked through Spain and participated in an expedition in the Arctic, close to the magnetic North Pole. He has trekked 1000 miles across the Empty Quarter desert and 120 miles round the M25—one of his pioneering microadventures. He was named as one of National Geographic's Adventurers of the Year for 2012.

The best books on Victorian Adventures (though the selections may seem to stray) recommended by Stephen Evans
The Best Travel Books recommended by Paul Theroux

The best books on India, Ancient and Modern recommended by William Dalrymple
The award-winning writer selects five books on India and says that the Mahabharata, eight times the length of the Bible, is one of the great works of literature of mankind - and every bit as good as it's made out to be.
David Epstein is a writer who had a NYT bestseller in 2014 called The Sports Gene.
His new book is called Range.
In this podcast interview, Epstein discusses the book.
Lots of interesting topics, including some nice statistical points, and also a few lagniappes for Gladwell h8rs:
Epstein mentions this online discussion between him and Gladwell.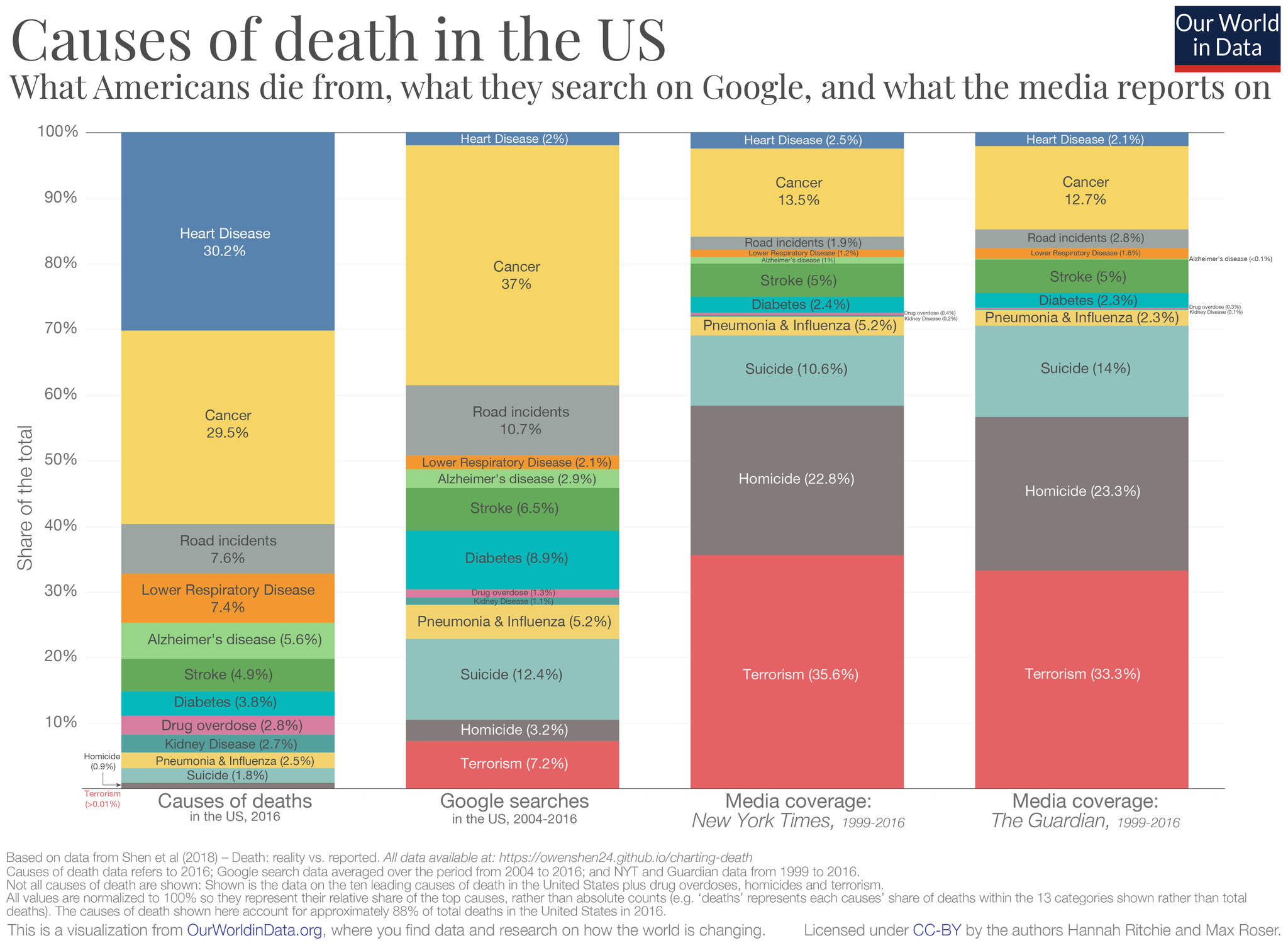 Causes of death versus media coverage of the same.
Presumably they're trying to show that media over-emphasizes terrorism and murder, and that we worry about the wrong things.
But the vast majority of medical mortality is not caused by others, and to a large extent is, at least eventually, unavoidable.
You have to die from something, and the two most common things are cardiovascular disease and cancer.
Actually, that would have been an excellent title for it:
"You have to die from something"

Just to scratch a quantitative itch, here are correlations for the S&P quarterly.
One hopes it's clear as presented.
Slightly larger magnitudes in bottom 2 rows one assumes is mostly from smaller sample sizes.
And btw, the Q on Q R, or autocorrelation, is +0.07.
A sign hangs in prolific romance novelist Danielle Steel's office:
"There are no miracles. There is only discipline."
Interestingly, Steel has 9 children.
A lagniappe on socialism vs capitalism:
"Why the U.S. Should Adopt the Nordic Approach to Private Roads"

Many view the United States as a free market capitalist state and Nordic countries such as Sweden and Finland as socialist due to their extensive welfare system. Yet, in the United States, most roads, highways, and other transportation infrastructure are publicly owned and operated. Meanwhile, the vast majority of roads in Sweden and Finland are operated by the private sector and maintained by local communities. Examining Sweden and Finland's public-private road model may give us insight into how private roads can operate in the United States.
"Federal Trade Comission Oversight and the Need for Online Consumer Privacy Legislation"

However, if the idea is that "harder regulation" will somehow tame the big Silicon Valley platforms, the opposite has happened. The EU's General Data Protection Regulation (GDPR), along with similarly heavy-handed regimes such as California's Consumer Privacy Act, entrenches established platforms that have the resources to meet their onerous compliance requirements. Since the GDPR's implementation in May, the rank and market share of small- and medium-sized ad tech companies has declined by 18 to 32 percent in the EU, while these measures have increased for Google, Facebook, and Amazon. My new paper, "What the GDPR really does and how the US can chart a better course," documents these unintended consequences and argues for an innovation-based approach to data privacy and protection along with consumer education.
anonymous writes:
Thank you, Mr. Mabry, for sharing this fitting analysis of the EU Data law.
Regulation is always institutionalized corruption, collusion and state-sanctioned monopolization against small enterprises and citizens.
It is very hard not to rant about this topic; Hey Europe I recommend burning books next–surely books are more dangerous than allowing us to read American newspapers!
Something with market implications: Significant Wave Height
And an interesting bio: Walter Munk
Jim Sogi writes:
As a surfer, I expect at least one wave on any given day to be 10x the size of the smaller sized waves. The idea of the "rogue" wave is also misguided since in the open ocean there will be waves, 10x the smaller sized wave on any given day. We call it the wave of the day. Lucky is the guy who waits for it and doesn't get caught inside and thrashed and can ride the crest to the inside.
It's the holes created in the water, not just the peaks, that can be as dangerous as the breaking crest. I've been in rough water when the boat just drops below the surface in a terrifying moment as the water sucks out under the boat. Not intuitive at all. These can be terrifying market moments when it happens, but it's definitely part of the ocean and market physics.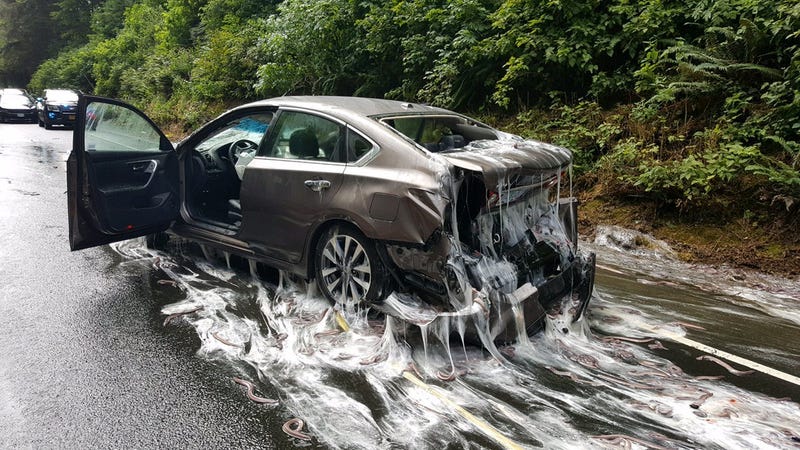 "No One Is Prepared for Hagfish Slime" is a fascinating article you might want to take a look at.
It expands by 10,000 times in a fraction of a second, it's 100,000 times softer than Jell-O, and it fends off sharks and Priuses alike.
Here is a direct link to the video from the article, showing hagfish using their slime for both defense and offense.
"AlphaStar won the games unfairly via unit control & mechanical actions with suprahuman actions per minute & vision of the battlefield."
-"DeepMind AI AlphaStar goes 10-1 against top 'StarCraft II' pros"
I wouldn't call it unfair, but I agree that this is a different class of game, where physical response time is an issue and an area where computers plugged directly into the game have a clear advantage. I always wondered what kind of advantage Watson had with button response time, playing Jeopardy.
400 free Ivy League university courses you can take online in 2019.
I sometimes explore online courses looking for interesting lecture videos that I can either watch or convert to mp3's and use as podcasts.
Mr. Isomorphisms writes:
Their list doesn't have a couple of my favourites. Aiken's compilers course at Stanford and MIT's xv6 lions commentary on unix.
Recent mathematical finds:
-a locus with 25920 linear transformations by H F Baker (archive.org)
-ikosahedron by Felix Klein (archive.org)
-slodowy: platonic solids, kleinian singularities, and lie groups
-Elie Cartan: theory of spinors (more readable than you might think; written in the autumn of his life)
-Park & Yang: yang-baxter equations. (on arXiv, written for an encyclopedia)
The A-D-E stuff is probably the most interesting mathematics ever found. (Mathematicians get to leverage the enormous and relatively obvious differences between platonic solids to make inferences about other structures.)
I'll say this, MIT OCW (started ~2002, no productivity gains so far) is higher quality than Sam's Teach Yourself C++ at Barnes & Noble.
Competition in general has benefits, but 30 cold medicines yet none of them work is just more confusing things to try. Speaking of cold medicines that don't work and competition/markets, I would contrast Guatemala to the U.S. in this way. Guatemala has genuine markets–small merchants who will negotiate on price–whereas the U.S. has CVS (posted-offer, negotiations behind the scenes by eg Procter & Gamble vis-a-vis CVS). CVS will carry fewer cold medicines but they will work.
Back to education and MOOC's: delivery of a higher-quality product happens online than Barnes & Noble (or public library), with youtube (Federico Ardila), PDF's hosted on someone's site (Andrew Ranicki), or Rails/post-Rails MOOC's. More people know about more stuff because of youtube documentaries; that's already happened. It just won't improve work output, other than–we've yet to see how this pans out–millennials deciding that programming is the only decent career, and that they can teach themselves (including 25-year-olds who have held 1-9 jobs teaching for General Assembly).
There are 400 free Ivy League university courses you can take online in 2019
I sometimes explore online courses looking for interesting lecture videos that I can either watch or convert to mp3s and use as podcasts.
Mr. Isomorphisms writes: 
Their list doesn't have a couple of my favorites, including Aiken's compilers course at Stanford and MIT's xv6 lions commentary on unix.
Recent mathematical finds:
-A locus with 25920 linear transformations by H F Baker (archive.org)
-Ikosahedron by Felix Klein (archive.org)
-Slodowy: platonic solids, kleinian singularities, and lie groups
-Elie Cartan: theory of spinors (more readable than you might think; written in the autumn of his life)
-Park & Yang: Yang-Baxter equations (on arXiv, written for an encyclopedia)
The A-D-E stuff is probably the most interesting mathematics ever found. (Mathematicians get to leverage the enormous and relatively obvious differences between platonic solids to make inferences about other structures.) 
Here's a holiday gift, an hour-plus presentation from Carnegie Mellon on Libratus:
Superhuman AI for heads-up no-limit poker: Libratus beats top professionals

Wiki on Libratus
One interesting thing that is clear from human vs computer poker is that a key advantage the computer has is lack of emotional response to risk, i.e., the computer never goes on tilt.
India, Australia, Canada, Italy and France (and their banks) are coming off their rails:
"Australian House Prices Fall Most Since Global Financial Crisis"
Sydney's property downturn accelerated in November, propelling nationwide house prices to the biggest monthly drop since the global financial crisis, as credit curbs and buyer nerves continue to bite.

Nationwide home values fell 0.7 percent last month, led by a 1.4 percent drop in Sydney and 1 percent in Melbourne, according to CoreLogic Inc. data released Monday.

The drop takes the total decline in Sydney since the July 2017 peak to
9.5 percent, on the cusp of overtaking the 9.6 percent top-to-bottom decline recorded during the last recession 27 years ago. This decline is even steeper than the 1989-91 fall, showing how quickly sentiment has flipped.
Stefan Jovanovich comments:
The declines in the gold currency prices of wheat, coal, rail and water-born freight and lumber that were the "deflation" of the growth explosion of the 19th century came to be seen as "normal". They became so obviously the way things are that rising prices seemed not only the exception but also the product of conspiracy. How can urban land prices keep increasing–despite their recurring temporary panics–if it is not some kind of manipulation, asked Henry George. Even the prices of luxuries like diamonds (thank you, Mr. Rhodes) keep falling.
We are in an age in which credit has seen the same explosion of volumes that the steel industry saw with Carnegie and Krupp. The presumption has been that these loans were prudent for the same reason expansions in industrial capacity were willingly financed at fixed rates for as much as half a century. What called those industrial loans into question was the collapse in foreign exchange that was the financial carnage of WW 1. My presumption is that this crisis is not about the collapse in FX; Germans and Chinese will be able to pay for imports in 2019 in a way neither was able to do in 1919. But, what will collapse are the expected incomes of the civil service and other government pensioners (other than Social Security recipients) and their ability to borrow against their houses. It will be like the farming crisis of the industrial age–a devastation to the small holders that was unable to be softened because the political majorities would not pay for the bailout.
I received a correspondence from a friend entitled "is this useless shit index signaling S&P declines?"
It prompted me to try to count something I had been wondering about:
1940: $284
2000: $602
Annualized rate of inc: 1.26%
2000: $602
2017: $982
Annualized rate of inc: 2.93%

(Data sources)
I recommend the Pbs documentary The Ghost Army
War, deception, art and glory come together in the documentary film "The Ghost Army," the astonishing true story of American G.I.s — many of whom would later have illustrious careers in art, design and fashion — who tricked the enemy with rubber tanks, sound effects and carefully crafted illusions during WWII. Filmmaker Rick Beyer tells a remarkable story of a top-secret mission that was at once absurd, deadly and amazingly effective.
I'm particularly fascinated by the game of traffic analysis.
NSA article on traffic analysis in WW1.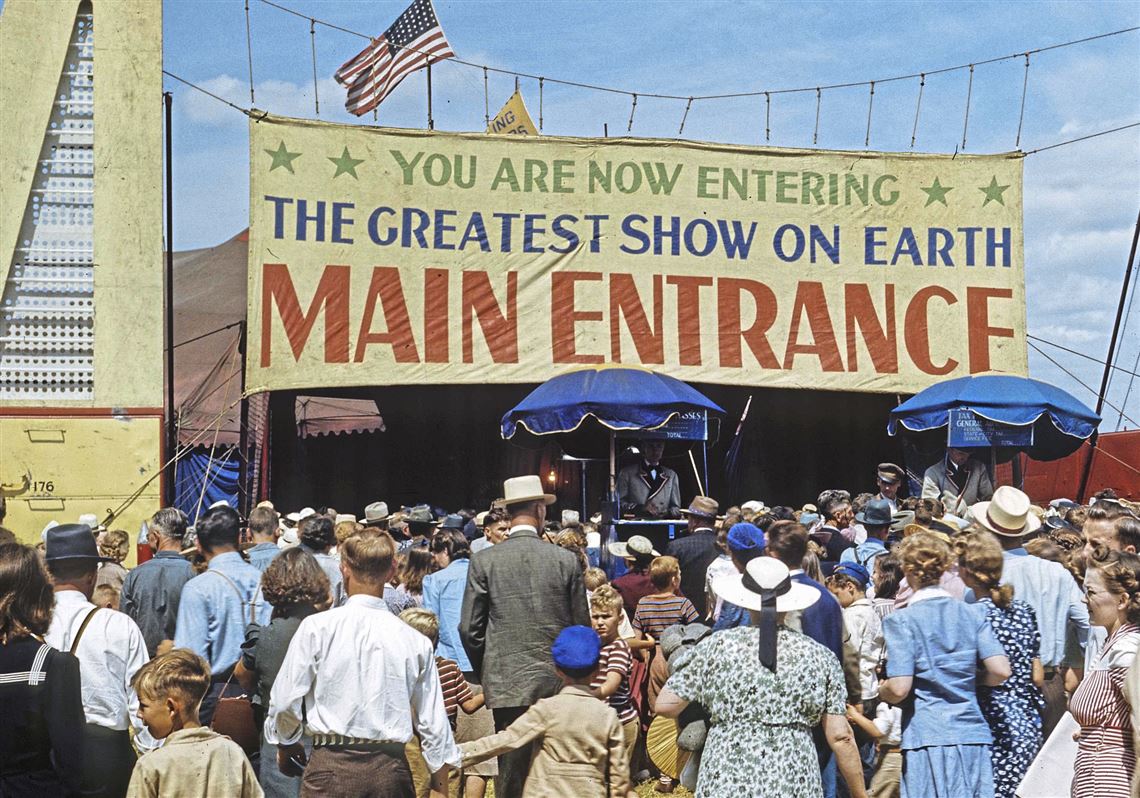 This is very nicely done and I wish it were even longer, like a Ken-Burns-style series:
This four-hour mini-series tells the story of one of the most popular and influential forms of entertainment in American history. Through the intertwined stories of several of the most innovative and influential impresarios of the late nineteenth century, this series reveals the circus was a uniquely American entertainment created by a rapidly expanding and industrializing nation; that it embraced and was made possible by Western imperialism; that its history was shaped by a tension between its unconventional entertainments and prevailing standards of respectability; and that its promise for ordinary people was the possibility for personal reinvention. For many Americans, the circus embodied the improbable and the impossible, the exotic and the spectacular. Drawing upon a vast and richly visual archive and featuring a host of performers, historians and aficionados, The Circus follows the rise and fall of the gigantic, traveling tented railroad circus and brings to life an era when Circus Day would shut down a town and its stars were among the most famous people in the country.
538 version:
HOR: 5 in 6 the D side wins control
Senate: 2 in 3 the R side maintains control
Stefan Jovanovich writes:
538 offers us their assurance of the accuracy of their 3-headed model by telling us how successful it has been. After all, their accuracy score in actual election predictions has been between 95.7% and 96.9%. Or, to put is another way, their inaccuracy score has been between 3.1% and 4.3%; on average, they have been wrong in only 3.7% of their predictions.
That looks wonderfully impressive until you remember that, in House of Representative elections in the United States, you have to look through the small end of the telescope. Since the passage of the Permanent Apportionment Act in 1929, only 22 of the 44 elections have seen a change in either party's seats that was greater than 538's strikeout average.
If you limit the sample to the current period in which the House changed hands between the two major parties - i.e. 1994-present, there have been only 4 elections out of the 12 that have seen a change greater than 3.7%.
Their astounding "accuracy" is built into the game. Since 1929 the mean change in the number of seats has been 1 (.2%) and the median change has been 3 (.6%). Even when you look only at the "wave" elections - those whose changes are greater than 538's inaccuracy percentage, the mean change has been 44 seats (10.2%), the median gain by the Democrats has been 37 seats (8.5%) and the median gain by the Republicans has been 46 seats (10.6%).
I trust Big Al's and others' math more than my own; but these spreadsheet calculations suggest to me that we are playing the 95% confidence interval game.
In any case, this seems to me a bit like forecasting the pennant based on teams' records in spring training. The primaries are only now ended and even "well-informed" citizens barely recognize the names of the candidates the parties have chosen. The one survey that no political polling firm will ever take is the name recognition one where citizens are asked to match their local candidates with their party affiliations; even among likely voters the results are wonderfully bad. It will not be until 4 weeks before election day that a majority of them will be able to guess the names of the people on whom the fate of the Republic depends.
At that time guessing about the likely results becomes less like propaganda and more like the speculation that we all enjoy.
Back on October 9th.
US Market Cap/GDP
Steve Ellison writes:
This indicator was also mentioned in Mark Hulbert's article in the Wall Street Journal on Sunday. People who cite it as an indicator usually implicitly assume that the aggregate value of the stock market should grow at the same pace as GDP over the long term.
I believe this assumption is flawed for two reasons. Privately held companies are not counted, so changes in the relative percentages of public and private companies affect the ratio. More importantly, the traditional capital structure of 50% debt and 50% equity, in which all upside value goes to equity holders, is a good reason why stock valuations should increase faster than GDP, especially over very long periods. Indeed the inflation-adjusted compound annual growth rate in the S&P 500 between the generational lows of 1982 and 2009 was 4.4%, significantly more than GDP growth during the same period. So I don't lose any sleep over this ratio being higher now than in 1929.
Stefan Jovanovich writes:
In a recent speech Jorg Meuthen made a simple point: GDP calculations assume that civil servants are somehow as magically "productive" as the people who have to do work for a living and successfully sell their work for cash.
No one in the "mainstream" (sic) wants to do calculations that remove all the recipients of government payments from political economic calculation. It is, from the point of view of modern economics, heresy.
I took Big Al's elegant calculation and found its "private sector" derivative.
The results are precisely what spec and others see in their views of the data. Not at all a pretty picture. If you take private earnings from wages net of taxes as a proxy for the country's additions to wealth, the 5 years up to and including 2017 only recovered the amounts lost from 2007 through 2011. From the point of view of people to do work that other people actually pay for, the last decade has been a complete wash. It is only the gains for this year and beyond that can be counted as actual increases in wealth.
Mr. Isomorphisms writes:
Thanks for doing the work for this calc. I would argue your characterisation of government work is overly harsh. Shuttering IndyMac took real work, was productive, and experienced a boom during the decade in question.
There was a boom in useful work for bank regulators around the time of Continental Illinois as well. Stefan, as you pointed out with regard to an economic historian's writing, details matter. Even if on average government employees are worse, that varies across time and across agencies/remits.
More importantly certain kinds of useful work are not privatised. In fact anything that was privatised (parks management, penitentiary management, utilities) by construction used to be a government job that accomplished something. Furthermore various government initiatives do often produce private benefit–I'm thinking of the stories of Bureau of Land Management and Army Corps of Engineers in Marc Reisner's Cadillac Desert. Whether irrigation ditches are dug on Brigham Young's holy command, on debt-financed speculative capitalist entrepreneurship, or bureaucratic mandate, water changes course.
Steve Ellison writes:
This indicator was also mentioned in Mark Hulbert's article in the Wall Street Journal on Sunday. People who cite it as an indicator usually implicitly assume that the aggregate value of the stock market should grow at the same pace as GDP over the long term.
I believe this assumption is flawed for two reasons. Privately held companies are not counted, so changes in the relative percentages of public and private companies affect the ratio. More importantly, the traditional capital structure of 50% debt and 50% equity, in which all upside value goes to equity holders, is a good reason why stock valuations should increase faster than GDP, especially over very long periods. Indeed the inflation-adjusted compound annual growth rate in the S&P 500 between the generational lows of 1982 and 2009 was 4.4%, significantly more than GDP growth during the same period. So I don't lose any sleep over this ratio being higher now than in 1929.
Stefan Jovanovich writes:
In a recent speech Jorg Meuthen made a simple point: GDP calculations assume that civil servants are somehow as magically "productive" as the people who have to do work for a living and successfully sell their work for cash.
No one in the "mainstream" (sic) wants to do calculations that remove all the recipients of government payments from political economic calculation. It is, from the point of view of modern economics, heresy.
I took Big Al's elegant calculation and found its "private sector" derivative.
The results are precisely what spec and others see in their views of the data. Not at all a pretty picture. If you take private earnings from wages net of taxes as a proxy for the country's additions to wealth, the 5 years up to and including 2017 only recovered the amounts lost from 2007 through 2011. From the point of view of people to do work that other people actually pay for, the last decade has been a complete wash. It is only the gains for this year and beyond that can be counted as actual increases in wealth.
Here's a New Yorker video about professional poker players replaying their most memorable hands. You can find many similarities between trading and the game of poker. Many market lessons are offered in this short video.
Alston Mabry writes:
This book is short and well done:

Thinking in Bets: Making Smarter Decisions When You Don't Have All the Facts by Annie Duke
"Poker champion turned business consultant Annie Duke teaches you how to get comfortable with uncertainty and make better decisions as a result".
Jeff Watson replies:
This is a good interview with Duke. It's long but worth it.
Alston Mabry writes:
I recorded most of the Main Event at the World Series of Poker that was just played and I have been catching up on it off the dvr.
There was a very dramatic hand that decided the last seat at the final table (video here), where out of ten players, three of the players had these hole cards:
AA
KK
KK
All three went all in, and the aces won the hand.
They keep replaying that hand and then showing a graphic that explains that the odds of having three players with those hole cards at a 10-player table are 70,688:1.
The irony is that if you consider seeing, for example, these pairs of hole cards at a 10-player table:
7h, 4c
10d, 6s
Jd, 2c
the odds are even higher, because in the Aces and Kings example, the suits of the Aces aren't specified. But we usually don't take note of the combinations that seem "random", i.e., that don't create a meaningful-for-us pattern.
Likewise, the chances of flopping a Royal Flush of Spades is no greater than flopping, for instance:
2s, 3h, 7c, 9d, Jh
or any other 5 cards specified by both rank and suit. The irony there is that if you're watching Texas Hold'em tournaments, the odds of seeing somebody flop a Royal Flush of Spades are actually better than the odds of seeing somebody flop that specific junk hand, because players who start with components of a royal flush are more likely to stay in the hand, whereas those with junk hole cards are more likely to muck them and nip the possibility in the bud.
Of course, the WSOP is a TV show, and they want as much drama as they can get.
Mr. Isomorphisms writes:
Brian Lee Yung Rowe recently posted about a game he invented for training staff in quantifying confidence/uncertainty: Fermi Poker.
A great story I did not know. Some of the Wrens were only seventeen.

Wargaming the Atlantic War: Captain Gilbert Roberts and the Wrens of the Western Approaches Tactical Unit:
The Western Approaches Tactical Unit (WATU) was a Royal Navy analysis team founded in early 1942. Their remit was to study the conduct of convoy operations, to understand how the U-boats operated and to formulate tactics to counter this evolving threat. The unit was made up of experienced naval officers and a number of talented young women from the WRNS. Using conceptual/analytical wargames, WATU developed a range of tactics during the war and disseminated these to over 5,000 Allied officers through a series of lectures and tactical games. Many of these appeared in the Atlantic Convoy Instructions and were used with considerable success by Allied naval forces during the decisive engagements of the Atlantic War. The essay outlines the origins and purpose of the organisation, how the team functioned, the individuals that conducted the wargames, and the series of evolving challenges that it was intended to overcome – focusing on the series of Anti-Submarine Warfare training and analysis wargames conducted by the unit between 1942 and 1943. The article concludes with an overview of some of the numerous lessons that modern defence analysts could draw from the work of the unit and highlights its utility as an exemplar of the use of wargaming as a tool for modern defence analysis.
I'm sure you have read articles like this, but I found it hard to believe at first. Buy the close and sell the open since 1993 returns just under 600%. The reverse flat.
anonymous writes:
Along comes an article BUY THE CLOSE SELL THE OPEN. Since 1993 with 5280 observations the average move at the open is 0.2 that's 20 points on 1000 base, i.e, 0.02 % it's unchanged from open to close.
Alston Mabry writes:
SPY, for the last 250 trading days:
mean Close-Open: +0.17
sd Close-Open: 0.9839755
mean Open-Close: -0.06
sd Open-Close: 1.88
anonymous writes:
transaction costs….

When Will AI Exceed Human Performance? Evidence from AI Experts

Abstract

Advances in artificial intelligence (AI) will transform modern life by reshaping transportation, health, science, finance, and the military. To adapt public policy, we need to better anticipate these advances. Here we report the results from a large survey of machine learning researchers on their beliefs about progress in AI. Researchers predict AI will outperform humans in many activities in the next ten years, such as translating languages (by 2024), writing high-school essays (by 2026), driving a truck (by 2027), working in retail (by 2031), writing a bestselling book (by 2049), and working as a surgeon (by 2053). Researchers believe there is a 50% chance of AI outperforming humans in all tasks in 45 years and of automating all human jobs in 120 years, with Asian respondents expecting these dates much sooner than North Americans. These results will inform discussion amongst researchers and policymakers about anticipating and managing trends in AI.
I have a cold and so not much energy for anything other than watching tv. I'm catching up on Michael Woods' show about China, and in episode three there is an incredible story about the siege of Kaifeng and the destruction of one of the dynasties in the early 1100s by northern invaders (vid cued up to that point). If you watch it, be sure to get to the poem that is read, "On the Defeat of the Nation" by Li Qingzhao.
I can't find an online version of that specific poem by Li Qingzhao, but I did find this group of translations of some of her other poetry, and there is some really striking stuff with such a clear voice from nine centuries ago:
A sample:
Last night, dead drunk, I dawdled
While undoing my coiffure,
And fell asleep with a sprig of
Faded plum blossom in my hair.
The fumes of wine gone,
I was woken out of my spring sleep
By the pungent smell of the petals,
And my sweet dream of far-off love
Was broken beyond recall.
Now all voices are hushed.
The moon lingers and softly spreads her beams
Over the unfurled kingfisher-green curtain.
Still, I twist the fallen petals,
I crumple them for their lingering fragrance,
I try to recapture a delicious moment.
Leo Jia writes:
In Turkey today, it is illegal trying to inquire about one's ethnicity. The country stands by a slogan that it is one country, one race, and one religion. I bet they learned the tactics from China just about 2000 years ago when all the country men were termed the Han.
Speaking about Chinese poems, I always wondered in what dialects they were chanted. Obviously not in the mandarin as we know it today, because it's been only widely spoken for less than a century even though it was used mostly in the royal courts as early as the Qing Dynasty some 300 years ago.
But anyhow, due to the nature of the Chinese language being based predominantly more on writing than speaking, it's very hard for a listener to fully understand the chant of a poem, mostly tersely phrased. One just can not easily guess which actual character (which defines the meaning) of a particular sound (which can mean many things) is used.
This was an excellent documentary on Teddy Roosevelt in the amazon in 1914.
Into the Amazon tells the remarkable story of the journey taken by President Theodore Roosevelt and legendary Brazilian explorer Cândido Rondon into the heart of the South American rainforest to chart an unexplored tributary of the Amazon. Two of the most celebrated men from their respective nations, Roosevelt and Rondon set out with twenty other adventurers in 1914. Over eight eventful weeks in one of the most remote places on earth, the ill-equipped expedition navigated deadly rapids in crude dugout canoes. Hunger and exhaustion were compounded by the rainforest's unforgiving topography, which forced the men to carry heavy canoes long distances. What was anticipated to be a relatively tranquil journey turned out to be a brutal test of courage and character. Before it was all over, one member of the expedition had drowned and another had committed murder. Roosevelt would badly injure his leg and beg to be left behind to die. More than a dramatic adventure story, Into the Amazon shines a light on two of the western hemisphere's most formidable men, and the culture and politics of their two formidable nations.
Dick Carpenter of the Institute for Justice and author of Bottleneckers talks with EconTalk host Russ Roberts about his book–a look at how occupational licensing and other regulations protect existing job holders from competition.
Kirkus Reviews:

Best 2017 Books of Disturbing Yet Necessary History

THE SECOND WORLD WARS: How the First Global Conflict Was Fought and Won

by Victor Davis Hanson
Not just another account of World War II, but a thoughtful overview of the battles that were "emblematic of the larger themes of how the respective belligerents made wise and foolish choices about why, how, and where to fight the war."

According to veteran military historian and Hoover Institution senior fellow Hanson (The Savior Generals: How Five Great Commanders Saved Wars that Were Lost—From Ancient Greece to Iraq, 2013, etc.), the war began during the 1930s as a series of fairly straightforward border conflicts—e.g., Germany versus its neighbors, Japan versus China. Suddenly, in 1941, as the result of poor decisions around the world, it exploded into a global conflict that the so-far-victorious Axis Powers were guaranteed to lose. Beginning with its cause, Hanson dismisses the time-honored denunciation of the Treaty of Versailles, which was softer than the peace Germany imposed on France in 1871 or the Soviet Union in 1918. It was the humiliation that nagged. Neither Germany nor Japan was endangered or impoverished; both believed that their honor had been slighted and that their racially superior citizens deserved better than their decadent neighbors. "The irrational proved just as much a catalyst for war as the desire to gain materially at someone else's expense," writes the author. Four long chapters on weapons deliver a few jolts. Everyone knows that infantry wins wars, but Hanson maintains that strategic bombing probably persuaded Japan to surrender. High-tech weapons—the B-29, proximity fuse, and atomic bomb—unquestionably helped the Allies. Vaunted German technology (rockets, jet planes, guided missiles) merely wasted money. Unique in its 50 million to 80 million deaths—the great majority of which were civilians and included far more Allied than Axis soldiers—and worldwide extent, WWII broke no rules. Hyperaggression and ruthlessness win battles; resources and stubbornness carry the day.

An ingenious, always provocative analysis of history's most lethal war.
Alex Castaldo adds:
The author gives an overview of his book in two interviews:
https://www.hoover.org/research/part-i-second-world-wars-victor-davis-hanson
https://www.hoover.org/research/part-2-second-world-wars-victor-davis-hanson
Quick summary from Tyler Cowen: "The Rate of Return on Everything"
Here is what I learned from the paper itself:
1. Risky assets such as equities and residential real estate average about 7% gains per year in real terms. Housing outperformed equity before WWII, vice versa after WWII. In any case it is a puzzle that housing returns are less volatile but about at the same level as equity returns over a broader time span.
2. Equity and housing gains have a relatively low covariance. Buy both!
3. Equity returns across countries have become increasingly correlated, housing returns not.
4. The return on real safe assets is much more volatile than you might think.
5. The equity premium is volatile too.
6. The authors find support for Piketty's r > g, except near periods of war. Furthermore, the gap between r and g does not seem to be correlated with the growth rate of the economy.
I found this to be one of the best and most interesting papers of the year.
The NBER version says you can have it for free if you live in a "developing" country or are an establishment drone of various types, but in **big red letters** says that I can't have it, so here is the working paper version.
Federal Reserve Bank Of San Francisco Working Paper Series

The Rate of Return on Everything, 1870–2015 "scar Jordà Federal Reserve Bank of San Francisco, University of California, Davis et al
December 2017 Working Paper 2017-25
This paper answers fundamental questions that have preoccupied modern economic thought since the 18th century. What is the aggregate real rate of return in the economy? Is it higher than the growth rate of the economy and, if so, by how much? Is there a tendency for returns to fall in the long-run? Which particular assets have the highest long-run returns? We answer these questions on the basis of a new and comprehensive dataset for all major asset classes, including—for the first time—total returns to the largest, but oft ignored, component of household wealth, housing. The annual data on total returns for equity, housing, bonds, and bills cover 16 advanced economies from 1870 to 2015, and our new evidence reveals many new insights and puzzles.
A general observation: Reading various market analyses, it seems the modal form now is this:
(1) The market is over-valued versus some metric such as CAPE.
(2) Therefore, the market is going to crash.
As opposed to:
(1) The market is over-valued versus some metric such as CAPE.
(2) Therefore, it's reasonable to expect below-average returns going forward for some time period.
We seem to be very "crash sensitive".
A general observation: Reading various market analyses, it seems the modal form now is this:
(1) The market is over-valued versus some metric such as CAPE.
(2) Therefore, the market is going to crash.
As opposed to:
(1) The market is over-valued versus some metric such as CAPE.
(2) Therefore, it's reasonable to expect below-average returns going forward for some time period.
We seem to be very "crash sensitive".
Brink Lindsey of the Niskanen Center and Steven Teles of the Niskanen Center and Johns Hopkins University talk with EconTalk host Russ Roberts about their book, The Captured Economy.
Lindsey and Teles argue that inequality has been worsened by special interests who steer policy to benefit themselves.
They also argue that the influence of the politically powerful has lowered the overall growth of the American economy.
Doug Irwin on US Trade Policy
Tyler Cowen thinks Douglas Irwin has just released the best history of American trade policy ever written. So for this conversation Tyler went easy on Doug, asking softball questions like: Have tariffs ever driven growth? What trade exceptions should there be for national security, or cultural reasons? In an era of low tariffs, what margins matter most for trade liberalization? Do investor arbitration panels override national sovereignty? And, what's the connection between free trade and world peace?
They also discuss the revolution as America's Brexit, why NAFTA is an 'effing great' trade agreement, Jagdish Bhagwati's key influence on Doug, the protectionist bent of the Boston Tea Party, the future of the WTO, Trump, China, the Chicago School, and what's rotten in the state of New Hampshire.
Gas futures spiked, as did stocks of refiners.
This looks interesting, though for me personally, I don't think I could muster the data necessary to test it:
"How Bond Markets Can Predict Moves in Stocks":
Liquid, high-yield bonds foretell equity moves: Berkeley study Professor says shares react more slowly to complex financials
The "smart" money may deserve its reputation after all.
High-yield bonds moving with the ebbs and flows of U.S. earnings announcements tend to predict stock returns for a slew of issuers — particularly firms with a modest level of institutional equity ownership. So stock investors seeking an informational edge should keep their eyes on junk-bond prices on the heels of earnings reports.
That's the conclusion of a paper by Omri Even-Tov of the University of California at Berkeley, who took a look at the bond returns that followed a whopping 19,518 quarterly earnings announcements of 770 firms from 2005 to 2014.
"The bond price reaction provides incremental explanatory power for post-announcement stock returns over and above the information contained in the earnings surprise (the post-earnings announcement drift), the level of reported accruals (the accruals anomaly), and the immediate stock price reaction to the earnings announcement," writes Even-Tov, an assistant professor at the Haas School of Business.
Russ Sears writes:
High yield bonds returns are not normal. This is because there are periods of very little volatility and then periods of high outliers. There were 2 days with in the financial crisis with more than 10% losses in the ETF JNK. That is about -12 standard deviations away from the mean (the std dev is 0.88% mean of 0.010% per day) And one day in the recovery or 15.6% returnsNeither are returns "random" as there are average spreads, over corporate bonds are predictive.
What does this have to do with the article. Well this suggest that junk bonds by definition are companies struggling to find financing. Hence in each crisis they are not diversified but will tend to behave like the struggling sector. Each recession causes and recovery are different. Last recession the struggling sector got bailed out.
But care and very long term studies with many recessions are needed to reach definitive conclusions. But yes, high spreads with widening spreads probably mean hard times and low spreads and lowering spreads are probably signs of a bull market.
I would add the real question is are junk bond "spreads" a leading indicator of recession (better than stock indexes) concurrent or lagging indicator. The financial crisis seems to imply it's a leading indicator… however, bond guys generally are insiders of financial institutions. Bonds are not as liquid as stocks and hence unless one is using an ETF (not developed till 2007), one is comparing a theoretical class backwards put together returns or a sub sector of the class from a managed fund. In short because of the cyclic/non-random nature and because of the very fat tail/non-normal distribution, one must be highly versed in statistic or perhaps economics to use junk bonds in any way to allocate assets.
anonymous writes:
I haven't read this paper, but my guess is it captures a psychological/structural phenomena which may not be systematically useful:
Making a gross generalization, I believe that most bond investors are pessimists and most stock investors are optimists. The most a bond investor ever earns is his coupon plus par, whilst there is no limit to what a stock investor can earn. Because of this tail asymmetry (to which Russ sort-of alludes), it is plausible that bond investors may be faster to pull the rip cord on a problem investment. But that doesn't mean that the bond guys are right. It just means their expected value shifts in a different way. And once a bond price has fallen away from par and into the range of distress, it trades like a stock, not a bond. So this is a dynamic process too.
SpecList has had many posts about companies whose bonds are priced for default/impairment yet the stock prices still reflect positive equity /going-concern value… certain mining stocks (that subsequently filed for bankrupty) and Valeant are just two recent examples. But which came first, the chicken or the egg???
Competition: maybe healthcare just needs more of it:
"Merck, Samsung Accelerate a Biosimilar Price War":
Back in November, when Pfizer Inc. launched its biosimilar — a generic version of a drug made with living cells — of Johnson & Johnson's blockbuster inflammation drug Remicade, it priced the copy at just a 15 percent discount to the original's list price. That disappointed anyone hoping biosimilars would bring a golden age of cheaper drugs. But it was also relatively friendly, as far as legally risky launches of copycat versions of flagship products go. It left J&J not having to fear losing too much in the way of sales, while giving Pfizer a healthy margin on its own sales.

But then Merck & Co. and Samsung Bioepis had to ruin the party on Monday, by launching a competing biosimilar — developed by the Samsung biotech unit and marketed by Merck in the U.S. — at a 35 percent discount to Remicade's list price.

This has effects beyond Remicade and its imitators. The biosimilar market is developing just as Allergan PLC CEO Brent Saunders predicted: As more versions of drugs hit the market, prices will rapidly drop, eating away at the profits of everybody involved.

[ … ]
Indian equities have been smoothly chugging along. Flagship indices at PE of 18 and some pink papers writing its already the most expensive market in the world. Another headline that caught my eye today was that Market Cap of Indian stocks has reached 2 Trillion USD, whiskers lower than that of Germany & Canada.
No, I am not describing the current moment as a bubble, AT ALL. Yes this market seems valued and while it is flirting very very close to the first 5 digit round number, the magical 10000, there is a much deeper bubble building up and the current market is nowhere close even its onset.
Before I lay my two line thesis, at the end of this note, let me share an image that was circulating much through market-mens' whatsapp here today.
In the local market-colloquilism, the market operators are typically alleged to make the public wear stock at the tops. So when a wearable cloth image was going around on Whatsapps today, one could not miss recalling old posts on the list regarding the struggle ahead of a big round and its eventual release. Well thats a digression into the short term.
The real big bubble factors could be:
a) The world needs its next, bubble. This is a key surmise for one to guesstimate where the next bubble will rise. [More on this on a separate thread, why the world needs the next bubble]
b) Sobriquet of fastest growing economy already bestowed.
c) Political risk computes on India are at all time low with a uber-dynamic CEOesque Prime Minister. Valuations are a function of confidence and quality of management in any security. India was ranked as having the highest confidence in its Government amongst all countries recently, with 76% of the sample stating so, highest of all countries.
d) Cutting the long list of so many other potential factors that may appear to be mere bones, when I put this piece of meat on the table: The Government may very likely drop the Income Tax Rates from the current 32% to almost 12% or 10% before the General Elections in first half of 2019. It might do so by way of a policy to bring the Income Tax rate down in 5 years from 32% to 12%. Many reasons for the Government to do this:
i) Very low rate of compliance right now. The Laffer Curve may be put to play or expected to put to play. ii) Black Money, or unaccounted wealth of Indians, stashed in the banks around the Alps has been a key element of all political rhetoric. Destroy the device that motivates c reating black money, a.k.a. high Income Tax Rates so there will be huge jump in disclosure of incomes. There may be a huge flight of capital inwards into India too.
e) For now, the thing that may be important is, whether or not this much of a tax regime tectonic shift comes or not by 2019, these expectations will be taken very very seriously in the next eighteen months.
So while through the school of mumbo & jumbo, with this indicator or that indicator or this study or that study will keep pointing to a 5% dip for traders to keep playing, the huge huge short gamma, short delta risk on India will be out in the open pretty soon.
In the long run, before we all are dead, the expectable income is truly only gains in taxes and reduction in the cost of capital.
Alston Mabry writes:
Thanks for the analysis, Sushil. I notice too that most estimates of currency valuations show the rupee as one of the most, or the most undervalued.
Peter Ringel writes:
This sound like wonderful news for India!
I am quite a Modi fan boy myself. I am happy to read, that his administration has not lost it's drive yet.
I think there was a lot of FDI into India because of Modi – like a Trump-like catalyst and these tax reforms sound very healthy to me.
I am very surprised that Modi is able to do this.
After decades of socialism, related red-tape/corruption and state-sanctioned monopolies I had pretty much given up on India.
I was wrong and now I think the potential in India is huge.
Thank you for the update, Sushil.
Charles Pennington writes:
As of January 2015, the Big Mac Index had the rupee 60% undervalued. The only two currencies that were more undervalued were the Russian and Ukrainian currencies, 72% and 75% undervalued, respectively.
By a long shot, the Swiss franc was the most over-valued based on the index, 57% over-valued. Second place — Norwegian krone at 31%.
Only 5 of the 57 currencies listed were over-valued against the dollar.
I was a little surprised to see Hong Kong at 49% under-valued. Supposedly a Big Mac costs $2.43 in Hong Kong and $4.79 in the U.S. The U.S. number seems high — does that include fries?
On the topic of comparisons, there are many being made between 2017 and 1999, because of the run-up in tech stocks.
In early 2000, I looked at the top stocks in the Nazz 100 and found that they were selling for 83x earnings and 14.7x revs.
Here is a quick take on the top stocks in the QQQ now, using ati instead of earnings.
A great video to watch: Hitchens on Orwell.
Christopher Hitchens talks with EconTalk host Russ Roberts about George Orwell. Drawing on his book Why Orwell Matters, Hitchens talks about Orwell's opposition to imperialism, fascism, and Stalinism, his moral courage, and his devotion to language. Along the way, Hitchens makes the case for why Orwell matters.
Ken Burns' Vietnam series starts in September.
I wonder if Gen. Vang Pao's story will be part of it:
"Gen. Vang Pao, Laotian Who Aided U.S., Dies at 81"
Even before President Dwight D. Eisenhower's vow in 1960 that Laos must not fall to the Communists, the country was immersed in bloody conflict. Its importance grew immensely during the Vietnam War, when most of the Ho Chi Minh Trail, the serpentine route that North Vietnam used to funnel supplies southward, ran through Laotian territory.
The United States wanted to interdict the supply route, rescue American pilots shot down over Laos and aid anti-Communist forces in a continuing civil war, but was hampered in doing so publicly because Laos was officially neutral, so the C.I.A. recruited General Vang Pao for the job. At the time, he held the highest rank ever achieved by a Hmong in the Royal Laotian Army, major general.
The Hmong are a tribe in the fog-shrouded mountains separating Laos from southern China, and they were natural allies for the C.I.A. because of their enmity toward Laotian lowlanders to the south, who dominated the Communist leadership.
General Vang Pao quickly organized 7,000 guerrillas, then steadily increased the force to 39,000, leading them in many successful battles, often against daunting odds. William Colby, C.I.A. director in the mid-1970s, called him "the biggest hero of the Vietnam War."
Lionel Rosenblatt, president emeritus of Refugees International, in an interview with The New York Times Magazine in 2008, put it more bluntly, saying General Vang Pao's Hmong were put "into this meat grinder, mostly to save U.S. soldiers from fighting and dying there."
When the C.I.A. approached him in 1960, he was already fighting Laotian Communists. The next year, he would also fight Communists from Vietnam after they had crossed the Laotian border. The Times in 1971 said that the C.I.A. did not command the general's army at any level, because his pride and temper would have never permitted it.
The general led troops into combat personally, suffered serious wounds and was known to declare: "If we die, we die together. Nobody will be left behind." About 35,000 Hmong died in battle.
General Vang Pao was also skilled at uniting the 18 clans of Hmong. One technique was to marry women from different tribes, as multiple marriages were permitted in Laos. He had to divorce all but one of his five wives when he went to the United States in 1975, settling on a ranch in Montana.
General Vang Pao lived more recently in Southern California and Minnesota, where many of the 200,000 Hmong that followed him to the United States or were born here live. His picture hangs in thousands of homes.
Stefan Jovanovich writes:
The beauty of the New York Times is that they always get it wrong. Eisenhower's "vow" came in 1954, not 1960. There is even video.
I can guarantee that Burns et. cie. will get wrong the other unspoken part of Eisenhower's "domino" theory - the one that was communicated privately to the Soviets now that Stalin was dead: Indochina would be the last acceptance by the U.S. of territorial war by the Comintern. Spying, subversion - everything that Stalin had initiated as part of communism's "cold" war - would be accepted as part of the normal woofing between major power; but this would be the last "war of liberation". If the Soviets persisted in that policy, they risked bringing on their own nuclear destruction.
The Soviets knew Eisenhower was serious because Admiral Radford as Chairman of the Joint Chiefs had asked for permission to use atomic bombs to rescue the French from Dien Bien Phu. Ike knew that the Soviets knew what his reply had been; the U.S. would not "defend" British, Dutch or French imperial possessions in Asia. As the British later learned over Suez, Eisenhower meant what he had said. The U.S. had not fought WW 2 to defend European empire.
But it had fought WW 2 and Korea to defend Europeans' and East Asians' rights to "self-determination". That is the part of the story that the Democrats never ever seem to understand even though the policy itself goes back to Woodrow Wilson - the one thing the man got right.

How many lives are lost because the FDA uses double blind rather than decision making under uncertainty as the gold standard including the data for metformin which is a decision making under uncertainty 99% for life extension but could never even be tested and approved because it would cost over 1 bill to test.
The gold standard also applies the "precautionary principle", thus avoiding the political fallout of another Fen-Phen. They make it uneconomic for sponsors/manufacturers to do research in life extension, delayed senescence, cognitive enhancement, and other outcomes that require the "proactionary principle".
Alston Mabry writes:
I still remember the first time I heard the term "evidence-based medicine", and how my first thought was, "As opposed to what?" Upon investigation, I realized that what we have is essentially "experience-based medicine", i.e., doctors do what their experience, and the experience of their teachers, tells them is the best course of action. Then I read articles about how hospitals resist the tracking and publication of the performance of, say, their surgeons, because they don't want to lose patients if they look bad.
There is so much data produced by our whole healthcare system, and the bulk of it is lost. The whole country is a pharmaceutical experiment, but I wonder if we capture even a small fraction of the useful data.
Dylan Distasio writes:
Agree 100%. I think the gold standard has done more to set back the areas highlighted than any others, although they (along with the legal environment) also make it extremely hard for MDs to experiment with cancer protocols. There was a great article awhile back (which I can't find at the moment) highlighting the fact that early (by early I mean 1960s-70s) creative protocols based on taking calculated chances and empiricism could never even be attempted in today's the "proactionary principle".
Charles Pennington writes:
Speaking out of ignorance here, but I have the impression that a very disproportionate amount (>80%?) of important world pharmaceutical R&D is done in the US. Are there any familiar prescription drugs that we take here that were developed and/or marketed by Japanese companies? I can't name one. Obviously there are some big European pharmaceutical firms, but it still seems like the US is the center of mass, and even more so if one is considering "biosimilars" — seems like the US really is even more dominant in biotech
Is this impression correct, and if so, why?
(I imagine it's true in spite of the FDA rather than because of.)
From pro poker player Sam Farha:
"The one who bets the most wins. Cards just break ties."
Doug Martin writes:
I sat next to him on the way back from Aruba about 8 years ago. I had no clue who he was until someone on the plane told me. I rarely win at the casino.
That trip in Aruba was odd. I was playing Roulette for about an hour. Red, Black, Odd, Even, etc, just passing the time over some drinks. It got awkward. The dealer started to randomly pay out on some of my losing hands. After about 3 losers where the dealer gave me free money I wandered off with my girlfriend. Very strange but I remember it vividly.
I would imagine about 5 more of those "winning" hands I would have been followed out and asked to hand the money over to some kid in on the scam.
It was a small hotel casino, probably 40 people there total.
Jeff Watson writes:
Last time I saw Sammy play was at a 5/10 NL game at the Bellagio. He did not look happy in his reduced state/bank roll. He had the same hang dog expression and demeanor the same as some of the hundreds of busted out traders I have known over the years. This brings to mind the story about Nick "The Greek" Dandlos. Having played for millions, winning and losing 20 fortunes over the years, in his dotage Dandlos was reduced to playing $5 draw poker at the Normandie Club. At the table, the Greek was asked by another player how he could be playing for such reduced stakes and he replied, "Hey, it's action, isn't it?"
From the cheap seats, I never really understood the "growth vs value" debate because it always seems to hinge on how you define "growth", how you define "value", and what your endpoints are. So basically it depends on what your initial bias is, which makes it rather a religious debate.
People will point to, for instance, AMZN and say "growth always leads the market", but that view benefits greatly from hindsight. Now the hot discussion is the positive skew of the distribution of returns, but of course that distribution has a positive skew, because it has a hard left edge. For small stocks I always called it "the ICBM effect"- you need to buy a bunch of them so you have a good chance of getting one of the 50-baggers.
I bought AAPL at $10 as a "value" stock and people I knew said I was an idiot. I sold it at $14 and thought I was a genius. If only I had had the foresight to know that I should hold it for another 16 years. Buffet is unloading Big Blue because while there appears to be plenty of value, there's not much growth. But he bought AAPL in the 90s in Q1 2016. Win some, lose some.
There have to be trading lessons, but even if there weren't any, it's still worth the read:
"Everything You Need to Know About Ejecting From a Fighter Jet: You want to avoid it at all costs. But when there is no other option, it can save your life"
Milton Friedman - The Negative Income Tax - Firing Line with William F. Buckley Jr.
In this 1968 interview, Milton Friedman explained the negative income tax, a proposal that at minimum would save taxpayers the 72 percent of our current welfare budget spent on administration.
Stefan Jovanovich writes:
My Dad helped Friedman embark on the way to making serious cash in his later life. Dad published "Free to Choose" and helped Friedman find the TV producer (who deserves much of the credit for the success of that series by damping down Professor Milton's inclination to be obnoxiously pedantic). The book royalties were excellent, but what really helped Friedman become semi-rich was the fact that the series made him a "name" for the trade show lecture circuit. The fees he earned were nothing like those the Clintons and General Powell and others later earned; but they were, for the time, major coin.
Since no good deed by a publisher goes unpunished, it will not surprise the List to learn that Friedman continuted to think he knew more about elementary and secondary education than Dad did. I remember listening to several conversations they had where Dad tried to persuade Friedman that his voucher system was both bad politics and worse pedagogy. "Milton, the urban schools were failing (they still are) precisely because the actual students had no incentives. The middle and upper class kids are paid to do well in school - by their parents; my son the bum knew that he would be rewarded for swotting away. But the kids in the ghetto have no such encouragements. They lose money by going to class. Their truant friends could be out on the streets hustling or, at the very least, enjoying the rewards of freedom. This is what has changed with "modern" education. They system worked in the past because poor kids had the greatest personal incentives. Being allowed to skip farm work and go to school only if you got good grades was a real incentive. For you and me, as the children of immigrants, there were huge personal rewards. We were the prize boys in the family. Our parents wanted us to go to school so that someone in the house could speak "proper" English; hell, my older siblings had to sacrifice some of their prospects so that I, the youngest child, could afford to keep going to school."
Dad's solution was simple: pay children for achievement test results. Pay every child for taking the test and then pay them more for getting better and better results. Once people understood that the system was here to stay, parents would be making certain that their kids went to school - if only, Dad said, so they could drink up the money the children earned. (This may sound cynical but it was, in fact, wonderfully charitable; there was nothing "society" could actually do about preventing children from being exploited by bad parents but at least the children would be learning the skills that would allow them to escape as adults.)
Friedman seems to me to have had a similar blind spot regarding "poverty". He was right, of course, about the poverty industry; it is appallingly wasteful and corrupting. But the solution was not to allow the poor to believe that they were somehow entitled to the money, which is precisely what a negative income tax would do. You could eliminate the "helping" bureaucracies and offer the poor incentives to do better by following Dad's scheme, by paying the poor for good conduct. But, if you simply handed over the money and used the income tax as the mechanism, you would be undermining the tax system itself. The experience with the Earned Income Tax Credit is proof of that fact; if you are going to have an income tax at all, you have to treat all income equally and apply the lowest possible rates, even to the helping and disability payments. If the poor pay nothing, they have a permanent incentive to remain officially poor.
Statistician, blogger, and author Andrew Gelman of Columbia University talks with EconTalk host Russ Roberts about the challenges facing psychologists and economists when using small samples. On the surface, finding statistically significant results in a small sample would seem to be extremely impressive and would make one even more confident that a larger sample would find even stronger evidence. Yet, larger samples often fail to lead to replication. Gelman discusses how this phenomenon is rooted in the incentives built into human nature and the publication process. The conversation closes with a general discussion of the nature of empirical work in the social sciences.
Very dramatic map: "The Global Extremes of Population Density"
Which made me think to look at this map, and remind myself that the Indus, Ganges, Brahmaputra, Irrawaddy, Mekong, Yangtze and Yellow rivers all originate on the Tibetan Plateau where the glaciers may or may not be retreating.
When considering the fast food industry, I can't help but think of Japan, which (though I've never been) appears to run largely on vending machines, or at least to a much greater extent than we do.
I imagine a fast food joint where the customer orders via cell phone app, arrives at the location, walks up to the window, swipes the phone which confirms the order and executes payment, and then the food slides down various chutes into the delivery bag, and the glass doors open and the customer takes the bag. It makes me think of old-style self-serve cafeterias, whose configuration would be simpler now with cell phone.
Stefanie Harvey writes:
To Al's comment, this is already in California: Eatsa
It's one of my favorite places when in SF to grab a quick bite. You can order onsite with a kiosk but most people use the phone app.
anonymous writes:
Revenge of the automats
If it's tough to reproduce research in biology and medicine, what does that say about all the sweeping conclusions generated by research in the behavioral, social and economic realms?
One of the truest axioms of trading is that the thing you worry about least is the thing that will bite you in the rear. As others have noted, expectations are extremely positive now and few are worried about the downside. But whose expectations?
Something we have written about previously is the length of historical data being watched closely by professional traders, particularly when juxtaposed with that being watched by those who sit in the bleachers. The best bull moves occur when the pros are looking long term and the amateurs are nervous nellies. Right now we have the opposite. With tonight's close we see the amateurs being complacent; they are looking back at what has happened since Election Day. The pros meanwhile are monitoring prices in a 4-day window, a most tenuous stance.
Stefan Jovanovich writes:
One of my dubious theories is that the internal correlations that we all see in "the market" are largely a product of the development of the New York Banks becoming the clearing house for the nation and their converting that dominance into the "need" for official central banking. The data from the 19th century, which is limited enough to be within my meager mathematical capacity, suggests strongly that the business cycle was much more a matter of the fluctuations of particular businesses than one of the movement of the "economy" as a whole. Weyerhauser's fortunes and Swift's were not on the same cycle. The movements of "Timber" and "Pork" were largely independent.
I wonder if that is becoming the case once again. Optimism may be the general news, but the prices of retail companies, particularly those in the clothing business, very much fit the opposite of Bill's description of the general mood. The general assumption is that everyone will lose their business to Amazon.
Russ Sears writes:
"One of the truest axioms of trading is that the thing you worry about least is the thing that will bite you in the rear."
I call this the fundamental law of risk management: What risk you ignore or discount incorrectly are the risk you over-load your portfolio with, thinking you have found the "key to Rebecca"/free lunch or at least you have optimized your risk metric such as sharpe ratio. This is what happened to the modeler of RMBS, unknowingly overloading on model risk.
Alston Mabry writes:
I have often thought (but been unable to effectively implement) that if you could determine what factors the market is not paying attention to, you could place some profitable bets or at least put on some good hedges.
Which leads to a non-quantifiable definition of a bubble as a big move up that continues even after a critical mass of players have become aware of the fatal risks - everybody knows they're playing musical chairs, but it's too profitable to stop.
Brett is always endlessly speaking of market cycles, I found this to be an interesting take and an analysis I had not thought about before:
"During the first quarter of 2000, the dotcom bubble famously peaked after setting a new record high for corporate equity valuations. Today, we haven't quite matched that record in terms of equities, though, by some measures, we are very close. And when you look at corporate valuations more comprehensively, including both debt and equity, we actually have now matched that prior period. The chart below shows the value of nonfinancial corporate debt and equity relative to nonfinancial gross value added (data provided by FRED), essentially a measure of enterprise value-to-sales. I'll let you come to your own conclusion about what this might mean going forward."
Dylan Distasio writes:
This is interesting, thanks. However, shouldn't duration and average interest rates on the debt have some relevance to using it to calculate valuations? I'm asking the question, not necessarily drawing that conclusion. Just wondering if my betters have an opinion on the linked chart.
Larry Williams writes:
So what if we have matched the all-time high valuations of 2008? Provided that the all-time valuation high was in 1960 8C would've stopped investing in 1995?

I am convinced there is one and only one thing that really causes bear markets– recessions. That's the key, certainly not technical analysis.
Happy bullish trails to all.
This is a paper by Victor Haghani of LTCM fame on bet sizing observing and analysing how people place bets on a coin flip that is biased to come up heads 60% of the time.
Ralph Vince writes:
It's a very interesting paper, and to many might be surprising. A couple of comments:
1. It assumes someone's criterion in wagering on this is to maximize what someone makes. This is certainly not the case in capital markets, where (the rather nebulous) risk-adjusted return is king, specfically: "Optimal F: Calculating the Expected Growth-Optimal Fraction for Discretely-Distributed Outcomes"
2. Even what the authors and Thorp himself claim are the amounts to wager so as to maximize expected gain, their answer is not quite aggressive enough! The amounts the refer to are asymptotic, as the number of trials ever-increases. The author himself points to a horizon of 300 plays in half an hour, and the actual optimal wager (which would, int hat time period, yield a greater return than the authors or Thorp point to) is slightly more aggressive, and can be determined from the above paper.
Not trying to toot my own horn (it needs no tooting, and besides, my horn will do a lot, but tooting it won't do) but the paper is inaccurate on these two points.
Jim Sogi writes:
Thank you for the interesting article. The other night at our band practice, the bass player's wife, who works at a public school, asked me if I was taking my money out of the market. She had heard a number of people were worried about the election and a market drop if either candidate was elected. I told her the market would probably go up, though it might jump around a bit. I thought that was interesting. Its an example of the public doing the wrong thing, for the wrong reasons. It reflects peoples fear about uncertainty about the election. It helps explain some of the market action recently.
Rocky Humbert writes:
Mr. Sogi's anecdote and conclusion is a textbook example of Confirmation Bias — which is the tendency to search for, interpret, favor and recall information in a way that confirms one's preexisting beliefs or hypotheses.
To wit: On what basis does Mr. Sogi conclude that the bass player's wife represents the "public" — as distinct from Mr. Sogi himself being the "public" ??!!
How the stock market will perform over the next 30 or 60 days has very little to do with the study of a coin that is heavily loaded to land on heads. At best, the stock market's performance over the next 30 days is only slightly better than 50:50.
Alston Mabry writes:
Just had to do a quick sim of their betting game.
My daughter Eddy used to be interested in the question of Fairness. Not any more. "Since it is not a question of whether but only one of where and when, why bother?"
But we do still talk about it with regard to taxes. We still laugh over her reaction to her first paycheck (issued for cleaning the animal cages at the local vet's office on the graveyard shift). "Who is this bitch FICA and why is she getting my money?"
The best that the two of us have come up with for a "fair" tax system is our own variation of the Major League Baseball "luxury tax" and revenue sharing model. Under the collective bargaining agreement that expires this year, each team in MLB puts roughly 1/3rd of its own revenues into a pool. The money in the pool is then divided up and distributed equally to each team. In 2016 the richest teams (those in the 15 largest markets) no longer received their share as a payout but instead received a credit against their revenue share to be paid the following year. (This was, IMHO, an artful way of assuring that the rich teams would agree to have revenue sharing as part of the next CBA.)
The Eddy and I conclude that FDR's unerring political instincts were wise policy. (When his Marxist academic advisers wanted Social Security to be means-tested, he told them to get real. The American people would only support a program that had a fundamental equality; if you paid into the system, you got something out of it.) We would like to see all government benefits to have the same recognition of the Constitution and its equal protection clause; if a benefit is paid to someone simply for breathing, then everyone gets it. If the government collects taxes, then everyone pays the same rate.
Eddy's final word: "Never going to happen, Dad. Too simple and too fair."
Alston Mabry writes:
This reminds me to recommend an excellent recent EconTalk:
How are those in favor of bigger government and those who want smaller government like a couple stuck in a bad marriage? Economist John Cochraneof Stanford University's Hoover Institution talks with EconTalk host Russ Roberts about how to take a different approach to the standard policy arguments. Cochrane wants to get away from the stale big government/small government arguments which he likens to a couple who have gotten stuck in a rut making the same ineffective arguments over and over. Cochrane argues for a fresh approach to economic policy including applications to growth, taxes and financial regulation.
"Why can't we see that we're living in a golden age?: If you look at all the data, it's clear there's never been a better time to be alive" by Johan Norberg
Jeff Watson writes:
There's huge money in doom and gloom.
Ralph Vince muses:
A person should live each day of his life with the same mindset, the very same attitude of savor and gratitude for every minor thing, as if he got out of jail that morning.
Or, as the Old Frenchman himself would say, "If you have the same address as a thousand other guys, you don't have a lot going on."
Alston Mabry writes:
Pessimism is a strategy. People who have learned, usually from childhood, that they cannot act on their most important impulses use pessimism as a way to devalue what they deeply believe they are not allowed to want.
Bill Rafter adds:
Just a minute…
As we all know from trading, if you want to increase your profitability over time the most effective strategy is to limit losses. Possibly related to this is the result of several studies attesting that fear is a greater motivator than greed, buy a factor of 3 to 1. Furthermore, we all look at prices and know both instinctively and historically that those prices will not be constant over time. They may be higher or lower, but not the same. Thus, pessimism is historically justified, profit-saving and possibly life-saving.
But to want to trade these markets for profit, one also has to be optimistic, often excessively so in light of bad experiences. You need both.
Jim Sogi writes:
Jeff is right. Television causes pessimism. Don't watch TV. I haven't had TV for 47 years. It's not only the content. It does something to the brain. It's harmful.
Stefanie Harvey writes:
Exactly. Television, especially US news television, is the poster child for confirmation bias.
anonymous writes:
Many good reasons for worry exist. If you're not worried, you're not paying attention. All of the worries stem from something completely nobody talks about in polite company: population explosion. In 1804, the world's population was 1 billion. In 2012, it topped 7 billion. It's projected to reach 9 billion in 2042 — within my son's lifetime.
True, Paul Erlich got it wrong when he said we'd all starve by the end of the 1970s– but go back read his book. Then reflect on how much different life is.
All those people are unsettling policymakers, with these results (and they are what's secretly worrying us):
Unspoken Fear #1: War. Today's empire builders are intent on grabbing resources; nuclear weapons are in too many hands.
– China: rich and populous; thanks to the free-trade break we gave them in the 1970s, they've created a war machine and ready to go for our jugular.
– Islam: implacable and populous; we have spent trillions trying to establish a decent government, and the area keeps morphing into an empire that despises us and all we stand for; they want their old empire back, be it from Baghdad or Istanbul.
– North Korea: Our strategy is, "Let's all ignore that man in the corner, and maybe he'll quiet down."
– Russia: ruthless, and intent on restoring the empire of Rus.
Unspoken Fear #2: Dystopia.
– When people don't have honest work, nothing good can come of it. In America alone, 94 million people are out of the work force. We're not being honest about the impact of robots and artificial intelligence. It's this fear that gave Trump the nomination, not that he knows what to do with it.
Unspoken Fear #3: Central government that keeps growing.
– Confronted by the population explosion, the elites have decided that the masses must be controlled and pacified. This political philosophy shows up in the fear of liability for anything fun, in subsidies, in central banking. We see sledgehammer policy-making, from FDR to Obamacare.
– And the educated love it! Calls for authoritarianism are the norm among socialist youth, aging hipsters, authors and "educators" at all levels.
These memes and unspoken but rational fears show up in pop music, with its ugly pounding overamplified brutalist mindlessness; in contemporary academic music, with its screams and jaggedness; in art, with its sneering cynicism; in architecture, with its boxy Stalinist aesthetics.
It shows up in the piggishness of the powerful, with Hillary Clinton the prime example. The rich expect multiple homes in idyllic spots, bodyguards, private jets; the poor suffer in overbuilt, crowded, noisy, polluted cities.
I happen to be an optimist, and always see the glass as half-full. Please note I am not prescribing anything; for one thing, it's gone too far. Nor do I think that going to Mars will help.
Russ Sears writes:
First, human super-cooperation is built on trust. To evolve as a group, a high percentage of that group must be trustworthy for the compounding effect of the prisoners dilemma to work. As the group grows too big, it becomes too easy for a individual to feign cooperation. Hence the need for creative destruction and for power being placed in the smallest sized group necessary. It has always been easy to look at the big groups and see the corruption and assume that they are in control of the long term future. But the truth is they are dinosaurs and will lose out to the small but wise group/ businesses that still operates at the human individual trust one another level and are quite hidden from the spotlight, because of size. But these time and time again raise the tide for all.
Second, personally, it is too easy to dwell on the jerks that simply can ruin it for everyone but that fall into everyone's life. They can ruin many nights even if as a rule I try to avoid them. A single jerk can derail my perspective and keep me up at nights and easily crush my spirits if I let them. I found the best antidote for me is to turn the tables if I start thinking of the jerks and think instead of those in everyone's life that have blessed them with love, grace and patience. I think of my Dad's second wife, caring for a dementia patient at home for 13 years and weeping tears of love on his passing, the coach that helped me, the friend that's always there, etc. I try not to let the jerks own my mind rather than those loving, lovely (my spouse), good and virtuous people in my life. This also goes with those news makers, politicians and on the dole.
Based on the timing indicated, he must be significantly underwater at this time. That assumes he has not thrown in the towel by now: "Soros Doubles His Bet Against S&P 500 Index"
John Bollinger writes:
The interesting question for me is: Why is he advertising this now?
Peter Tep writes:
Good point, John.
Sounds like he is releasing the hounds, so to speak.
Did the same for his short Aussie dollar trade some years back and also his long gold position–get long, get loud.
Jeff Watson writes:
The more important thing is, who cares what the Palindrome says he does. Whenever anyone who's purportedly a big player discloses his supposed position, I look at his motives with a big grain of salt.. People bluff in the markets as much as they bluff at final table of the WSOP. It's all a mind game, and while one should take in what the opponent says, keep in mind that their disclosure is not for your benefit and it could be a bluff. A good lesson is to look at announcements like this and try to find tells….they exist. Nobody ever discloses their position(real or fake) to the media to be altruistic and benevolent. The sad thing is that many people(retail investors, CNBC watchers etc) believe in the good will of the Palindrome and the Oracle to the small investor. Those same unknowing investors are the pilchards that are eaten by the sharks.
anonymous writes:
"keep in mind that their disclosure is not for your benefit"
That is a key. Even if it is true it is still not for our benefit. For example "they" cover while "we are riding a growing loss waiting for the idea to play out. Our entry was their exit. The flexions/greats/insiders see angles we can't, if we listen regularly our account balances will be eaten.
Petr Pinkasov writes:
I struggle to see how in 2016 it's even intellectually sound to present Q as another 'dagger on the steering wheel'. It's hard to quantify the intellectual capital that investors are willing to pay 50x earnings.
Alex Castaldo writes:
Exactly. What is the Q ratio for AAPL, how many factories do they own and how much are those factories worth in the marketplace? (Rhetorical question). The Q Ratio is a statistic from another era, when John D. Rockefeller built oil refineries bigger than anybody else's or when Mr. Ford bragged about his new River Rouge plant. It has limited value in many businesses today.
Another smaller point: the proposed tail hedging strategy is designed to break even if the S&P declines by 20% in a calendar month. In the last 30+ years (367 months) this has happened on only one occasion (October 1987). It is quite a rare event. Would you do this tail hedging all the time? I am not convinced that the numbers work when you consider that every month you are paying for put options.
Alston Mabry writes:
Doing some searching, I ran across this on FRED:
Nonfinancial Corporate Business; Corporate Equities; Liability, Level/Gross Domestic Product
Cheap-seat question: I know what GDP is, but I'm not sure about "Nonfinancial Corporate Business; Corporate Equities; Liability". Is that simply adding up the liabilities side of the ledger for public companies? Actually, it peaks Q1 2000, so it must involve market capitalization.
But it does peak Q1 2000 and Q3 2007. Of course, ex ante how do you know it has "peaked"?
Ralph Vince writes:
All measures from an era when there was an ALTERNATIVE to assuming risk — that alternative now is to assume a certain loss, or, at best, a large rate markets exposure for the (slightly) positive rates at the longer durations.
This is an ocean of money that is coming through the breaking dam. It likely will go much farther and for much longer than anyone ever dreamed. Imagine the unwinding of the government-required-soviet-style Ponzi schemes like Social Security, which, at some point must start affording for self-direction to provide an orderly unwinding. Not only from the natural bookends of life expectancy, and pushing out the book ends to where too few could expect to ever collect from it, but the pressure from below in a runaway market for self-direction. This too will fuel the hell out of this run and make it last much longer than anyone dreams of.
Every equity that yields a dime has greater value than the certain loss; every wigwam that provides shelter too, from investing in the ingredients of pizza in Pulaski to Poontang in Pyongyang, all the wealth of the world must come out of the shadows and find a risk — and this creates a self-perpetuating feedback that is something we've never seen.
This is the move that comes along once in a century at best, and we're already starting into it. The measures of the world of positive rates (which may not be seen for a long time) I do not believe are germane to the world today.
Pollyvote still has Herself ahead, but the gap is narrowing.
538 had Trump moving ahead at the end of last week, but it has now reversed.
Stefan Jovanovich writes:
If one has to choose between Professor Armstrong and the one-hit wonder,
I have to vote for the academic, whom someone really does not like.
anonymous writes:
There are few thought leaders who have influenced my work as much as Scott Armstrong, but the election will be decided by state-level polls, not by the two-party popular vote.
Silver's model is a direct implementation of the work of Andrew Gelman on Bayesian Hierarchical models.
I have found the book Superforecasting: the Art and Science of Prediction by Philip Tetlock to be interesting, provocative and useful. I strongly recommend it.
Philip Tetlock is on the faculty of Wharton in the Management Department, and Dan Gardner is a journalist and author.
The basic story is that Philip Tetlock and his colleagues formed the Good Judgment Project (or "GJP"), and joined a prediction competition sponsored by the Intelligence Advanced Research Project Activity, or IARPA, which is the intelligence community's version of DARPA. GJP recruited volunteer forecasters, gave them some basic training, and put them into teams. The GJP teams were so successful that eventually the competing groups, including Michigan and MIT, were shut down or merged with Tetlock's group. As they screened out their most successful participants, Tetlock called them "superforecasters".
There is an ever-growing corpus of popular books on some aspect of quantitative reasoning/decision science - "pop quant", if you will - and Gardner, who I assume took on the role of making the book accessible, includes refernces to Surowiceki's Wisdom of Crowds, Gleick's Chaos, Zero Dark Thirty, Daniel Kahneman, Michael Moubaisson, Taleb, Robert Rubin, Atul Gawande, and more. The references are never completely gratuitous and will be informative for people unfamiliar with this particular shelf of the bookstore.
Tetlock's previous high-profile work was Expert Political Judgmentn, a 19-year project where 284 experts made 28,000 predictions "bearing on a diverse array of geopolitical and economic outcomes. The results were sobering. One widely reported finding was that forecasters were often only slightly more accurate than chance, and usually lost to simple extrapolation algorithms. Also, forecasters with the biggest news media profiles tended to lose to their lower profile colleagues, suggesting a rather perverse inverse relationship between fame and accuracy."
Tetlock did the rounds promoting Superforecasting when it came out, and both Russ Roberts and Stephen Dubner did informative interviews with him:
A trade is a prediction, so the book's focus is clearly a relevant one for speculators. Here are some of what I found to be the more interesting ideas, observations and results from the book:
- Brier score: The GJP uses Glenn Brier's scoring function to assess the accuracy of forecasts. While the Brier score itself may be useful, I found myself motivated to improve by the book's general discussion of the importance of making measurable forecasts and then tracking their accuracy.
- Frequent updating: Bill Rafter's Cassandra Portfolio puts forward the hypothesis that the more specific one's predictions are, the more frequently they should be updated. Superforecasting fully supports that idea. The superforecasters updated their forecasts regularly and with decimal precision, and Tetlock shows that the forecasters' accuracy improved as a result.
- The best forecasting teams had a diversity of experience and opinion. Tetlock goes so far as to say that without diversity, forecasting teams find it difficult to improve their accuracy: "Diversity trumps ability".
- Extremizing: One of the algorithms they used for large-group forecasting was to take the average prediction of the group and then move it some distance away from 50%, e.g., if the group's prediction for an event's likelihood was 30%, the algorithm might "extremize" the forecast to 15%. The reason is that in large groups, individual forecasters did not know what other forecasters knew, and if they did, they would be more confident in their predictions which would push the values closer to 0% or 100%. And the algorithm was very successful in the IARPA forecasting competition.
- One technique for improving accuracy was for the forecaster to make a prediction, then assume that the first prediction was wrong, and then make a second prediction. This falls into the general category of techniques a forecaster might use to dislodge himself from cognitive attachments. Another technique is to invert the question, sometimes simply by inserting "not". The example Tetlock uses is a change from "What is the likelihood that South Africa will allow the Dalai Lama to visit the country?", to "What is the likelihood that South Africa will *not* allow the Dalai Lama to visit the country?" Superforecasting argues that forcing oneself to take different points of view on a prediction will improve results.
There's much more in the book, of course, and it is well written and accessible. Again, strong recommendation, especially for those in the "Counting 101" class.
From the cheap seats, it appears that when you have (1) massive money printing, (2) a huge expansion in global productive & transportation capacity, and (3) probably the largest labor glut in history, then you have bubbles in assets where a demand/supply imbalance will not be brought to equilibrium by increased production (art masterworks, Vancouver/London/Sydney real estate, gold, equities, bonds), and you have disinflationary pressure on everything else.
Stefanie Harvey comments:
I heard an interesting piece on Radio Times yesterday where Rana Foroohar was interviewed. She said one issue is that only 15% of the money in the market goes into the economy and 85% stays in the financial system itself, which is an inversion of what it was designed to do (later mentioning Adam Smith - refreshing.) She has a new book called "Makers and Takers"
From the blurb (bold/emphasis mine as an industrial scientist.):
· Thanks to 40 years of policy changes and bad decisions, only about 15 % of all the money in our market system actually ends up in the real economy – the rest stays within the closed loop of finance itself.
· The financial sector takes a quarter of all corporate profits in this country while creating only 4 % of American jobs.
· The tax code continues to favor debt over equity, making it easier for companies to hoard cash overseas rather than reinvest it on our shores.
· Our biggest and most profitable corporations are investing more money in stock buybacks than in research and innovation.
Not sure that I agree more policy is helpful. Smart people make money on churn so not too surprising.
An expanded Panama Canal opens for giant ships
PANAMA CITY — A mammoth ship bearing 9,472 containers and the unwieldy name Cosco Shipping Panama on Sunday will become the first vessel to officially pass through the new expanded Panama Canal, a $5.25 billion project designed to modernize a 102-year-old landmark of human ambition, determination and engineering prowess.

The Chinese vessel, which set sail from the Greek port of Piraeus on June 11, will cross the isthmus from the northern Atlantic Ocean end of the 48-mile canal. On Sunday morning, it entered one of the new locks, and during the day, it will transit the man-made Gatun Lake, slip along the widened Culebra Cut through a verdant mountain ridge, then descend through another lock that will lower it into the Pacific Ocean.

Like the channel that opened in 1914, the enlarged Panama Canal is a feat of engineering, albeit one that ran over budget and two years behind schedule. The contractors dredged enough material to fill the Egyptian Great Pyramid at Giza, one of the seven wonders of the ancient world, 25 times over. The amount of steel used could have erected 29 new Eiffel Towers. The Empire State Building could lie down and fit into just one of the three chambers in each of the new channel's locks.

Although cargo tonnage through the canal has risen 60 percent since 2009, Panama needed to expand the canal to accommodate a new generation of container ships, known as neo-Panamax, which are too big for the old canal locks. The new locks are wider than the old ones, 180 feet versus 110 feet, and are deeper, too, at 60 feet versus 42 feet. Officials say the larger locks and new lane will double the waterway's cargo capacity. More than 170 neo-Panamax ships have already booked reservations in the expanded locks.
—
keep looking »
Archives
Resources & Links
Search